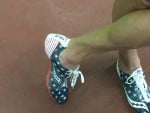 We look back at the wonderful (or not so wonderful??? for the US) World Champs.

Bird's Nest - Beijing, China
August 22, 2015 to August 30, 2015
Outside Letsrun
They put together a pretty good list.
Drouin shares his tips for dealing meantally with such a high pressured situation.
He also coached Boniface Tumuti to 5th place. Kotze: "I am so happy that they pulled it off and performed on the big stage. To perform like they did at a major event proved to us their guts, winning character and temperament. I was emotional, crying from happiness. I will cherish this moment for as long as I live."
A JAAA media officer says the American complained about Jamaicans celebrating too loud and refused to drink Gatorade that had Usain Bolt's picture printed on i.
Ghebreslassie really had to fight with his parents to become a runner as they wanted him to focus on school. His debut marathon ended up being last year in Chicago where he was paid to pace the race through 25K, but felt good so kept running, placing 6th in 2:09:08.
Ash was DQd in the heats for a false start, but looking at the start "wave graphs" it's possible he could have advanced to the semis had Team USA filed an appeal.
Shubenkov says he tried to cheat China jet-lag by arriving for the heats at the last minute, but that it was a major risk because he was "sleeping on the start line". "It was a risk. Unlike smart people who come a week before to adjust, we just came and I ran right away. The first round was terrible; I wanted to skip it. It was the hardest race for the last three years. I was sleeping on the start line and it was like the starting pistol was an alarm clock. As a general result, though, it worked. I felt like a hero that I could wrestle out that performance."
Harper-Nelson is extremely consistent at major championships, but crashed out of the semis in Beijing. You might think for an athlete with so much past success, it wouldn't faze her a ton, but she said she didn't get out of bed the next day and had to force herself not to "wallow too long". "If you've worked really hard for this one day, then you can't just easily dismiss something like that. The next day I didn't get out of bed. And I felt bad because it was my husband's birthday. He was just saying, 'whatever you need,' and I'm like, 'I'm so sorry!' I was just still in so much shock. I gave myself a day or two and then told myself that I have to learn from this, but you still have meets to go and your season's not over so you can't wallow in it too long. I knew I was mentally strong and I knew I would bounce back."
She had the second-fastest time in 2015, but was last in the final.