He Is the Greatest: The Incomparable Usain Bolt Wins 5th Global 100 Title As Justin Gatlin Can't Keep It Together in Final Meters
By Jonathan Gault
August 23, 2015
BEIJING — To hear some people tell it, the fate of the track and field world was decided in the span of 9.79 seconds tonight at the 2015 IAAF World Championships in the Bird's Nest. That's all it took for Usain Bolt to win his third world title in the men's 100 meters, holding off rival Justin Gatlin by just one-hundredth of a second.
"The sport for all sorts of reasons needs Usain to come through in Beijing," new IAAF president Sebastian Coe told the BBC last month.
Bolt did come through, as he always does, but the problems staring track and field in the face will still be there when the action at the Bird's Nest resumes on Monday morning. Specifically, the doping questions that permeate every crevice of the sport right now, spurred by a recent Sunday Times/ARD investigation into leaked IAAF blood values, will still be there. So whether you were rooting for Bolt, Gatlin or someone else in Monday night's 100-meter final, it was first and foremost a race, not some divine arbiter of good and evil.
And what a race it was. For two years, Gatlin and Bolt had coexisted in separate spheres of the same world. In the 56 times the two men had stepped on a track to race since the start of 2014, not once had they faced each other head-to-head (Gatlin and Bolt did race in the 4×100 at this year's World Relays, but they did not run the same leg). Tonight, they ended that separation by delivering a race that will long be remembered.
Article continues below player.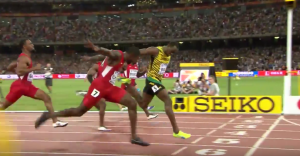 Despite Bolt's superior reaction time (.159 to .165), Gatlin stormed out to an early lead and as he hit 60 meters, the 2004 Olympic champion was peeling away from everyone — except for Bolt. After an uneven semifinal during which Bolt stumbled early in the race, nearly fell and came within .03 of missing the final entirely, Bolt was actually gaining on Gatlin, his enormous 6'5″ frame gobbling up the red track in front of him. By 80 meters, he had almost drawn level. Twenty meters remained to determine a champion.
Seven years ago on this track, Bolt's lead was so gigantic that he could afford to showboat across the finish line and still break the world record. He had no such luxury tonight. Bolt labored with every stride but, crucially, he never broke form and timed his lean well at the line. Gatlin, two lanes to his right, could not do the same. With 10 meters to go, Gatlin's arms began to flail and he started to lean forward five meters before the line. It was a small flaw that would not have harmed him in any of his other races over the past two years, but none of those races contained Bolt. And to beat the best of all-time — in this sport and perhaps, when Bolt's career is over, in any sport — Gatlin could not afford even a small flaw.
"At the end of the day, I guess I would say I gave the race away the last five meters – the momentum," Gatlin said (Audio link here). Later, he added, "I really couldn't see [Bolt] for the fact that Tyson Gay was between us. I was trying to just keep momentum going forward and I leaned too far forward, especially coming to the finish line. Caught myself off balance. By the time I looked over, that was it. It was dead."
Bolt was his usual joyous self in the aftermath, soaking in every moment of his victory lap as Bob Marley's "One Love," blared over the Bird's Nest speakers, two Jamaican legends — one celebrating, one singing — performing their specialties one more time. And though Bolt's confidence never wavered, he admitted that this race had tested him like no other.
"I definitely think this was my hardest race," Bolt said, adding that he needed coach Glen Mills to put him in the right frame of mind to beat Gatlin in the final.
"I went to see my coach after the semi-final and he told me: 'You are thinking about it too much,'" Bolt said. "And he is right because I know exactly what to do."
It was easy to overlook in the moment, but there were actually seven other men in the 100-meter final and the battle for third was in fact closer than the .01 that separated Bolt and Gatlin. Like the two men in front of them, America's Trayvon Bromell and Canada's Andre De Grasse have been inextricably linked in 2015, and it was only appropriate that the 20-year-old collegians wound up sharing the bronze medal, each running 9.92 seconds. All year, the wunderkinds battled for the upper hand in a rivalry that will come to define the sport once Gatlin and Bolt eventually cede the stage. At NCAA indoors in March, Bromell's 20.19 (competing for Baylor) was enough to win the 200 title over De Grasse (20.26), running for USC. Three months later in Eugene, De Grasse earned revenge, pulling off a ridiculous 9.75/19.58 (wind-aided) same day double to sweep the 100 and 200 at NCAA outdoors.
Unlike Bolt and Gatlin, nothing was definitively settled in the first major battle of the sport's next great rivalry, if you could call it that.
"It's not even a rivalry," Bromell said. "Me and him are real cool friends. A lot of people really didn't know that. Me and him, we talk about this all the time. We just want to show people how great we are."
But back to the big boys. Gatlin and Bolt are far from done with facing each other here in Beijing, and considering the two hadn't faced each other straight-up for two years prior to tonight, that's a good thing for the sport. The 200 starts on Tuesday, and they'll also oppose one another in the 4×100 final on Saturday (assuming the USA and Jamaica can get the stick around in the prelims and no one gets injured in the 200). And next year's Olympics in Rio loom.
That's all in the future, though. In a sport where uncertainty reigns at the moment, Usain Bolt offered a fleeting moment of familiar clarity. He is, once again, the greatest 100-meter runner in the world.
Race video, results and quick take analysis appear below.
https://www.youtube.com/watch?v=h74ieK9y0JU
Quick Take #1: There's a reason Usain Bolt is the greatest sprinter the world has ever seen
Champions deliver their best when it matters the most, and though Bolt didn't look like Bolt for most of 2015, even as late as tonight's semi-final, he produced his finest performance since his last world title in Moscow to once again conquer the sprint world. As well as Gatlin has run the past two years (prior to tonight, he had the seven fastest times in the world since the start of '14), he ran a poor final 10 meters of his most important race and it cost him a world title. Gatlin actually ran faster in the semis (9.77) than he did in the final (9.80), though he had a tailwind in the semi and a headwind in the final. (The wind-adjusted times would have been 9.81 for the semi and 9.77 for the final to be fair).
Quick Take #2: The difference between Gatlin and Bolt this year wasn't as large as you may have thought
Gatlin undoubtedly had a better, more consistent season prior to Worlds, and even in the prelims looked better than Bolt, running 9.83 in the first round and 9.77 in the semi compared to a pair of 9.96s for Bolt. But when you factor in the wind, the margin shrinks.
Gatlin had beaten Bolt's pre-Beijing best (9.87) four times this season, but he had a tailwind on three of those equations. Convert to zero wind and his best mark was 9.76 (converted from a 9.78 into -0.3 wind in Monaco). Bolt's best was 9.87 in London on July 25, but that came into a -1.2 wind (and he was letting up at the end since it was a prelim), which converts to 9.80 with no wind.
Gatlin was certainly the favorite, especially after tonight's semifinal (though Gatlin again had a wind advantage over Bolt, +0.9 to -0.4), but the possibility still existed that with a great race from Bolt — no horrific start, no stumbling — Gatlin could lose. That's what happened tonight.
Quick Take #3: Drug talk was unavoidable in the post-race press conference
Gatlin's four-year ban for testosterone or its precursors from 2006 to 2010 has been well-publicized and inevitably he was asked about it. One reporter mentioned that some of his fellow athlete's viewed Bolt's victory tonight as important given that Gatlin has twice served bans from the sport. When asked for his comment, Gatlin's demeanor changed, his smile disappeared, and he replied curtly "I'm thankful." The reporter continued to press him and Gatlin shifted into Beast Mode, channeling his inner Marshawn Lynch by repeating "I'm thankful" three more times. Bolt, seated to Gatlin's right, could not contain his laughter, chuckling after each response.
Later, Bolt was asked what he could say to young athletes asking themselves whether they could succeed as a clean athlete.
"I've shown the world that it is possible," Bolt replied, crediting his hard work, dedication and his coach.
Quick Take #4: Why is there so much hate for Justin Gatlin? "The four-year suspension is supposed to ruin your career, and it really hasn't, athletically."
In the bowels of the Bird's Nest, I was able to catch up to Gatlin's agent, Renaldo Nehemiah, and he reflected on why, as Weldon Johnson pointed out earlier this week, the athletics community has been harsher on Gatlin than others returning from drug suspensions such as Tyson Gay.
"The human element is presenting itself in an ugly way," Nehemiah said. "It's really unfair. I just marvel at how, prior to his ban and his return, everyone loved him and he's always been a nice guy and a pleasant guy and he's never changed. And all of a sudden, certain people in the media world are painting him as this ogre and I'm just going, 'Do you even know this young man?' He's the only one — there are many athletes out there who are coming back from suspensions. And they don't talk about any of them. Two of the guys in that race are 33 years of age — Asafa Powell (editor's note: he turns 33 in November), Tyson Gay — most sub-10s ever in history, no one talks about it. What is he doing that's so different? They're running sub[-10s] too. Only thing he's doing is he's running consistent, they're not running consistent. And I think at some point the thought of him dethroning Bolt didn't sit well with some people. It's just unfair. I feel badly for him personally.
"I think it's envy. When you serve a drug ban, usually it's career-ending. Most people aren't able to come back. He's been able to come back. He's been proving to people that he was always a great talent. The four-year suspension is supposed to ruin your career, and it really hasn't, athletically…"
Nehemiah broke off as he spotted Gatlin coming around the corner.
"Is that what you've got to go through?" said Gatlin, commenting on the scrum of reporters enveloping Nehemiah.
"Yeah man, just because of you," Nehemiah replied before embracing his client.
While we don't agree with everything Nehemiah said — Gatlin is generally friendly but can turn combative (and not pleasant) when talk turns to his past — it's worth hearing a different perspective on Gatlin than the "remorseless two-time cheat" angle that some of the more aggressive media outlets like to push. As Nehemiah pointed out, both Gay and Powell have served drug-related bans in the past, but Gatlin's have drawn far more attention than either of theirs in he buildup to Worlds.
Quick Take #5: A new era is on the horizon
Bolt and Gatlin are the present, but their time at the top is coming to an end. Bolt has said he will retire after 2017, while Gatlin is 33 years old. Tonight's bronze medalist, Bromell and De Grasse, are only 20, and you'd expect that by the next Worlds-Olympics-Worlds cycle, which begins in 2019, they will be the men generating all the attention. Of course, they could be battling for gold a lot sooner than that. At age 20, Bolt's PR was 10.03; Gatlin's was 10.08. Bromell (9.84) and De Grasse (9.92) have far exceeded those times.
Both still have eligibility remaining at Baylor (Bromell) and De Grasse (USC), and it is yet to be determined whether they'll use it next year or continue their rivalry at the professional level. Whatever happens, these are two men who will be incredibly fun to watch over the next decade.
Quick Take #6: Asafa Powell continues to struggle on the biggest stage
Powell, who owns a personal best of 9.72 (#4 all-time) and has broken 10.00 more times than any other human, once again left Worlds disappointed as he finished seventh in 10.00. He said that he doesn't believe that his struggles are related, saying that "I just didn't have the legs. My legs went dead for me. Didn't start, didn't finish. I didn't run my own race…It's just another day. Another disappointment."
Powell entered with the world's #2 time this year behind Gatlin (he ran 9.81 to win in Paris on July 4) but once again leaves a major championship without a medal. Here's how he's done in the 100 at global championships in his career:
2003 Worlds: false-started in quarters
2004 Olympics: 5th
2005 Worlds: groin injury, did not compete
2007 Worlds: 3rd
2008 Olympics: 5th
2009 Worlds: 3rd
2011 Worlds: groin injury, did not compete
2012 Olympics: 8th
2013 Worlds: banned after testing positive for the stimulant oxilofrine, did not compete
2015 Worlds: 7th
Quick Take #7: Tyson Gay, like Powell, couldn't explain his race tonight
Gay was sixth and said that his legs felt flat, perhaps due to lack of training.
Audio interviews:
Usain Bolt
https://soundcloud.com/letsrun-com/usain-bolt-talks-after-winning-2015-iaaf-world-champs-in-100m
Justin Gatlin
https://soundcloud.com/letsrun-com/justin-gatlin-says-he-gave-away-gold-in-mens-100-final-at-2015-worlds
Andre De Grasse
https://soundcloud.com/letsrun-com/andre-de-grasse-talks-after-winning-bronze-medal-at-2015-iaaf-world-championships
Vine of Bolt's Near Fall in The Semi.
Hope of a Bolt vs Gatlin matchup nearly ended with Bolt face down on the tartan 15m into semi. https://t.co/e4nkAexoZI Final is in 2 hours

— Ross Tucker (@Scienceofsport) August 23, 2015