Belarus' Marina Arzamasova Holds Off Melissa Bishop & Eunice Sum to Win Women's 800 in 1:58.04
By LetsRun.com
August 29, 2015
BEIJING — Same top three, different order. Two days ago at the 2015 IAAF World Championships, Canada's Melissa Bishop, Belarus' Marina Arzamasova and defending world champion Eunice Sum of Kenya blazed in the third and final semifinal heat of the women's 800 meter runs, all running 1:57.56 or faster to lead all qualifiers into the final. A mere four-tenths of a second separated the trio.
The top three women were the same in tonight's final, and the margin was similarly tight (.15 from first to third). The only difference this time was that Arzamasova, second in the semi, had enough to hold off Bishop and Sum in the home stretch to claim her first world title in 1:58.04. Bishop, like Arzamasova, became the first athlete from her country to medal in the women's 800, earning silver in 1:58.12, while Sum had to settle for third in 1:58.18.
The Race
As in Thursday's semifinal, Sum took it out quickly, 27.13 for the first 200 (she came through in 27.15 in the semi) with Morocco's Rababe Arafi the lone woman off the back of the pack. Arafi had rejoined the rest of the field 100 meters later as they slowed to 31.95 for the next 200 (59.08 at the bell), with Sum barely ahead of Arzamasova.
Like a dog on a leash, Arzamasova itched to move past Sum on the backstretch and finally broke free with 220 to go, hitting 600 in 1:28.87. Sum wasn't cooked yet, however, as she stayed a meter, perhaps two behind Arzamasova through the turn.
Article continues below player.
As they entered the homestretch, Sum swung wide onto Arzamasova's shoulder. A few strides later, they were joined by Bishop, moving up hard on Arzamasova's inside, as the three women began to pull away from the rest of the field. Arzamasova still led, however, and much as they tried, neither Bishop nor Sum could close the small gap Arzamasova had to start the homestretch. So that's how it finished — Arzamasova first by .09, with Bishop outleaning Sum for the silver, 1:58.12 to 1:58.18.
Race Video for USA visitors, analysis below results.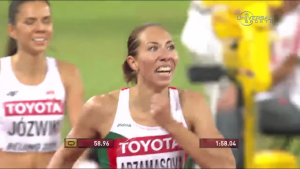 Quick Take #1: Belarus is not Russia
In this sport, you can never say definitively whether an athlete is clean or not. And given the success of Russia's Olympic/World champion Mariya Savinova in this event and the doping allegations against her in last year's ARD documentary, some people may be suspicious about Arzamasova as well, given her Eastern European background.
| | |
| --- | --- |
| Overall | |
| Comfort | |
| Cushioning | |
| Durability | |
| Appearance | |
| Value | |
That is unfair. Unlike Savinova, who rarely raced outside of Russia before showing up and dominating at global championships, Arzamasova has been a fixture on the circuit in recent years, running in six Diamond League events the past two years. And though she has run significantly faster in Beijing than she had earlier this season (her SB was 2:00.87 coming in and she ran 1:58.69, 1:57.54 and 1:58.03 in Beijing, three of her fastest four times ever), so have many other athletes at these championships, including the silver medalist Bishop (who came in with a 1:59.52 PB and ran 1:57.52 and 1:58.12 in Beijing).
"I dreamed about the gold medal at World Championships all my life and now I have this medal," Arzamasova told the IAAF after the race. "It was a good race, not so fast, and I was ready from the beginning to the finish. I knew all girls can finish strong, so I decided to start it on the last 200m. I felt really good and recovered from the semi-final. After the semi-final, I knew I can win if I do everything right. I have prepared all year for the World Championships, I believed in myself and dreamed about it."
Quick Take #2: Melissa Bishop was only second at the Canadian Championships in July; now she's second in the world
Bishop won Canadian titles in 2013 and 2014 but heading into this year, nobody would have pegged her as the World Championship silver medalist. She didn't even make it out of the first round in Moscow two years ago and though she made it to the final of last year's Commonwealth Games, she finished last in that race. At 26 (she turned 27 in August), it seemed as if the time for a breakthrough had come and gone.
But since she lost a slow final at the Canadian Championships (she was second to Fiona Benson in 2:08.60), Bishop has been on fire. She ran a season's best of 2:00.13 in Madrid on July 11 and followed that up with a 1:59.52 PR three days later in Lucerne. Perhaps the best sign she was ready take on the world came when Bishop upset U.S. champ Alysia Montano to win the Pan American Games on home soil on July 22.
Though she lost her last race before Worlds to Maggie Vessey in Atlanta on August 1, Bishop knew she was in great shape as her workouts were going well and she looked extremely relaxed in her prelim on Wednesday, running 2:00.23 as if it were a warmup jog — which, in a way, it was. The fireworks came one day later, where she ripped a 1:57.59 (a two-second PR) in the semis, and she looked strong again tonight even though she ultimately came up just short of gold.
Now Bishop is a global force and quite possibly the greatest Canadian 800 runner of all time. Diane Cummins has won 10 national titles to Bishop's two and has 16 of the fastest 21 times ever by a Canadian. But Bishop has the top two times on that list, two national titles and something Cummins lacks — a World Championship medal. Who you favor really depends on whether you value consistency or peak performance.
Quick Take #3: This was Eunice Sum's first loss in a final all year; could a different strategy have saved her?
Sum had dominated the world this year, running the first sub-1:57 since 2013 in Paris and winning five Diamond League events plus the Kenyan Trials. However, she only made it through to the final on time (her first "loss") in part because of her tactics in the semifinal, which included going out too quickly through 200 (27.15).
In our recap of that race, we warned that if she was going to lead early, she shouldn't run that fast for the first 200, but instead she ran faster in the final tonight, going out in 27.13 before running 31.95 for the next 200 to come through 400 in 59.08. That's not a smart way to run, especially because Arzamasova forced her to speed up again from 400 to 600 (Arzamasova came through in 1:28.87, so Sum was likely 1:29-mid, meaning she ran around 30.5 or faster) closing in around 29-flat the last 200.
Obviously we can't say for sure whether Sum would have beaten Arzamasova had she come through slower. But in a race this tight, it would have helped if she had run the first 400 more evenly, preserving some valuable energy for the final kick (she also had to run a little extra distance in swinging wide on the final turn). The little stuff adds up in a World Championship final.
Sum also said that she was tired from Thursday's semifinal.
"Even after the semi-final, I did not feel very well, I do not know exactly what was going on," Sum told the IAAF. "It was just not responding well, I did not manage to recover. It was a tactical race but the last 200 metres were very tough and the ladies were also pretty fast, I just tried to catch up. What I learned from these championships is that it does not matter if you are coming with the fastest time, you come as any other ordinary athlete and have to go through all those rounds. It is really different than other Diamond League meetings."