Four Thoughts After Women's 1500 Semis – A Medal of Any Color Won't Be Easy for Simpson or Rowbury; Kerri Gallagher and Lauren Johnson Should Be Proud; and the African-Born Runners Have Been Foolish
By LetsRun.com
August 23, 2015
BEIJING — The women's 1500 semifinals were held tonight and Tuesday's final is all set. There were no big surprises as all the favorites made the final, including former gold medallist Jenny Simpson and American record holder Shannon Rowbury. We have four quick thoughts about the races. Results at the bottom of the article if you missed the races.
1) A Medal of Any Color Won't Be Easy for Jenny Simpson or Shannon Rowbury
Article continues below player
American stars Jenny Simpson and Shannon Rowbury both came into Worlds dreaming of earning some major hardware and both advanced to the final tonight, but neither did so in impressive fashion. Both took home the final auto qualifying spots in their heats by finishing fifth (Simpson in 4:08.20 and Rowbury 4:16.64) but in Rowbury's case she was just .06 away from not advancing to the final. Simpson made it a little more comfortably, as in heat 2 it was obvious, given how slow the first heat had gone, that the top 7 would advance and she was 1.81 ahead of 8th and .52 ahead of sixth.
Yes, we know they don't give you style points for what you do in the semifinals (and Simpson said as much) but we don't know how you could watch today's races and not be worried about the duo's medal prospects. Rowbury even admitted to us she had wished she had been running up with the top three in her heat. She clearly didn't just cruise in on autopilot.
Jenny Simpson:
Rowbury interview:
https://soundcloud.com/letsrun-com/shannon-rowbury-talks-after-qualifying-for-2015-worlds-womens-1500-final
If anything, today's slower races with two big kicks showed Simpson and Rowbury need an honest race to have a chance for a medal. Rowbury closed fast tonight – 58-high – but that barely was fast enough to get her to the final as heat winner Sifan Hassan, who has run 3:56.05 this year, closed in 57.79 to get the heat win. In the second heat, world record holder Genzebe Dibaba closed in 58 flat to win the heat in 4:06.74.
More troubling for Rowbury and Simpson's chances is Hassan and Dibaba weren't the only ones closing fast. In heat 1, 19-year-old Ethiopian Dawit Seyaum, who ran 3:59 at age 17, was only .06 behind Hassan and 2013 world champ Abeba Aregawi, who hadn't raced on the circuit since early June, was only .44 behind Seyaum. Most troubling of all may have been the fact that in heat two, 21-year-old Kenyan Faith Kipyegon, who ran 3:56.98 at age 19, was only .14 behind the world record holder. Yesterday in the first round, Kipyegon was only .18 behind the fast-closing Dibaba. Kipyegon has spent much of the season working on her strength (14:31.95 sb at 5000) as she came back from an injury, but in two rounds here she's showed she's got plenty of speed.
Given the fact that Dibaba is the world record holder, she came into Worlds as the heavy favorite. But Kipyegon has stayed very close to her for two straight days. Sifan Hassan came into Worlds as many people's the #2 choice. Yes, Hassan lost to Jenny Simpson twice this year, but those losses at Pre and Rome were early in the year – on May 30 and June 4. Since then, Hassan has run 3:56 twice and beaten Jenny Simpson by more than a second in their last two matchups (in Lausanne and Monaco on July 9 and 17). Hassan has done nothing here at Worlds for anyone to lose faith in her and Seyaum was right there with Hassan tonight. Throw in the fact that the defending champ Aregawi is looking better than she has all year and one has to conclude that it's going to be very hard for the two Americans to medal. And we haven't even mentioned 3:58 Brit Laura Muir, who was the DL winner in Olso and finished ahead of Simpson tonight. With all of those names, it's also clear to us that in terms of the women's mid-d and distance races at the 2015 IAAF World Champs, the women's 1500 is the deepest event in terms of top talent.
The best thing going for Simpson and Rowbury is they both have medalled at Worlds before. The rounds clearly help them, so maybe things will look different in the final. Very few expected Rowbury to medal in 2009 and almost no one thought Simpson would get gold in 2011 and both things happened.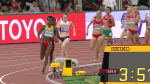 2) The Blowouts By The African-Born Runners At The End of These Heats Is Incredibly Stupid
We just spent a couple hundred words stating how we didn't think Shannon Rowbury or Jenny Simpson looked particularly impressive in their heats as many of the top African-born runners have been looking amazing. Now we'll turn around and tell you that we think it's foolish the African-born runners like Hassan, Seyaum, Dibaba and Kipyegon have been crushing it over the final 200 of their heats. There's no reason to work that hard and look that good.
We've never really thought people need to totally shut things down in prelims. The accepted idea that shutting it down in the final 10 meters is saving you a lot of energy is foolish. But to keep pushing over the final 150 when you are clearly going to automatically qualify is just stupid.
Tonight, right after the women's 1500 final ended, the men's 100 final was run. What happened there? Well Justin Gatlin, who had needlessly destroyed everyone in his first round and second round, got beat. Did Gatlin's large margin of victories in his first two races cost him .01 tonight? We'll never know but always wonder.
3) The Fact That So Many of The African-Born Runners Have Looked Good Isn't A Totally Bad Thing For Simpson and Rowbury 
The fact Kipyegon has kept things close to Dibaba for two straight days and the Seyaum stayed close to Hassan today could prove to be a good thing for Simpson and Rowbury. If the African-born stars tired themselves out yesterday and today, that could help Simpson and Rowbury. Or if Dibaba tries to bring her "A+" game and time-trial a super-fast final and people try to go with her, who knows what happens behind her – there could be a lot of carnage.
4) The Other Two Americans at Worlds – Kerri Gallagher and Lauren Johnson – Both Should Be Proud of How They Ran in Beijing
At the beginning of the year, no one expected Kerri Gallagher or Lauren Johnson (click here for a nice pre-race feature on Johnson) to be at Worlds. Yet both made it to Worlds and made it to the semifinals. They did more than just make it to the semifinals as both made some noise in their semis tonight. Johnson nearly made the finals as she ended up being the first person out of the final after finishing 8th in heat #2. In the first heat, Gallagher was also eighth in her super tactical heat, but she was far from intimidated by the occasion as she made a big move on the backstretch and actually had the lead with 200 meters to go.
So kudos to both women for running like they belonged at Worlds and not just being happy to be here.
Post-race interviews with Gallagher and Johnson below.
Results of 2 Semis (full results of Sunday here)
Heat 2: