Ezekiel Kemboi Cements Status As Greatest of All-Time; Evan Jager's Medal Hopes Come Up Short
by Robert Johnson
August 24, 2015
BEIJING – Kenya's charismatic 33-year-old steeplechaser Ezekiel Kemboi may be best known globally for his post-race dances but that needs to change. He needs to be remembered as the greatest steeplechase in history after winning his sixth global steeple title tonight (2 Olympics, 4 Worlds) and fifth straight. Once again, Kemboi came into the a global championship with people doubting his prospects for gold and once again Kemboi used his superior finishing speed to blast everyone over the final 250 to emerge as the champion with plenty of time to move out wide and celebrate before the line.
After a 56.6 last lap, Kemboi was your winner 8:11.28. 20-year-old Conseslus Kipruto had to settle for silver for the second straight Worlds in 8:12.38 as 2008 Olympic and 2007 World champ Brimin Kipruto edged Jairus Birech, the winner of the Kenyan Trials and the 2015 World #1, for bronze, 8:12.54 to 8:12.62. Yes, that's right. Kenya, which has historically owned the men's steeplechase, completed a historic 1-2-3-4 sweep – the first time in history they've gone 1-4 in an event. Four times before tonight, Kenya has swept the medals in the men's steeple, twice at the Olympics (1992 and 2004) and twice at Worlds (1997 and 2007) but Kenya had failed to win even three medals in the three times they've had four entrants at Worlds (2009, 2011 and 2013) before tonight.
And of course, in classic Kemboi style, the celebration continued after the line as well. After taking a break to get a Kenyan flag, he did a dance, a little subdued by Kemboi's standards but wild by almost anyone else's.
Article continues below player.
With Kenya going 1-4, that of course means it was a disappointing night for US distance fans, who were hoping that Evan Jager would end America's 0 for 20 drought at Worlds/Olympics in the men's steeplechase. Not since Brian Diemer's bronze in 1984 had the US medalled in this event, and many thought that would change tonight as the American record holder Jager came in as the second fastest man in the world. On this night, the results show that Jager had to settle for just being the second-fastest American in the race, heck the second-fastest member of Bowerman Track Club in the race, as the fifth-place finisher and first non-Kenyan in the race was Jager's teammate Dan Huling in 8:14.39, with Jager sixth in 8:15.47.
But the results don't tell the whole story as Jager had American fans dreaming of much more than a medal for most of the night as he had the co-lead heading into the bell as he was right next to Conseslus Kipruto. Those two would lead until they came off the turn, but when the real racing started on the back stretch, the Kenyans soon pulled away. First Jairus Birech went to the lead and then Kemboi struck with huge force some 250 meters out. When the fourth of the Kenyans, eventual bronze medallist Brimin Kipruto, came by Jager with some 250 meters to go, it was clear that Jager wasn't medalling barring a fall. From there, Jager went backwards and was caught in the final 50 by Huling, who had started the last lap in eighth and celebrated his fifth-place finish with a much-deserved fist-pump at the line.
American Donn Cabral, who was 8th in the Olympics in 2012 and came in with the 6th-best seasonal best of all the runners in the field, had an off night and finished a disappointing 10th in 8:24.94. Cabral's college rival, Matt Hughes of Canada, bested Cabral again tonight as Hughes, who was 6th in 2013 and 8th in 2011 in his two previoius Worlds appearances, ended up 8th in a seasonal best of 8:18.63.
The Race
The race started at a very modest pace as the first kilometer was run in just 2:49.50 (8:28.50 pace). The pace didn't accelerate too much over the next kilometer (2:47.27),  save for one brief big move that took place on the first 300 of the fourth-to-last lap. As the runners were coming down the homestretch about to hit the four laps remaining mark, Birech, the only man in the world under 8:00 this year, decided the pace needed an injection. He shot to the lead but only ended up running hard for about 300-350 meters as that lap was covered in a quick 64.70 (the other laps were in the 66-67 range). Birech would regret not keeping the pace honest as the world leader and betting favorite for the race would end up out of the medals.
The third-to-last lap was a more modest 66.50. Things picked up a little bit on the next to last lap (63 and change) but this was going to come down to the last lap. At the bell, six guys were still in contention for gold – the four Kenyans, Jager and 30-year-old Moroccan Brahim Taleb. Taleb, who was 11th at the 2012 Olympics and has a 8:07.02 pb, ended up seventh in 8:17.72.
Kemboi's huge surge from 4th to first some 7:35 into the race at first seemed to be a knockout punch. But his lead was only 5 meters and that narrowed to 3-4 meters after the water jump as Conseslus Kipruto just jumped it and Kemboi used the more traditional step-off clearance. Heading into the final barrier, Kipruto inched even closer and was just two meters back. Had Mr. Kick himself, Kemboi, gone too soon? Was he about to be gunned down at the line? No. Kipruto stuttered badly before the last barrier and Kemboi had time to run out wide into lane four in celebration before he even hit the finish line.
After the race, LetsRun.com found out why Conseslus struggled so much with the last barrier and lost his bid for gold. We asked him if the beginning of Kemboi's move outside to finish in lane 4 thad caused him to stutter his steps. Conseslus said that wasn't the case. He said when he hurdled the last water jump without using the barrier, he caught the top of his right shoe on the barrier. As he raced down the homestretch, his shoe came loose and nearly came off and he had to slow to make sure he got to the finish line.
See for yourself.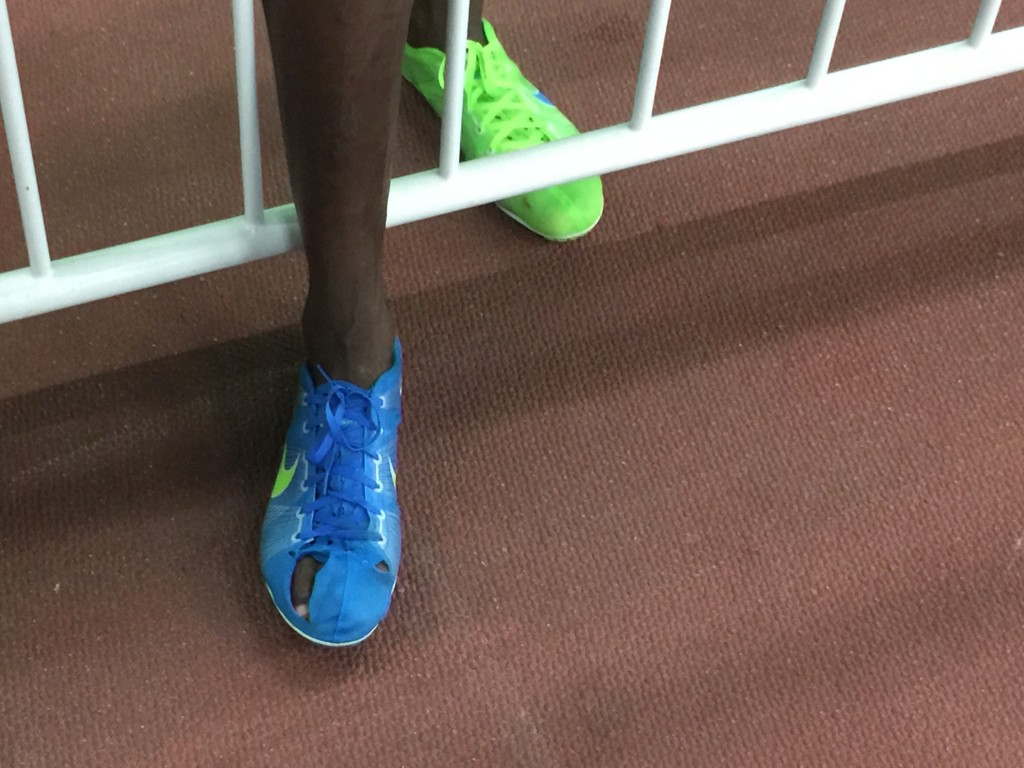 r
Results and quick takes appear below.
Results
1 Ezekiel KEMBOI KEN 08:11.28
2 Conseslus KIPRUTO KEN 08:12.38
3 Brimin Kiprop KIPRUTO KEN 08:12.54
4 Jairus Kipchoge BIRECH KEN 08:12.62
5 Daniel HULING USA 08:14.39
6 Evan JAGER USA 08:15.47
7 Brahim TALEB MAR 08:17.73
8 Matthew HUGHES CAN 08:18.63 SB
9 Krystian ZALEWSKI POL 08:21.22 SB
10 Donald CABRAL USA 08:24.94
11 Hamid EZZINE MAR 08:25.72
12 Hailemariyam AMARE ETH 08:26.19
13 Bilal TABTI ALG 08:29.04
14 Hicham BOUCHICHA ALG 08:33.79
15 Tolosa NURGI ETH 08:44.81
SPLIT TIMES 1k – 2:49.50 (Conseslus Kipruto)
2k – 5:36.77 (Conseslus Kipruto)
Quick Thougth #1: Kemboi is the GOAT in the men's steeple.
2003 World Silver Medallist: Ezekiel Kemboi
2004 Olympic Champion: Ezekiel Kembpoi
2005 World Silver Medallist: Ezekiel Kemboi
2007 World Silver Medallist: Ezekiel Kemboi
2009 World Champion: Ezekiel Kemboi
2011 World Champion: Ezekiel Kemboi
2012 Olympic Champion: Ezekiel Kemboi
2013 World Champion: Ezekiel Kemboi
2015 World Champion: Ezekiel Kemboi
That's an incredible championship record. Kemboi has been first or second at every single global championship in the men's steeple since 2003, except for the 2008 Olympics when he was 7th (in a year that he won the Kenyan Trials). We guess the one knock on the guy is that he's not the world record holder. But Kemboi is the sixth-fastest man in history in the steeple at 7:55.76 – a time which is just 2.13 off the world record – and he's broken 8:00 three times.
Yes, Kemboi has caught some breaks over the years. At the 2012 Olympics, his biggest rival Brimin Kipruto was taken out from behind and a non-factor in the final. Tonight, Conseslus Kipruto nearly lost a shoe. But a big part of success in the steeple is avoiding trouble and Kemboi has always done that on the biggest stage, and he's almost always brought an A+ race to the biggest race of the season.
Quick Thought #2: Dan Huling was thrilled to finish 5th in his first appearance in the final but was very honest about what's realistic for him moving forward
Before tonight, Huling had been to Worlds three other times (2009, 2011 and 2013) and never made the final. In fact, he said he'd never made those finals in "embarrassing fashion." Given that, he obviously he was thrilled to be the first non-Kenyan across the line in fifth.
"That's probably about all I could have done so it feels to good to do that," said Huling after the race.
Huling was less than thrilled to have beaten his training partner Evan Jager for the first time in his career and was very gracious in talking about Jager. When asked if he expected to beat Jager, he replied, "No. I feel a little bad that I did."
Huling was very honest in acknowledging that Jager was running for a medal and Huling was simply trying to run a smart race and finish as high as possible and there is a huge difference between the two. Huling thought he benefitted a great deal from running in the back early in the race and purposely avoiding all of the pushing in shoving that is common in international steeples.
"I've been on the circuit a long time and caught up in that and gone backwards very quickly. So I decided to stay on the rail and keep an eye [on the stuff ahead]. I think I ran as short of a distance as I could have run, didn't go with any wild pace changes and was able to kind of clean up on the last lap," said Huling.
When asked if today's fifth-place finish makes him "think a medal can be possible next year," Huling was honest.
"I mean not really. It's great if it's there but I'm never going to be racing for a medal because that's not how I'm going to execute the best. I mean Evan ran for a medal and it's difficult to do – it's a big risk. To run for a medal, you need to be in an 8 flat shape and you've got to be able to race in a bunch of different scenarios. [Tonight's result] doesn't change my preparation. I just want to make an Olympic team. I've never made an Olympic team," added Huling who joked he's always awful in Olympic years.
Quick Thought #3: About Jager
We're sure US fans are disappointed that Jager didn't medal. But please don't embarrass yourself and say something like, "How could he choke like that?" The fact of the matter is the 2015 world leader and Kenyan champ, Jairus Birech, didn't medal either.  He was fourth. The 2015 world #2 (Evan Jager) finished 5th.
Sometimes when you run for gold, you end up fourth or fifth when maybe you would have medalled if you ran for bronze. Tonight's men's steeple had 4 very good Kenyans in it. The third placer in this race was no slouch. Brimin Kipruto, whose pb is just .01 off the world record, now has six championship medals (2 gold, 2 silver and 2 bronze).
Jager had a lot to say about tonight's race and we have a lengthy 16-minute interview with him below.
Quick Thought #4: About Cabral
Cabral, who was 8th in the Olympics three years ago, wasn't pleased with his performance tonight and was at a loss to explain why he struggled. He said the race was very physical and because of that, he went up to the front. But in the end, it didn't matter what strategy he employed because he "just didn't have the legs to do what I wanted to do today."
Cabral feels that he's improved in training consistency and moderation this year but that he can still work on those areas in the future order to be his strongest at the end of the season.
Interview with bronze medalist Brimin Kipruto
Discuss this race on our world famous messageboard: MB: Ezekiel Kemboi 5th straight major win.
Screenshots from the BBC Broadcast – Click for larger image