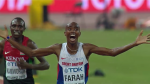 At last, the Kenyans gave the fans what they wanted - a relentless assault on Mo Farah. In the end, it didn't matter as Farah overcame the spirited team challenge to win 27:01 as Kenya was rewarded with the 2-3-4 placings. Galen Rupp ran the 4th fastest time in American (27:08) history to finish 5th.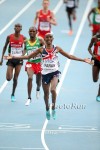 This year, in the span of 118 days, Mo Farah ran 59:32 for 13.1 and 3:28 for 1,500. How does that combination of strength and speed possibly lose? World XC champ Geoffrey Kamworor hopes he has the answer - be in shape to run 27:11 for 10,000 at 5,500 feet of altitude.
Event Schedule
| Race | Date | CST | CST |
| --- | --- | --- | --- |
| Final | 08/10/13 | | |
Outside Letsrun
List includes Emily Infeld, a Kenyan winning the 400 hurdles and Dafne Schippers.
Women's 100, men's steeple, women's 10K, men's pole vault and women's TJ.
Mead talks about focusing on the 5,000 in pervious years before moving up to the 10,0000 and thinks he has a lot more room to improve.
Edris, the world leader at 5000 last yaer, beat Imane Merga by .45 in 27:17.18, while Burka, the former wold indoor champ at 1500, won by more than a second in 30:49.68.
On The Boards
Navigate
Photos
Race Results
Analysis
Event Recaps
Interviews
Event Previews
In The Past