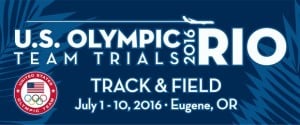 Eugene, OR
July 1, 2016 to July 10, 2016
The 2016 US Outdoor Track and Field championships are officially known as the 2016 Olympic Team Trials – Track and Field. *Qualifying Standards *Meet Website *Schedule *Tickets
Outside Letsrun
"You literally couldn't hold on to the discus. … You can't throw in conditions like that."
Sam (javelin) and Ryan (shot put) are already qualified.
Sean Furey also is going to Rio as only 3 Americans have the standard. NCAA champ Curtis Thompson missed it by just 5 inches. *Furey interview
He's PRd in 2 straight meets.
Ryan Crouser upset Joe Kovacs as Darrell Hill took third.
Photos
Race Results
Analysis
Event Recaps
Interviews
Event Previews
In The Past
Related Events