A Look At What Might Have Happened At The Trials: What If Duane Solomon Hadn't Let Up in Round #1, What If Kim Conley's Shoe Hadn't Come Off, What If Brenda Martinez Hadn't Been Tripped Up in the 800?
by LetsRun.com
July 15, 2016
It's time to look back at the Olympic Track and Field Trials and wonder "What If?" If a few things had happened differently, then the composition of the Olympic team might be totally different.
Without further ado, we take a look at a few "What Ifs?":
Duane Solomon doesn't let up too early in the first round of the men's 800
Solomon let up before the line and that let Charles Jock sneak into the semis as the final qualifier out of heat #1, as Jock only advanced by the tiniest of margins as he had the same time as Solomon (1:48.71). If Solomon doesn't let up, Jock doesn't advance (and go on to make the Olympic team).
Craig Engels and Shaquille Walker don't tangle  in the semis of the men's 800
If that hadn't happened, then Jock might not have made the final as Engels might have passed Jock for the final automatic qualifying spot for the final.
Article continues below player.
Jock barely advanced in each and every round as he was third in his first-round heat and third in his semifinal. Jock also most importantly was third in the final and that made him an Olympian.
Kim Conley's shoe doesn't fall off in the 10,000 final
If Conley's shoe doesn't fall off then she might have made the 10,000 team. If she made the 10,000 team, she likely would not have run the 5,000 (where she made the team) and thus Katie Mackey might be an Olympian (as she was the next person in in the 5000).

Brenda Martinez doesn't get tripped up in the 800 final
If Brenda doesn't get tripped up in the 800m final, we're virtually certain she would have made the 800 team (and not Chrishuna Williams) and not run the 1500 at the Trials. If that happens, then that means that Amanda Eccleston (4th) or Morgan Uceny (5th) might be an on the Olympic team. It's very easy to argue that Morgan Uceny, who has twice been screwed over by falls, was screwed over by a fall yet again – except this one didn't involve her.
LaShawn Merritt doesn't run the 200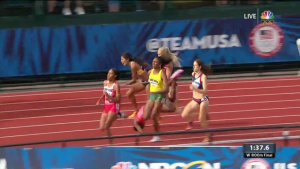 Then high schooler Noah Lyles likely would be an Olympian.  Of course, conversely, if world leader Shamier Little hadn't bombed out of the women's 400 hurdles, then it's likely that Sydney McLaughlin wouldn't have made the Olympic team.
We could go on and on with what ifs. We imagine 2015 World team members Lauren Johnson and Nicole Tully will be wondering, "What if?" for the rest of their lives. Would Johnson have had a shot in the women's 1500 had she not been shot into the infield just before the bell? Would Tully have had a shot in the 5000 had she not fallen?
What if Will Claye had jumped 1 centimeter further in the long jump or gotten a legal wind?
In the qualifying round of the long jump, 2012 Olympic silver medalist Will Claye jumped 8.14m, just missing the IAAF standard of 8.15m. He could have jumped again, but saved himself for the final, rightly assuming that it would take over 8.15m to finish top-3 anyway.
However, in the long jump final, all but one of Claye's jumps were wind-aided (he fouled the one that wasn't). So even though he finished third, fourth placer Marquis Dendy is going to Rio in the long jump since he has the standard (Dendy tied Claye's best jump at the Trials, but Claye had the better second longest jump.)
Additionally, while Claye successfully did the long/triple jump double in London 2012 (silver medal in triple, bronze in long) he said that the schedule in Rio might have forced him to choose one. Had he made it in the long jump and decided to make that his Rio focus, that could have opened up a spot for triple jump 4th placer Omar Craddock, who was also 4th at the 2012 Trials.
So it's possible that because of one centimeter and some wind, Dendy is on his first Olympic team and Craddock is not.
Do you have any What If's from the Trials? Discuss them on the message board.