Men's 1500 Semis: The 5 With The Standard All Auto-Qualify For Final But We've Got Yet Another Needless Controversy As The Officials Put 13 People Into The Final
by LetsRun.com
July 8, 2016

EUGENE, Ore — The men's 1500 semis at the 2016 US Olympic Track and Field Trials went largely according to form as all five runners with the Olympic standard of 3:36.20 were auto qualifiers for final. In heat 2, which was called the 'Heat of Death', as it contained the top four finishers from last year's USA meet, those four runners — Ben Blankenship, Matthew Centrowitz, Robby Andrews and Leo Manzano — went 1-4.
The real travesty ended up being the fact that the officials have stupidly put 13 runners into the final even though there were no DQs in either heat. More on that below.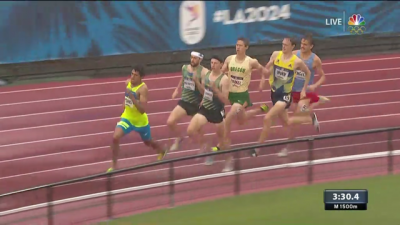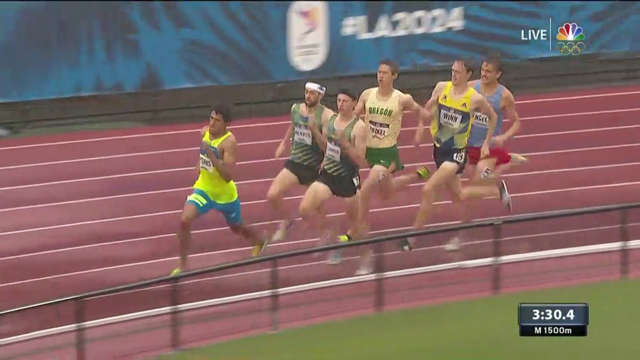 HEAT 1
A steady downpour started twenty minutes before the 1500 began and continued as the first heat came to the line. The wind was light but the rain was enough to force the women's pole vault to be suspended. After straining a leg muscle in yesterday's first round, Ben Saarel was a scratch.
Colby Alexander came through 400 in 62.5. Kyle Merber began to move up 600 meters into the race and was on Alexander's shoulder at 800 as they split 2:09.2.  
At the bell, Izaic Yorks shot to the lead and he split 1200 in 3:07.4 as a group of six quickly accelerated from the field. Closing the best was Craig Engels who moved up into second, only .09 behind Yorks' winning time of 3:47.67. Alexander held on for third in 3:47.77 while Merber was fourth in 3:48.30 and Daniel Winn took the final automatic qualifying spot in fifth in 3:48.31.
1 (1)

Izaic Yorks

Unattached

3:47.67 Q

4

2 (2)

Craig Engels

Ole Miss

3:47.76 Q

5

3 (3)

Colby Alexander

Hoka One One / NJ-NY TC

3:47.77Q

11

4 (4)

Kyle Merber

Hoka One One

3:48.30Q

6

5 (5)

Daniel Winn

Boston Athletic Association

3:48.31Q

13

6 (6)

Sam Prakel

Oregon

3:48.55

2

7 (7)

Graham Crawford

Unattached

3:49.15

1

8 (8)

Duncan Phillips

Unattached

3:49.78

7

9 (9)

Brandon Hudgins

Unattached

3:50.12

9

10 (10)

Robby Creese

Penn St.

3:51.06

8

11 (11)

Isaac Presson

Unattached

3:51.27

10

12 (12)

Thomas Awad

Penn

3:55.36

12
Quick Take: Izaic Yorks Wanted The Race To Be Slow To Help Brooks Beasts Teammate Dorian Ulrey
Yorks is a runner who generally does better in a faster race and isn't afraid to go to the front and push the pace. Given that, we asked him if he thought about trying to make this heat faster to put the pressure on all the studs in heat 2 (if the two time qualifiers were coming from the first heat, it'd be that much more likely a big name could go out in the second). But Yorks surprised us when he said, "I actually want the second heat to go faster … the reason being my teammate pulled a not so great card getting that heat and I'd like to see most of the time qualifiers come out of that. I'd like to see him in the final standing next to me." (Note: Ulrey ultimately didn't qualify as he was 10th in the second heat.)
Yorks also said that he enjoyed employing a different tactic by closing the last lap fast and "let everyone know I'm not just a leader from the gun. I can play both games."
QT: Five races down, one to go for Craig Engels
Article continues below player.
The Ole Miss junior was only 7th in the NCAA 1500 but now he's an Olympic Trials finalist in two events (he was 4th in the 800 earlier in the meet). Engels said that all this racing has got him feeling a little tired.
"Gosh man, I just wanna sleep," Engels said, noting he was yawning on the starting line.
Engels is one of eight men in the 1500 final without the Olympic standard, but he doesn't plan to be the one to do the work — he was the only guy to follow the rabbit at the Stumptown Twilight Meet on June 23 and wound up 13th in 3:48. Engels did say that if someone — perhaps Izaic Yorks — tries to push the pace, he'll get on the train and go with him.
QT: Colby Alexander said he isn't feeling the pressure
Alexander made the finals at USAs last year (he finished 9th) and ever since then he's been riding a high, running 3:36 last summer and going 3:38-3:37-3:36 (two wins and a second) in his three pre-Trials races. Alexander, who trained on this track in college at Oregon, said that he is confident and not feeling any pressure right now.
Alexander also said that he felt the heats were "pretty even."
"On paper, it looks very lopsided but if you look at how everybody has been running this year, people have been banged up, haven't been running up to their potential. To me, it's just names on paper… Pretty even heats, I'd say. My heat had a lot of up-and-comers, unattached guys, guys just coming out of college running and they're running the best the best they have right now."
Quick Take: Kyle Merber Wants To Be There With 100m To Go In The Final
Merber explained to us yesterday how a sacral stress fracture early in the spring left him with only weeks to train for the Trials so this was only his third 1500 of the outdoor season (the first round being his second). Talking about his confidence level and what he thought his chances of making the team were Merber said, "If I feel good I'll be in there. I'm not one to get overly confident ever. I'm always pretty realistic … I just want to be there with 100 to go and give myself a shot. Whatever happens that final 100 I'll live with, I just want to be there and know I went for it."
HEAT 2
Much was made of the unbalanced nature of the two semi-final heats. The second heat was clearly stacked. In an act of karmic payback, the heavy rain relented after the heat 1 runners exited the track and heat 2 came to the line.  
Matthew Centrowitz established an early lead but kept the pace slow. Dusty Solis took the lead 300 meters in and crossed through 400 meters in 61.8. Ben Blankenship took over the lead heading into 800, which was run in 2:05.7. Eric Avila, Centrowitz, Frezer Legesse, Matthew Maton, and Leo Manzano were in close contention coming into the final lap; Robby Andrews, running patiently in the back through 1000, moved up heading into the final lap. A 58.2 400 led to a 3:03.9 1200 split with positions unchanged and the pace ever increasing.
At 200 to go, Blankenship, Centrowitz, Andrews, Avila and Manzano moved away with a desperate Andrew Wheating closing hard for sixth and a fast enough performance to advance on time.
Blankenship crossed first in 3:44.24, with Centrowitz easing across the line, .05 back. Andrews had the best closing 400 (53.54), crossing in 3:44.36 for third, while Manzano (3:44.57), and Avila (3:44.68) grabbed the final automatic qualifying slots. Wheating (3:44.73) and Jordan McNamara (3:45.01) were 6-7 and appeared to have grabbed the two time qualifying positions.
But McNamara was disqualified, which advanced Johnny Gregorek, who had placed seventh in heat 2 in 3:45.59.  And then McNamara was re-instated and Gregorek was allowed to advance as well to bring the field size for Sunday's final to 13.
1 (1)

Ben Blankenship

Nike OTC

3:44.24 Q

7

2 (2)

Matthew Centrowitz

Nike Oregon Project

3:44.29 Q

5

3 (3)

Robby Andrews

adidas

3:44.36 Q

2

4 (4)

Leonel Manzano

Hoka One One

3:44.57 Q

10

5 (5)

Eric Avila

Hoka One One

3:44.68Q

12

6 (6)

Andrew Wheating

Nike OTC / NIKE OTCE

3:44.73q

4

7 (7)

Jordan McNamara

Nike OTC / NIKE OTCE

3:45.01q

6

8 (8)

Johnny Gregorek

ASICS / NJ-NY TC

3:45.59q

3

9 (9)

Frezer Legesse

Under Armour

3:46.19

1

10 (10)

Dorian Ulrey

Brooks / BROOKS Beasts TC

3:46.61

8

11 (11)

Matthew Maton

Oregon

3:46.91

9

12 (15)

Dusty Solis

Big Bear TC / New Balance

3:48.08

11
Quick Take #1: It's a COMPLETE joke that USATF has put 13 people in the final.
After the race was over, Jordan McNamara was initially DQ'd for making contact with Andrew Wheating when McNamara busted out from the rail with 300 to go. Upon review, the DQ was reversed which was the correct call in our opinion (the contact only briefly slowed Wheating down and since Wheating made the final on time, there was no need to DQ McNamara as the foul was far from egregious. In the NFL, you pick up the flag on uncatchable balls, in track, you should do the same when fouls don't impact the outcome of the race).
However, in a decision that makes ZERO sense, the officials decided to let the guy who had moved up to the final time qualifying spot with McNamara's DQ, John Gregorek, stay in the final even though Gregorek was nowhere near Wheating or McNamara when the contact occurred and in no way was impacted by McNamara's action.
This is idiotic. Putting 13 runners in the final hurts people who like to come from behind and increases the likelihood of falls. Either DQ McNamara and let Gregoek run or don't DQ McNamara and tell Gregorek he's out. You can't not DQ McNamara and then let Gregorek get in to the final when Gregorek was in no way at all impacted by the incident in question.
Watch the foul for yourself below. It happens at the 3:09 mark here.
MB: Guess what? They've done it again. Officials needlessly put 13 people into men's 1500 final without a DQ!!
Quick Take: Ben Blankenship Was "Excited" About The Stacked Heat
Blankenship's take on the super competitive second heat was, "I was excited. I was excited! It gives us a chance to kind of feel each other out before the final. [And] I was hoping maybe everyone with the standard would get eliminated and Sunday would be like a victory lap. Apparently not."
We asked Blankenship about his somewhat odd tendency to put out his arm out at the end of races. Blankenship said, "I don't know. I think a lot of times it's traffic in the back clipping heels. Just making sure I don't fall. It'd be the worst."
Quick Take: Matt Centrowitz Respected The Depth Of This Heat
Centrowitz said: "Our heat had a lot of previous Olympians and obviously pretty stacked field. So I have to take each round seriously and I'm happy I qualified for the final."
Quick Take: After finding out he was in the stacked heat 2 this morning, Wheating texted his coach Mark Rowland: "I didn't realize the final was today"
Wheating was closing better than anyone at the end of the race (though some of the top guys were shutting it down at that point), but he left it very late and only made it to the final on time. Wheating said that this race went very similar to how he expects the final to go, but he knows he must run better tactically in that race as he waited too long to move today.
Wheating said that while he would love to earn his third Olympic berth on Sunday, he has no plans to push the pace: he's focused on the win.
"There are some thing on home soil that I would like to accomplish too. Being second or third going to Rio would be magnificent, but if I can squeeze out a national title, that would be almost on par."
QT Jordan McNamara: "Izaic if you're watching this bro, DM me on Twitter…It's top 3 with the time or it doesn't matter…"
Jordan McNamara was the final time qualifier for the final and he is not content to just be in the final. He wants to try to make the Olympic team and that means he needs to run under the Olympic standard of 3:36.20 in the final. To do that, Jordan says he has has to have another runner working with him. He knows Izaic Yorks is a prime candidate saying, "Izaic if you're watching this bro, DM me on Twitter…. let's make an alliance or something." Jordan was clear what his intentions for the final were, "I don't really care to run here and run 3:50 for 7th, I'd rather give it an honest go or be last honestly. It's top 3 with the time or it doesn't matter…  This is the Trials final." When we confirmed Jordan viewed the final as a chance to make the Olympics and not just a US final he said, "What do we train for?"
But he knows he can't hit the time without some help. "You can't do it alone. You need help, you need cooperation, so the people who don't have the standard and want to give it an honest go contact me and maybe we can work something out."
QT: Robby Andrews Got Exactly What He Wanted In Today and Also Welcomes Drew Hunter To The adidas Family
Andrews said today's auto qualification was "exactly" what he wanted and called it, "Easy peasy." In looking ahead to the final, Andrews said, "It's going to be a party."
Andrews said he followed the instructions of coach Jason Vigilante today by running in the back, staying out of trouble before moving up between 500 and 400.
"(Vig) wanted me to slide up. I feel like I did that pretty well, tuck onto (the back of) Matthew (Centrowitz) and follow him through. He (Centrowitz) knows what to do."
At the end of the interview. We asked what he thought of Drew Hunter joining the adidas family.
"Congratulations Drew. It's a great family. It's very tight-knit community," said Andrews. When we asked him if he needed a training partner, Andrews replied, "Absolutely. (He's more) than welcome."
MB: Drew Hunter goes pro (just as we told you weeks ago) – signs with adidas