Absolute Madness in the Women's 800: Alysia Montaño Falls Down In Tears As Kate Grace Wins a Wild Race
By LetsRun.com
July 4, 2016
EUGENE, Ore. — For the first 550 meters of the the women's 800 final at the 2016 U.S. Olympic Trials, everything proceeded exactly as expected: Alysia Montaño was in her familiar position at the front of the pack, with Ajee Wilson in her familiar position on Montaño's shoulder.
Then all hell broke loose.
Bodies clashed and dreams were dashed as a tangle of limbs on the final turn robbed Brenda Martinez of her momentum and left Montaño on the ground in tears. As the two women's Olympic hopes melted to the Hayward Field track, Kate Grace, Ajee Wilson and Chrishuna Williams saw theirs realized, Grace pulling away for the win in a personal best 1:59.10, Wilson second in 1:59.51 and Williams coming from way back for third by .04 over Molly Ludlow, who was fourth for the second consecutive Trials.
Here's what happened, as far as we can tell — though after reviewing the video umpteen times, it's still not entirely clear. With 150 meters to go, Wilson was leading a tightly-packed group of six women. Martinez was moving up hard on her outside, but before she could pass Wilson, she was contacted slightly from behind by either Montaño or Raevyn Rogers of Oregon (Martinez' agent Hawi Keflezighi told us it was Rogers). Martinez was thrown off her stride, windmilling her arms as she careened to the outside, away from the pack. Martinez was slowing down as this was happening, and that caused Montaño run into her from behind. Montaño went down and her Olympic chances went with her.
Article continues below player.
It was a wild, wild race, the heartbreak of the Olympic Trials laid bare for all to see. For three women — first-time Olympians all — it was a dream come true. For the others — Martinez, Montaño and Ludlow, an agonizing fourth once again — it was devastation. For everyone, it was chaos, grand spectacle on a grand stage.
The result will be debated again and again. Should there have been a DQ? USATF has already decided that there is not, citing incidental contact. The first three women past the post made the team. Fair or not, that's the way it is.
Race recap, quick takes and video interviews below.
The Race (You can watch it below). Longer clip with replays here.
.@fastk8 wins the women's 800M Final in 1:59.10!

2. @AjeeW 1:59.51
3. Chrishuna Williams 1:59.59. #RoadToRio https://t.co/i0p0bqXiDA

— #TokyoOlympics (@NBCOlympics) July 5, 2016
Oregon's Raevyn Rogers, normally content to hold back, was at the front with Montaño as they hit 200 in 27.73.  The pace continued to be hot as Montaño came through one lap in 57.46.
Ajee Wilson was third at 400, while Ludlow, Martinez and Kate Grace were 4-5-6. Grace, normally a good closer, appeared boxed but in no hurry to change positions.  
Things got interesting on the back stretch. Wilson closed down on Montaño and at 600, Martinez and Rogers jumped Montaño as she was swallowed by the pack and all the contenders were still in place. Then the chaos began.
With seven of the eight finalists still in it (Phoebe Wright was off the back), there was jostling at 150 to go and Martinez stumbled while Montaño was knocked to the track.
Grace, boxed in on the inside midway through the turn, took full advantage. Rogers hesitated as Montaño went down, and that was enough to create a lane for Grace to move up on the rail. Grace struck immediately and was in second with 100 to go, where she then darted to the outside to move by Wilson. She used her patented final 100 to move by Wilson to claim victory. Grace crossed in 1:59.10, two steps ahead of Wilson in 1:59.51. Chrishuna Williams, seventh entering the final turn, eight meters behind Wilson, kept her poise and moved up as lane one opened up for her over the final 100, passing Rogers and holding off Ludlow for third in 1:59.59. Rogers faded to 2:00.59 in fifth; Phoebe Wright took sixth in 2:02.55.
An emotional Martinez jogged across in 2:06.63 while a visibly distraught Montaño fell to the track several times before finishing in 3:06.77, greeted at the finish by her husband and young daughter, Linnea.
Results
PLACE
ATHLETE
RESULT
200
400
600
800
LN/POS
1
Kate Grace

Oiselle

1:59.10

28.19

–

Pl: 6

58.46

30.27

Pl: 7

1:28.44

29.99

Pl: 6

1:59.10

30.67

Pl: 1

5
2
Ajee Wilson

adidas

1:59.51

27.94

–

Pl: 3

58.15

30.22

Pl: 3

1:27.98

29.83

Pl: 1

1:59.51

31.54

Pl: 2

6
3
Chrishuna Williams

Nike

1:59.59

28.16

–

Pl: 5

58.44

30.29

Pl: 6

1:28.73

30.30

Pl: 7

1:59.59

30.86

Pl: 3

7
4
Molly Ludlow

Saucony

1:59.63

28.03

–

Pl: 4

58.24

30.21

Pl: 4

1:28.30

30.06

Pl: 5

1:59.63

31.34

Pl: 4

3
5
Raevyn Rogers

Oregon

2:00.59

27.79

–

Pl: 2

57.90

30.12

Pl: 2

1:28.15

30.25

Pl: 3

2:00.59

32.44

Pl: 5

8
6
Phoebe Wright

Nike

2:02.55

28.40

–

Pl: 8

58.62

30.23

Pl: 8

1:29.53

30.91

Pl: 8

2:02.55

33.03

Pl: 6

1
7
Brenda Martinez

New Balance

2:06.63

28.37

–

Pl: 7

58.28

29.91

Pl: 5

1:28.00

29.73

Pl: 2

2:06.63

38.63

Pl: 7

4
8
Alysia Montaño

ASICS / NYAC

3:06.77

27.73

–

Pl: 1

57.46

29.74

Pl: 1

1:28.18

30.72

Pl: 4

3:06.77

1:38.59

Pl: 8

2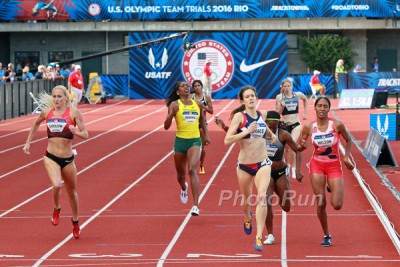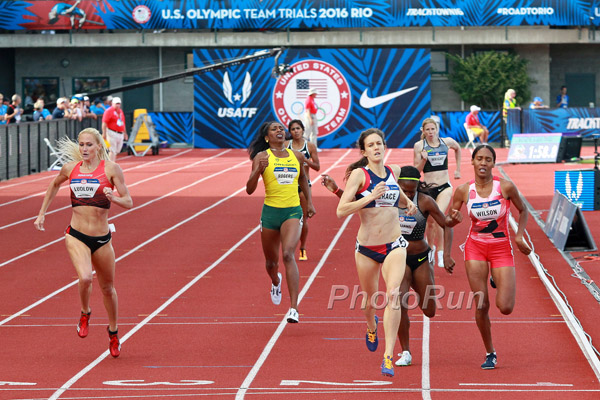 QT: Unfortunately, the Contact Dictated the Team
We'll never know for sure what would have happened over the last 150m of the 2016 women's Olympic Trials 800 final, but it doesn't take a track expert to tell you the final outcome would have been different. Martinez looked great and poised to fight for the win while Grace and Williams were boxed in on the rail.
Like we said, we'll never know for sure, but our prediction of what would've happened without the fall is that Brenda Martinez, Ajee Wilson and Kate Grace are your 2016 Olympians.
Discuss: Who Makes the 800 Team without the Fall?
QT: A heartbroken Alysia Montaño offered praise for the fans and harsh criticism of the "corrupt institution" of the IAAF
Montaño said she knew that the women would be making moves behind her over the final 200 and said her plan was to let them go by and move with 150 to go. But she didn't get the opportunity to do so as that's when she was tripped — she claimed from behind (though if that was the case, it was likely because Martinez either made contact with her or forced her to slow down). Montaño said after the race that she was in "the most safe position" at that point. And while we obviously sympathize with Montaño, that's not quite true — the safest place to be in an 800 is at the very front. Montaño was right in the middle, and in a close race like this one, with different women surging and slowing, that is a spot where contact could occur. Though to be fair, Montaño was moving up on the outside, which is a safer place to be than the inside.
We asked whether Montaño would protest and whether she thought the race could be re-run.
"What's that gonna do for me?" Montaño said. "This isn't the 100 meters sadly."
This has been an emotional year for Montaño. Her legacy should be as one of the greatest 800 runners of her generation but a string of Russians — most, if not all of them, likely doped — stole medals from her at championship after championship. It's left Montaño with no faith in the IAAF but praise for the fans who have kept her going.
"I'm missing three medals and like eight years of my life as a professional runner, my entire professional career has been a farce, basically. And now everyone's coming out and talking about how the Russians aren't running in the Olympics but missing the whole point that the IAAF is a corrupt institution that's still running the game for us professional athletes. And trying not to take that anger with me to today. Still trying to be in this sport, basically, with knowing that who's running the show has been using us all along and doesn't really care about our well-being.
"That's why it's been an emotional struggle for me. I'm here because of the fans of the sport. They care and they care about us as individuals. And [the fans] don't really care at the end of the day if you do win a medal or not, they care about your person and what you bring to the table and how they can apply your life situation to theirs. And I feel like that's how I connect best with the fans and it's honestly what's kept me here."
QT: Martinez felt that she executed her plan but "that's track and field"
Martinez was moving up well on the outside, just as she did in her semifinal, and looked to have a great chance to win her race, but said she was clipped from behind.
The good news for Martinez: she still has another shot in the 1500 meters. That's bad news for the women in the 1500 as Martinez has run 4:00 in the past and has the #3 time in the U.S. this year at 4:03.57.
MB: Brenda Martinez represents all that is right with our sport
QT: A new tactical approach led Kate Grace to the national title and an Olympic berth
Grace had never finished in the top three at USAs or NCAAs until today, but knew she could run at this level, even after missing almost the entire 2015 season due to injury and switching coaches to Drew Wartenburg this year. Grace said that Wartenburg noticed that Grace had been running on the outside in her 800's in the first two rounds and that had got her into trouble. So for the final, Grace decided to tuck in and it worked out perfectly as she hugged the rail before striking decisively on the final turn. Grace said she hasn't made a decision yet about running the 1500 later in the meet.
QT:Kate Grace A Year Ago Was Injured, Never Having Been Top 3 at NCAAs or USAs, Now She's US Champ and an Olympian: "I was almost in shock"
If Kate Grace was going to quit the sport it would have been last year. She had torn her plantar plate (a ligament that connects to the toe joint) in January. The Yale grad was thinking about grad school and while showing improvement since college, she had never been top 3 at USAs or NCAAs.
Her friends and family had been supportive of her running dream, but some of them let her know it would be ok if she pursued something else. A close mentor of Kate's told her "you don't have to torture yourself." Kate said the mentor said it out of love, but for some reason "it devastated" her. She went to a physical therapy appointment after the call balling in tears. However, the injury really made her think whether she wanted to stay in running. She decided she did and soon she found the passion again.
Kate said, "My little mantra has been 'What do you want to happen in the moment of truth (the key part of the race) .' .. I realized my moment of truth (actually) was last year when I was injured… I was out and was told it's ok if you want to stop now and go towards grad school. My reaction in April or March when that happened was was 'no I believe in myself' I kind of rallied and moved…."
Kate may have been a ball of tears when her mentor told her she could quit over a year ago, but when she crossed the finish line in first today she was anything but in tears. She was extremely stoic with very little expression.
When asked about it Kate said, "I've been trying to visualize this right (winnning the Olympic Trials)? And in my mind I start crying immediately."
Yet when she actually did win the Trials she said, "I didn't (cry). At the moment, that was my response to the reality of the situation, that this was something real.  I was almost in shock," saying she didn't cry until she saw her Oiselle supporters 300m around the track.
Last year she had been living in Bend, Oregon and watched USA nationals in Eugene as a spectator, but had already made the decision to move to California and join the NorCal Distance Project with coach Drew Wartenburg.
Since she made the move, Kate said it best, "It's been an incredible year." She hadn't run under 2:00 this year but had done very well in all her 800 and 1500 races.  She praised her training partners Leah Wallace and Kim Conley and her coach, saying the plan was to "use the rounds to get used to running the eight, and then you're going to PR in the final."
She executed the plan to perfection. It's not the most traditional route to the Olympic team in arguably America's toughest distance event, but Kate Grace is the 2016 Olypmic Trials Champion.
Now it's onto Rio, where she said, "Maybe in Rio, I'll cry in my dream."
QT: Wilson was happy to have won but thought she was a little too aggressive at 500 meters, which cost her the win
Wilson said that she thought something happened behind her as she heard the crowd react and felt someone clip her, but didn't know the full extent of the carnage. She also pointed out that it's been a good Trials so far for her coach Derek Thompson, who is now two-for-two with Olympians (Wilson and Marielle Hall in the 10,000).
At the press conference, Ajee said she was going to celebrate tonight with the fireworks (sparklers) that Marielle, her roommate here, bought.
QT: Chrishuna Williams, the poster girl for moving up in distance
Chrishuna Williams may be the poster girl for all the LRCers who want people to move up in distance.
Two years ago Williams ran two 800′s at Arkansas, 2:09 and 2:06. Her coach, Chris Johnson, last year told her the 800 was going to be her event. Chrishuna wasn't totally convinced it was her event, but in her third  800 of last year, she won SECs in 2:02.95. She would get fourth indoors and outdoors at NCAAs and lower her pr to 2:01.67. This year she went sub-2:00 for the first time (1:59.89) but then proceeded to run 2:03.18 and 2:01.29 in her next two 800's before the Trials.
Sunday she got the 3rd and final Olympic spot. "Once I saw my name in top 3, I just broke down," she said.
As for her race today she said, "I knew they were going to get out. I didn't want anyone to dictate my race. I just tried to go the last 120 meters and fight to the finish."
Now she has to deal with the likes of Caster Semenya in Rio. When asked if she had seen Semenya race she said she had and on "her last lap she just takes off." When asked if she had seen anything like it she said, "No I haven't, it's something I've never seen," as she laughed.
QT: Poor Molly Ludlow
Being 4th place at the Olympic Trials is one of the most heartbreaking experiences an athlete can go through. To have to go through it twice is just cruel. At the 2012 Trials, Ludlow finished .22 of a second outside of the top 3 and today it was an even more agonizing four hundredths of a second. Add that to Ludlow's 4th place finish at USAs last year (.04 behind Ajee Wilson, although she ultimately went to Worlds when Wilson withdrew with injury) and this has become a consistent trend for Ludlow. At 28 years old, it might be tough for her to still be in contention to make a team come 2020, but maybe she can bounce back and make the World team next year.
QT: No Hayward magic for Raevyn Rogers today as she "got pulled back in fall"
It's easy to forget with her success (three NCAA titles) that Raevyn Rogers is only 19 years old. She came up short of her Olympic dream today, but repeated "I'm blessed" when asked what she thought about it.
When asked about the fall, she said she didn't know someone fell, all she knew was she was "pulled back" as someone grabbed her during the race. If you watch the race carefully, you'll see Raevyn's shoulder jerk back. Raevyn had no hard feelings, saying "things like that happen for a reason" and pointing out it happens in Europe. She had no idea if it affected her finish because she said she was very focused on getting to the finish as fast as possible. Her plan today was be in good position for the final 200m.  She felt she executed that plan pretty well saying, "I stayed composed and ran the race I wanted to run. I gave it my best."
Talk about the crazy women's 800 on our world famous fan forum / messageboard: MB: OMG: What happened in the women's 800?