Chaos Continues in Men's 800 Semis – We'll Have A 9-Person Final
By LetsRun.com
July 2, 2016
EUGENE, Ore — The 800 semifinals were run today at the 2016 US Olympic Track and Field Trials, and the chaos that started before the first round of the men's 800 was even run when two-time Olympian Nick Symmonds withdrew continued, as the men's 800 final will only include four of the 10 fastest men in the US this year. Only one man, Charles Jock, returns from the final four years ago.
The 10 Fastest Men Entered In 2016 US Olympic Trials Men's 800 (Number in parentheses is their world rank)
1   (4) 1:43.55 AJR Donavan Brazier – failed to advance out of 1st round
2   (8) 1:44.20 Boris Berian – won semi #1
3   (21) 1:44.99 Shaquille Walker – 4th in heat #2, failed to advance
4   (39) 1:45.47 Duane Solomon – failed to advance out of 1st round
5   (46) 1:45.65 Drew Windle – 7th in semi #2, failed to advance
6   (49) 1:45.76 Isaiah Harris – 4th in semi #1, time qualifier
7   (53) 1:45.80 Erik Sowinski – 2nd in semi #1, auto qualifier
8   (62) 1:46.12 Brandon Johnson – 2nd in semi #2, auto qualifier
9   (78) 1:46.42 Brannon Kidder – 8th in semi #1, failed to advance
10   (87) 1:46.52 Chris Sanders – failed to advance out of 1st round
Also worth noting: two of the finalists (Johnson and Craig Engels) still need the Olympic standard of 1:46.00.
HEAT 1
Boris Berian was out strongly in 24.44 and by 400 meters had a 10-meter gap, splitting a very impressive 49.72. Erik Sowinski (50.39) and Cas Loxsom (50.68) were in second and third, well clear of fourth.
At 600, however, it appeared that Berian might have gone out too hard as he started to slow. But his stiff early pace paid off, as he crossed first in 1:45.71. Sowinski ran a controlled race the entire way, placing second in 1:45.82 while Loxsom was third in 1:45.93. Penn State true frosh Isaiah Harris was fourth in 1:45.95 with Harun Abda fifth in 1:46.28. Those times would get in as time qualifiers. In recent history, the US has taken the top four in each semi to the final but this year they took the top three and next two fastest.
1

Boris Berian

New Balance

1:45.72 Q
3
2

Erik Sowinski

Nike

1:45.82 Q
4
3

Casimir Loxsom

Brooks / BROOKS Beasts TC

1:45.93 Q
8
4

Isaiah Harris

Penn St.

1:45.95 q
6
5

Harun Abda

Nike OTC / NIKE OTCE

1:46.28 q
7
6

Edose Ibadin

Unattached

1:46.77
5
7

Abraham Alvarado

Cal St. Stanislaus

1:48.41
1
8

Brannon Kidder

Brooks

1:48.76
2
Boris Berian Has No Plans On Changing His Front Running Strategy
Talking about slowing down at the end of the race Berian admitted he was starting to tie up a bit, but said he "had just a little bit more" if he needed it. Asked where his "crazy psycho" racing style comes from, Berian explained that since he started out as a 400m runner before moving up to the 8, "anything not all out [for a] 400 [lap] felt really easy." Berian doesn't plan on switching up for the final in two days, saying, "Yeah, nothing's gonna change really."
Erik Sowinski: "We're here to win. You don't come here to take second, you don't come here to take third. Obviously those are great consolation prizes to make the team but every time I step on the track, it's to win."
Sowinski said he felt a little tired after two quick races (he ran 1:46.17 yesterday and 1:45.82 today) in the span of 20 hours and is grateful for tomorrow's day off before Monday's final.
Sowinski admitted that without Donavan Brazier and Duane Solomon in the final, his chances of making the team improved, but he wasn't celebrating last night.
Article continues below player.
"You definitely feel for them when something happens like that," Sowinski said.
Sowinski said his plan is to sit in the top three for the first 700 in the final and then"see what happens" over the final 100. He made it clear that he'll be gunning to win the final and likes his chances as he believes he's fitter than when he finished second in 2015. Last year, Sowinski ran 1:45.82 in Beijing in May and finished 3rd in that race; at the same meet in 2016, he ran 1:45.80 and won. His run at Birmingham (1:15.06 600) was also better than his 1:48.20 800 there last year.
Cas Loxsom Is Dreaming About The Olympics
Cas Loxsom looked pretty spent after running his second season's best in two days, but said they had prepared and trained for this knowing the races would be fast. He said the race "went to script" with Berian taking it out hard and felt it "was a good warmup for the finals" which will also likely be fast.
Anyone in the final at this point has to be dreaming of Rio and Loxsom is no exception. Asked for this thoughts potentially making it to Rio, Loxsom said, "It just seems so possible. We train with Nick everyday and I'm just friends with lots of Olympians and it's my dream. It'd mean the world to me."
Isiah Harris Pleased With His Race
Harris is a true freshman at Penn State and made the final on time. However, he was content with coming though the mixed zone and talking to the media instead of waiting to see how heat #2 went.

HEAT 2
Five men were tightly bunched coming off the final turn of semi #2
Brandon Johnson had the lead at 200 in 24.97 with Shaquille Walker in second. Johnson continued to lead at 400, nearly two seconds slower than heat one, coming through in 51.41.
Johnson and Walker were 1-2 at 600, but coming off the final turn it was still a five-person race as Charles Jock and Clayton Murphy looked poised to strike by coming up the inside and Ole Miss's Craig Engels was right there looking for space on the inside. With 100 to go, Murphy began his move on the outside and would go on to claim first in 1:46.97, finishing in front of Johnson in 1:47.02 as Jock was third in 1:47.35. In the final 50, Walker appeared as if he was starting to tie up but he was still driving forward as Engels looked for space to move up from the inside. Engels clipped Walker from behind and went down as Walker lost some important momentum. Walker still managed fourth but only the top three were getting out of this heat.
A  yellow flag was raised; both men appealed to be placed in the final. Did Walker get clipped because Engels fouled him from behind? Or did Walker, realizing he was losing steam, move over and impede Engels?  In the end, 75 minutes after the race was over, officials ended up siding with Engels, who was placed in to what will now be a nine-person final. Let's hope they have two guys share a lane and don't do a waterfall start.
We exchanged text messages with Engels' coach at Ole Miss, Ryan Vanhoy. Vanhoy told us that both Walker and Engels appealed but only Engels' appeal was upheld. Vanhoy says they believed that Engels "was impeded by Walker in the last 50m while Craig was passing him on the inside" and the officials agreed with that. Vanhoy added that "Walker cut inside while Craig was coming up on him. They got tangled as a result and Craig fell."
Update: We have two new photos that show you that Walker didn't keep a straight line. Here he straddling the line between lanes 1 and 2.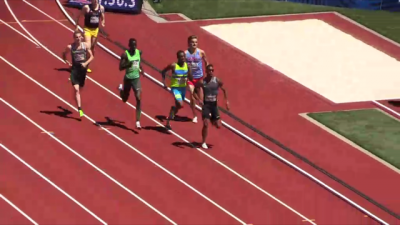 Here, a little down the homestretch, Walker has moved inside and is clearly fully in lane 1.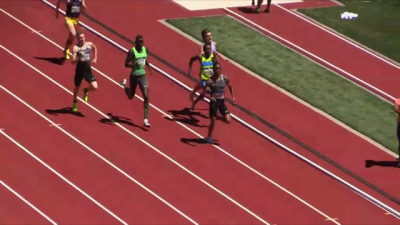 More photos from the race.
Results
1

Clayton Murphy

Nike

1:46.97 Q
6
2

Brandon Johnson

Nike

1:47.02 Q
5
3

Charles Jock

Nike OTC

1:47.35 Q
8
4

Shaquille Walker

Brooks

1:47.93
4
5

Nick Hartle

Unattached

1:49.55
7
6

Craig Engels

Ole Miss

1:55.40 q
1
7

Drew Windle

Brooks / BROOKS Beasts TC

1:55.75
3
DNF

Joseph White

Georgetown

2
Clayton Murphy Felt Good, But Wasn't Thrilled With His Tactics
Murphy said that he "wasn't in the right spot" after the first lap and as he was too far back and caught on the inside blocked from moving up. He said he'd have to watch the race and talk to his coach to make sure he "doesn't make that mistake again" in the final. Murphy felt he was ready to go with 200m left, but didn't want to go so wide into lane 4 so waited until 100m to go. He felt confident in his kick saying, "I was confident I had enough left to get at least a couple of them. I knew we had to be top three … I thought I could get third, I didn't know if I could get the win, but it's all about being in the top three."
Brandon Johnson is back in the U.S. final after a two-year absence
Back in 2013, Johnson, a converted 400 hurdler, ran 1:43, finished third at USAs and came .04 short of the World Championship final. The next year, he battled a variety of maladies, including a torn labrum and stress fracture. He came back in 2015 and promptly missed most of that season after a tear in his plantar. Johnson said he was essentially starting from zero again when he began running again last September and he's been careful to manage his volume and intensity and avoid another injury. Finally healthy again at USAs, the 31-year-old Johnson has started to show his old form and is one race from making the Olympics. Johnson, with his sprint background, is hoping the final goes fast from the gun as he believes that's his best shot to make the team.
Charles Jock Talked About Nike Contract Reductions And Says His Goal Wasn't To Make The Final, It's To Make The Olympics
We caught the tail end of Charles Jock discussing contract reductions. He wasn't bitter about them explaining, "It's a business and you have to respect the business and know what you signed up for."
While Jock was happy to advance to the final in two days (which apparently means he'll avoid certain reductions), he said that he's not satisfied with that alone. "I never go into a season hoping to not get reductions. I go into a season trying to run my best and trying to make the team. That's my goal. My goal is not to just make the final, my goal is to make the team. And then maybe make the final at the Olympic Games."
Looking ahead to the final Jock said he wasn't going into it "with any sort of plan other than to race". He feels ready hat he was ready for whatever type of race it ends up being saying he's confident in his "sit-and-kick" and ability and he's confident "going out fast."
Craig Engels: "I'm not a Nike athlete…so we'll see how this small town college boy does (in the appeal)."
Craig Engels gave a big "yes" in the mixed zone when he learned that a flag had been raised when he fell because he knew that might help his chance to appeal and get in the final. He said Shaq Walker cut in on him and he fell as a result. Engels said, "I think I could have made it (the final)… I felt like I could have won that heat."
On his appeal (which was eventually successful), he joked "I'm not a Nike athlete…so we'll see how this small town college boy does (in the appeal)."
Drew Windle:" I felt like I was running in quicksand"
Drew Windle was a total non-factor in this one eventually finishing in 1:55. Afterwards, he said he was "disappointed" and "frustrated" to let such a good opportunity slip away. With Symmonds, Brazier, and Solomon out, making the Olympic team was suddenly that much easier this year and Windle knew it. "I'm still really young, but this  was a great opportunity to make the team, but I just felt like I was running in quicksand," he said noting he was 5 meters back when the field broke from the staggers.

All the 800 videos below or on this stand alone page. Talk about the race on our messageboard: MB: Official 2016 Olympic Trials Day 2 Live Discussion Thread 
https://www.youtube.com/embed?listType=playlisty&list=PLwq03wnoevG_ChQl0MzpsAIA1nEAgTcMc&layout=gallery
NBC's Live Extra has live streaming of the Olympic Trials here: http://liveextra.nbcsports.com.