One For The Thumb: Evan Jager Wins The 2016 US Olympic Trials Men's Steeplechase – His 5th Straight US Title
By LetsRun.com
July 8, 2016
EUGENE, Ore. — American record holder Evan Jager took control of the men's steeplechase over a blistering final four laps, which he led in their entirety, to win the 2016 US Olympic Track and Field Trials in 8:22.48, his fifth straight US title. Unheralded Hillary Bor, who finished just 12th in his final NCAA meet in 2011 (3rd in 2010, 2nd in 2009 and 4th in 2008), had the best last lap of anyone (62.13) to grab the second Olympic spot in 8:24.10 as Donn Cabral repeated as an Olympian in third in 8:26.37, holding off 2012 NCAA 1500 champion Andy Bayer, who ended up fourth in 8:28.59.
The last lap was full of drama as Stanley Kebenei, who was in second heading into the last water jump, fell and ended up fading all the way to 13th (8:48.99) as Cabral went from fiffth to third. 2016 NCAA steeple champion Mason Ferlic closed well to grab fifth in 8:30.03.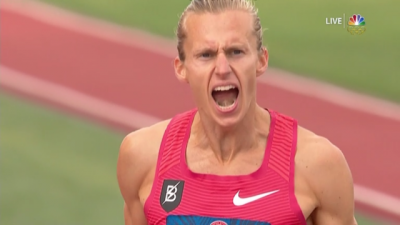 The Race
Ferlic, a front-runner throughout his senior year at Michigan, had the lead after lap one, running 69.7. Just a month removed from his NCAA victory on this same track, Ferlic employed the same tactics he used to great success in June: staying out of trouble up front.
But a slow two-lap split of 2:20 enticed American record-holder Evan Jager to move into second. Fellow 2012 Olympian Donn Cabral joined him on the shoulder of Jager as they were running a very pedestrian 9:00 pace at 1000 meters.
As they approached four laps to go, Jager took control, moving to the lead and steadily increasing the pace; he would run faster every lap until the finish (Jager's official FAT splits for his last four laps were 64.39, 62.59, 62.61, 62.50). With Jager in the lead, the overall time at four laps was 4:38 and Jager was followed by Stanley Kebenei, Ferlic, Donnie Cowart, and Cabral.
A 63.6 lap at 2K had quickly broken up the field. Kebenei was attempting to stay within five meters of Jager and it was another five meters back to the pack of Ferlic, Cabral, and Andrew Bayer.
Jager dropped the pace down yet again, running a 62.7 as they approached the penultimate water jump. At the bell lap it was Jager, Kebenei and Bayer pulling away in the top three. They had a full one-second lead on Cabral and Hillary Bor. It appeared that the team was set.
But as Jager continued to apply pressure, running a 62.3 as they approached the final water jump, things began to get very interesting behind him. Kebenei, who had looked so good in close pursuit, started to labor.
Article continues below player.
It was the approach to the final water jump that provided all the drama. The crowd began to roar as Kebenei slowed a bit approaching the water. He bumped Bayer before the barrier, a miscue that threw Bayer off his stride, and then fell down when he hit the water, meaning that Cabral had to jump over him.  
Bor quickly moved by them both, and Cabral, who was fifth heading into to the last jump, had an opening… and he took full advantage. Despite an inelegant final hurdle jump, Cabral took care of business over the final barrier to grab the third and final spot on Team USA.
Up front, Jager continued to pull away, claiming his fifth straight national title in the steeple, winning in 8:22.48. Bor took second in a pb of 8:24.10 while Cabral was third in 8:26.37. Bayer held on for fourth in 8:28.59 while Ferlic came back to grab fifth in 8:30.03.
Resutls and our full analysis appear below.
1

Evan Jager

Nike Bowerman TC

8:22.48

8:22.48

1:02.50

Pl: 1

7:19.98

1:02.61

Pl: 1

6:17.38

1:02.59

Pl: 1

5:14.79

1:04.39

Pl: 1

4:10.40

1:08.81

Pl: 1

3:01.60

1:10.56

Pl: 4

1:51.05

1:10.66

Pl: 6

40.39

–

Pl: 15

8

2

Hillary Bor

U.S. Army

8:24.10

8:24.10

1:02.13

Pl: 2

7:21.97

1:02.79

Pl: 5

6:19.19

1:03.01

Pl: 6

5:16.18

1:05.19

Pl: 6

4:10.99

1:09.35

Pl: 5

3:01.65

1:10.88

Pl: 5

1:50.78

1:11.41

Pl: 4

39.38

–

Pl: 5

2

3

Donn Cabral

Nike

8:26.37

8:26.37

1:04.83

Pl: 3

7:21.54

1:02.93

Pl: 4

6:18.62

1:02.62

Pl: 3

5:16.01

1:04.79

Pl: 5

4:11.22

1:09.81

Pl: 6

3:01.42

1:10.90

Pl: 2

1:50.52

1:11.38

Pl: 2

39.14

–

Pl: 3

5

4

Andrew Bayer

Nike Bowerman TC

8:28.59

8:28.59

1:07.94

Pl: 4

7:20.65

1:01.85

Pl: 3

6:18.81

1:02.56

Pl: 5

5:16.26

1:04.85

Pl: 7

4:11.42

1:09.48

Pl: 9

3:01.94

1:10.59

Pl: 7

1:51.36

1:11.96

Pl: 8

39.40

–

Pl: 6

11

5

Mason Ferlic

Unattached

8:30.03

8:30.03

1:06.29

Pl: 5

7:23.75

1:04.96

Pl: 6

6:18.80

1:03.35

Pl: 4

5:15.45

1:04.78

Pl: 3

4:10.68

1:09.41

Pl: 2

3:01.28

1:11.08

Pl: 1

1:50.20

1:11.23

Pl: 1

38.97

–

Pl: 1

9

6

Craig Forys

ASICS FURMAN ELITE

8:34.16

8:34.16

1:06.52

Pl: 6

7:27.64

1:05.64

Pl: 8

6:22.01

1:04.94

Pl: 9

5:17.07

1:05.49

Pl: 10

4:11.58

1:09.13

Pl: 11

3:02.46

1:10.33

Pl: 14

1:52.13

1:11.91

Pl: 14

40.22

–

Pl: 13

12

7

Cory Leslie

Nike

8:37.54

8:37.54

1:07.92

Pl: 7

7:29.62

1:07.41

Pl: 9

6:22.21

1:05.34

Pl: 10

5:16.88

1:05.32

Pl: 9

4:11.56

1:09.42

Pl: 10

3:02.15

1:10.63

Pl: 11

1:51.53

1:11.90

Pl: 10

39.63

–

Pl: 8

14

8

Donnie Cowart

Saucony

8:39.02

8:39.02

1:11.65

Pl: 8

7:27.38

1:06.83

Pl: 7

6:20.55

1:04.70

Pl: 7

5:15.85

1:04.94

Pl: 4

4:10.92

1:08.86

Pl: 4

3:02.06

1:09.83

Pl: 10

1:52.23

1:11.98

Pl: 15

40.25

–

Pl: 14

7

9

Daniel Huling

Nike Bowerman TC

8:39.50

8:39.50

1:09.56

Pl: 9

7:29.95

1:08.16

Pl: 10

6:21.80

1:05.17

Pl: 8

5:16.63

1:05.27

Pl: 8

4:11.37

1:09.41

Pl: 8

3:01.96

1:10.83

Pl: 8

1:51.13

1:11.84

Pl: 7

39.30

–

Pl: 4

4

10

Bryce Miller

UMKC

8:40.32

8:40.32

1:02.92

Pl: 10

7:37.40

1:09.94

Pl: 14

6:27.46

1:08.69

Pl: 14

5:18.78

1:06.70

Pl: 14

4:12.08

1:09.84

Pl: 14

3:02.24

1:10.61

Pl: 12

1:51.64

1:12.07

Pl: 11

39.57

–

Pl: 7

1

11

Tabor Stevens

ASICS

8:41.98

8:41.98

1:10.22

Pl: 11

7:31.77

1:08.68

Pl: 11

6:23.09

1:05.62

Pl: 11

5:17.48

1:05.61

Pl: 11

4:11.87

1:09.45

Pl: 13

3:02.43

1:10.61

Pl: 13

1:51.82

1:11.82

Pl: 12

40.01

–

Pl: 12

13

12

Isaac Updike

Team Run Eugene

8:42.92

8:42.92

1:07.19

Pl: 12

7:35.73

1:10.54

Pl: 12

6:25.19

1:07.36

Pl: 13

5:17.83

1:06.24

Pl: 13

4:11.60

1:09.60

Pl: 12

3:02.00

1:10.56

Pl: 9

1:51.44

1:11.53

Pl: 9

39.91

–

Pl: 10

15

13

Stanley Kebenei

Nike

8:48.99

8:48.99

1:28.68

Pl: 13

7:20.32

1:02.46

Pl: 2

6:17.86

1:02.74

Pl: 2

5:15.13

1:04.44

Pl: 2

4:10.70

1:09.01

Pl: 3

3:01.69

1:10.85

Pl: 6

1:50.85

1:11.19

Pl: 5

39.66

–

Pl: 9

3

14

Travis Mahoney

Hoka One One / NJ-NY TC

8:49.01

8:49.01

1:12.09

Pl: 14

7:36.92

1:11.91

Pl: 13

6:25.01

1:07.28

Pl: 12

5:17.74

1:06.47

Pl: 12

4:11.27

1:09.80

Pl: 7

3:01.47

1:10.91

Pl: 3

1:50.56

1:11.57

Pl: 3

39.00

–

Pl: 2

6

15

M J Erb

Ole Miss

8:50.95

8:50.95

1:10.30

Pl: 15

7:40.66

1:10.83

Pl: 15

6:29.83

1:09.87

Pl: 15

5:19.97

1:07.44

Pl: 15

4:12.53

1:09.76

Pl: 15

3:02.77

1:10.83

Pl: 15

1:51.94

1:12.01

Pl: 13

39.93

–

Pl: 11

10
QT: 11 Minutes With Evan Jager: "I'm still hungry and have goals I want to achieve."
We've got 11 minutes with Evan Jager below. If you want to see more written highlights of the interview click here. Jager said he was given leeway from coach Jerry Schumacher as to when he should make his move today. He was hoping to open more of a gap than he did, but he kept the pressure on and was good enough on the final lap. Now, likely the next race for Evan will be the Rio Olympics, where he has unfinished business after his disappointing sixth place last year at Worlds.
"I'm still hungry and have goals I want to achieve and that keeps me motivated," said Jager. Those goals including medalling at the Olympics and going sub-8. Jager said he has re-watched the Worlds race last year and his incredible run in Paris that ended with a fall and an American record and they leave him wanting more.
As a result, Jager who first added "pure speed" to his training last year, has now added "pure speed" workouts over barriers and the water. He hopes it will pay off in Rio.
Jager said his group has gained confidence from the girls "crushing it" this year (Colleen Quigley and Courtney Frerichs made the Olympic steeple yesterday, and his teammates Amy Cragg and Shalane Flanagan went 1-2 in the Olympic Trials marathon). When asked what it meant for him to win 5 straight USATF titles he said, "It means I've been healthy for five years… I don't think I've taken more than 10 days off for any minor injury for the last five years."
More: LRC 11 Minutes With Evan Jager After He Wins the Trials
QT: America, Meet Hillary Bor, A Guy Who Was Only 12th At NCAAs, Quit Running And Only Started Again For "Fun"
Bor graduated from Iowa State University in 2011 and was only 12th in the steeplechase at NCAAs that year (though he had finished 3rd, 2nd and 4th the three years prior). He had an 8:35.12 PB (which he set in 2009) when he graduated, but then quit running, joined the Army and says he started up again in 2013 "for fun" because he wanted to run in the Army 10-Miler. (*Editor's Note: Bor said he quit running, but tilastopaja.org lists some elite-level results every year, so if he quit, it doesn't appear it was for any long period of time).
After starting up again, he was coached by Scott Simmons and eventually applied to the Army World Class Athlete Program (AWCAP), but wasn't accepted. He works full-time as a soldier in the finance department and does all his training in the morning from 6 a.m until 9:30 a.m. before work (until the last 7 weeks when his unit told him to relax and train for the Trials). Bor was actually supposed to be deployed in February, but his brother ended up being deployed instead. When that happened Bor said, "That changed my mindset. I need to work hard because you can't take anything for granted." Bor said once he ran 8:30 earlier in the year he knew he had a shot at the Olympic team and Scott Simmons thought he was in 8:15 shape.
Talking about his tactics for today, Bor had given it a lot of thought and had a smart plan as he explained, "Coming in, I knew the race would be [decided] in the last 800 meters. Watching the women's steeplechase yesterday, I realized the two ladies who followed the leader died the last two laps. So I didn't want to follow close to the leader, but I wanted to make sure I had enough space that when I made a move, I'd be able to close."
QT: Donn Cabral Was the Most Unsatisfied Olympian of The Trials So Far
Cabral was not happy with his race today. He said that when he crossed the finish line, his first thought was not joy over making the Olympic team but "Oh my god, 8:25, 8:26…that was awful." After a few moments, though Cabral recalibrated and began thinking about all the people who were rooting for him to make it back to the Olympics.
Still, Cabral felt that today's race wasn't about digging deep; he simply kept his wits about him while the rest of the field started fading in front of him.
"Today was not my best race. I crossed the line and had to make myself try to feel happy … I don't think today I gave it the effort that is required to be dubbed an Olympian. I don't think I gave it that today. I think I was a bit weak in the last 600 and I think I got lucky."
Cabral may not be too pleased with himself, but he deserves credit for hanging in there and staying on his feet when Kebenei and Bayer began to fade. Their splits for their last four laps tell a compelling story — Cabral was slowing down, but not as much as his rivals (laps are in reverse chronological order):
3

Donn Cabral

Nike

8:26.37

8:26.37

1:04.83

Pl: 3

7:21.54

1:02.93

Pl: 4

6:18.62

1:02.62

Pl: 3

5:16.01

1:04.79

Pl: 5

4

Andrew Bayer

Nike Bowerman TC

8:28.59

8:28.59

1:07.94

Pl: 4

7:20.65

1:01.85

Pl: 3

6:18.81

1:02.56

Pl: 5

5:16.26

1:04.85

Pl: 7
13

Stanley Kebenei

Nike

8:48.99

8:48.99

1:28.68

Pl: 13

7:20.32

1:02.46

Pl: 2

6:17.86

1:02.74

Pl: 2

5:15.13

1:04.44

Pl: 2
QT: Andy Bayer Fourth Again
Four years ago Andy Bayer was a college junior who had the race of his life to get fourth place in the 1,500 behind Leo Manzano, Matt Centrowitz and Andrew Wheating. Now here he is four years later as a professional in a new event and he's fourth yet again. One of the first things Bayer said in his interview was, "Last time I was fourth and I was happy. This time I'm a little disappointed. I felt like I ran a smart race, did everything I needed to, and it's just frustrating to finish fourth."
Bayer said that going into the last water jump, he was tripped up and his agent was protesting against Hillary Bor (the results were ultimately upheld and when asked, Bor said he didn't remember any contact with Bayer). Bayer said he had good momentum going into that and the stumble "just crushed all of it that late in the race." Bayer was understandably upset about the result but added, "It's all right. Whatever happens, I'll be okay. I'm not defined by this. I'll have a good life and we'll move on."
Talking about switching from the 1500 to the steeple Bayer said he was confident about the change and said while he loves the 1500 and could go back to it one day, he's "pretty committed to the steeple at this point" as he feels his combination of "strength and leg speed fit better for the steeple."
QT: Stanley Kebenei Shows the Drama and Heightened Pressure of the Trials
If you want to see firsthand how the Trials are a whole another level of importance and pressure for athletes just watch the interview with Kebenei below. We have it set to start at the part where he said, "I don't know what to say, I just missed my lifetime chance. ..That was a lifetime chance. I know I missed that. Oh my god" before having to walk off.
QT: Mason Ferlic Was 5th And Now Will Figure Out Where He'll Train Next Year
While Ferlic maybe wondered if he could have done something that would put him closer to the guys battling it out for the top 3 spots, he was pleased to have finished 5th. "I'm happy. I can't be disapointed with the season. I won NCAAs. That was a huge goal. To come out here and run pretty well is all I could ask for."
Next up for him is for him and agent Dan Lilot to determine whom he'll be running for next year as this was his last race in a Michigan uniform.
QT: Donnie Cowart Finishes 8th
Cowart, the returning 4th place finisher, was disappointed with his 8th place finish as he had one of the faster times coming into the Trials. Cowart wasn't initially a qualifier for the final, but explained that he got in on protest after the prelim. Cowart is 30 years old and said he might step up in distance now, but isn't done with his running career yet.
QT: Dan Huling Revealed That an Old Injury Returned at Oxy and His Training Since Then Has Been "Not Good"
Huling tore a ligament off his big toe during his first year as a pro, had surgery and ran on it for about 10 years. He tore it again before Oxy and the last six weeks he's been forced to run with a toe spacer and his workouts have suffered — aside from his race at Oxy, he hasn't run a 66-second lap over barriers this year (though he managed two today and two in Monday's prelim). As soon as the pace picked up today, he knew he would not be able to respond.
Huling was not despondent, however, even though, at 32 (33 next week), his Olympic dreams are likely over.
"Being an Olympian is timing more than anything. It's the same competition as USAs. For 10 years, I've come back after this meet and only been disappointed three times. So I consider myself pretty lucky. I've made four world teams, top three the other three years. I've had a great career. Fifth at worlds last year. So it's not like this moment is bigger for me."
Huling said that he won't get surgery on the toe because at his age, "that will be the end of me." His future — whether he'll race again at all this year — is very much up in the air.
Huling's Finishes at USAs
2016: 9th
2015: 3rd
2014: 2nd
2013: 2nd
2012: 7th
2011: 2nd
2010: 1st
2009: 2nd
2008: 5th
2007: Did not compete
2006: 3rd
QT: Press Conference Video With Jager, Bor and Cabral
Jager talked at length about how down he was about Huling and Bayer not making the Olympic team with him. Jager looked to be getting a bit emotional as he said:
"With everything that Dan has done in his career and everything that he's achieved, for him not to have made an Olympic team is a tragedy in my eyes. He's worked so hard the last four years … It makes me really sad that he's not on this team with me; for Andy too. … It makes me very sad that those guys aren't on the team with me. … You spend everyday training with someone for the last four years, you want it as bad for them as you want it for yourself. I'd probably say I'm more sad for them than I am happy for myself today."
Cabral had a worthwhile explanation of his race as well which is worth a listen. One notable quote which he finished with was, "I don't think my race really deserves Olympian status, but I'd say my attitude throughout does."
More: LRC 11 Minutes With Evan Jager After He Wins the Trials Jager talks about the "pure speed" workouts he's introduced, his goals for Rio, the women of Bowerman "crushing it" and more.
Talk about today's action on our world famous fan forum / messageboard: