Women's 800 Semis: The Top 5 Seeds All Advance To Set Up A Much-Anticipated Final
by LetsRun.com
July 2, 2016
EUGENE, Ore — There were no big surprises this morning at the women's 800 semifinals at the 2016 US Olympic Track and Field Trials as all of the expected major players for the final advanced. The only Americans seeded in the top 10 on the year to go out today were #7 seed Charlene Lipsey and 10th seed Chanelle Price, the 2014 world indoor champ.
The 10 Fastest Women Entered In 2016 US Olympic Trials Women's 800 (Number in parentheses is their world rank)
1   (16) 1:59.72 Ajee' Wilson – won semi #1
2   (18) 1:59.89 Chrishuna Williams – auto qualifier in semi #1
3   (18) 1:59.89 Brenda Martinez – won semi #2
4   (21) 1:59.93 Molly Ludlow – auto qualifier in semi #2
5   (24) 2:00.05 Kate Grace – auto qualifier in semi #1
6   (26) 2:00.15 Laura Roesler – failed to advance in 1st round
7   (41) 2:00.65 Charlene Lipsey – 7th in semi #1, didn't advance
8   (47) 2:00.75 Raevyn Rogers – time qualifier out of semi #2
9   (48) 2:00.78 Alysia Montaño  – auto qualifier with sb in semi #2
10   (49) 2:00.80 Chanelle Price – 5th in semi #1, didn't advance
Article continues below player
Quick Take #1: Several World-Class Runners Won't Be Going To Rio
America is quite strong at the women's 800 and with so many big names in the final, it's clear that some very good people will be getting the same Olympic experience as you – by watching it on TV. The final is going to be must-see drama.
HEAT 1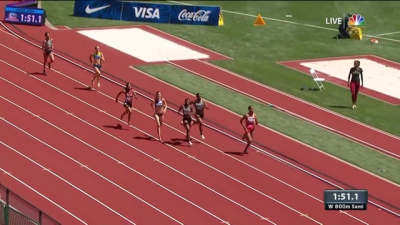 Chanelle Price took the pack through 200 in 27.49 and maintained her lead in a brisk 58.18 at 400. But heading into 500 McKayla Fricker had taken the lead, with Price boxed on the inside. Somehow, Price was able to move back into second by 600, with Fricker fading.  
Ajee Wilson had effortlessly overtaken the lead at 600 and held off a fast-closing Kate Grace in the final 100 meters. Wilson crossed in 2:00.81, with Grace in 2:00.94.  Chrishuna Williams moved into the third automatic qualifying position with a 2:01.29; Olivia Baker was fourth in 2:01.87 and Price faded to fifth in 2:01.94.
Ajee Wilson: "I felt good, training has been going great."
Ajee Wilson had been struggling this outdoor season with poor 11th and 7th place performance in her two Diamond League meets. However, on June 17th she ran a 1:59.72 at the adidas Boston Boost Games to show she was still the same Ajee Wilson who has finished in the top-3 for the last three years at USAs. The last two days have further proved that as she won her heat yesterday and then again today in 2:00.81.
Post-race, Wilson said "I felt good, training has been going great. … We've just been working hard and I'm excited to see the results." When we asked her about her sub-par performances earlier in the year and how she all of a sudden "flipped the switch" in the last month Wilson said, "It was just getting over that [hard] training block. My coach said we have a special block and it was torture. And just coming off of that and racing, I think was still getting used to the training."
Kate Grace practiced for two rounds in quick succession
Grace said she worked on simulating race effort with little recovery at the Portland Track Festival (she won the 1500 in 4:05 but didn't mention the other effort she put in) and it worked today as she moved on to her third U.S. final (800 in '13 and '16, 1500 in '14).
Olivia Baker Was the First One Out
Stanford's Olivia Baker just missed the final but knows this will be great experience for the NCAA ranks.
1

Ajee Wilson

adidas

2:00.81 Q
5
2

Kate Grace

Oiselle

2:00.94 Q
3
3

Chrishuna Williams

Nike

2:01.29 Q
4
4

Olivia Baker

Stanford

2:01.87
7
5

Chanelle Price

Nike

2:01.94
6
6

Mckayla Fricker

Brooks

2:03.95
8
7

Charlene Lipsey

adidas

2:05.15
2
8

Cecilia Barowski

Princeton

2:08.36
1
HEAT 2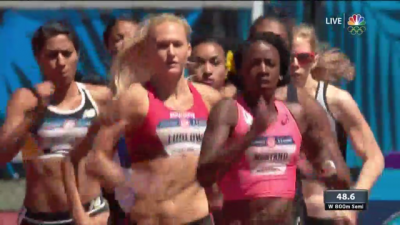 Alysia Montaño wasted no time, taking the group through 200 in 28.04 and 400 in 58.12.
But at 600, Brenda Martinez looked dominant in making an impressive move to the lead. Over the final 50, she held off a strong looking Molly Ludlow, who ran second most of the race. Montaño was able to hold on for third. Martinez was clocked in 1:59.64; Ludlow ran a seasonal best of 1:59.81 while Montaño also produced a seasonal best of 2:00.20.
Oregon's Raevyn Rogers was fourth in 2:00.61 and veteran Phoebe Wright moved up to fifth to get the final qualifying spot in 2:01.39.
Brenda Martinez heads into the final with a new U.S. leader
Martinez looked good in yesterday's prelim and even better in today's semi. She said she was feeling good when she made her move with 200 to go and though the last 200 was hard, she has a day to recover before Monday's final. Martinez said she thinks she was more nervous for today's semi than she will be for the final, noting that she wasn't going to take any risks at the end of the race today by easing up at all.
Phoebe Wright: "I kind of think of the 800 like Mario Kart when you have that one mushroom."
Phoebe Wright was the last person to advance through the semis and is the fourth woman in the 2012 final who made the final here (Montano, Martinez and Ludlow being the other three). She said her plan was to try and stay in 4th place and "watch the top 3 people beat each other up and then kick."
Talking about the final 100 meters Wright said, "I was digging that last 100. Coming off the curve my legs started going jello-ey. And I was like, 'I'm going to have to gut it out, I need to get one at least.' Then when we stopped I started praying … that 4th in that other heat was not faster than 2:01.3." She ended up having her prayers answered as Olivia Baker had run .48 seconds slower, giving Wright the final spot.
Looking ahead to her tactics in the final Wright will rely on her experience and try to avoid "stupid mistakes." She said:
"I'm hoping people get antsy the first 500 and just make wild moves … The rookies make stupid moves. Mckayla [Fricker] deserves to be in the final, but she made a stupid move. If you just watch everyone make stupid moves you can [take advantage] … I kind of think of the 800 like Mario Kart when you have that one mushroom. And you're like, 'I've got to make it count.' … You have one move so I'm hoping everyone uses theirs before the last 100."
Raevyn Rogers Sneaks Into Final
Don't discount Rogers in the final as she struggled to make the NCAA final and then won it.
1

Brenda Martinez

New Balance

1:59.64 Q

3

2

Molly Ludlow

Saucony

1:59.81 Q

5

3

Alysia Montaño

ASICS / NYAC

2:00.20 Q

6

4

Raevyn Rogers

Oregon

2:00.61 q

4

5

Phoebe Wright

Nike

2:01.39 q

7

6

Kendra Chambers

Texas Elite TC

2:01.46

2

7

Anima Banks

Duke

2:02.58

8

8

Olicia Williams

Unattached

2:02.59

1
While you wait for the full analysis, talk about the race on our messageboard:  Official 2016 Olympic Trials Day 2 Live Discussion Thread 
NBC's Live Extra has live streaming of the Olympic Trials here: http://liveextra.nbcsports.com.