Take The Tour: What's It Like To Make Team USA?
by LetsRun.com
July 7, 2016
EUGENE, Ore – Yesterday after a USATF press conference with CEO Max Siegel, the LetsRun.com staff was treated to a tour of Olympic athlete processing at the Hilton Eugene hotel. The sad truth is not everyone can achieve their Olympic dreams, but at least now you can get a glimpse of what it would be like to make Team USA.
Below is a brief video (sorry, we tried to record more, but our device malfunctioned) and photos from our walk through Olympic athlete processing.
Welcome Lounge
First stop on the way to processing is the USATF welcome lounge which has all kinds of Olympic perks with a full table of snacks and treats and two refrigerators stocked with Gatorade and yogurt. Everything from the carpet to the Cornhole set was USATF-branded and of course the TV was playing replays from the 2012 Olympics (it normally live streams the Trials when the meet is going). We were told this is an area for athletes relax and enjoy some "down time". There were comfortable couches, video games, ping pong and a photo booth.
Article continues below player.
Information Overload
After decompressing in the welcome area, athletes move on to the logistical part of athlete processing. Here they are given a ton of information on the trip to Rio, including where team USA will be staying, where they will be able to train in Rio, health info on the Zika virus and travel options. USATF can book their flights for them or they are awarded a travel stipend to make their own arrangements.
The Coveted Olympic Kit
Athlete processing saves the best for last as the final stop is for athletes to get their Olympic uniform. Athletes work their entire lives to earn a Team USA kit and especially for a first time Olympian, it is a moment that signifies their tremendous accomplishment. The athlete uniform area has mannequins of all shapes and sizes displaying the uniforms which are unique for each event discipline. Then athletes can try on whatever they want in the dressing area to choose their size. Rather than wait to get their kit in Rio or having it mailed to them, athletes leave athlete processing with the full kit in hand.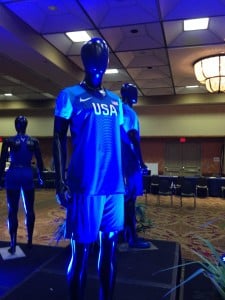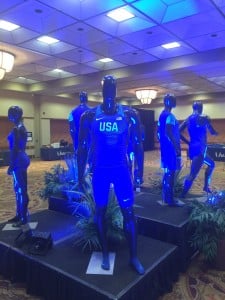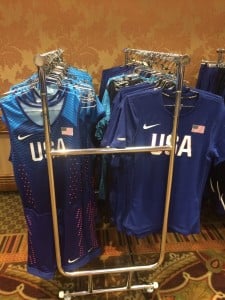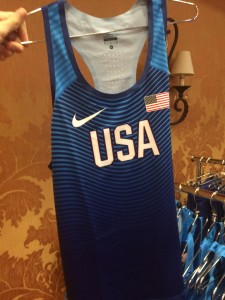 Don't Forget To Sign The Olympic Guest Book