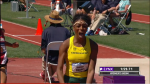 LRC Oregon Frosh Raevyn Rogers Arrives As An NCAA Star – Wins Women's 800 In 1:59.71 (#2 US Junior Time Ever) What a performance for the true frosh who once ran 2:06 at age 12!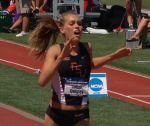 1,500, 5,000 And Steeple LRC Emily Sisson Goes Out On Top, Upset City In 1,500 And Steeplechase As Colleen Quigley And Rhianwedd Price Win Their First NCAA Titles Providence senior Emily Sisson went wire-to-wire while Quigley and Price came on late to pull off two upsets.
LRC Raevyn Rogers Talks About Her 1:59.71 NCAA 800m Title As A True Frosh She has a penchant for running her best when it counts.
Outside Media: Ken Goe: Electrifying Performances By Jenna Prandini And Raevyn Rogers Clinch Oregon's NCAA Title Sweep
AP: Prandini-Led Oregon Women Join Men As NCAA Champs The Duck women won their first outdoor title in 30 years.
Message Board Talk: Official 2015 NCAA Outdoor T&F Live Discussion Thread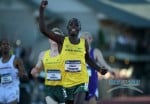 M5,000 LRC It's Settled: Edward Cheserek Is The King No one was holding anything back in this one and in the end Oregon's Edward Cheserek was simply too good for teammate Eric Jenkins over the final 100 as he won his 8th NCAA title in 13:48.67. Jenkins was second and Will Geoghegan was fourth to give Oregon 23 points and seal a second straight team title.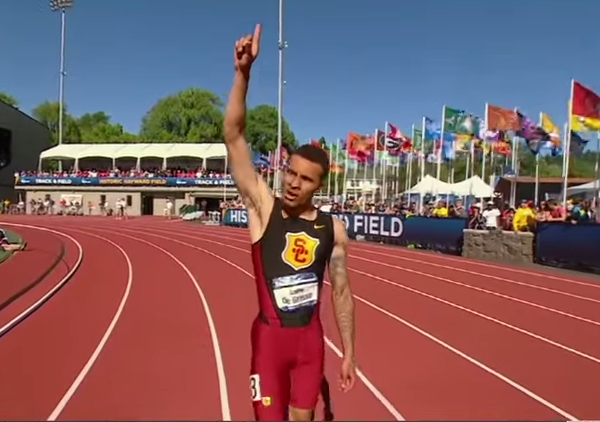 LetsSprint.com Former Basketball Player – Fourth-Year Sprinter – Andre De Grasse Of USC Runs 9.75 And 19.58 NCAA Double Within Span Of 50 Minutes!!! (Video, Results And Recap) The junior college transfer was simply unreal.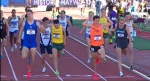 800, 1,500 And Steeple LRC Edward Kemboi Goes Out On Top, Chad Noelle Comes Through As NCAA Leader And Anthony Rotich Three-Peats On a windy day, the three races may have been tactical but they were thrilling to watch.
Outside Coverage
AP Recap: USC And Canada's De Grasse 9.75 & 19.58!!!, Ducks Crush The Competition King Ches got the best of Eric Jenkins in the 5,000 as the Ducks went 1-2-4, but even with 0 points in that event they would have won the meet.
Day 3 Photo Gallery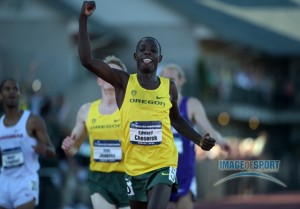 Full Coverage In Our 2015 NCAA Special Section
Friday On the Boards:
---
NB Twlight# 4: MB: Abbey D runs big 3 second 1500 pb (4:08.04) – Molly Huddle solos at 14:57 at NB Twlight #4
Portland Track Festival Day 1: Emily Infeld Runs 21-Second PR (15:07) To Beat Shalane Flanagan, Desi Linden And Sara Hall Get 10k Qualifiers And Kara Goucher beat Jordan Hasay as Kara returned to the track for the first time in nearly 2 years and Jordan for the first time outdoors in 2015.
MB: HASAY BEAT BY GOUCHER????
Mary Keitany Destroys The Field To Win The NY Mini In A Quick 31:15 Mary Keitany destroyed the field with 31:15.
Round II – ProPublica, David Esptein And The BBC Strike Again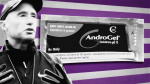 Epstein: More Athletes Say Track Coach Alberto Salazar Broke Drug Rules Three more former NOP athletes have come forward since the initial story broke detailing what they think was inappropriate prescription drug use by coach Salazar.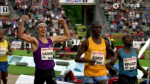 LRC 50th Bislett Games Recap: Asbel Kiprop Wins The Dream Mile, Genzebe Dibaba Comes Up Short In 5,000 WR Attempt, And The HJ Fizzles Asbel Kiprop got the big win in the Dream Mile as the world record attempts in the women's 5,000m, men's HJ, and even the men's mile all came up well short.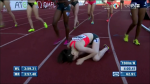 LRC Women's 1,500: Laura Muir Becomes First Brit To Win A Diamond League 1,500 As Her Brave Front-Running Gets Rewarded Since the Brits are our #2 source of traffic, she gets her own article. We're still looking for the Brits to make a thread super hot on their own. OTB: Laura MF Muir
A Look At What WADA Sanctions Alberto Salazar Would Be Facing If The ProPublica / BBC Allegations Are Found To Be True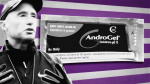 Correction – LRC Alberto Salazar Potentially Faces Lifetime Ban From Sport If Allegations In BBC / ProPublica Investigation Are Found To Be True WADA Has A 10 Year Statute Of Limitations So Alberto Salazar And Galen Rupp Would Face No WADA Ban If They Doped When Rupp Was In High School We reached out to WADA to seek clarifications on what type of punishment Alberto Salazar would face if the allegations are found to be true by USADA. The results are interesting. Salazar can't be banned by WADA for giving Kara Goucher a prescription drug she didn't have a prescription for; he could be potentially banned for "a minimum of two years" and "up to four years" for coaching Galen Rupp on how to get an IV drip; and he would get off scot free if he doped Rupp with testosterone in high school due to WADA's 10-year statute of limitations.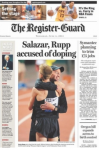 Mini-WTW Reactions From A Variety Of Sources Around The Globe To The Alberto Salazar / Nike Oregon Project Doping Allegations The world has been awash with a wide variety of responses over the last week to the Alberto Salazar doping allegations. We quickly hand out awards for our favorites as we hand out awards for our "Email Of The Week," "Tweet Of The Week," "Dumbest Reponse Of The Week," "Picture Message Of The Week," and "Message Board Posts Of The Week."
The World Reacts To The Accusations By 7 Former Nike Oregon Project Members That Coach Alberto Salazar Is A Cheat
Nike Doping Scandal On The Message Board: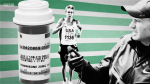 LRC Everything You Want To Know About The BBC Nike Oregon Project Doping Documentary If You Didn't See It The show had multiple anti-doping allegations against Alberto Salazar and Galen Rupp, and that the Nike lab advocated for or was aware of testosterone usage by Nike athletes.
*MB: Former American Record Holder George Malley corroborates John Stiner's allegation that androgel was in the NOP training camp Malley says Salazar admitted it to him in 2013.
*Shoot The Messenger: Alberto Salazar And Galen Rupp Issue Statements Saying They Believe in Clean Sport And Criticize The Journalism Of The "Reporters" Salazar's response was especially cheeky as he referred to David Epstein and Mark Daly as "reporters." ProPublica and the BBC are about as respected as it gets in the journalism world. David Epstein is definitely a reporter – his past work helped expose A-Rod and Lance. *Message Board Poster Analyzes Statements Of Rupp And Salazar
Must Read: ProPublica Investigation Alleges Anti-Doping Violations By Alberto Salazar David Epstein, author of Sports Gene, has been working on this piece for a few years. A great read alleging possible anti-doping violations by Alberto Salazar and even Galen Rupp.  Epstein teamed up with BBC reporter Mark Daly to take a look inside the NOP. Steve Magness, Kara Goucher and Adam Goucher all speak on the record –  other former NOP athletes speak without using their names.  The BBC aired a one hour show on doping last night as well. Miss The Broadcast? Here's How To Watch The BBC In The US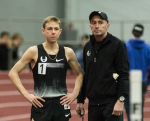 LRC Rojo's Five Quick Thoughts On David Epstein's Nike Oregon Project Investigation David Epstein's piece is a great read, this could be just the beginning as it is time for more people to speak on the record and for Nike to investigate its own house. Plus Matt Centrowitz's tweet on this is embarrassing.
Competitor Q&A With David Epstein On Nike Oregon Project Allegations
David Epstein/BBC Investigation Talk On The Message Board
MB: Former Team Members Accuse Famed Coach Alberto Salazar Of Breaking Drug Rules (official thread)
*Impressions of BBC TV Panorama Program on Alberto Salazar/Doping and Adam Goucher Comment: "That's Almost Child Abuse"
*What is going through Mary Cain's Parents heads right now?
*Centro not holding back on twitter
*Rupp on Testosterone since high school !
*Are letsrun's "trolls" still considered trolls… They are ALWAYS right.

Want a Better Running Shoe?
Beta Better Running Shoe Site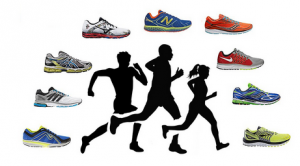 It's Time to Change How We Find Running Shoes