Sub-Four Win For Jenny Simpson, The Steeple Is For The Taking For The Americans, Crazy Fall In Women's Hurdles – 2015 Rome Women's Recap
by: LetsRun.com
June 4, 2015
The 2015 Rome Golden Gala Diamond League meet is in the books.
On the women's side, the highlight for LetsRun.com was American world #1 Jenny Simpson keeping her winning ways going with a come-from-behind win in the women's 1500m. It was her second 1500m win in six days.
We recap all the women's action from Rome below, including a crazy women's 100m hurdles, a 36-year-old breaking through in the high jump, and more. We start with the two distance races, the women's 1500 and steeplechase. Our men's recap is here.
Women's 1500: Sub-4:00 Win for Jenny
Jenny Simpson solidified herself as the woman to beat this summer's World Championships. Simpson came on strong in the last 80 meters to win her fourth straight 1500 at a Diamond League meet in a seasonal best 3:59.31 over two of her biggest expected rivals at Worlds as Sifan Hassan was second and Ethiopian teen sensation Dawit Seyaum third.
Article continues below player.
Simpson clearly wanted to run fast today as she slotted herself into 4th (2nd racer) behind the first pacers as the rabbits took the field through 400 in 63.04 (Simpson roughly 64) and 800 in 2:09.09 (Simpson just under 2:10).
Running down the backstretch for the third time, Simpson nearly passed the final rabbit but at the bell it was last year's world leader Hassan (3:57.00) who had the lead. Heading into the final 200, it was a five-person race as the final top three were also accompanied by Brit Laura Muir and Kenyan Viola Kibiwot, but it soon turned into a three-person race.
As the runners hit the homestretch, a tiny gap opened up between the top two and Simpson with about 80 meters left and we thought Simpson looked beaten.
Shame on us. Simpson's last 50 is often very strong as her strength comes through. Sure enough, Simpson powered home to the victory to finish off a final lap of just under 61.00 (leader-to-leader it was 61.00). Simpson's last 200 was definitely under 30, possibly something close to 29-flat.
Simpson said after the meet, "I started to panic in the last 200 meters as I felt packed in the field. Then, my energy came out automatically and I started to speed up. I am very proud of myslef to be so consistent during this season and I was really hoping for the time under four minutes. I do not want to feel myself as the one to beat now. It always puts more pressure on you and it is easier to attack from behind. People here were so good and supportive."
Quick Thought #1: Jenny Simpson Still on Top of the World: What can you say? Simpson has now won four in a row at Diamond League meets (not all were DL races). Perhaps more importantly, she beat Seyaum for the first time although they'd only raced once previously (at last year's NY meet).
She's clearly the best woman in the world right now at 1500 when looking at all of the women who have run a 1500 this year.
Here is a list of the women who broke 4:00 last year and how they've done so far this year.
1 3:57.00 Sifan Hassan – lost to Simpson at Pre and Rome
2 3:57.05 Hellen Obiri – hasn't raced this year.
3 3:57.22 Jenny Simpson – winner in Eugene and Rome.
4 3:57.57 Abeba Aregawi – only 4th in 4:04 in Doha but did rebound to 1:59 at Pre.
5 3:58.01 Faith Kipyegon – 21-year-old, who ran 3:56 in 2013, hasn't run a 1500 yet this year. Ran a big 14:31 pb at Pre last week.
6 3:59.49 Shannon Rowbury – Ran 4:02.28 for 4th at Pre.
7 3:59.53 Dawit Seyaum – Won Doha in 4:00.96, 3rd today.
We bolded Kipyegon as she is a potential threat to Simpson if she opts for the 1500 at Worlds which may be a smart option for her given the prowess of Almaz Ayana and Genzebe Dibaba this year at 5000. The other woman who Simpson should fear is Dibaba. The 5000/1500 double at Worlds is tough but it's very doable.
QT #2: American Women's Mid-D is Great Right Now
Enjoy it.
Results.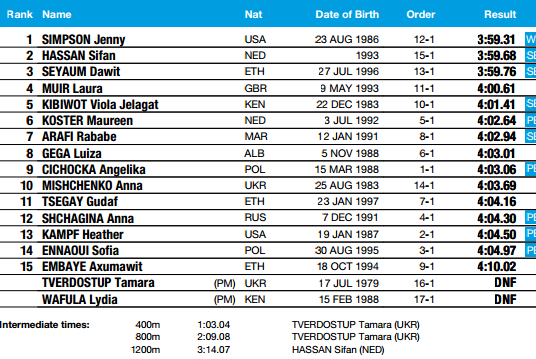 Women's 3,000 Steeplechase: World Leader and First DL Win for Hyvin Kiyeng
The women's steeplechase continues to be impossible to predict ("sometimes, the women's steeplechase can seem like a crapshoot," we wrote in our preview) as Kenyan Hyvin Kiyeng grabbed her first career Diamond League win, using a strong burst off the final barrier to outkick countrywoman Virginia Nyambura and get the win in a world-leading 9:15.08.
Australia's Madeline Heiner was the surprise leader (behind the rabbit) with four laps to go, and once the rabbit dropped out a lap later, she led Doha DL winner Nyambura. Those two had a few meters on Kiyeng and 2014 World #1 Hiwot Ayalew in third and fourth.
On the backstretch, Nyambura went to the lead as they passed two kilometers in 6:15.16 (3:09.17 for their second kilometer). With two to go, Kiyeng and Ayalew had pulled up to the leaders and the pace began to slow, as Kenya's Lidya Chepkurui had now caught up to form a pack of five. At the bell, Nyambura still led and began to pick it up, with Heiner dropping off the back with 350 to go.
Kiyeng pulled up on Nyambura's shoulder on the backstretch and the two were stride-for-stride until the final water jump. At that point, Nyambura pulled ahead and it looked like she was going to pull away for the win, but Kiyeng fought to narrow the gap and began to accelerate into the final barrier. She carried her burst of speed over the barrier and though Nyambura went with her to begin with, she couldn't maintain it as Kiyeng pulled away over the final 30 meters. Leader-to-leader, the last lap was 66.10 seconds (2:59.92 last kilometer) as the top four finishers all surpassed the previous world-leading time.
Quick Take #1: Emma Coburn, a medal is yours for the taking
Coburn, who ran 9:11 last year, has yet to debut in the steeple in 2015 but is clearly fit as she just ran a 4:05.10 1500 PR at the Pre Classic. When she does hit the DL circuit, she should be in contention for the win at every race because right now there is no dominant force in the event. Hiwot Ayalew and Sofia Assefa, Coburn's main competition last year, were just 3rd and 6th today and the two DL events so far have been won by women who had never previously won a DL steeple.
The parity is also a good sign for other U.S. steeplers such as Stephanie Garcia, Ashley Higginson and Aisha Praught. A medal seemed impossible for those three at the start of the year, and while it's still unlikely, Garcia and Praught have made big strides in the 1500 already (both have run 4:05). If one of them can get into the 9:10s, and no one else steps up on the international scene, a medal isn't totally out of the question.
Quick Take #2: Virginia Nyambura still has room for improvement
Nyambura won the DL opener in Doha after rabbitting the first portion of the race and wound up with a 37-second PR. She cut another six seconds off that time today and came within .67 of her second straight DL victory. Her hurdle form remains poor, and while it's a risk to change something that's working, it can certainly be fine-tuned between now and Worlds. If Nyambura, who is still only 21, continues to improve her fitness and tweaks her form, she will be dangerous in Beijing.
3000 Metres Steeplechase - Women                              
                                                            Pts
    1 Jepkemoi , Hyvin Kiyeng          KEN    9:15.08          4        
    2 Nganga , Virginia Nyambura       KEN    9:15.75          2        
    3 Ayalew , Hiwot                   ETH    9:16.87          1        
    4 Chepkurui , Lidya                KEN    9:20.44                   
    5 Heiner , Madeline                AUS    9:21.56                   
    6 Assefa , Sofia                   ETH    9:23.04                   
    7 Fente , Birtukan                 ETH    9:24.91                   
    8 Elouali Alami , Salima           MAR    9:31.88                   
    9 Krause , Gesa Felicitas          GER    9:36.21                   
   10 Bettiche , Amina                 ALG    9:40.24                   
   11 Vlasova , Natalya                RUS    9:44.75                   
   12 Koubaa , Sanaa                   GER    9:47.02                   
   13 Fougberg , Charlotta             SWE    9:53.31
   14 Kowalska , Katarzyna             POL    9:55.12
      Adamu , Birtukan                 ETH        DNF                   
      Gathoni , Ann                    KEN        DNF
100m Hurdles: This is a Dangerous Event
Wow, this was far from your standard women's hurdle race.
Heavy favorite Jasmin Stowers, who came in with as the world leader at 12.35, was running great until she butchered the seventh hurdle, which caused her to barely get over hurdle #8 and she was forced into pulling up as she was about to slam into hurdle number nine. But before that, Olympic champion Sally Pearson went down on hurdle number five and may have broken her left wrist as she came flying down face-first in the fall. In the end, Sharika Nelvis got the win out of lane 2 in a new pb of 12.52 – the same wind-aided time she ran to win the 2013 NCAA title for Arkansas State.
Nelvis said she thinks there is more to come, "Honestly, I ran my own race and did not see any of those three falls. I was lucky, I could stay focused. I am glad for the next improvement and my main goal is to run 12.30 this season. It is not a joke, I feel I am ready for this. I ran the first lane in Doha, now the second… I was joking with my agent that I am getting closer to the center."
100 Metres Hurdles - Women                                    Wind: +1.0 m/s
                                                            Pts
    1 Nelvis , Sharika                 USA      12.52          4        
    2 Harper Nelson , Dawn             USA      12.59          2        
    3 Porter , Tiffany                 GBR      12.69          1        
    4 Talay , Alina                    BLR      12.70                   
    5 Harrison , Queen                 USA      12.79                   
    6 Billaud , Cindy                  FRA      12.85                   
    7 Stowers , Jasmin                 USA      25.21                   
      Rollins , Brianna                USA        DNF                   
      Pearson , Sally                  AUS        DNF
400m: Francena McCorory Wins Again
Francena McCorory made a big move with 200 to go and though Stephenie Ann McPherson started to gain on her in the final 75 meters, McCorory held her off to get the win in 50.36, her second consecutive Diamond League win (she also win in Doha).
     
                                                            Pts
    1 McCorory , Francena              USA      50.36          4        
    2 McPherson , Stephenie Ann        JAM      50.53          2        
    3 Hastings , Natasha               USA      50.67          1        
    4 Guei , Floria                    FRA      51.59                   
    5 Zemlyak , Olha                   UKR      51.61                   
    6 Williams-Mills , Novlene         JAM      51.68                   
    7 Day , Christine                  JAM      51.68                   
    8 Grenot , Libania                 ITA      51.72                   
    9 Mupopo , Kabange                 ZAM      52.38
Long Jump
Russia's Darya Klishna used a nice +2.0 m/s tailwind to get out to 6.89 meters on her second jump, which held up for the win, four centimeters ahead of Brit Shara Proctor.
Long Jump - Women                                             
                                                            Pts               Wind
    1 Klishina , Darya                 RUS       6.89          4              +2.0
    2 Proctor , Shara                  GBR       6.85          2              +1.8
    3 Moguenara-Taroum , Sostene       GER       6.80          1              +0.1
    4 Mihambo , Malaika                GER       6.79                          0.0
    5 Jimoh , Funmi                    USA       6.72                         +0.7
    6 Bauschke , Melanie               GER       6.59                         +0.7
    7 Vicenzino , Tania                ITA       6.57                         +2.0
    8 Jover , María del Mar            ESP       6.48                         +2.9
    9 Jarder , Erica                   SWE       6.46      +0.5
   10 Sokolova , Elena                 RUS       6.39      -0.2
Discus Throw: Sanra Perkovic Stays Unbeaten
The Olympic and World champ Sandra Perkovic stayed unbeaten on the year.
Discus Throw - Women                                          
                                                            Pts
    1 Perkovic , Sandra                CRO      67.92          4        
    2 Samuels , Dani                   AUS      65.47          2        
    3 Pérez , Yaime                    CUB      65.30          1        
    4 Fischer , Julia                  GER      64.11                   
    5 Robert-Michon , Mélina           FRA      63.09                   
    6 Lewis-Smallwood , Gia            USA      62.99                   
    7 Müller , Nadine                  GER      62.26                   
    8 Rüh , Anna                       GER      61.33                   
    9 Caballero , Denia                CUB      61.25
   10 Strokova , Ekaterina             RUS      58.93
   11 Sendriuté , Zinaida              LTU      54.39
High Jump: Try, Try Again
36-year-old Ruth Beitia of Spain got her first career Diamond League victory, becoming the first woman to clear two meters this year (2.00). Croatia's two-time world champion Blanka Vlasic cleared 1.97 for second in her first competition of the year.
High Jump - Women                                             
                                                            Pts
    1 Beitia , Ruth                    ESP       2.00          4        
    2 Vlašic , Blanka                  CRO       1.97          2        
    3 Licwinko , Kamila                POL       1.97          1        
    4 Kuchina , Maria                  RUS       1.94                   
    5 Šimic , Ana                      CRO       1.94                   
    6 Chicherova , Anna                RUS       1.94                   
    7 Shkolina , Svetlana              RUS       1.94                   
    8 Palšyté , Airiné                 LTU       1.90                   
    9 Jungfleisch , Marie-Laurence     GER       1.85
    9 Okuneva , Oksana                 UKR       1.85
    9 Trost , Alessia                  ITA       1.85
   12 Gordeeva , Irina                 RUS       1.85
200m: Tarmoh Cruises
Running in lane five, Jeneba Tarmoh had a big lead at the 1000meter mark and held on for the win in 22.77. There was a near-blanket finish for spots 2-5.
    Wind: -0.1 m/s
                                                            Pts
    1 Tarmoh , Jeneba                  USA      22.77          4        
    2 Stewart , Kerron                 JAM      22.88          2        
    3 Facey , Simone                   JAM      22.91          1        
    4 Strachan , Anthonique            BAH      22.91                   
    5 Simpson , Sherone                JAM      22.94                   
    6 Williams , Bianca                GBR      23.32                   
    7 Stuy , Khrystyna                 UKR      23.39                   
    8 Hooper , Gloria                  ITA      23.71
400H: Georganne Moline Wins
American Georganne Moline won the final event of the night, the non-DL 400 hurdles, in a season best of 54.47 over Jamaican Janeive Russell (54.83).
                                  

    1 Moline , Georganne               USA      54.47                   
    2 Russell , Janieve                JAM      54.83                   
    3 Child , Eilidh                   GBR      54.84                   
    4 Tate , Cassandra                 USA      55.00                   
    5 Titimets , Anna                  UKR      56.15                   
    6 Pedroso , Yadisleidis            ITA      56.20                   
    7 Ogoegbunam , Amaka               NGR      56.72                   
    8 Dauwens , Axelle                 BEL      57.17                   
    9 Demus , Lashinda                 USA      58.60

*Flash quotes
Discuss this meet on the messageboard:  Official 2015 Rome Golden Gala Diamond League Discussion Thread