Everything You Want to Know About the BBC Nike Oregon Project Doping Documentary If You Didn't See It
by LetsRun.com
June 3, 2015
On Wednesday night in the UK (Wednesday afternoon in the US), the BBC program Panaroma aired an hour-long show on doping entitled "Catch Me If You Can," led by BBC reporter Mark Daly, who was assisted off-camera by ProPublica reporter David Epstein,
Article continues below player
The show featured insider testimony from current and former elite athletes alleging doping from some of track and field's biggest stars past and present. The show started by with allegations that 1980 British Olympic 100m champion Allan Wells used steroids, but US distance fans will be most interested in the final 27 minutes of the show which, were focused on allegations that Nike Oregon Project coach Alberto Salazar consistently violates anti-doping regulations and has possibly been doping Galen Rupp since he was 16-year-old high schooler.
Much of the Salazar accusations were covered in David Epstein's excellent written piece on ProPublica – Off Track: Former Team Members Accuse Famed Coach Alberto Salazar of Breaking Drug Rules (a must read for any true distance fan – seriously read it now) – but there were a few things on the television show that didn't show up in Epstein's article.
The show is a must-watch for any fan of US distance running.
If you have a UK IP address, you can watch the show in its entirety using the BBC iPlayer here. Alternatively, the report is now up on youtube and is embedded below.
https://www.youtube.com/watch?v=-nxyTyLXt44
We highly recommend that you watch it and at least watch the final 27 minutes of the show that focused on the Nike Oregon Project and Salazar.
If you don't feel comfortable changing your IP address, or maybe can't stream video on your mobile phone, we've got you covered. We tell you what happened on the show below in case you don't have time to watch or can't watch due to location restrictions.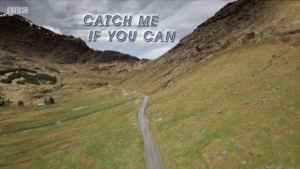 The Segment on Galen Rupp and Alberto Salazar (Starts at 33-minute mark)
During the five-minute introduction at the beginning of the show, the show included an interview with former World Anti Doping Agency (WADA) head Dick Pound who made the point that many of sports' biggest dopers like Marion Jones and Lance Armstrong never tested positive.
"All [a negative test] shows is you haven't been caught," said Pound.
The BBC's Daly then followed up with a great line of, "It was insiders, not tests, that were the key to unlocking the secrets of the drug cheats in cycling."
Using that logic, Daly began the segment on Salazar/Rupp by flying to the United States to talk to many insiders.
As Daly explained, "None of the Oregon Project athletes has ever tested positive but I've been hearing claims about Salazar's methods and if I'm going to explore the allegations, I would once again have to rely on witness testimony… It was time to go Stateside."
His first on-camera interview was with former US distance runner Stuart Eagon, who worked with Salazar and Rupp in high school in Oregon before competing collegiately at Wisconsin.
Stuart Eagon Alleges Rupp Was On Prednisone In HS
Eagon made the allegation that Galen Rupp was on prednisone in high school (which is banned in competition and available out of competition only with a TUE) when he shouldn't have been.
Eagon:  "Galen, myself and Alberto were outside of a hotel room in North Carolina for the national 2-mile high school championships and we were going on our morning run and Alberto said to Galen, 'Have you taken your prednisone yet this morning?' Galen went back to the hotel room and took the prednisone – or so I assumed – and we just waited for about 10 minutes. He came back down and we went on the run. I was very surprised to know that a 17-year-old was taking prednisone."
Salazar in a statement dismissed Eagon's allegation by saying, "Galen only took prednisone when needed to treat an asthma flare up."
The show then mentioned that Salazar coached Mary Slaney when she was caught with a testosterone violation and then quoted Salazar talking in a 1999 speech at Duke where Salazar said he thought it was impossible to be top five in the world without being on drugs.
Salazar has since said the field is more level for clean athletes with the creation of WADA.
Ex-Massage Therapist for Nike Oregon Project Says He Saw Testosterone In NOP Camp
The show then featured an interview with John Stiner, who in addition to meeting his ex-wife on LetsRun.com was a massage therapist for the Nike Oregon Project in Park City, Utah.  Stiner says he personally saw the banned testosterone Androgel inside the Nike Oregon Project camp.
Stiner says that in 2008 after the NOP had left their high altitude camp that Salazar called him and asked him to ship him something he'd left behind – a tube of Androgel. Stiner says Salazar understood that his request might give Stiner the wrong impression.
"He said to me, 'I don't want you to get the wrong idea,'" Stiner recalled. "And he goes, 'There's a tube of Androgel in the bedroom, and it's under some clothing.'"
As Epstein wrote, "Androgel is testosterone medication prescribed for men who aren't producing enough testosterone naturally." According to Stiner, Salazar told him: "It's for my heart, it's all fucked up."
Stiner said he found the explanation to be "a little strange" considering that Androgel is contra-indicated (i.e. dangerous) for people with a heart condition and Salazar had recently had a heart attack.
Stiner provided a copy of the check that Salazar sent him for "shipping expenses" of the Androgel as proof of his allegation.
Ex-Nike Athlete "Mike" Claims A Nike Doctor Told Him to Micro-Dose Testosterone And That "Is What Alberto Does"
The show then featured a former Nike athlete who only agreed to speak if his name wasn't used and if his body wasn't shown on camera. The athlete, whom they called "Mike," made a bombshell allegation that he was told by a former Nike doctor to dope using testosterone as that's what Alberto Salazar regularly did with his athletes.
The athlete said in 2007 he was feeling "run down" so he went to the Nike labs to get some lab work from Nike employee Dr. Loren Myhre (who passed away in 2012). The athlete claims that Dr. Myhre told him to go see an endocrinologist that coach Salazar works with to get both testosterone and thyroid medication.
Mike was stunned by the advice.
Mike: "He said, 'Well this is what Alberto does. You will feel better and you will be able to train better.' And then I said, 'Well isn't that cheating?' and he said, 'No, I mean Alberto does it.'
"I did then mention something about being tested. Wouldn't I test positive? 'No, no no. We'll get you into the normal range.' I talked to some people that know sport and they started to put words to it, 'Oh that's microdosing. That is illegal. That's a smart way to cheat – just give yourself small boosts of testosterone to keep you in the legal limit.'
"I was shocked. It was like someone punched me in the stomach."
Daly summed the athlete's allegations perfectly when he said, "If what 'Mike' says is [true] then the Nike lab's top scientist, Loren Myhre, claimed micro-dosing testosterone was accepted by Alberto Salazar."
Salazar's Former Right-Hand Man Steve Magness Has A Picture Of A Nike Lab Report Stating That Galen Rupp Was On Testosterone at Age 16
Daly then flew to Houston to speak with former Nike Oregon Project coach Steve Magness.
Magness spoke on camera about the allegations which he supported by a cell phone picture that showed that a Nike lab report that indicated that Galen Rupp was on both prednisone and testosterone in high school.
Magness: "Testosterone is obviously banned – everywhere. When I looked a little further [at the report], I saw that it was all the way back in high school and that was incredibly shocking. At that point, I actually took a picture of it. I obviously wanted to have evidence in case something happened."
Magness said that he asked Salazr about the "presently on prednisone and testosterone" line from the lab report and that Salazar dismissed it by saying that Dr. Myhre was "crazy" and had made a mistake in identifying what Rupp was on. Salazar said Rupp wasn't on testosterone but rather a legal supplement called TestoBoost.
(This is the same Dr. Myhre who according to the unidentified athlete above told him to microdose testosterone).
Magness clearly didn't believe the explanation and said that he soon realized that "this might not be what I signed up for."
When asked by Daly if this was perhaps just an "isolated incident," Magness said it was not.
"There were multiple little things that kept adding up. To me, it was indicative of a (doping) culture," said Magness.
For example, Magness said Salazar doped his own son and fellow Nike employee, Alex Salazar, with a testosterone gel and tested him at the Nike labs to see if he'd test positive. Magness said that the explanation he got for these actions was they were done as coach Salazar wanted to make sure no one bumped into Rupp and sabotaged him by quickly rubbing cream onto his legs.
Magness didn't by this explanation as shown by this exchange between himself and Daly:
Magness: "His explanation was that they were worried someone could sabotage [them by bumping into Rupp and rubbing testosterone on him].
"You'd have to have an insane degree of paranoia to accept that [explanation], right? Why are you fooling around with something like testosterone anyways?"
Daly: "So you didn't accept that explanation?"
Magness: "No, it seemed ludicrous."
Daly: "So what did you think the explanation was?"
Magness: "It was them trying figure out how to cheat the test – right?  How much can we take without triggering a positive?"
Magness then talked about how hard it was for him to make the allegations against Salazar in public:
Magness: "It's incredibly scary. I'm 30 years old. I never would have guessed I'd be in this situation in my life. I never wanted to be in this situation. It would be much easier to just shut up – do my job. I have a good job – I have a good reputation."
Daly: "You can't though, can you?"
Magness: "I can't because I'd be living a lie."
Kara Goucher Says Alberto Salazar Told Her To Take Drugs She Didn't Have A Prescription For and Kara Has The Bottle To Prove It
Daly then flew to Colorado to meet with former NOP athletes and US Olympians Adam and Kara Goucher. In emotional testimony, Kara, sometimes in tears, talked about Salazar, a man whom she said she "loved" and was "like a father figure" to her.
At one point, Daly pointed out to Kara Goucher that Galen Rupp has never tested positive but Kara wasn't swayed by this argument.
Daly: "Galen Rupp is the most tested athlete in America."
Kara: "So was Lance Armstrong. It doesn't mean anything."
Goucher made two doping allegations against Salazar. The first stemmed from a time when she said Salazar was unhappy with her weight after she gave birth to her son Colt and told her to take a thyroid medication called Cytomel – which she didn't have a prescription for – a violation of US law (and we believe for Salazar a violation of anti-doping law).
Goucher has alleged proof of her allegation as she kept the bottle that has Cytomel hand-written on its label – in writing that Kara says is Salazar's.
At one point, Daly showed Kara Steve Magness' photo of the Nike lab results indicating that Galen Rupp was on testosterone in high school and asked her what she though about it.
"I think it's going to break his mom's heart," said Kara struggling to hold back tears. "There is no reason for him to be on that that I can think of."
Her husband, Adam, went even further.
"That's almost child abuse," said Adam. "I feel that there is no way – it's very unlikely that a 16-year-old would be making the decision to do this – or even know how to go about doing it. How would you even know?"
Goucher's second allegation against Salazar was that he coached Galen Rupp on what to say to doctors so he could get a therapeutic use exemption to get an IV drip at the 2007 and 2011 world championships. She says in 2011 Rupp was initially denied a TUE by the US doctor and she was there when Salazar called the doctor irately, saying he'd simply go to a British doctor instead (one would think this could be verified by talking to the doctor).
As was the case for Magness, Kara Goucher in tears said it was very hard for to publicly come out against Salazar, but for a different reason.
"It's really hard [to do this interview]. For years, he was a super-important person in my life. I literally loved him. I loved him. He was like a father figure to me. It feels like a betrayal a little bit and I feel really bad about that but he put me in this position," said Kara as tears streamed down her face.
Before the show ended, Daly pointed out the former NOP athletes he spoke to didn't only come clean when confronted by Daly, Epstein and the BBC. They all went to WADA first.
As Daly said, "Including the Gouchers, we now know of at least 7 athletes or staff associated with the [Nike] Oregon Project who say they have gone to USADA about concerns about alleged illicit practices and unethical behavior."
The show then made a point of pointing out how Mo Farah hadn't been implicated in the report. But the former head of UK anti doping Andy Parkinson wasn't necessarily impressed by that fact:
Parkinson: "On the basis of the allegations that you have shown me and that I have seen certainly any athlete who is involved or associated with this group, including Mo Farah, should be seeking the necessary assurances around the fact that they are operating within a safe environment.
"Athletes have got a responsibility to have a close look at that and to ask the question of themselves, 'Do I feel comfortable in this environment and am I going to be able to complete clean in this environment?'"
David Epstein has a written piece on ProPublica with video that has many of the same allegations above plus a few more including Alberto Salazar allegedly shipping pills for Galen Rupp inside of a book to Steve Magness in Europe. You can read the ProPublica piece here.
Earlier Parts Of The Show
The first six minutes were pretty much just an intro.
6 Minutes To 19 Minutes – Full of People Testifying That 1980 Olympic 100-Meter Champ Allan Wells Was A Steroid User
This part had a lot of testimony from insiders like the Salazar piece. We're sure British fans will be interested in it but to us the concept that a British sprinter who won Olympic gold in 1980 was on steroids is not surprising given the widespread steroid use in the 1970s and 1980s and lack of testing.
19 Minutes to 32 Minutes – The Reporter Orders EPO Off The Internet To See If It Helps Him and See If He'd Be Busted in a Test
This part was very interesting for us as distance fans. Daly ordered EPO over the Internet from China to see its impact and see if he can take EPO in a manner (micro-dosing) that wouldn't trigger a positive test with the Biological Passport.
After training for four months and getting in the best shape of his life, Daly's VO2 Max without EPO was 58. After a few week on EPO, his VO2 Max rose to 63. His maximum watts increased from 350 to over 375 (7%) in seven weeks as well.
During the whole time, Daly had his blood tested once a week using the standards used for the Biological Passport. He then sent the test results to Professor Carsten Lundby of the University of Zurich, who is an EPO expert.
Lundby said nothing in the tests would be picked up by the Biological Passport:
Lundy: "There is no adverse analytic finding. You seem to have passed the test while at the same time doing EPO. This means of course that you got away with it – you got away with injecting EPO into yourself in a dose sufficient enough to increase your performance."
Daly, "I think the most depressing thing was how easy it was."
---
David Epstein has a written piece on ProPublica with video that has many of the same allegations above plus a few more including Alberto Salazar allegedly shipping pills for Galen Rupp inside of a book to Steve Magness in Europe. You can read the Pro Publica piece here.
More: Discuss this topic on our messageboard: MB: David Epstein/ProPublica/BBC Story: Former Team Members Accuse Famed Coach Alberto Salazar of Breaking Drug Rules.
LRC Rojo's Five Quick Thoughts On David Epstein's Nike Oregon Project Investigation David Epstein's piece is a great read, this could be just the beginning as it is time for more people to speak on the record and for Nike to investigate its own house. Plus Matt Centrowitz's tweet on this is embarrassing.
Competitor Q&A With David Epstein on Nike Oregon Project Allegations