2015 NCAA Outdoor Track And Field Men's Long Distance Preview: Edward Cheserek And Eric Jenkins Will Dominate – The Question Is Will They Battle Each Other To The Line Or Cross Holding Hands?
By LetsRun.com
June 8, 2015
The 2015 men's NCAA Outdoor Track and Field Championships start on Wednesday in Eugene, Oregon with the men's competition taking place on Wednesday and Friday and the women's on Thursday and Saturday. We break down the men's long distance action for you below.
The men's long-distance races at the 2015 NCAA Outdoor Track and Field Championships could be extremely exciting or a total snoozefest. It all depends on what University of Oregon distance coach Andy Powell and his two top runners, Edward Cheserek and Eric Jenkins, elect to do. Cheserek and Jenkins are heavily favored to go 1-2 in some order in both Wednesday's 10,000 and Friday's 5,000, but exactly which order they finish is the source of great intrigue among fans – at the very least, it will force viewers to pay attention to the final lap to see whether the two decide to really kick against each other. Will Powell let them race all-out? Does anyone else have a chance? We break down those questions and more below.
Men's 10,000 (Wednesday, 9:43 p.m. ET)
Entries (2014 finish in parentheses)
Article continues below player.
| | | | | |
| --- | --- | --- | --- | --- |
| Name | Year | School | Qualifying time | PR |
| Edward Cheserek (1) | SO | Oregon | 29:43.89 | 28:30.18 |
| Scott Fauble | SR | Portland | 29:43.96 | 28:43.70 |
| Eric Jenkins | SR | Oregon | 29:44.59 | 29:04.08 |
| Craig Lutz | SR | Texas | 29:44.75 | 28:33.48 |
| Futsum Zienasellassie | JR | Northern Arizona | 29:44.78 | 28:35.76 |
| Jason Witt (12) | SR | BYU | 29:45.13 | 27:54.25 |
| Pierce Murphy | JR | Colorado | 29:45.35 | 28:52.70 |
| Matt McElroy | SR | Northern Arizona | 29:45.44 | 28:36.53 |
| Nate Jewkes | SR | Southern Utah | 29:45.50 | 28:43.18 |
| Matt McClintock | JR | Purdue | 29:47.98 | 28:54.77 |
| Marc Scott | SO | Tulsa | 29:48.51 | 28:30.33 |
| Brandon Lord (17) | SR | Georgia | 29:52.97 | 29:09.46 |
| Martin Hehir (21) | SR | Syracuse | 29:53.89 | 28:27.70 |
| Sam Pons | SR | Princeton | 29:54.15 | 29:35.78 |
| Ryan Mahalsky | SR | Lehigh | 29:55.14 | 29:27.35 |
| Jonathan Green | FR | Georgetown | 30:01.12 | 29:06.52 |
| Spencer Gardner | SR | BYU | 30:03.09 | 29:44.52 |
| Lawrence Kipkoech | FR | Campbell | 30:04.26 | 29:20.11 |
| Glen Burkhardt | JR | Penn State | 30:06.30 | 29:31.42 |
| Max Straneva | SR | Syracuse | 30:08.10 | 29:45.85 |
| Morsi Rayyan (18) | SR | Michigan | 30:08.83 | 29:12.94 |
| Ernest Kibet | SO | Louisville | 30:09.38 | 28:55.55 |
| Dan Lennon | JR | Syracuse | 30:09.95 | 28:46.21 |
| Malachy Schrobilgen | SO | Wisconsin | 30:13.27 | 29:19.55 |
If you follow the NBA, you know that the Western Conference has been significantly stronger than the Eastern Conference for the past several years. The same imbalance exists in the men's long distance events, though in this case, the West is even stronger than the East. After all, the East in the NBA has the biggest star of them all in LeBron James.
How bad is it? In the 10,000, all eight scoring spots were occupied by West runners last year. In the 5,000, the West took nine of the top ten spots. Here are the average PRs of the West qualifiers versus the East qualifiers:
West 10,000: 28:45.68
East 10,000: 29:11.14
West 5,000: 13:36.22
East 5,000: 13:47.06
So it should come as no surprise that the favorites to go 1-2 in the 10,000 on Friday night hail from the West region: two runners named Edward Cheserek and Eric Jenkins. These two have dominated the NCAA all year long, going 1-2 at the 2014 NCAA Cross Country Championships in November before combining for three national titles (four if you count Cheserek's anchor on the DMR, and you should) at 2015 NCAA indoors. They're coached by a man (Andy Powell) who has consistently had his guys ready to go for the NCAA track championships, and they have by far the best closing speed in the field. Cheserek has a 3:36.50 PR and is the NCAA mile champ; he ran his final 200 meters of this race in 24.8 seconds last year, destroying Shadrack Kipchirchir for the win. Jenkins has run 3:57.09 in the mile and closed his NCAA 3,000 title run in 25.83 for the last 200. No one in this field can hope to touch them in a kick.
So the question becomes, can either of them be broken? Or at least weakened to the point where their kick is less effective? Possibly, but it's highly unlikely. Last year, Cheserek faced a field that included Kipchirchir (27:36 PR), Mo Ahmed (27:34) and Kennedy Kithuka (27:41). They went through 5k in 14:07 but no one was willing/able to push the pace in the second half and Cheserek still had plenty left in the tank when he began his kick. This year's field isn't nearly as deep – BYU's Jason Witt (27:54) is the only man who has broken 28:27. If Kipchirchir, Ahmed and Kithuka couldn't run out the kick from Cheserek, there's no way Witt can do it working alone. There's a slightly better chance that strategy could work on Jenkins, whose PR is just 29:04 and had run only one 10,000 on the track before April, but it's still very unlikely. Remember, Jenkins was second at NCAA XC this fall. If he ran an all-out 10,000, there's a good chance he'd be below 28:00 and that's more than enough to hang with Witt.
The 25-year-old Witt, who was fourth at NCAA indoors in the 5,000 (behind Cheserek and two guys who won't be in the 10,000), is the favorite for third, but this is a two-horse race. Even Witt himself recognizes the threat Cheserek and Jenkins pose. Remember, when he read our April Fool's article stating Jenkins and Cheserek wouldn't be running NCAAs this spring, this was what he texted BYU director of operations Ryan Waite: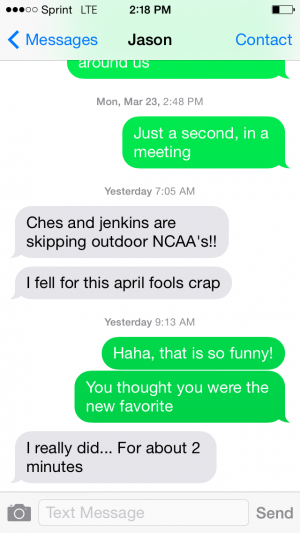 He was thrilled they were out of the race (or at least that's what he thought) as he knows he can't beat them without some help (fall, lost shoe, sickness, food poisoning, etc).
The only drama is determining which one of Cheserek and Jenkins wins the race.
So far, the two have raced against each other three times with an NCAA title on the line. Cheserek unquestionably won the first two. In the 2014 NCAA outdoor 5,000, which was one of the greatest races in NCAA history, Cheserek lost to Lawi Lalang but he finished second overall, almost nine seconds up on Jenkins. It's hard to believe but Jenkins was only the third Oregonian in that race as Trevor Dunbar beat him.
At 2014 NCAA XC, Cheserek was 3.8 seconds ahead of Jenkins, who had to outkick Futsum Zienasellassie for second.
Round three, the 2015 NCAA indoor 3,000 in March, was a little more controversial. Officially, the race went to Jenkins, but to use a boxing analogy, that win was by split decision while the first two were by knockout:
Eric Jenkins Takes Down Edward Cheserek For NCAA Title #2 – Or Did Cheserek Let Him Win?
*MB: That was F***ing awesome – Oregon Civil War – Jenkins FTW!! Edward Cheserek is human!! (Wait: Ches says he let Jenkins win!)
Whether Jenkins won the race fair and square or whether Cheserek let up at the end was the subject of great debate at the time and three months later, the issue still hasn't been properly resolved. Cheserek closed very hard over the last lap but didn't appear to see Jenkins coming in the final straight. When Jenkins moved by him with less than 50 meters to go, Cheserek recognized it was his teammate and didn't put up a fight. After the race, Cheserek said he let Jenkins win.
"When I saw my teammate coming over, I was like 'let him take it' because he's my teammate, we're not rivals. We're just trying to score as many points as we can," Cheserek said at the time.
But just because Cheserek says he didn't put up a fight doesn't mean he could have beaten Jenkins if he went all-out. Again, Jenkins closed that race in 25.83 seconds; that's tough even for Cheserek to match. There are so many variables involved in that race (among them the fact that it was Jenkins' second race of the weekend to Cheserek's fourth – and second in two hours) that it's impossible to draw definitive conclusions about which of the two runners is better. NCAA outdoors is a much better arena for deciding that question, as Cheserek and Jenkins are entered in the same two races – the 10,000 and the 5,000.
Yet after this week is over, we may be just as uncertain as we are right now. No one knows exactly what Powell will instruct his two studs to do or how closely they will adhere to his orders. There are four main ways we see the races unfolding:
1) Cheserek and Jenkins don't care who wins either race
In this scenario, we'd see something similar to the 2003 NCAA 10,000, when Arkansas' Dan Lincoln and Alistair Cragg crossed the finish line in Sacramento holding hands (Lincoln officially got the victory by .09).
2) Cheserek and Jenkins decide to split the victories
One of them gets the 10,000 crown and one of them gets the 5,000. Each get an NCAA title and neither feels left out.
3) They hold hands in the 10,000 and it's no-holds-barred in the 5,000
The chances of Cheserek and Jenkins going 1-2 in the 10,000 are much better than in the 5,000 considering that they'll be doubling back in the 5,000 against tougher competition – particularly Arkansas' 13:20 man Kemoy Campbell (4th and 2nd in the 3k/5k indoors), who will be fresh. If Powell wants to maximize team points, it's in Oregon's best interest for Cheserek and Jenkins to take it easy in the 10,000 rather than killing each other in that race and possibly affecting their chances in the 5,000. This might be the best scenario for all involved as it gives fans a climactic showdown between the NCAA's two best runners yet still gives Oregon a great chance at going 1-2.
4) They both go all-out in each race
This is the best-case scenario for fans, but Oregon's emphasis on team points means that it might not happen this way.
Of course, these scenarios bring caveats, the biggest one being that Cheserek and Jenkins may not go 1-2 in both races – or if they do, they might have to work for it. That's certainly possible, with runners such as Campbell, Thomas Awad, Justyn Knight and their Duck teammate Will Geoghegan (third in the 3k indoors) running the 5,000 fresh. But as we'll explain below, a Cheserek-Jenkins 1-2 in the 5,000 as well as the 10,000 is the most likely outcome.
One other consideration: $$$. Jenkins will turn pro this summer and it would be better for him from a marketing perspective to enter free agency as the reigning 5k/10k champ (to go with the reigning 3k/5k champ indoors). Perhaps it won't make a huge difference if the shoe companies see him cross the line right with Cheserek, but in terms of stuff they can put on Jenkins' resume in ads, etc., it certainly wouldn't hurt for Jenkins to be coming off two NCAA titles. Cheserek still has two more years at Oregon after this one and he's already won six individual NCAA titles. By the time he turns pro (assuming he stays at Oregon beyond this spring), it probably won't matter to the shoe companies whether he lets Jenkins cross first or not at this meet. If the two are going to cross together, it makes the most sense to let Jenkins cross just a hair in front.
It's worth noting that in the PAC-12 5,000, Jenkins let Cheserek take it when they were clear of the field. Was that so Ches will return the favor at NCAAs?
As for who would win between Cheserek and Jenkins if they both went all-out, well that's very difficult to say. In 2014, Cheserek was clearly the better runner, defeating Jenkins in the NCAA 5,000 and beating him convincingly in XC at Pre-Nats, PAC-12s and NCAAs.
But Jenkins is better on the track than in XC. The NCAA 3k is the only race so far this year where it's possible the two were running all-out against each other, and as we explained above, even that was up for debate. We think Jenkins would have won that if they'd gone to the line but he was A LOT fresher than Cheserek was as it was his second race of the weekend versus #4 for Cheserek.
In a fresh 10,000, Cheserek deserves the edge over Jenkins given his experience at the distance (2014 NCAA champ) and his mastery over 8k/10k in cross country. But a 5,000 is anyone's guess and we really can't give either one a big edge. We still lean towards Cheserek if fresh, as he's the reigning NCAA mile champ, but it's close. They both own 13:18 PRs (Jenkins' is .14 faster, for those that care) and though Cheserek's 1,500 PR (3:36.50) is better than anything Jenkins has done in the 1,500/mile, he had the benefit of running that time against Lawi Lalang, who pushed him all the way to the line (Lalang won). Jenkins hasn't had the same kind of opportunity, as in the last two years he's raced just one open 1,500/mile, a 3:57.09 mile at the Oregon Twilight meet on May 8 in which he and Geoghegan went 1-2.
If you give Jenkins credit for his 3,000 victory over Cheserek indoors, you must  that Cheserek had already run a tough mile final two hours earlier in which he ran a 2:19 final 1,000 meters and the DMR final the night before. It's truly too close to call over 5,000, and that's why we're hoping Powell gives them the green light to go at each other in the meet's final individual male event.
LRC 10,000 prediction: 1. Cheserek 2. Jenkins 3. Witt
[gravityform action="

polls

" id="189″ mode="

poll

" cookie="1 month" show_results_link="false" display_results="true" percentages="true" counts="false" ajax="true"]
Men's 5,000 (Friday, 9:30 p.m. ET)
Entries (2014 finish in parentheses)
| | | | | |
| --- | --- | --- | --- | --- |
| Name | Year | School | Qualifying time | PR |
| William Kincaid | JR | Portland | 13:48.27 | 13:48.27 |
| Will Geoghegan | SR | Oregon | 13:50.21 | 13:43.22 |
| Kemoy Campbell | SR | Arkansas | 13:50.90 | 13:20.39 |
| Eric Jenkins (4) | SR | Oregon | 13:51.45 | 13:18.57 |
| Thomas Curtin | JR | Virginia Tech | 13:52.05 | 13:38.56 |
| Sean McGorty | FR | Stanford | 13:53.10 | 13:37.64 |
| Erik Olson | SR | Stanford | 13:53.37 | 13:36.77 |
| Justyn Knight | FR | Syracuse | 13:53.48 | 13:34.86 |
| Patrick Tiernan (6) | SO | Villanova | 13:54.00 | 13:31.25 |
| Collin Leibold | JR | Georgetown | 13:54.05 | 13:54.05 |
| Lane Werley | JR | UCLA | 13:56.95 | 13:53.42 |
| Thomas Awad | JR | Penn | 13:57.40 | 13:33.29 |
| Mason Ferlic | JR | Michigan | 13:57.88 | 13:46.89 |
| Michael Clevenger | JR | Notre Dame | 13:58.46 | 13:53.37 |
| Colin Bennie | FR | Syracuse | 13:58.68 | 13:53.93 |
| Willy Fink | SO | Eastern Michigan | 13:59.22 | 13:51.35 |
| Jack Goodwin | JR | Florida State | 14:01.83 | 14:01.83 |
| Jacob Thomson | FR | NC State | 14:02.62 | 13:52.71 |
| Ty McCormack | SR | Auburn | 14:02.84 | 13:52.59 |
| Edward Cheserek (2) | SO | Oregon | 14:11.66 | 13:18.71 |
| Weston Strum (10) | SR | Northern Arizona | 14:11.78 | 13:47.19 |
| Kirubel Erassa (18) | SR | Oklahoma State | 14:12.15 | 13:27.55 |
| Jake Leingang | FR | Oregon | 14:12.27 | 13:46.64 |
| Morgan Pearson | JR | Colorado | 14:12.46 | 13:36.22 |
Returners from NCAA indoors:
1. Eric Jenkins, Oregon 13:48.36
2. Kemoy Campbell, Arkansas 13:49.55
7. Will Geoghegan, Oregon 13:56.11
8. Thomas Curtin, Virginia Tech 13:57.87
14. Morgan Pearson, Colorado 14:16.63
A 1-2 finish in the 5,000 is less of a sure thing than in the 10,000, but it's still exceedingly likely. Consider that the last time Cheserek lost to a (non-teammate) collegiate foe in an open race he was trying to win was June 13, 2014 – last year's NCAA 5,000 final, where it took a Herculean effort from 3:33/13:00 man Lawi Lalang to bring him down. The last time it happened to Jenkins on the track was – you guessed it – the same race. Add in that Jenkins/Cheserek's PRs are significantly faster than almost everyone else in the field (only Campbell at 13:20 comes close) and they're the heavy favorites to go 1-2 in some order. Realistically, only Campbell has a chance to break them up, as he was close to Jenkins the 5,000 at NCAA indoors and won't have the 10,000 in his legs. But there is reason to be concerned about Campbell: he dropped out of the 10,000 at Regionals after 20 laps with an Achilles injury, though he did make it comfortably in the 5,000 (which raises the question, why was he allowed to compete in the 5,000?).
To beat both Cheserek and Jenkins, you need to be 100% healthy and that doesn't seem to be the case as Arkansas coach Chris Bucknam said this about Campbell to Arkansasonline.com, "Kemoy had every intention of qualifying in the 10,000, but he has a history of Achilles tendon issues and he was in a pack and got kind of banged around, and he felt like he was going to injure himself if he kept going, so he backed off. He was able to qualify in the 5,000, but he limped off the track."
Beyond that, it's hard to fathom anyone else challenging the two Ducks. The battle for the next few spots should be very interesting, however, so that's where we'll focus our analysis. Campbell, the SEC champ, is the obvious choice for third. His 13:20.39 from Payton Jordan was the top time in the NCAA by over 10 seconds and he performed very well at NCAA indoors (2nd in the 5k, 4th in the 3k).
Fourth is wide-open, however. Penn's Thomas Awad is the next-fastest man in 2015 at 13:33.29. It's been 26 years since an Ivy League runner finished in the top five in the men's 5,000 at NCAAs (Brown's Greg Whiteley was third in 1989) and Awad certainly has the speed to do it. He won the 5,000 and 1,500 on his home track at Heps, closing the latter in 52.53 seconds for his last lap. But Awad is still relatively unproven at NCAAs, as he didn't make it outdoors last year or indoors this year (he was 27th in XC).
The fastest non-Oregon runner by PR is Oklahoma State's Kirubel Erassa, but his recent track record at NCAAs is poor. He was 69th at NCAA XC and finished 18th in the 5,000 last year despite entering with the second-best seed time. He's certainly a big talent – he's run 3:39 this year outdoors, won the 5,000 and 10,000 at Big 12s and has finished 3rd ('13 indoor 3k) and 2nd ('14 indoor 3k) at NCAAs in the past. This is his final race in an OSU singlet, so he has extra incentive to make it count.
There's also Patrick Tiernan of Villanova, the top non-Oregon returner from last year (he was sixth), though he's mostly flown under the radar this spring with a best time of 13:54.00. Still, with a 13:31 PR, the Big East champ is a threat for fourth. So too is Syracuse superfrosh Justyn Knight (13:34 PR, top non-African-born runner at World XC in 25th), who has 3:39 speed and won ACCs in the 1,500 – with one shoe! If you are wondering who is going to rule the NCAA when Jenkins leaves after this year and Cheserek goes in a year or two (will he go pro early?), he seems to be the pick.
Plus we haven't mentioned indoor All-Americans Will Geoghegan of Oregon (7th) or Thomas Curtin of Virginia Tech (8th) or Colorado's Morgan Pearson (5th in the 3k indoors), who was third at PAC-12s behind Cheserek and Jenkins (though he was the last qualifier in his heat at Regionals and was .18 from not qualifying).
If we had to make picks for spots 4-5-6, we'd go with Erassa (best PR, 3:39 speed), Geoghegan (great coaching, 3:57 mile speed) and Knight (he's on a roll) in some order, but it's impossible to say who would beat whom given that none of them have raced each other at all in 2015. There are a lot of great runners in this field, so even if Cheserek and Jenkins don't give the fans the showdown they want, the battle for the next few spots will still be plenty compelling.
LRC prediction: 1. Cheserek 2. Jenkins 3. Knight
Discuss the meet in our fan forum: Official 2015 NCAA Outdoor T&F Live Discussion Thread
[gravityform action="

polls

" id="190″ mode="

poll

" cookie="1 month" show_results_link="false" display_results="true" percentages="true" counts="false" ajax="true"]
[gravityform action="

polls

" id="191″ mode="

poll

" cookie="1 month" show_results_link="false" display_results="true" percentages="true" counts="false" ajax="true"]