Vin, Mo, Galen, Alberto, Alexa And Justin: Six Thoughts On Prefontaine
by: Weldon Johnson, LetsRun.com
June 2, 2015
EUGENE, Ore. – Before the track and field world turns its attention to Thursday's Rome Diamond League meet, I've got six more thoughts from the 2015 Prefontaine Classic.
1) Vin Lananna – He Really Got The 2021 World Championships In Eugene
Article continues below player
As I got out of my truck (I pulled an Airstream here from Texas) and was walking to Friday's press conference at the Valley River Inn, the FIFA scandal was fresh on my mind. On the BBC radio they had been talking about the bribery allegations and the 5-star hotel the FIFA Congress was staying at in Zurich. I approached the meet hotel for the premier track meet in America and this is what I saw:
I just shook my head in amazement. Track Town USA CEO President Vin Lananna (editor's note: we learned later Tuesday Mike Reilly is Tradck Town USA CEO) had somehow gotten the IAAF bigwigs to vote for a Worlds in Eugene. Truly amazing. Eugene is the best place for a track meet in America, but it's not a place IAAF delegates want to go to, and definitely does not have the amenities found in a traditional Worlds city. Vin let none of that stop him. Simply amazing.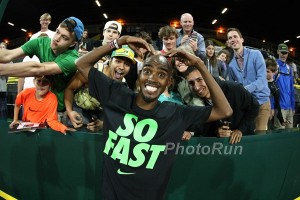 2) Mo Farah – Making His Case for History
Mo Farah won the men's 10,000m on Friday night defeating two of the world's best in World XC champion Geoffrey Kamworor and former worlds bronze medallist Paul Tanui. Not a big deal, some of you may be thinking, since you expect Farah to win when he races, and the time was not that fast.
If you thought that, then I think you are missing a bigger point – Farah seems to be quietly trying to lay his foundation for being one of the all-time greats in 2015.
One thing I began to appreciate after the race is Mo did not have to run the 10,000m here; he is already qualified for Worlds being the defending 10,000m champion.
He ran here because he wanted to get a fast time. The end result was not a fast time as the pacemaking was not ideal, but Mo showed up and raced the world's best when he didn't have to (Nike no doubt would have wanted him to run something here, but he didn't have to run the 10,000m).
The knock on Mo being considered for GOAT status is 1) He has not run super-fast on the track 2) He does not take on the world's best often outside of the Worlds/Olympics.
Mo is trying to answering his critics in 2015.
In 2015, Farah has 1) Raced and beaten some of the world's best half-marathoners at the Lisbon half 2) Raced a 3000m at the opening DL meet of the year in Doha 3) Showed up at Pre to race a 10,000m with the goal of a fast time.
Farah did lose in Doha and did not get a PB at Pre, but in talking to him after the race, it is clear he is a student of the sport and stays abreast of what people are saying about him, as evidenced by him calling out LetsRun.com for always hyping up the next guy who is going to challenge and beat him at 10,000m. If he's aware of LetsRun.com highlighting the next guy who may beat him at 10,000m, then clearly he must be aware of what people are saying comparing him to Gebrselassie or Bekele.
I've got Mo's full interview below, but have it set to start with the part about LRC:
Related: LetsRun.com Archives from February: The LetsRun.com Staff Civil War: Can Mo Farah Be Considered The GOAT (Greatest of All-Time)?
MB: Mo Farah is one of the greats
MB: Mo Farah Calls Out LetsRun Hype Machine, Says Galen Rupp Will Be an Olympic Champ
MB: Farah is a WIMP- refuses to push a 26:30 pace, runs 26:50
3) Galen Rupp – A Future Olympic Champion?
Speaking of the guy most likely to beat Mo, it might be his training partner Galen Rupp. In the video above, Mo says, "Galen is my biggest rival I think…. don't doubt Galen, I think one day he'll definitely be Olympic champion for sure…. I'm a little bit older than him and a little bit more experienced and I think that goes a long way."
Considering Rupp is unlikely to beat Farah in 2016 (Rupp is 1-18 against Farah lifetime with his lone victory being an indoor mile in 2012) and that Rupp will be 34 in 2020, it likely won't happen, but American distance fans can savor the thought.
4) Alberto Salazar – Calm Under Pressure
Funny story. During the men's 10,000m, I went from the mixed zone to the track to try and watch a few of the laps trackside. Right before I get to the track I see Alberto Salazar stopped by a small fence 10 feet from the track in a state of panic saying loudly, "Mike, help me out!" There was a female security guard not letting him through because he didn't have a credential. Alberto saw Mike Reilly (Lananna's former assistant) nearby and was trying to get his attention, and I even thought of just handing him my credential but before that could happen, Alberto was waved through by someone. Alberto handled it way more calmly than I would have, but it was refreshing to see him having to follow the rules even in Hayward Field. I remember seeing Darren Treasure, the Nike Oregon Project psychologist, with Mary Cain in an area that was supposed to be off limits to support personnel at USATF nationals two years ago, so I had to chuckle with Alberto not having full reign of Hayward Field.
5) Alexa Efraimson – Enjoy It!
Two years ago, would anyone have thought that Mary Cain's 1,500m US junior record would soon be broken? Well that is what happened when Alexa ran 4:03.39 in the women's 1,500m. Alexa likely has a very bright future as may Mary Cain, but Mary Cain's struggles this year make me want to give Alexa one piece of advice – enjoy it. Athletes never know how long they'll be on top.
6) Justin Gatlin Told Me To Go Study History – So I'm Doing It
Speaking of not knowing when you'll be enjoying the highest of highs or the lowest of lows, Justin Gatlin has showed you can be on top of the sport on one day and the bottom the next, but he deserves a lot of credit for climbing back up the ladder.
That being said, at the pre-race press conference Justin Gatlin did not like me asking about his four-year drug suspension and things got a little testy with him telling me to go study  history (which I majored in in college), "Maybe you should go do that, in a museum, or something." History has shown me that most drug cheats lie about what they did and that Gatlin was convicted by USADA. Gatlin talks about his 'situation' and Tyson Gay's 'incident.' I'd prefer to call them their doping convictions.
The front-page Eugene Register-Guard sports editorial by Austin Meek was on Gatlin and mentioned our exchange and said it well, "Questions persist, in part because Gatlin has never acknowledged using steroids. The idea that Chris Whetstine, a massage therapist from Eugene, applied testosterone cream to Gatlin's body without his knowledge never passed the plausibility test." Olympic writer Alan Abrahamson wrote a big piece on Gatlin as well and it got picked up by Norway's biggest paper.
I'll have more on Gatlin's "situation" later, but in the meantime I'm studying my history at Gatlin's request.
I found his USADA trial transcripts filed in a US court case and they are a fascinating read. I'm 500 pages in and only have 447 more to go.
Weldon Johnson is a co-founder of LetsRun.com. Email him at weldonjohnson@letsrun.com.