LetsRun.com Founders Robert and Weldon Johnson Named as Two of "The 50 Most Influential People in Running" by Runner's World
The Johnsons receive high-praise for being "the masterminds behind perhaps the most engaged online community of runners"
"LetsRun.com's homepage has become an essential bookmark for followers of the elite sport."
by LetsRun.com
September 26, 2015
What do Usain Bolt (world's greatest sprinter ever), Mo Farah (world's greatest current distance runner), Mark Parker (CEO of Nike, $14.7 million in compensation in 2014), John Legere (T-Mobile CEO, $18.6 million in compensation in 2014), Joan Benoit Samuelson (Olympic marathon champion) and LetsRun.com co-founders Robert and Weldon Johnson have in common?
Unfortunately for the Johnson brothers (Brojos), it's not net worth or Olympic gold medals. Instead, they all have been named to Runner's World's list of "The 50 Most Influential People in Running."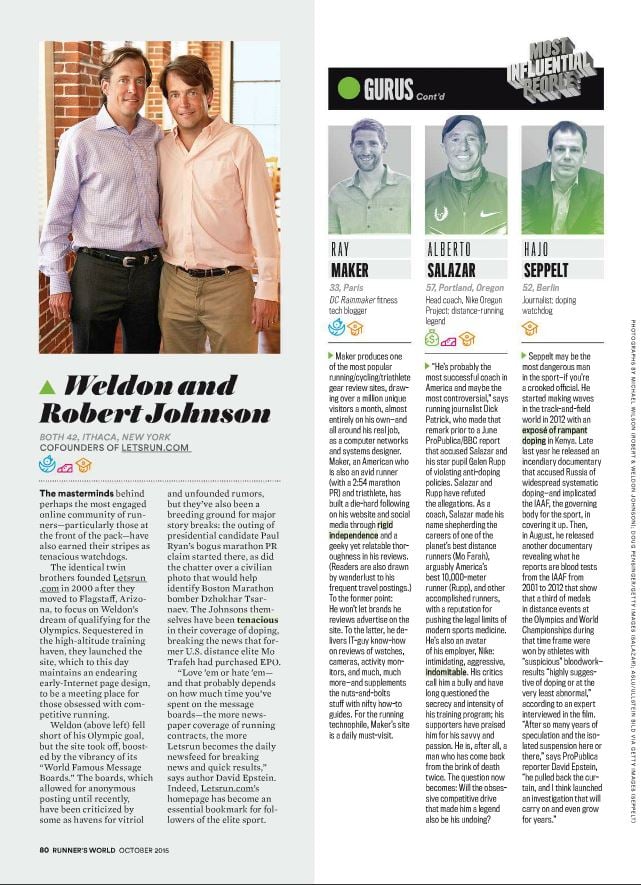 The Johnson brothers do have something to hang their hat on that Usain Bolt and Mo Farah can't even claim. They received a longer profile in the piece (only seven other people received the longer profile; Bolt and Farah weren't among them). The story was produced by Nick Weldon and the editors of Runner's World and appears in the October 2015 edition of the magazine.
Article continues below player.
The profile of the Johnson brothers does a great job of succinctly summarizing both the founding and essence of LetsRun.com:
"The identical twin brothers founded LetsRun.com in 2000 after they moved to Flagstaff, Arizona, to focus on Weldon's dream of qualifying for the Olympics. Sequestered in the high-altitude training haven, they launched the site, which to this day maintains an endearing early-Internet page design, to be a meeting place for those obsessed with competitive running."
The piece repeatedly gives high praise to the what the Johnson brothers view to be the key aspect of the LetsRun.com: you — the tens of thousands of daily visitors that make up the LetsRun.com community, the similarly "obsessed" fans who have shared their views on the sport each day to the tune of millions of posts on the world famous running message boards.
Runner's World credits the Johnson's for being "the masterminds behind perhaps the most engaged online community of runners – particularly those at the front of the pack" and adds that the brothers "have also earned their stripes as tenacious watchdogs." The piece praises the message board posters for being the ones starting the chatter that outed vice presidential candidate Paul Ryan for lying about his marathon time and helping the photo that helped identify Boston Marathon bomber Dzhokhar Tsarnaev go viral. The Johnson brothers' strong anti-doping stance also gets high praise as the piece says the brothers "have been tenacious in their coverage of doping, breaking the news that former US distance elite Mo Trafeh had purchased EPO."
The piece also includes a quote from one of LetsRun.com's favorite authors, David Epstein: "Love 'em or hate 'em – and that probably depends on how much time you've spent on the message boards – the more newspaper coverage of running contracts, the more LetsRun becomes the daily newsfeed for breaking news and quick results." Runner's World agrees as its profile concludes, "Indeed, LetsRun.com's homepage has become an essential bookmark for followers of the elite sport."
The full list of the 50 Most Influential People in Running according to Runner's World
(listed in the order they appear in the magazine; there is no numerical ranking in the magazine)

Usain Bolt – Sprinter, Olympic champion
Mo Farah – Distance runner, Olympic champion
Shalane Flanagan – Distance runner, Olympic medallist
Lauren Fleshman – Distance runner, US champion
Amelia Boone* – Obstacle course racer
Kara Goucher – Distance runner, US champion
Ellie Greenwood and Rob Krar – Ulta runners
Scott Jurek – Ultramarathoner
Sanya Richards-Ross* – Sprinter, Olympic champion
Meb Keflezighi – Distance runner, Olympic medallist
Joan Benoit Samuelson – Distance runner, Olympic champion
Adrian Bijanada – Creator or Obstacle Course Racing World Championships
Michael Capiraso and Peter Ciaccia – NYRR presidents
Seb Coe – IAAF head, organizer of 2012 Olympics, former Olympic champion mid-distance runner
Rich Kenah – Executive director Atlanta Track Club, former Olympic mid-distance runner
Jean Knaack – Executive director of Road Runners Club of America
Mary Wittenberg* – Global CEO of Virgin Sport, former head of NYRR
Vin Lananna – President of TrackTown USA
Dave McGillivray – Race director, Boston Marathon
David Epstein – Reporter, author of Sports Gene
Jeff Galloway – Inventor of Run-Walk-Run training method, former Olympic distance runner
Hal Higdon – prolific author of running books
Merhawi Keflezighi – Agent
Weldon and Robert Johnson* – Co-founders of LetsRun.com
Ray Maker – Founder of DC Rainmaker gear review site
Alberto Salazar – Head coach Nike Oregon Project
Hajo Seppelt – Journalist, doping watchdog
Sally Bergesen – Founder and CEO of Oiselle
Tom Carleo – VP of Running at New Balance
John Legere* – President and CEO of T-Mobile
Mark Parker* – President and CEO of Nike
Leslie Jordan – Founder and president of Leslie Jordan, Inc. (maker of tech Ts)
Max Siegel – CEO of USATF
Travis Snyder – Founder and CEO of Color Run
Robin Thurston – Chief Digital Officer at Under Armour, co-founder MapMyFitness
Jim Weber – CEO of Brooks Sports, Inc.
Mo'ath Alkhawaldeh – Jordanian marathoner, Officer at Generations for Peace – a peace-building non-profit
Molly Barker – Founder of Girls on the Run
Ashley Hick-Rocha and Toni Carey* – Co-Founder of Black Girls Run!
Edwin Moses – Former sprinter, Olympic champion. Chairman of Laureus Sport for Good Foundation
Tracy Sundlun – Senior VP for events, Competitor Group, Inc.
Brogan Graham and Bojan Mandaric* – Co-founders of The November Project
Kathrine Switzer – First official female finisher of Boston Marathon
Travis Tygart – CEO of USADA
Irene Davis and Daniel Lieberman – Running biomechanics researchers
Andrew Johnson – World-class scientist, Head of Sport and Health Sciences at University of Exeter (U.K.)
Stacy Sims* – Exercise physiologist and nutrition scientist, founder of Osmo Nutrition
Nicolas Mermoud – Co-Creator of the Hoka One One shoe
Tim Noakes – Endurance sports researcher, author
Paul Williams – Scientist responsible for the National Runners' and Walkers' Health Study – the preeminent longitudinal study of the health impact of the sport
*Received a longer profile
Note: There actually are 56 people listed as six times two people are presented as one as was the case with Johnsons.
Purchase the October 2015 edition on newsstands across the country or online at zinio.com. Or you can read the article here as it's now online.