Rome Men's Recap: Gatlin 9.75, Aman Over Amos Again, Kejelcha Is The Real Deal
by: LetsRun.com
June 4, 2015
The Diamond League went back to Europe with Thursday's Rome Diamond League meet. Mo Aman, Justin Gatlin, and Yomif Kejelcha kept up their impressive winning ways from Pre. We break down all the men's action below. Our women's recap with Jenny Simpson's fourth straight 1500 win at a DL meet is here. 
Men's 800: Aman Beats Amos Again in World-Leading 1:43.56
Article continues below player
For the second time in six days, Mo Aman took down Nijel Amos in the 800, this time using a strong last 100 meters to win in a world-leading 1:43.56.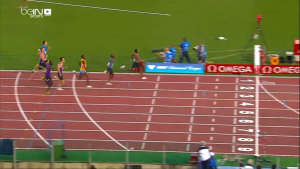 The field hit 200 in around 24.2 seconds, with Frenchman Pierre-Ambroise Bosse, Aman and Amos (in that order) all following rabbit Bram Som. Som hit 400 in 50.42 with the pack strung out single-file behind him and the same three men up front.
On the back stretch, 2012 Olympic silver medalist Timothy Kitum passed several people on the outside but couldn't get close enough to the front by the final turn. With 200 to go (1:17.01), Som had dropped off and it was Bosse still leading, looking to go wire-to-wire. He held the lead well for the next 100, even though Aman and Amos both swung to the outside in an attempt to pass him.
As they hit the homestretch, it became apparent that Bosse had spent his energy holding off those two on the final turn and he had nothing left for a final sprint, fading to seventh place. The rest of the field began to gain on Amos and Aman, but none could get quite close enough. One of those two men was going to be your winner. In the end, it was Aman who once again came through for the win, crossing the line in 1:43.56, a new world leader. Amos managed to hold on for second while Job Kinyor won a big sprint for third in 1:43.92. Kenyan Ferguson Rotich Cheruiyot was moving faster than anyone in the final 50 meters, but he left himself too far back with 100 to go and could only manage fifth.
Quick Take #1: Mo Aman is once again the man to beat at 800 meters (for now)
With David Rudisha's injury status uncertain (he pulled up lame in Ostrava last week and scratched from Sunday's DL race in Birmingham) and Ayanleh Souleiman possibly running only the 1500 at Worlds (he said at Pre the 1500 was his favorite event and that it may have been a mistake to run both the 800 and 1500 at Worlds in 2013), Aman is the favorite right now for Worlds. It's only June 4, so a lot can change — his combined margin of victory over Amos these last two weeks is .38 of a second — but given his consistency on the DL circuit and big-race credentials (world champ outdoors in '13 and indoors in '14), he will be tough to beat in Beijing.
Really, it should be a great 800 at Worlds. Aman and Amos always deliver good races and though Rudisha may never recapture his 2012 form, he's still a big threat when healthy.
Amand told meet organizers after his win, "It is my third victory in Rome and that is a good sign for me. I am on the right way to defend my title in Beijing. I must say I feel less pressure than before the last championships. But I have to confess it is my big dream to defend the gold because it is very important for my country as well. It was a good time here in Rome and I will try to even improve it in the following race."
Quick Take #2: Amos may have cost himself a shot at the win by running in lane 2 on the final turn
One of our favorite sayings in the 800 is that "you only get one move." Amos launched into his move with 150 to go, swinging out to lane 2 to try and pass Aman and Bosse. He pulled something similar at Pre last weekend. It didn't work then, and it didn't work today as Amos couldn't quite catch Aman in the home stretch. Perhaps Aman still would have held him off, but Amos would likely have had a better shot to win had he waited until the homestretch to make his move since he wouldn't have had to run any extra distance.
Amos will race again on Sunday in Birmingham (Aman isn't in the field), so it will be interesting to see if he's more patient in that race.
1. Mohammed AMAN ETH 1:43.56 WL
2. Nijel AMOS BOT 1:43.80 SB
3. Job KINYOR KEN 1:43.92 SB
4. Adam KSZCZOT POL 1:43.94 SB
5. Ferguson Rotich CHERUIYOT KEN 1:44.00 SB
6. Marcin LEWANDOWSKI POL 1:44.25 SB
7. Pierre-Ambroise BOSSE FRA 1:44.42 SB
8. Giordano BENEDETTI ITA 1:45.07 SB
9. Artur KUCIAPSKI POL 1:45.21 SB
10. Timothy KITUM KEN 1:45.41 SB
11. Kevin LÓPEZ ESP 1:45.59 SB
Men's 5000m: Kejelcha Takes Down World's Best Field
Yomif Kejelcha is the real deal.
Less than a week after his victory in the 5000m at the Pre Classic, the 17-year-old flew half-way around the world and took on a field that included the last two silver medallists at global championships (Hagos Gebrhiwet and Dejen Gebremeskel) neither of whom had to travel from Eugene, the 2014 World leader (Edris) and defeated them all in a world leading 12:58.39.
This one started fast with the rabbits going through 1600 in 4:08 (12:55 pace) and only eventual second-placer Paul Tanui and Kejelcha were with them. The pace then began to slow and at 3k they were on 12:58 pace (7:46; 8:19 for 3200). Tanui was now in front and there was a 65-second lap run letting the field get back together as now 10 guys were in contention.
The field was willing to let this one come down to the final lap. Tanui, coming off his runner-up finish to Mo Farah at the 10,000m at Pre last Friday, led the penultimate lap in a modest 62.97. The real racing began at the bell. Gebrhiwet, who won the 3000m in Doha over Farah, took the lead around the first turn but was stalked by the lanky Kejelcha.
Once Kejelcha struck this one was over. He took the lead just before the final turn and then lengthened it the final 100m to get the win by .30 over Tanui, who had come back to edge Gebrhiwet for second. The final lap leader-to-leader was 54.55.
Quick Take #1: Kejelcha is For Real
A 12:58 world-leading win win with a 54.55 last lap is impressive, especially for a reported 17-year-old. But this win by Kejelcha is not making Mo Farah nervous. The guy in second place, Paul Tanui, was second to Farah six days ago in a 10,000m, so even as loaded as this field was on paper, Farah no doubt is thinking "I would have taken them."
Kejelcha is running great now, the question is can he keep it up 2.5 months from now at Worlds? There is such a fine line to being on top of the world. This one was not in doubt the final 100m and yet Kejelcha only won by .30 of a second.
QT #2: Paul Tanui Impresses
The most impressive performance may have been that of Pau Tanui. Six days after running a 10,000m in Eugene he set a 5,000m pr and broke 13:00 for the first time. To beat Farah at Worlds at 10,000m he needs to keep working on his speed.
5000 Metres - Men                                             
                                                            Pts
    1 Kejelcha , Yomif                 ETH   12:58.39          4        
    2 Tanui , Paul Kipngetich          KEN   12:58.69          2        
    3 Gebrhiwet , Hagos                ETH   12:58.69          1        
    4 Merga , Imane                    ETH   12:59.04                   
    5 Longosiwa , Thomas Pkemei        KEN   12:59.78                   
    6 Edris , Muktar                   ETH   13:00.30                   
    7 Kaya , Ali                       TUR   13:00.31                   
    8 Gebremeskel , Dejen              ETH   13:00.49                   
    9 Fifa , Illias                    MAR   13:05.61                   
   10 Koech , Isiah Kiplangat          KEN   13:07.33                   
   11 Ayalew , Aweke                   BRN   13:19.80                   
   12 Alamirew , Yenew                 ETH   13:22.45                   
   13 España , Jesús                   ESP   13:22.92
   14 Abadía , Antonio                 ESP   13:28.35
   15 Ringer , Richard                 GER   13:48.15
   16 Buraas , Sindre                  NOR   13:55.49
      Haji , Yasin                     ETH        DNF                   
      Lalang , Lawi                    KEN        DNF                   
      Kombich , Ismael Kipngetich      KEN        DNF                   
      Barusei , Geoffrey Kibet         KEN        DNF                   

Men's 100m: The Justin Gatlin Train Keeps Rolling with 9.75
Forget about Usain Bolt. Justin Gatlin is currently the best sprinter in the world.
Gatlin got out in the lead and this one was never in doubt. The only question was how fast would it be. Initially the clock showed 9.74, which would have equalled Gatlin's world-leading PB from Doha. The time was eventually rounded up to 9.75, which still eclipsed Usain Bolt's meet record.
Jimmy Vicaut was a distant second in 9.98.
Quick Take: Usain Bolt where are you?
Gatlin is so good right now, don't take him for granted or assume Bolt would beat him. Bolt has run faster than 9.75 only four times in his life. Bolt has run 9.76 or better seven times in his life. Tyson Gay has also done it twice and Asafa Powell once.
For Gatlin, it is now back to the States to train as he told the meet organizers, "We have a very good race plan this year with my agent and coach. I have had a couple of very good races, couple of 100s and 200s and I feel confident running times around 9.70s. This meeting is like the end of the first part of the season and now I am heading home and after the trials I will have a month to train and to spend with my son and my family. That will help me to keep the shape to Beijing. I want to stay injury-free and in the best shape for 2016 and the year after. The key thing to keep winning is to not to think about it. I do not think of beating Usain Bolt now because the championships is not tomorrow, we still have some time to come. Rome is a tradition, I am glad I had a good start and managed to execute the first 60 meters to be confident with the victory. 9.60 should be possible in summer."
100 Metres - Men Race 2                                       Wind: +0.9 m/s
                                                            Pts
    1 Gatlin , Justin                  USA       9.75          4        
    2 Vicaut , Jimmy                   FRA       9.98          2        
    3 Rodgers , Mike                   USA       9.98          1        
    4 Carter , Nesta                   JAM      10.06                   
    5 Collins , Kim                    SKN      10.07                   
    6 Simbine , Akani                  RSA      10.08                   
    6 Batson , Deondre                 USA      10.08                   
    8 Fisher , Andrew                  JAM      10.14
    9 Adams , Harry                    USA      10.24

Men's Triple: Pichardo Keeps Cruising
Pedro Pablo Pichardo of Cuba kept his fabulous 2015 going as he nearly went 18 meters for the third time this year. Pichardo has jumped 17.94 or better each time out this year.
Triple Jump - Men                                             
                                                            Pts               Wind
    1 Pichardo , Pedro Pablo           CUB      17.96          4              -0.4
    2 Copello , Alexis                 CUB      17.15          2              -0.4
    3 Revé , Ernesto                   CUB      16.89          1              -0.4
    4 Compaoré , Benjamin              FRA      16.81                         -0.2
    5 Évora , Nelson                   POR      16.76                         -0.4
    6 Adams , Lyukman                  RUS      16.58                         -0.3
    7 Fedorov , Aleksey                RUS      16.30                         -0.1
    8 Cavazzani , Daniele              ITA      16.22                         -0.1
    9 Torrijos , Pablo                 ESP      15.88      -0.5
      Sorokin , Dmitriy                RUS         NM                   

Men's Vault: Lavillenie Wins Again
France's Renaud Lavillenie got his second win in a row, vaulting 5.91 meters to overcome a South American record by runner-up Thiago Braz of Brazil. Lavillenie took three attempts at 6.01, and though he came close on a couple of occasions, couldn't quite figure it out.
     
                                                            Pts
    1 Lavillenie , Renaud              FRA       5.91          4        
    2 da Silva , Thiago Braz           BRA       5.86          2        
    3 Gripich , Aleksandr              RUS       5.71          1        
    4 Filippídis , Konstadínos         GRE       5.71                   
    5 Wojciechowski , Pawel            POL       5.56                   
    6 Scherbarth , Tobias              GER       5.56                   
    6 Holzdeppe , Raphael Marcel       GER       5.56                   
    8 Ménaldo , Kévin                  FRA       5.56                   
    9 Kudlicka , Jan                   CZE       5.56
   10 Lavillenie , Valentin            FRA       5.56
      Stecchi , Claudio                ITA         NM                   
      Sobera , Robert                  POL         NM
400m Hurdles: Two in a Row for Johnny Dutch
American Johnny Dutch, who was the winner at Pre, had a big lead coming into the homestretch and held on for a win over Michael Tinsley. Dutch won in a seasonal best of 48.13 (#2 in the world) as Tinsley was second in 48.34 (#3 in the world this year).
Weird fact: Everyone in the race either ran a seasonal best or lifetime best. Finishing fourth in a new Irish national record of 48.65 was Thomas Barr. He broke his own record of 48.90.
        Pts
    1 Dutch , Johnny                   USA      48.13          4        
    2 Tinsley , Michael                USA      48.34          2        
    3 Culson , Javier                  PUR      48.65          1        
    4 Barr , Thomas                    IRL      48.65                   
    5 Hussein , Kariem                 SUI      48.76                   
    6 Mägi , Rasmus                    EST      49.14                   
    7 Gordon , Jehue                   TTO      49.22                   
    8 Chalyy , Timofey                 RUS      49.94                   
    9 Capotosti , Leonardo             ITA      50.01

Men's 110 Hurdles
2013 Worlds bronze medallist Sergey Shubenkov of Russia got the win in a seasonal best of 13.23 this non-DL event.
Wind: +0.7 m/s
1 Shubenkov , Sergey               RUS      13.23
2 Darien , Garfield                FRA      13.23
3 Porter , Jeff                    USA      13.32
4 O'Farrill , Yordan L.            CUB      13.42
5 Bascou , Dimitri                 FRA      13.45
6 Baji , Balázs                    HUN      13.54
7 Riley , Andrew                   JAM      13.58
8 Fofana , Hassane                 ITA      13.80
9 Davis , Wayne                    USA      13.84
Men's 200m: Unknown Greek Wins It
Lykourgos-Stefanos Tsakonas, a relatively unknown Greek who was the under-23 European champ in 2011, whose previous best was 20.31 ran a huge pb of 20.09 to defeat Christophe Lemaitre easily in 20.28.
200 Metres - Men                                              Wind: +0.8 m/s

    1 Tsákonas , Likoúrgos-Stéfanos    GRE      20.09                   
    2 Lemaitre , Christophe            FRA      20.28                   
    3 Adams , Harry                    USA      20.32                   
    4 Ujah , Chijindu                  GBR      20.47                   
    5 Brown , Aaron                    CAN      20.62                   
    6 Nkanata , Carvin                 KEN      20.78                   
    7 Hardy , Prezel                   USA      21.23                   
    8 Desalu , Eseosa                  ITA      21.42                   
    9 Marani , Diego                   ITA      21.44

Men's Shot: David Storl Wins
Storl didn't throw as far as he did at Pre where he was second but he got the win here as American Jordan Clark had his second-best throw ever in 2nd.
Shot Put - Men                                                
                                                            Pts
    1 Storl , David                    GER      21.46          4        
    2 Clarke , Jordan                  USA      21.28          2        
    3 Stanek , Tomáš                   CZE      20.64          1        
    4 Whiting , Ryan                   USA      20.60                   
    5 Szyszkowski , Jakub              POL      20.55                   
    6 Nedow , Tim                      CAN      20.15                   
    7 Richards , O'Dayne               JAM      20.13                   
    8 Kolašinac , Asmir                SRB      19.98                   
    9 Vivas , Borja                    ESP      19.72
   10 Sidorov , Maksim                 RUS      19.50
      Secci , Daniele                  ITA         NM
Men's Javelin: 
Vitezslav Vesely got the win but the big news was national records by Julius Yego of Kenya in 2nd and the Olympic champ Keshorn Walcott of Trinidad and Tobago in 3rd.
Javelin Throw - Men                                           
                                                            Pts
    1 Veselý , Vítezslav               CZE      88.14          4        
    2 Yego , Julius                    KEN      87.71          2        
    3 Walcott , Keshorn                TTO      86.20          1        
    4 Pitkämäki , Tero                 FIN      82.72                   
    5 Röhler , Thomas                  GER      81.61                   
    6 El Sayed , Ihab  Abdelrahman     EGY      81.09                   
    7 van Rooyen , Rocco               RSA      80.33                   
    8 Bonvecchio , Norbert             ITA      79.45                   
    9 Sirmais , Zigismunds             LAT      77.64
   10 Štrobinders , Rolands            LAT      77.00
   11 Frydrych , Petr                  CZE      73.79

Discuss this meet on the messageboard:  Official 2015 Rome Golden Gala Diamond League Discussion Thread