What Happens To The Athletes When The Games Are Over?
Alberto Salazar: "When Mo [Farah] Came To Me He Was The Weakest Athlete I'd Ever Trained" "He was a skinny distance runner with a great engine but no upper body ... in terms of core strength and being able to do push-ups, sit-ups and single-leg squats. He was a 90lb weakling. The No 1 thing that has helped Mo is not the 110 miles a week he puts in on the road, but the seven hours a fortnight in the gym."
US News
Olympic Gold Medallists And Non-Medallists Speak After The Games
The Associated Press Catches Up With Morgan Uceny "I couldn't believe that this was happening to me again. It seemed impossible and unreal. My emotions just took control and I couldn't do anything but sit there and cry. It feels unfair."
*The Tall Christophe Lemaitre Makes No Excuses For Struggling In Lane 2 In 200: "I was not able to seize my opportunity in the semifinal and I got what I deserved."
*Meseret Defar Says Her Husband Was The Key To Her Gold & Says The Religious Picture Was An Orthodox Christian Virgin Mary Her husband helped her prepare for an uneven pace and insisted she only run the 5,000.
*Pat Butcher's Praise For Rudisha's Frontrunning World Record It reminds him of Filbert Bayi's world record from 1974. Watch Bayi set the 1,500 WR from the front here and mile here.
Four Recommended Reads
Usain Bolt News
Edwin Moses - Bolt should retire now why he's on top"I am not sure it would be wise for Bolt to carry on."
*Bolt Partied Until 6am After 4 X 100 *More On Bolt's Partying
*Bolt In Negotiations To Play Professional Cricket Next Year In Australia

Sports Illustrated Debates Who's Greater - Phelps Or Bolt?
*Phil Taylor: Usain Bolt - Not Phelps Was The Main Man In London "With all due respect to the greatness of Michael Phelps, the 2012 Olympics have been, more than anything, Usain Bolt's show."
*Michael Farber: Bolt's star power is unmatched, but Phelps' numbers set him apart

LRC Usain Bolt Beat Michael Phelps In Terms Of Twitter Mentions During Olympics

*Michigan QB Says He Can Beat Bolt In A 40-Yard Dash
*Will Olympic Sprinter Usain Bolt Give Jamaica Tourism A Jolt?
Need A Running App For Your iPhone? Runtastic Gets Praise In NY Times
LRC The Incredible Meb Keflezighi Reacts On Just Missing A Medal, Ryan Hall & Abdi Talk About Dropping Out Post-race reaction from the Americans and the medallists. Meb used the fact he was slighted and not introduced to the worldwide audience at the start, even though he was the only Olympic medallist in the field, to fuel him. Ryan Hall reacts to his first non-top-10 result and Wilson Kipsang says he has no regrets about the 14:11 3rd 5k.

Recommended Read: Coach Renato Canova Analyzes The Olympic Marathon: "I think nobody could think of STEPHEN KIPROTICH as a possible Olympic Champion," says Canova, who doesn't think it's really possible to do well in a spring marathon and then again in the Olympics.

On The Boards: Meb Keflezighi = American Marathon of the Year! Perhaps they mean of the last 30 years.

Update On Ryan Hall, Abdi Abdirahm Dropping Out Of Marathon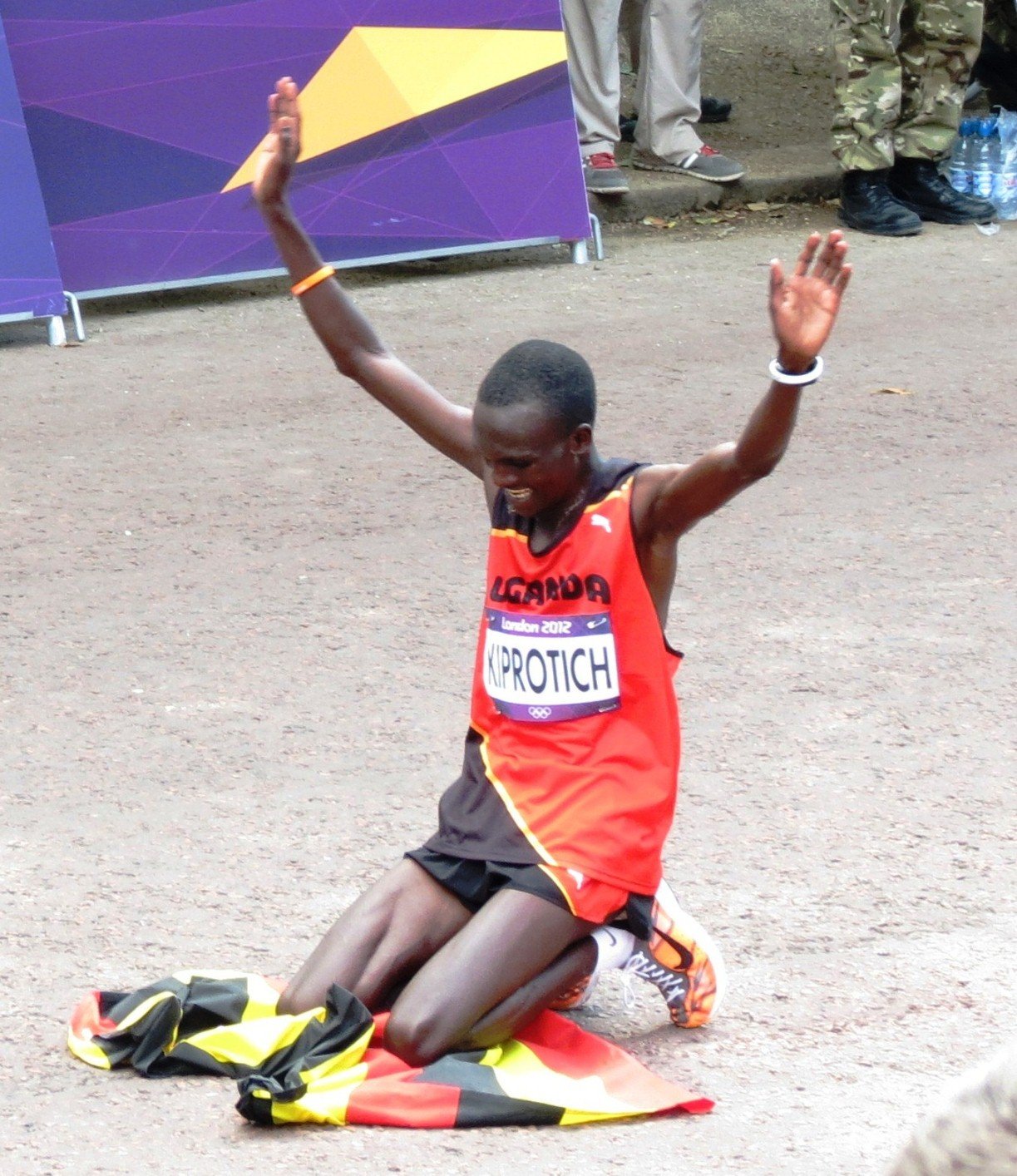 Olympic Marathon: LRC The Unheralded Stephen Kiprotich Of Uganda Stuns The Field And Wins The 2012 Olympic Men's Marathon Uganda's only Olympic medal of the 2012 Games has a great color to it and it came in a historic event, as after getting dropped at the 35km mark (21.7 m), Kiprotich stormed back to the lead at the 23-mile mark and stunned the world and Kenyans Wilson Kipsang and Abel Kirui as the US's Meb Keflezighi was a surprise 4th. Kipsang tried to do his best Sammy Wanjiru impersonation with a crazy 14:11 5k early in the race, but that 5km segment at 1:59 marathon pace may have done him in later.
*USA Today: Kiprotich: "Now, I am known and I am happy that I am known."
*RRW Recap *AP Recap
Saturday:

LRC Mo Farah Completes The Double As The British Fans Go Wild The British fans got what they wanted on the final day of Olympic track competition (marathon tomorrow is on the roads and doesn't end in the stadium) as Farah won a tactical 5,000. Bernard Lagat came up just short in his quest for his first Olympic medal for the US as he was 4th, Rupp 7th and Lomong 10th.
*Picture: Mo Farah And Usain Bolt Swap Victory Poses
*Mo Farah Says He Wants To Move To The Marathon Eventually, But Not Yet
*MB: Official men's 5000m thread *That was the worst 5000m final in an Olympics ever
Steve Cram Praises David Rudisha And Says He Thinks He Can Go Sub-1:40 He also says he thinks Bolt would definitely beat him over 400 meters. *MB: When will we see 1:39.XX
How Would The Winners Of Previous Olympics Fare Against The 2012 Victors?
Friday
W 1,500: LRC Disaster Strikes Twice As Morgan Uceny Gets Tripped Again And A Former Doper Wins Gold Disaster struck twice in the 1,500 final. First at the bell when, unbelievably, Morgan Uceny was sent sprawling for the second straight year. It struck again a lap later when a former doper won gold and her compatriot, who has gone from 4:18 to 4:01 this year, nabbed silver.
*Pat Forde: "Saddest sight of the Games"
*Woods: "Half a lifetime of preparation, of dreaming, shattered in an instant."
*Battaglia: Uceny's medal hopes fall - again
*MB: *I am crying for Morgan Uceny *Uceny goes down! *US should protest - Let's re-run the 1,500
*UK 1,500 Runner Lisa Dobriskey Voices Concerns Over Turkey's Asli Çakir Alptekin Being Clean Dobriskey said: "I'll probably get into trouble for saying this, but I don't believe I'm competing on a level playing field."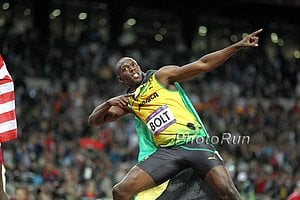 Usain Bolt Wins 200 To Become A "Legend" Bolt became the first man to win the 100 and 200 at back-to-back Olympics and become a legend in his own words. We thought he was already a legend. After leading the Jamaica 1-2-3 sweep, Bolt trashed Carl Lewis, saying he has "no respect for him" as a result of Carl's thinly-veiled drug allegations at Bolt.
More Bolt-Lewis: *Bolt Rips Lewis
*Editorial Saying This Will Hurt Bolt In US With Endorsements We Disagree. The article nails it in describing how entertaining Bolt was in the rest of the press conference.
*Article From Last Month Explaining What Lewis Said
*Yohan Blake's Watch Has Caught The Eye Of IOC Brand Police
*Four Years Ago, Warren Weir Was Watching The Olympics From The Couch, But Now He's Part Of A Jamaican 200 Medal Sweep When asked what Bolt whispered to him before the start, he said, "1-2-3." All 3 are coached by Glen Mills.

Ashton Eaton, Trey Hardee Go 1-2 In Decathlon Hardee: "It's safe to say my reign is over. I still think my best decathlon is ahead of me, but Ashton's are too."
*Ashton Eaton: "20 years on you will have people saying 'I was sitting on my couch, watching Hardee and Eaton win.'"
*USATF Release On 1-2 Finishes In Decathlon And TJ Includes athlete quotes.

Gators Christian Taylor And Will Claye Go 1-2 In Triple Jump 2nd medal of Games for Claye as he got bronze in the LJ.

NYTimes: Day Of Drama In London
Follow-Up From Previous Days' Events
Wednesday
Allyson Felix Wins 200 Gold As USA Crushes It With 7 Medals & 3 Golds Brittney Reese also won gold as did Aries Merritt. The meet was "was slipping away" from the US when everything got turned around with a ton of medals. Lashinda Demus had to settle for silver despite running 52.77. *USATF Release On Historic Day
*Layden: Allyson Felix finally strikes gold on banner night for US track and field
*After Coming Up Short 4 Years Ago, Allyson Felix And Brittney Reese Come Through For Gold In 200 And LJ In 2012


110H: Aries Merritt Is On Fire - PRs At 12.92 As US Goes 1-2 Jason Richardson was a little disappointed he got silver.
Epstein: Merritt quest perfectionism pays off with gold medal in 110m hurdles
Reuters: After showing great promises as jr. world champ, Merritt arrives on center stage


LJ: After Four Straight World Titles, Brittney Reese Gets Long-Sough- After Olympic Gold
*Reese Celebrates With Mom Who Told Her To Turn Down Basketball Scholarship For College & Focus On Track



Tuesday:
A Great Read: LRC Men's 1,500m Reaction, Leo Manzano Talks About His Medal, Matt Centrowitz His Near Miss, Makhloufi, Kiprop, Willis, More LRC gives you all the athlete reaction from the crazy men's 1,500m, which saw Leo Manzano take home the first US Olympic 1,500m medal since 1968. Leo says he felt awful but his prayer was answered; Centrowitz says he was running for gold and wouldn't change a thing; Asbel Kiprop praises Leo; Nick Willlis is amazed by Makhloufi's recovery but embarrassed by his own showing. What happened to the Kenyans? What about Nick Willis? What about Makhloufi's injury? *LRC Leo Photo Gallery


Race Recap: LRC 1,500 Final: Taoufik Makhloufi Dominates As Leo Manzano Surprises With Silver (updated) Makhloufi's last 300 was just way better than everyone else's, as anyone that tried to go with him paid a big price. Leo Manzano had the next-best last lap as he went from 10th to 2nd as Matt Centrowitz just missed a medal by .04. *IAAF Recap

*Deadspin: Algerian Runner Booted From Olympics For Quitting A Race Reinstated After Getting A Doctor's Note
*Taoufik Makhloufi: The Man Who Won Olympic Gold After Being Thrown Out For Not Trying An honest assesment of the DQ situation and questioning the rules around it.


News Off And Away From The Track
Monday
400 Final: 19-Year-Old Kirani James Wins Grenada's First Olympic Gold In The 400 Luguelin Santos took silver and Lalonde Gordon bronze. Kirani James is Mr. Clutch at age 19. Incredible.
*Grenada Prime Minister Declares National Holiday To Celebrate Kirani James' 400 Win
SI: US 400m Dynasty Comes To An End
*MB: Kirani James 43.94!!!!



RR: Felix Sanchez Weeps Tears Of Joy And Dedicates 400H Win To His Grandmother, Who Passed Away After The First Prelim In Beijing 2008 He ran with a photo of him and his grandma tucked under his jersey and "Abuela" scrawled in black pen on the straps of his spikes. When he won, he honored his grandmother by kneeling in the middle of the track and kissing her photo.
*Yahoo Photos


LRC Taoufik Makhloufi (One Of The 1,500m Favorites) Kicked Out Of Olympic Track Meet Reinstated Makhloufi's performance in the 1,500m semifinal on Sunday was absolutely stunning but not as stunning as what happened 15 hours later. Less than 24 hours after the race, he was disqualified from the meet for not giving an honest effort in the 800m round 1 on Monday. After an appeal, he has now been reinstated. *Discuss

More 800: LRC The Americans React - Nick Symmonds & Duane Solomon Are Still Dreaming Of Medals As The 36-Year-Old Khadevis Robinson Fails To Make Final Yet Again KD has represented the US 9 times and has never made an outdoor final. We catch up with a disappointed Robinson as well as Duane Solomon and Nick Symmonds, who both won their heats and want to medal.

800 1st Round Race Recaps: LRC Duane Solomon Looks Like A 1:43.44 Guy As He Dominates His Heat As He And Nick Symmonds Advance To The Semis
*David Rudisha Rules Out Going For His Own WR At The Olympics


LRC Men's 1,500 Semis: After A Stunning, Stunning Win In Heat 1 - Do We Have A New Favorite? Algeria's Taoufik Makhloufi's win in heat 1 over reigning world and Olympic champion Asbel Kiprop came so quickly and was so dominant that former 1,500, mile and 2,000 world record holder Steve Cram couldn't believe what he was seeing. Is it too good to be true? Or is something wrong with Kiprop (and the others in his heat)? In the end, the major players all advanced, including two Americans, three Kenyans and Nick Willis. Is Andrew Wheating's season now done?
*Kiprop: "I have a slight strain with my hamstring but there's nothing to worry about." *Discuss
*Or Is It An Achilles?
Saturday
LRC Men's 10,000m: Mo Farah Gets It Done As Galen Rupp Gets Historic Silver Mo Farah powered home to win Britain's third track gold medal of the night and first long-distance gold in 104 years, as his training partner Galen Rupp got America's first men's flat long-distance track medal since 1964 with silver. The bronze went to Ethiopia's Tariku Bekele, as he held off his brother, Kenenisa.

More On Rupp's Historic Day:
Friday
LRC Women's 10,000m: Tirunesh Dibaba Makes The Case For Being The Greatest Ever The Tirunesh Dibaba/Vivian Cheruiyot dual did not live up to the hype, as Dibaba was simply stunning the final 500 meters, crushing the field to assert her claim to best female distance runner ever. Sally Kipyego got second, Vivian Cheruiyot third. Afterwards, Dibaba said she wants to run a marathon next year.
*MB: Dibaba!!? wtf *OFFICIAL WOMENS 10 000M THREAD


LRC 1,500 Round 1: The Favorites And All 3 Americans Advance But Not Without Some Intrigue Andrew Wheating has been doing more swimming than running, Nate Brannen has been just running, Nick Willis is/was planning for the final, Asbel Kiprop is trying to save energy, and Nixon Chepseba nearly fell. It doesn't matter. All of them are in the semifinal. LRC recap, analysis, and post-race athlete reaction.
*Nick Willis Fitter Than When He Got Silver In Beijing He says he's been so excited it's been hard for him to sleep more than 6 hours a night.
*MB: Chepseba has been reinstated to the 1500m *NBC snubs Wheating!!! *The Official Men's 1,500m Thread
Scientist Who Has Studied 100,000 Runners Says Don't Listen To Quacks - Running Is Good For You "It's important to not rush to any conclusions that 10 to 20 miles a week is the optimal dose."
Ryan Hall Talks To LetsRun.com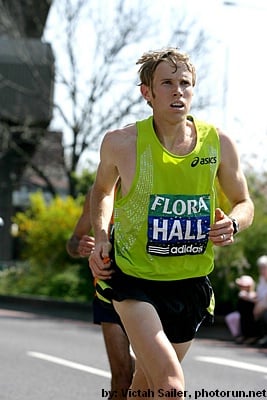 LRC Ryan Hall Hoping To Have "Best Stuff Ever" At 2012 London Olympic Marathon On Friday, LetsRun.com spent over 30 minutes talking with Ryan Hall. An optimistic Hall talked about his training has turned around, his goal for London, how he still thinks he's learning a ton, how he thinks his best marathon is ahead of him, and a whole lot more. We got Hall to give us the specifics of his training which has recently been changed to emphasize speed more often. Is he back at altitude? Hint: He gave the interview from the birthplace of LetsRun.com. How much mileage does he do? 20 x 1k? 10 miles of in and out 400s? *Discuss
*LRC Help Pick Ryan Hall's Shoes For The Olympics Asics made 3 pairs of specially-designed shoes for Hall and he wants your input as to what he should wear.
*5,639-Word NY Times Front Page Sports Article On The Faith-Coached Ryan Hall Sara Hall: "The Bible is not going to tell you how to be a good runner ... I don't think Ryan is looking at the Bible for a formula, necessarily. There are certain things that God highlights for him that he applies to his training."
Amateur Hour II
Update: Nike Responds (Like We Thought They Would) "Gaining entry into the Nike box is an informal process and we plan to review our protocol for access for future events." *MB: Mark Block: Nike Responds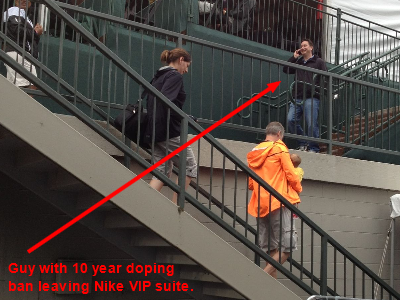 LRC Why Was A Man In The Midst Of A 10-Year Doping Ban Enjoying The 2012 US Olympic Track & Field Trials From The Nike Sky Box? If you thought the days of looking the other way at doping were totally over, then you need to read this. Supposed former agent/coach Mark Block, who is in the midst of a 10-year doping ban, was seen by LetsRun.com njoying the Trials in the sky box of the #1 sponsor of both USATF and the Olympic Trials - Nike. All we can say is shameful. *MB: Discuss
LRC: Evan Jager Breaks The American Steeplechase Record Evan Jager got the AR in just the 5th steeple of his life. Medalling at London isn't out of the question. Only a steeple recap above, but in other action, Asbel Kiprop made running 3:28.88 look easy as Nick Willis ran a 3:30.35 PR. And in the 800m Duane Solomon is now the fastest active American as he blitzed a 1:43.44 ahead of Nick Symmonds.
*Evan Jager Race Highlight Video
LRC Asbel Kiprop Reasserts Himself As The Olympic Favorite By Running A Sensational 3:28.88 The defending Olympic champ made a statement by running a 53.43 last lap with a 26-flat last 200 to mark himself as the London favorite. At the same time, Nick Willis marked himself as a medal contender with a stellar 3:30. Robby Andrews was a DNF and Centro and Manzano were DNSs. *Race Video
LRC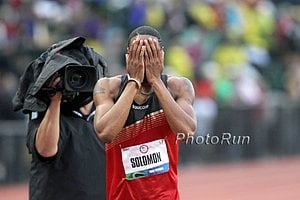 Duane Solomon Is Now The 5th-Fastest American Ever At 1:43.44 Americans, it's official - you can dream of your first 800 men's medal since 1992 after Duane Solomon and Nick Symmonds both ran in the 1:43s, but on this night, the hype justifiably belongs to Solomon, who had a massive PR. *MB: DUANE!!!
LRC The Rest Of The Meet: Alysia Montano, Jenny Simpson And Caster Semenya Disappoint In the women's 800, Semenya was awful throughout and Montano didn't look like a medal contender. In the 3k, Simpson was unable to break 70 on her final lap.
Australian Hurdler's Provocative Pre-Race Dance Generates Thousands Of YouTube Hits
*MB: Michelle Jenneke Warm Up Routine. Oh, My ...
Start Your Wednesday Off Right With Some Good Links
More Olympic Drug News
The Blame Game Has Begun - People Need Explanations For So-Called Olympic Failures
Important Weekend Action That We Missed
Post-Olympics News
The Olympics Are Over - Now It's Time To Start Counting The Doping Positives
Friday
The Bolt Show
Other Olympic And Non-Olympic News
Thursday
Monday
W Steeple:
LRC

World Champion Yuliya Zaripova Becomes Olympic Steeplechase Champion

Zaripova
was a deserving champion as she led from to start to finish, getting rid of her challengers with a blistering last lap. The US's
Emma Coburn
PRed to finish night as
Bridget Franek
struggled.
*
Discuss

*
Updated
:
Americans Emma Coburn And Bridget Franek React On Their First Olympic Final
W 1,500 1st Round: LRC

Jenny Simpson Survives A Big Scare

As Three Americans Advance And Genzebe Dibaba Goes Home
(link fixed) A letup at the line is what seemingly saved the reigning world champion
Jenny Simpson
from bombing out in the first round. The #4 seed
Genzebe Dibaba
did go home.
*MB:
What was Jenny Simpson doing?


More Monday Results:
Sunday
More Saturday Stuff
Doping Corner
LRC

Guess Who Was In Monaco On Friday? Banned Agent Mark Block

The banned agent Mark Block, who just happened to be hanging out at the Nike hospitality suite for the Olympic Trials, just happened today to be in Monaco, site of the Diamond League meet. Evidence also points to him also being at the Penn Relays, Mt. SAC and the Jamaican Invite. Plus he was in Daegu last year. And a trusted source says Block drank a celebratory beer in "Cap's Corner" at the Trials, where he also watched the women's 100 from the Nike box and not just the 200. Hey, Nike - It's pretty easy; why don't you ask John Capriotti, your Global Director of Athletics, if he knew Block was in the VIP area. If so, fine or suspend him for poor judgement. At a minimum, tell him, "Block's presence is unacceptable." And tell your star athletes Jason Richardson and Carmelita Jeter the same thing.
IAAF Announces 9 Doping Suspensions And The Worldwide Press Eats It Up:
Rojo

Nine Over-Hyped Doping Suspensions Or A Savvy PR Move Gone Too Far?

Headlines across the globe are talking about the 9 doing suspensions announced by the IAAF on Wednesday. Yet LetsRun.com co-founder Robert Johnson finds himself not happy with the way the development was announced and broadcast to the world. *MB: IAAF finds 6 new dopers using biological passport
LRC

8:16 Spanish Steeplechaser Dropped From 2012 Olympic Team Amid EPO/HGH Doping Probe

A local Spanish paper has released a reported email exchange between 8:16 steepler Angel Mullera and a doctor from
Saudia Arabia Sends Women To Olympics
London Games Are Over But Track Is Not: Stockholm Diamond League Is Friday
LRC Asks Carmelita Jeter & Jason Richardson About Mark Block
Latest: Britain's Sunday Herald Picks Up Block Story & USADA Says "There is an investigation going on."
*Pat Forde Of Yahoo Sports Picks Up On Controversy

LRC Carmelita Jeter And Jason Richardson Answer Questions About Banned Agent Mark Block LRC's Weldon Johnson asked Jeter and Richardson about their association with banned agent Mark Block. Jeter and Richardson, to their credit, didn't dodge the questions. To say there was tension in the air is an understatement. *Discuss
*Associated Press Picks Up Story: US sprinter Carmelita Jeter defends friendship with suspended agent Mark Block
*The Guardian Picks Up Story: "A wonderful night for the USA's athletics team turned sour when Carmelita Jeter was questioned about her links with the controversial former coach, Mark Block."
*NY Daily News *Daily Mail *San Diego Tribune
Day 8 Olympic Photo Gallery: Women's 4 X 100 WR, Uceny Falls, Women's 5,000m Final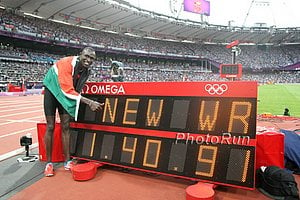 Day 6 Photo Gallery: Allsyon Felix, Aries Merritt, Brittney Reese, Women's 1,500m Semis
Day 5 Photo Gallery: Leo 1,500m Silver, Men's High Jump, Men's 800m Semis, Men's Discus Final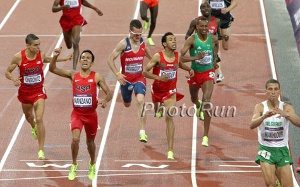 Day 4 Photo Gallery: King James, Felix Sanchez, Jenn Suhr, Women's Steeple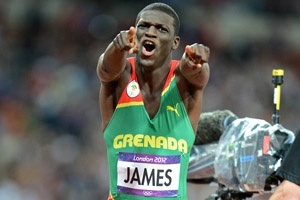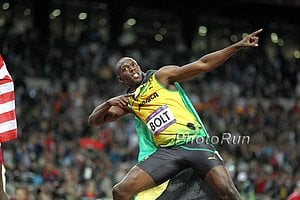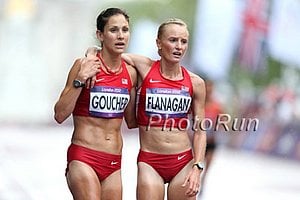 Non-Olympic News
Julia Lucas Recovering From Trials Disappointment By Hitting Up The Road Circuit On the Trials, she said, "Running a safe race would have meant that I would be in London. Of course I would rather be in London. I just got mad watching that race and I went into my own race saying that I wasn't going to run in a tentative and what I considered dishonorable way. I was going to go after it. I think that for the top three women at the Trials to go is the right thing. And Kim Conley deserved to go because she got third. So do I wish I had run it differently? Yes, I wish I could have won the race. Do I wish I would have intentionally slowed the pace in order to get fourth and still go? No. That's the opposite of what I love about the sport."
Mathew Kisorio Admits Doping He also claims EPO use is widespread in Kenya.
More Bolt And 100m News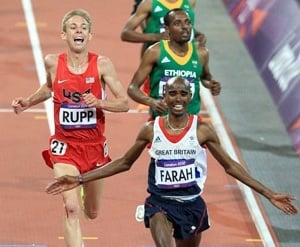 You Might Want To Update Your LRC Prediction Contest: Tirunesh Dibaba Confirms She Will Race Olympic 5,000
Mark Block Talks About His "Mistake"
LRC Mark Block Gives His Side Of The Story The banned agent talks to flotrack and says he travels to track meets across the globe as a form of therapy, says he technically he still can coach athletes (yet is never asked if he actually does), says he went into the Nike VIP suite - where he felt at home - at the Olympic Trials because it was cold, and feels as if he's paid a steep price for his mistake of ten years ago. He never tells or is asked what his "mistake" was - namely the doping of his world champion wife. We obviously disagree with his take on things and tell you why.
Day 1 Friday Photo Gallery: Women's 10k And Men's Shot Final, Round 1 Steeple, 1,500
Day 1 US Non-Distance: Reese Hoffa Gets US's First Track Medal With A Bronze In The Shot Put 2008 champ Tomasz Majewski repeated to win over David Storl. US's Christian Cantwell and Ryan Whiting were 4th and 9th. All US runners advanced in the first rounds of the w100, w400, and m400 hurdles. Carmelita Jeter won her heat in 10.83.
The Conscience Of The Sport
LRC What Are Carmelita Jeter And Jason Richardson Doing With Mark Block? All year long, two of the America's three individual track World Champions from last year have been traveling the globe and associating with convicted doper Mark Block. Whether it's been dinner in California, a walk to the track in Jamaica or a pre-meet stretch in China, Jeter and Richardson haven't been shy about continuing to associate with someone deeply involved in the BALCO scandal, who is currently supposed to be banned from the sport for ten years. All we want to know is "Why?"
LRC We Rank The US Mid-D And Distance Olympians' Odds For A Medal No one has the guts to rank all the US Olympians in terms of their medal hopes but us. While we're a little fearful of the athletes' reactions, we think the piece is very positive, as for the first time in recent memory, if not ever, the US men have a legitimate medal contender in every event. *Discuss
Help Out A LRCer Who Has Terminal Cancer: Help Cancer Guy
RIP Oregon Track Clasic Founder Paul Banta
Craziest Sports Video Ever - Worth A Watch
A Legend Passes Too Young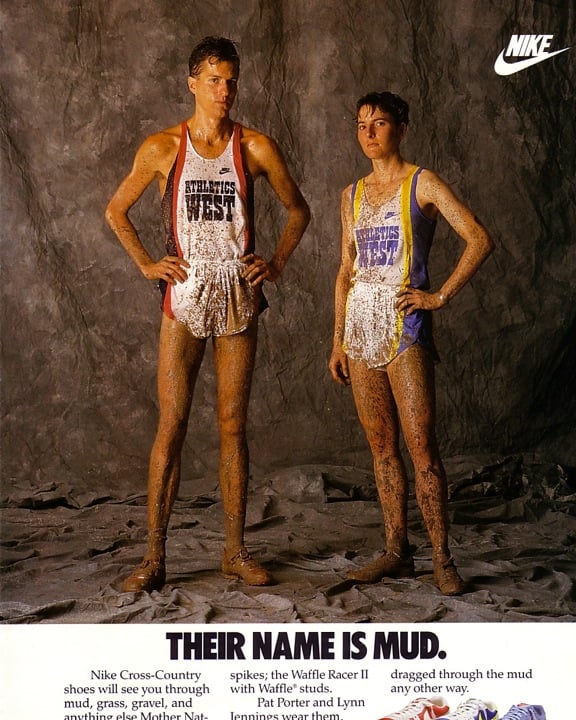 LRC Eight-Time US Cross-Country Champion Pat Porter Dies In Plane Crash Updated: We've added a great photo of Porter with 3-time World XC Champ Lynn Jennings.
*Authorities: "There are no indications as to what may have caused this accident." Porter and his 15-year-old son and a neighbohood friend have perished.
Usain Bolt The Video Game Is Out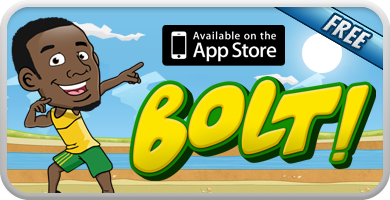 LRC Usain Bolt The Video Game For Iphone/Ipod - Q & A With Friend Of LRC Matt Taylor Bolt!, the Usain Bolt Iphone/Ipod free video game was released yesterday. We talk to LRC guest columnist Matt Taylor, who was instrumental in the game coming to fruition.