Boulder 2007, A Legendary Day in US Cross Country History: : Deena Kastor Dominates, Alan Culpepper Surprises
by: LetsRun.com
February 10, 2007
Saturday was a truly momentous day in the history of the US Cross Country Championships. With the championships returning to a single race for the first time in ten years, and the championships coming to Boulder, Colorado for the first time, 10,000 spectators (according to organizers, and informed observers said that the crowd might have been bigger than the last 5 US XC champs combined) came out and cheered on America's distance stars. Deena Kastor put on a truly dominating performance on the women's side, showing she is still heads and shoulders above the rest of the American runners. On the men's side, the four former University of Colorado stars, Adam Goucher, Dathan Ritzenhein, Jorge Torres, and Alan Culpepper, put on the performance the fans came out to see, and it was Culpepper who took the surprising come from behind win that could define his career. The expectations of what is expected at the US Cross Country Champs will never be the same after this year.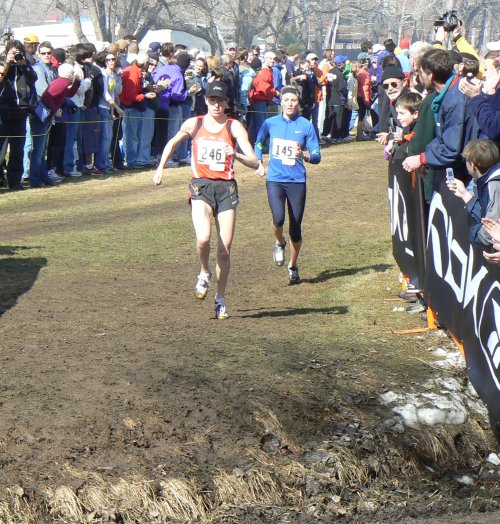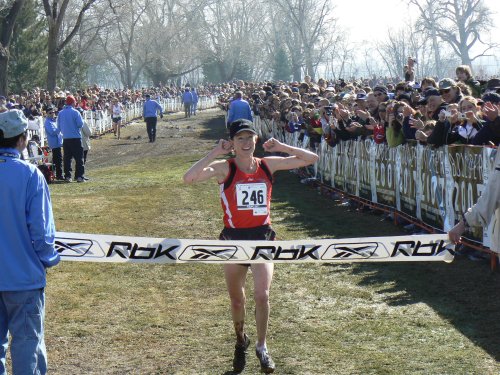 Women: Deena, Deena, Deena
Deena Kastor put on an exhibition in Boulder, Colorado to win her 8th USATF cross country title in dominating fashion over Shalane Flanagan.
Many observers wondered whether Flanagan, the recent American record holder at 3k, could challenge Kastor as the most dominating cross country runner in America. Kastor had not run the US champs since 2003, as she has switched her focus to the marathon, getting the bronze medal at the Athens Olympics. Would Kastor still have the speed to defeat Flanagan at the relatively short 8k distance?
Kastor and Flanagan wasted no time in making the race a two women battle. Not even 3 minutes into the race, they were well clear of the field running at a blistering pace. Kastor was leading, followed by Flanagan on her heels with a gap to the rest of the field which was strung out as well, showing how fast the pace was.
The course was clear of snow, but very muddy and the runners had to run into a river ditch on each of the 2k loops and jump over a small river. The ditch presented a problem to runners all day as runners were falling down, losing shoes, and just having a hard time navigating the steep incline. Kastor stumbled into the ditch on the first lap, and Flanagan briefly passed her. From then on it was the Deena Kastor show.
Kastor and Flanagan were well clear of the rest of the field not even 2k in, and in third was Kara Goucher who had a big gap over the rest of the field. Kastor however wasted no time in destroying the young upstart Flanagan. She pulled away from Flanagan and soon the lead was 10 seconds, 20 seconds, and then 30 seconds. Flanagan was not faltering, however, as she had 30 seconds up on the third place Goucher. Kastor was just putting on one of the most dominating performances in the history of American women's distance running.
The question now was how much Kastor was going to win by and whether Flanagan would pay the price for trying to run with Deena early on. Deena went on to win (26:47) by over a minute. Flanagan was definitely overdressed for the sunny conditions in Boulder and 40 degree emperature. Flanagan had on tights and a long sleeve shirt while nearly everyone else was just in shorts and shirt sleeves. She would suffer over the final circuit from the early pace and perhaps being overdressed as Goucher would close on her to finish in 13 seconds back, 27:48 to 28:01. Flanagan told David Monti of Race Results Weekly afterwards, "This was one of the hardest races I've ever run. I think it was a little naïve to think I could run with her."
Lauren Fleshman was in 4th throughout and would finish there as former Colorado star Renee Metevier who was way back early on, moved out throughout to finish fifth. Elva Dryer was 6th, US 10k Champ Katie Mcgregor 7th, Desiraye Osburn formerly of Wichita State a surprising 8th, and William and Mary coach Katherine Newberry 9th, with Princeton grad Cack Ferrell in 10th.
*Boulder 2007 Photos: Women's Race Watch Deena Kastor dominate. Watch a slide show if you want.
1 Deena Kastor Asics Mammoth Lakes CA 33 26:47
2 Shalane Flanagan Nike Portland OR 25 27:48
3 Kara Goucher Nike Portland OR 28 28:01
4 Lauren Fleshman Nike Palo Alto CA 25 28:26
5 Renee Metivier Nike Boulder CO 25 28:35
6 Elva Dryer Gunnison CO 35 28:38
7 Katie McGregor Reebok Saint Louis Park MN 29 28:43
8 Desiraye Osburn New Balance Lyndon KS 22 28:50
9 Katherine Newberry Williamsburg VA 28 29:05
10 Catherine Ferrell Oregon TC Elite Eugene OR 22 29:11
Men's Race: Culpepper Gets Sweet Victory

Dathan Ritzenhein wasted no time in trying to assert his dominance in the men's race at the 2007 USATF Cross Country Nationals. Surprisingly, just 1k into the race, Ritzenhein opened up a slight gap on the field. The pace was clearly fast, as Adam Goucher was the only runner who attempted to go with Ritz, as there was a gap between Goucher and the rest of the field.
Ritz attempted to run away from the field and would open up a bigger gap on Goucher opened his own gap on the rest of the field, led by Jorge Torres and Alan Culpepper. Ritzenhein got 10 second ahead of Goucher who was 10 seconds ahead of Culpepper at roughly the 4k mark. However, the race was not over as there was nearly 5 miles of running left.

Thousands of spectators lined the course and yelled at the former University of Colorado stars, Ritzenhein and Goucher, who were trailed by fellow CU stars, Alan Culpepper and Jorge Torres, in third and fourth respectively. The former Buffalo stars were delivering the battle the thousands of spectators had come to see. Would Ritzenhein be able to run away from Goucher or could Goucher somehow catch Ritzenhein?

Slowly Goucher appeared to be getting just a little bit close to Ritzenhein. At 7k, Ritzenhein was at 21:14, Goucher was 8 second back and Culpepper was 6 seconds further behind. Goucher was bridging the gap, but now it was apparent that Culpepper was actually making up the most ground from way off in third. Could Goucher and Culpepper both catch Ritzenhein?

On the 5th of the 6 2k leaps, Goucher narrowed in on Ritzenhein and Culpepper was closing on both of them. The runners would loop by most of the spectators two times on each loop, and clearly it appeared now at some point Ritzenhein was going to be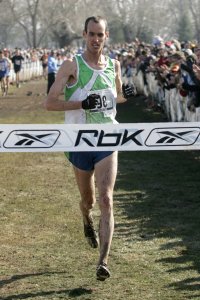 caught. As the runners ran into the steep river ditch where they had to jump over a stream on each of the 6 loops, the what once seemed almost unthinkable happened, Alan Culpepper emerged with a slight lead over Adam Goucher with Ritzenhein now in third. Culpepper had made up a tremendous amount of ground on the driest part of the course and had passed both Ritzenhein and Goucher in a quick span of less than 800m. The thousands of spectators let out the loudest roar that has probably ever been heard at a USA XC championships as Culpepper ran down the straight in the lead. They were shocked to see a new leader, and you could easily tell where Culpepper was on the course by listening to the roar of the fans.

Now the question was whether Goucher, who had fought so hard to stay close to Ritzenhein, could stay close to Culpepper who was running what appeared to be a perfectly executed race. Culpepper put that idea quickly to rest, as he lengthened his lead over the final 2k loop. Once a runner hits the wall at altitude, there is no chance of regaining it, and clearly Culpepper was running under control while Goucher and Ritzenhein were paying the price for the fast early pace.
Culpepper only lengthened his lead over the final 2k as Goucher and Ritzenhein were suffering from trying to destroy the field in the first third of the race. Culpepper's 26 second victory is a bit deceiving as this race in doubt until the final lap. Goucher held on for second, Ritzenhein got 3rd, Jorge Torres 4th, as the Colorado stars delivered on the pre-race hype. Former Princeton star, Michael Spence was a surprising fifth, Zach Sabatino who competed for West Virginia before it cut it men's track program was a surprising 6th, Fasil Bizuneh 7th, James Carney 8th, Jason Lehmkuhl 9th, and Eduardo Torres 10th.
We'll have more coverage tomorrow, (interviews) but now we're off to the Reebok/LetsRun.com post-race party. Ritz said he wanted to push the pace and was surprised no one went with him. He decided then that he should just stick with the fast pace even though running solo is the toughest way to run. Culpepper said halfway through he felt like he was running great but might get 3rd, but he felt better and better each lap. He had one of the biggest smiles on his face you've ever seen.
*LetsRun.com Video of Culpepper Pumping His Fist at the Finish Below
1 Alan Culpepper Nike Lafayette CO 34 37:09
2 Adam Goucher Nike Portland OR 31 37:35
3 Dathan Ritzenhein Nike Boulder CO 24 37:47
4 Jorge Torres Reebok Boulder CO 26 38:07
5 Michael Spence New Balance Ogden UT 28 38:15
6 Zach Sabatino New York Athletic Club Morgantown WV 23 38:16
7 Fasil Bizuneh New Balance Flagstaff AZ 26 38:24
8 James Carney New Balance Marina CA 28 38:25
9 Jason Lehmkuhle Minneapolis MN 29 38:26
10 Edwardo Torres Reebok Boulder CO 26 38:31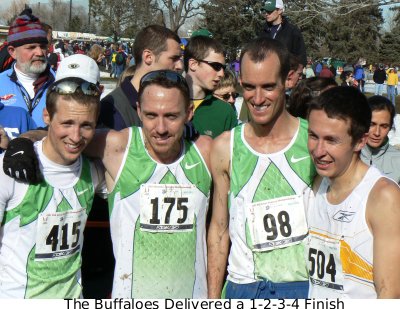 1 Race, 1 Champion, 1 Helluva After Party: LetsRun.com/ Reebok Afterparty Photos
The stars were out in full force for the LetsRun.com / Reebok Post-Race Party. Exclusive Photos.
More Boulder 2007 Photos: Women's Race Watch Deena Kastor dominate. Watch a slide show if you want.
Mens Race: Witness Culpepper's Come From Behind Victory
Junior Races
LetsRun.com Video of The Men's Finish
Check out Great Flocast Videos:
*Men's Race *Women's Race
---

Running & Track and Field Posters
---
Unbelievable interest
ING Orange Savings Account
Sponsor of the NYC Marathon


5 Minute Process to Open an Account
No Minimum Deposit
---
---