Women's 2012 Olympic 800 Meter Final: The World Champion Is Now The Olympic Champion As Mariya Savinova Wins Comfortably Over Caster Semenya
Pamela Jelimo Fails In Her Attempt To Become The First Woman To Defend Her 800 Olympic Title
By LetsRun.com
August 11, 2012
London, England
This story has been updated with post-race reaction
The women's 800 meter Olympic final was a race full of champions. There was the reigning Olympic Champion Pamela Jelimo and World Champion Mariya Savinova. There was also past World Champions Caster Semenya and Janeth Jepkosgei as well as the European Champ Elena Arzhakova. But in the end there would only be one woman could win it.
And that woman would end up being the one who was in second to last at the bell, as Russia's Mariya Savinova came from way back to win the gold comfortably in 1:56.19 and maintain her global title.
The one woman who might have stopped her today was South Africa's Caster Semenya who had a blazing last 100 to grab the silver, but waited way too long to kick if she was to have any shot at the gold. She was gaining on Savinova the last 50 meters, but ran out of room. Russia's Ekaterina Poistogova took third place and while she wasn't someone talked about much beforehand, she's not a no-name as she was the Olympic bronze medallist in 2008 as well. Kenya's Pamela Jelimo, the woman many thought was the favorite coming into these Games, led with 200 to go, but faded badly and was the first outside the medals.
The lone American in the final, Alysia Montano, led the first 500 meters, but couldn't hold it and finished 5th.
The Race
As is typical for her, Alysia Montano took it out hard and fast, leading the field through a 26.9 second first 200 and 56.31 first lap. The two Kenyans Jepkosgei and Jelimo followed closely in second and third, but by 200m the field was already strung way out as you can see in the screen shot below.
Montano and Jepkosgei already have a gap at 200 meters: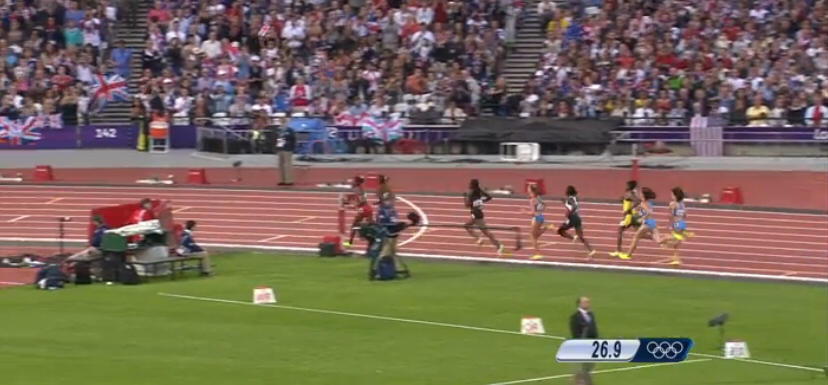 Even at the bell, the eventual gold and silver medallists were happy to stay way at the back as Semenya and Savinova sat in last and second to last. Poistogova was in 4th, but with a small gap between her and Jelimo.
Savinova and Semenya sitting at the back as they hit 400 meters: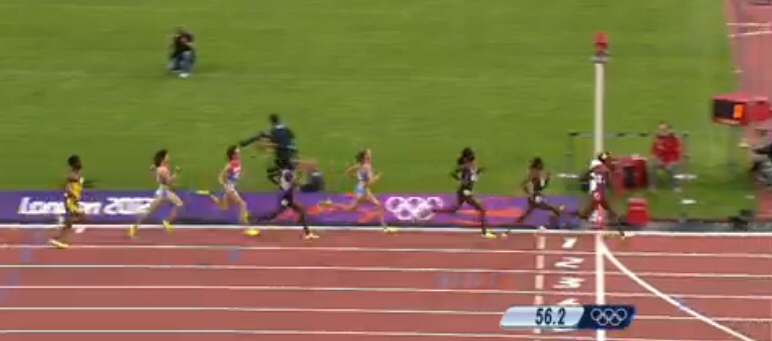 Going down the back straight Jelimo made her move and went around Jepkosgei and Montano. Behind them, Savinova was starting to move up, but Caster Semenya was still in last half way down back straight.
Jelimo hit 200 to go in 1:25.89 and had started to open a gap on the field, but Savinova reacted and made a big push going around Poistogova, Jepkosegi, and Montano to move from 5th to 2nd and then quickly closed the gap on Jelimo to take the lead going into the last 100.
Jelimo has a big gap at 600 meters; Caster Semenya still in second to last:


Behind Savinova, Posistogova had followed in her wake, just trailing her and Jelmo at the top of the homestretch. Jepkosegi on the other hand, was out the back door and fading way back as Elena Arzhakova had moved up about even with Montano. Semenya had started to move up as well but she was still in 2nd to last at 600m and it wasn't until she went way wide on the last turn that she moved even with Montano and Arzhakova.
Savinova has the lead at 700 meters as Semenya finally starts kicking, but is forced to go wide on the last turn: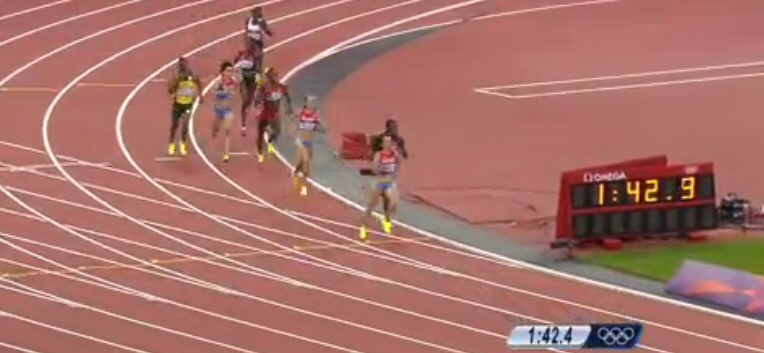 Down the last straight Savinova put it away winning easily by over a second as Semenya just blazed the last 50 meters to take second. Jelimo was in trouble though and moving backwards the whole last 100. She held second place right up until 30 meters from the line when Semenya blew by her and Posistogova just nipped her at the line for the last medal.
Montano closed hard right behind them to grab 5th, but she was never in contention for a medal down that last straightaway.
Savinova's gap on Semenya with 50 meters to go :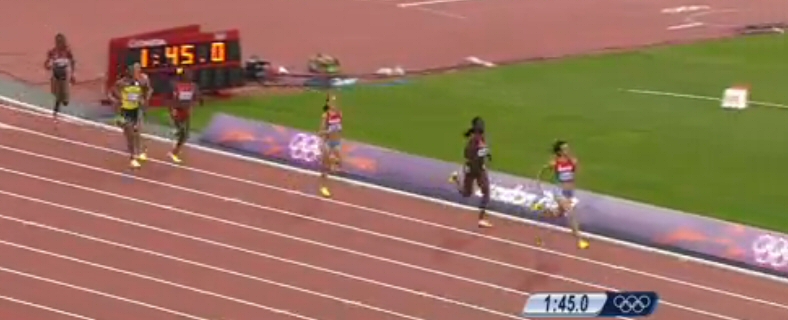 Semenya has closed the gap at the finish: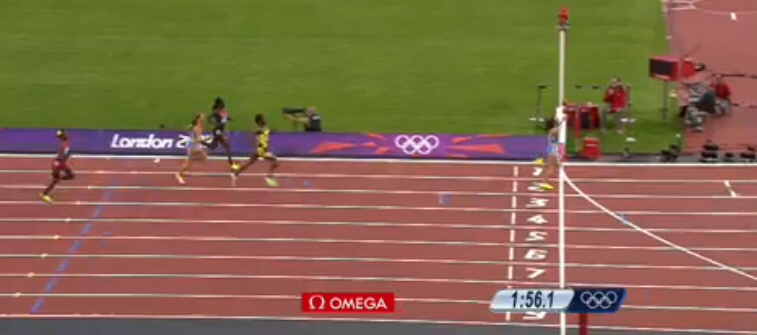 Caster Semenya Picks The Right Weekend To Turn Her Season Around
The big story of this race will certainly be Semenya's miraculous season turnaround, as she peaked at exactly the right time to win the silver medal. The big question everyone's asking is, "How did she do it?" She's been horrible all year, struggling to break 2 minutes (only running 1:59 in 2 out of 8 races). Three weeks ago she was only 9th place in Monaco with a 2:01.67 and now she's the Olympic silver medalist with a 1:57.23.
The same phenomenon happened last year at World Champs when she was horrible all year and then got the silver medal there. It has been enough to start up theories that Semenya is "sandbagging it" in early season meets, not giving her best effort so she can fly under the radar.
A British journalist even asked if she sandbagged it in the Olympic final. Semenya laughed before saying, "The plan was to get a gold. I made the wrong move. It was too late there (to catch Savinova)." Caster talked about what her coach Maria Mutola, the 2000 Olympic champion, told her. "She said I did a good job, but she asked why I moved so late," said Semenya on Mutola.
LRC asked Semenya how for the last two years she was able to run so much better at the Championships. Caster attributed it to peaking at the right time. She said, "It was a tough time. I had a tough season training wise... Four weeks before the championships things started to get ok. Changing coaches can maybe affect your performance because you have to adapt what you're doing. As I said, I'm very happy I just peaked at the right time."
Semenya was pleased to have a medal saying, "I'm satisfied with the silver. The plan was to when I gold but I'm happy. Podium, (at my) first Olympics."
American Alysia Montano's Emotional Reaction To Her 5th Place Finish
David Rudisha might be dominant enough to lead wire to wire in an Olympic final, but Alysia Montano is no David Rudisha. Still, there was hope that she could have held on for a medal as before Semenya made her big move she was 4th and Jelimo was dying fast. Montano finished with 1:57.93 which wasn't that far off her season's best of 1:57.37. Her 1:57.34 PR would have gotten her 3rd.
Montano ran well, just not well enough. In the mixed zone, the emotions of the Olympics came out. The tears came streaming out as Montano emotionally talked about all she had gone through to get here, yet come up two spots shorts of the medals. She said, "It's been such a long road to get here. I wanted a medal. We don't just train for four years, we don't just train for a year, we're training for pretty much our whole lives. It's been a lifelong dream of mine to achieve a medal and I fell a little bit short. I went out there and gave it my all. I was brave. Those women are really good. I'm so happy to be a part of it. I'm happy I raced against the best. I got 5th against the best. Knowing the journey it's bittersweet." It's too bad the IOC doesn't let us share audio with you because Montano was very emotional and it was perhaps the most memorable interview in the mixed zone all week.
She continued still with the emotin in her voice. "There is no giving up. It's not a part of my DNA. I went out there and fought. Fifth place, I don't think that is bad but I definitely wanted a medal. I still see myself making little errors. I saw that in the last 200. I kind of got stuck (boxed in)and that was a difference between a medal for me. That's the 800m. That's the race."
Montano's tears went away and the sorrow disappeared from her voice when a reporter said perhaps there was nothing Montano could have done differently. This was no pity party for Montano. She took full responsibility "There are ways. I think I was too close to the rail. I could have bee more on the outside of lane 1." It's now onward for Montano. She's got the DecaNations meet an then back to the States to celebrate her grandmother's 100th birthday (we reported earlier her grandmother,who turned 100 3 days ago, lived in the UK. That is incorrect. She lives in California.).
As Montano said, "There is no rewind in life."
Smart Tactics Pay Off For Savinova
Savinova ran a very smart tactical race and it was part of the plan. She said, "Of course I controlled the situation, I didn't try to go too quickly from the beginning." The goal was not necessary gold. "My aim was any medal. I would have been happy with any medal," she said.
Jepkosgei and Jelimo Miss
Jepkosgei and Jelimo helped jumpstart the Kenyan women's surge in distance running starting in 2007 and 2008 but came up short here. Jelimo said, "I don't know what happened. We've done our best....I'm happy with the result. I did my best." Jepkosgei said, "My aim was to be in the finals and to try and be on the podium. I did what I could do but my body could not respond. I accept the results and I am happy about it." She added how it's a new era in 800, "Things are changing. This is a new generation. When I saw the line-up I was the old one there...It is good to go home with a medal but I accept it (that I don't have one)." She said she may start running more 1500s from here on out.
Quick Take (QT)#1: This race would end up favoring those who didn't try and go out hard with Montano and weren't near the front after the first lap. Savinova and Semenya were way back in last and second to last and Poistogova was middle of the pack.
QT #2: Yet another distance final where Kenya is shut out of the medals.
QT #3: We talk about Kenya and Ethiopia, but Russian women have held their own these Games. Two medals here, a surprise bronze in the marathon and a gold in the steeplechase. For women's distance events they're actually tied with Kenya at 4 medals a piece (and Kenya with no golds) and only trail Ethiopia's 5 medals by one. If you're wondering how many distance medals the US women got, that would be 0.
Results:
More LRC Coverage:
LRC Recap Of First Round Of Women's 800: Sarah Attar Makes History For Saudi Arabia As The Three Americans Advance
LRC Semi-Final Recap: USA's Alysia Johnson Montano Makes Olympic 800m Final
---
Comments, questions, suggestions, or a story you'd like to submit? Email us.