Jenny Simpson Survives A Big Scare As Three Americans Advance And Genzebe Dibaba Goes Home In Round 1 Of Olympic 1,500m
By LetsRun.com
August 6, 2012
London, England
The big news out of Round 1 of the women's 1,500m was that World Indoor Champion Genzebe Dibaba of Ethiopia failed to qualify for the semifinals and fell to the track afterwards clutching her left hamstring. The other big news was World Outdoor Champion Jenny Simpson managed to just squeak by into the semifinals with the final automatic qualifying spot after a late charge. Simpson will be joined in the semifinals with her two American teammates, 2011 world #1 Morgan Uceny, who advanced automatically out of heat number three, and 2009 World Championships bronze medallist Shannon Rowbury, who was the first time qualifier for the semi.
Heat #2 Gets First Billing - The World Champion Jenny Simpson Is Lucky To Get Out Of The First Round
Let's start with Heat #2 and Simpson first. The World Champion, who went from last to first last year on the final lap for gold in Daegu, found herself in tenth place at the bell in heat number two in a slow race. Not only was she in tenth; there was a significant gap between her and the main pack, and only six would qualify for the semifinal from her heat. Simpson started trying to make up ground. With 100m to go, she was only in ninth and there was still a gap between the front six, two chasers, and then her. Simpson charged furiously down the homestretch and started making up ground. It was very tight for the fifth, six, and seventh spots, and Simpson leaned at the line and was rewarded with the last qualifying spot by .05. Simpson may want to send a thank you note to sub-4:00 Russian Ekaterina Martynova, who ended up seventh, .05 behind Simpson. Martynova appeared to have a qualifying spot in the bag, but appeared to let up at the line. Perhaps she was just tired, but she did not appear to run through the line, and definitely didn't lean.
Simpson definitely leaned and said afterwards she was not sure she made it until the results came up on the big screen. Simpson said the race was extremely physical and she consciously let the field open a gap on her to get out of the contact. The gap opened quickly from 500 to 400 remaining and Simpson said she realized the gap had gotten too big, but it was too late. She needed last lap heroics again. This time not for gold, but just to make the next round (screen shots below).
Simpson was relieved to make the semi. Now she will start from scratch in two days while having run slower than all the other women in the semis. Simpson said her success at Worlds last year gave her a sense of false confidence and she realizes she cannot expect the last lap heroics to happen all the time.
Simpson said to USATF, "If people want to see my miracle kick that was definitely a miracle today. I ran the slowest race to make it in. At this point, what's done is done, I have to move on. It was really physical up front. With about 200 meters to go I realized I needed to do something so I put my head down and didn't look up until 5 meters to the line. I think it's the first time in my life I've leaned at the line."
Brit Lisa Dobriskey won Simpson's heat before the loud 80,000 morning session crowd. Martynova was the big casualty in heat 1, having run sub-four this year.
Screen Shots of Simpson from BBC Coverage Last Lap:

500m To Go (In Fine Position)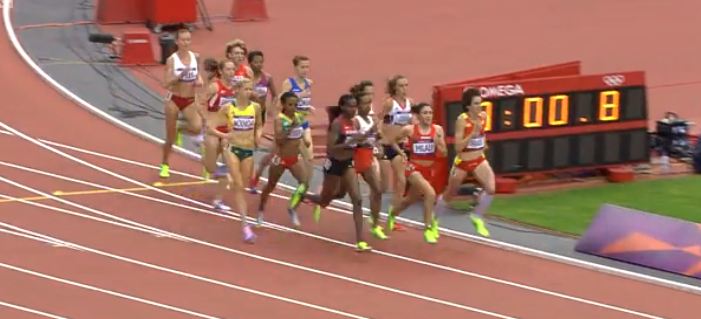 400m To Go (Oops)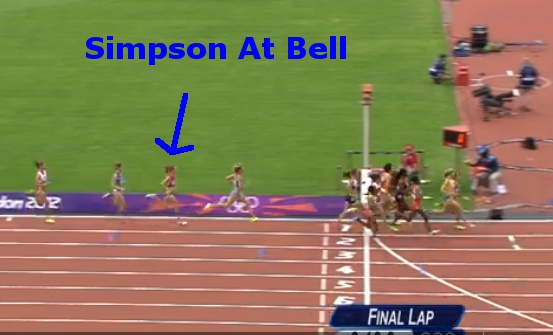 100m To Go (Oops)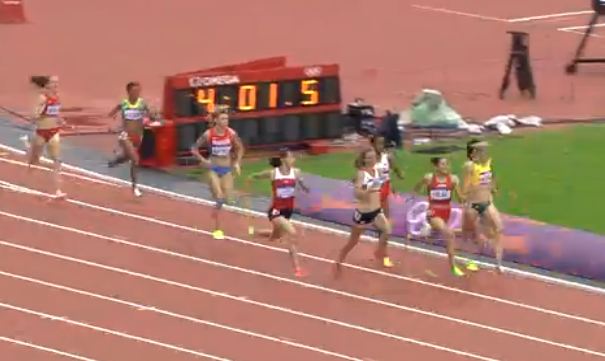 A Happy Simpson Reacts To Realizing She Snuck In
(Thanks to "SomeActualData" - An LRC Visitor - For The Photo)
QT: Simpson can't keep running how she is running. There is no way she can go from last to first like last year, as the 1,500m field is much stronger this year. We would have said the same thing last year as well and she proved us wrong, but we guarantee she can't go from last to first this year on the last lap.
QT #2: We were looking for signs after her second place showing in London after the US Trials that Simpson had regained her magical form from last year, but she didn't look good at all today. Based on the first round, it will be a surprise if she makes the final and a stunner if she medals.
Heat #3: Morgan Uceny Advances, Dibaba Goes Out

Uceny At The Start
Heat #3 had the one big casualty of the morning session, as Genzebe Dibaba faded badly over the final 200m, then fell to the track afterwards grabbing her left hamstring and was wheeled off in a wheelchair. Dibaba, the younger sister of 10,000m champion Tirunesh Dibaba, had been the indoor sensation in the ,1500m this year, winning the world indoor title.
2011 World Ranked #1 Morgan Uceny was in this heat, starting her campaign for redemption after falling at Worlds last year. Kenyan Faith Kipyegon did all the early leading, taking the field through a slow 800 (2:18.2) and she even still led at 1,200m after the pace got hot (3:19.5). The pace really accelerated in this heat from 800m to 1,200m (61.3). The 61.3 lap, however, did not thin out the field too much. This is the Olympic Games, after all.
Uceny had been fourth at 800m and was in sixth at the bell. She began to move up on the backstretch as Gamze Bulut of Turkey led with 200m to go. Bulut would maintain the lead to the finish and take the heat in 4:06.69 as Uceny moved up to finish second in 4:06.87. Dibaba had nothing the last 200m and left in agony with some sort of injury. Faith Kipyegon's early leading did her in as she missed the semifinal, but former Oregon Duck Zoe Buckman did make the semi.
Afterward, Uceny said after the Olympic Trials she had some foot issues (nerve impingement) as she has flat fleet. After the Trials, Uceny raced at Crystal Palace on July 13th and faded to 8th in 4:08.22. She took a little time off after that and is now feeling good. Uceny said surprisingly she was not nervous before the race, and was more nervous because she wasn't nervous. She said she could not help but smile when she entered the Olympic stadium to see the incredible crowd.
QT #1: Dibaba going out helps the medal chances of the Americans. Dibaba hadn't raced since June 7th and the question coming in was "Is she just taking off to try to get some base or rest in or is she hurt?" Clearly she has been hurt.
QT #2 The third 400 was a 61 but the last 400 was only a 62. We had the leader at 3:03-high at the bell, with Uceny probably 3:04 mid.
Heat 1: Shannon Rowbury Advances
Heat 1 had a lot of medallists in it.
2004 Olympic silver medallist and 2005 World Champion Tatyanya Tomashova is back from her drug ban. She led this heat until the end, when Abeba Aregawi surged to get the meaningless heat win. The 22-year-old Aregawi came in with the fastest qualifying time of all the entrants at 3:56.54. Two-time world champion Maryam Jamal and world indoor 3,000m champion Hellen Obiri took the next two automatic qualifying spots. 2011 world silver medallist Hannah England of GB got the fifth qualifying spot as the crowd went nuts. That left one automatic qualifying spot.
2009 American bronze medallist Shannon Rowbury was in the mix throughout, but over the last 150m the top six got away from her, as Canadian Hilary Stellingwerff made the semifinal with the sixth and final automatic spot. Rowbury ended up in seventh but ended up advancing on time to the semi. Stony Brook star Lucy Van Dalen would make the semi as well on time. Before knowing she had advanced, Van Dalen said, "I ran a strong race today."
When we spoke to Shannon Rowbury, she was hopeful she would make the final. She said the first round is usually tough for her because it is often sit-and-kick. That was not the case today, as it was a bit faster. She said, "We ended up going out really quick. I tried my best to tuck in and conserve energy. The time was relatively quick so I hope I get in on time, I hope it's meant to be. I didn't quite close soon enough. I'll hopefully learn from that and change it in the semifinal, God willing. I'm really been working on closing. I didn't really time it right, but hopefully this isn't the end."
Hilary Stellingwerff said it was nice to be able to just race instead of worrying about time (she spent much of the summer trying to hit the Canadian Olympic standards).
QT #1: Three Americans in the semis. America last year was the top country in the world at 1,500m and they and Great Britain were the only countries to advance three to the semis.
---
Comments, questions, suggestions, story you'd like to submit? Email us.