Mark Block Gives His Side of the Story
Banned Agent Says He Travels To Track Meets Across Globe As A Form Of Therapy, Says He Still Technically Can Coach, Says He Has Paid A Big Price For His Mistake, and Says That He Went Into The Nike Tent Because He Was Cold - We Disagree
By LetsRun.com
August 4, 2012
Convicted doper and track agent Mark Block in an interview with Flotrack.org talks about his ban from the sport and why he has been traveling around the world to track meets being seen with World Champions Jason Richardson and Carmelita Jeter.
The video is embedded at the bottom of the article. In the interview Block admits he is banned from the sport in the US and internationally and is not supposed to be negotiating for his athletes. He said he is "banned from sanctioned USATF and IAAF competitions. I can't do what I did for a living...I can't really have anything to do with athletes in track and field competitions."
Block said he has not been working as an agent since his ban started. Interestingly, he did say that his previous company Total Sports Management, Inc still exists legally and that he still makes money off of his previous contracts. So if he negotiated a five year contract with an athlete and gets a 10% commission on the contract, he still is collecting 10% on the contract as it goes forward. He said Total Sports Management, US, is a new company run by his former partner Chris Layne that handles all new contracts going forward, and that Block has no association with Total Sports, US.
Block says he is traveling around the world to track meets on his own dime because that is what he has done for the last twenty years and it is his personal form of therapy. He said, "I have been going to track meets for my own therapy, for my own support."
As for his association with Carmelita Jeter and Jason Richardson, Block sees nothing wrong with it, as he is friends with both. He said, he "didn't commit a crime and even if I had, you don't turn your back on friends."
His relationship with Jeter is closer than his relationship with Richardson. Block said, "I've just known Jason for over a year (which means Richardson would only have become friends with Block around the time Block's ban came down in March of 2011) probably. I don't have the same relationship (as with Jeter)." Block said of Jeter, "She was supportive. She said, 'It (the doping) was before my time. I know the person you are.' A lot of it is really a friendship."
Block also takes responsibility for being in the Nike hospitality suite at the Olympic Trials saying, "The Nike hospitality was my error...It was rainy, it was cold. I wanted to find a good view of the races so I found my way up there.... No one invited me up there...No one threw me out. I'll be honest.. There are a lot of people of people I have great relationships up there and I kind of felt at home.... I didn't think I was doing anything wrong... Looking back on it, I didn't need to be there. Legally I can be there but ethically I didn't need to be there."
Are we supposed to actually believe that Block went up to the Nike tent simply because it was cold one day at the Trials? Does Block not realize we know he went to the Nike VIP tent on multiple days of the Trials and had a celebratory drink up there? And of course, he says nothing about being in the Nike hospitality suite in Daegu in 2011.
Block even said technically he could coach athletes, he just can't be involved in an official way at meets, which means no credentials. He even admits he goes to practice with Jeter and in listening to the interview you're supposed to feel sorry for him simply because he does not have a credential.
Block, and Flotrack to a lesser extent, for that matter do not get it. Admittedly, a significant chunk of Flotrack's business model is focused on serving as a public relations vehicle for athletes, agents, shoe companies and meets, but it was surprising that in the interview Block never was directly asked about his doping past, what he did in the past, or whether his wife should be stripped of her world 100m title. Also he's never asked if he's actually Jeter's coach like he was for his own wife whom he doped or if given his association with Jeter he thinks it is fair to ask why is she running so well at age 32. Instead he constantly refers to his singular "mistake" without ever once being asked by flotrack what his "mistake" was. Block says, "I wasn't out dealing drugs to athletes. I had a very isolated incident....I made a mistake. I have reached out to anti-doping agencies... I have offered my services.... You learn from mistakes. This was a big mistake."
More mistake talk from Block, "I made a mistake I want to protect other people from making a mistake."
As for LetsRun.com pointing out his continued association with two World Champions, we get more mistake talk, "They (LetsRun.com) are attacking athletes that had nothing to do with my mistakes ten years ago. Just because they are friends with me or are seen with me I don't think that should be a bad indication. I did what I did a long time ago. I knew it was a mistake a long-time ago. I did nothing wrong before that or since that. I've worked with hundreds of athletes... It was an isolated instance with one person. I made a mistake, I screwed up."
Block makes it sound like this was an isolated "mistake", he has confessed his sins, and wants to work with anti-doping authorities. Well first, we'd like him to actually confess his sins. Here is what the USADA ruling on Block said, "Moreover, once a habit of lying is established lapses in integrity are rarely isolated, an observation confirmed by Mr. Block through evidence presented in this case." It goes on, "Block has not admitted his guilt and has in fact attempted to convince this Panel that he has no culpability for what was done for a variety of reasons. His interactions with Victor Conte were extensive and involved a variety of efforts to cover up or otherwise further doping activities, and his involvement spanned many months."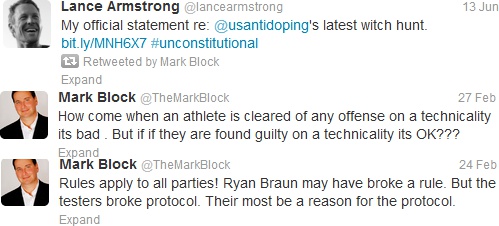 So in summary, Block participated in a doping conspiracy for many months, he then lied in his testimony, and he did not admit his guilt. Yet, he is allowed to talk about his "mistake" with no follow-up. Selected tweets from Block this year (embedded on the right), pointing out alleged unfairness in the anti-doping system, don't sound like a guy who has admitted his guilt. He sounds like a guy who thinks he was convicted of a technicality and yet he didn't follow through with an appeal of his 10-year suspension to the Court of Arbitration for Sport.
Block wants us all to forget about his past so he can go forward in his roll as a "friend and a cheerleader" - a very expensive cheerleader as it's not cheap to travel to Philly, Jamaica, Shanghai, Eugene, Monaco and London (twice).
Why should we believe anything this guy says at face value?
The bigger issue is why athletes would want to hang around with this guy. The interview does not touch on this. Block was involved with doping at the highest level of the sport, lied about it, yet Jason Richardson, Carmelita Jeter, people in the Nike booth, and many agents think it is perfectly fine to hang around with him? Jason Richardson, Carmelita Jeter, John Smith, and all the agents who have interacted with Block need to answer why they want to associate with him. Until dopers are treated as pariahs in the sport, the doping problem will continue.
Block obviously thought this interview would help but anything, the interview raises questions about Richardson as Block says he just became friends with him last year - the year Richardson made a big breakthrough.

Meanwhile, Mark Block asks that we don't tweet his (former) athletes. Block said, "I don't think people should be tweeted at or disturbed. They are at the Olympic Games."
Chris Layne made a similar request to us yesterday.
You've got to be kidding. These athletes are associating with a doping cheat, who hasn't admitted his guilt, and we're not supposed to bother them on twitter? What's wrong with asking them why they want to associate with someone who cheated the sport we all love? And if all they are doing is hanging out with a friend, then they shouldn't be bothered by our or other members of the media questions at all.
Mr. Block wants us all to feel good that he technically is not violating his USADA ban saying, "People close to the situation understand that there is a line that I don't cross."
Well people close to the situation have turned a blind eye to dopers for too long. Fortunately, the negative publicity may be having an effect on Block as he said, "I do need to move along with my life..."
How about he moves on with his life and gets out of the track and field world permanently for ten years? If you do the crime, please serve the time.
And that's really where the disagreement lies. Block feels like he has been punished - "I screwed up and there has been a price that has paid," - but to us is seems that he's only been punished in name only.
Full interview below.
More: *LRC Report #1 on Block
*LRC Report #2 Block
*LRC Report #3 Relating to Block: What Are Carmelita Jeter And Jason Richardson Doing With Mark Block?
Mark Block Interview

---
Comments, questions, suggestions, story you'd like to submit? Email us