2012 Olympic Men's 100: Man Throws Beer Bottle That Nearly Hits Usain Bolt, Gets Punched By Female Judo Champ
*More: MB: Man Throws Beer Bottle Nearly Hits Usain Bolt in 100m, Gets Punched By Judo Champ
By LetsRun.com
August 5, 2012
By now, you've probably heard that Usain Bolt defended his Olympic 100 meter crown tonight in London. But did you hear about the Heineken beer bottle that was thrown from the stands came fairly close to Bolt, silver medallist Yohan Blake, and bronze medallist Justin Gatlin?
Yes, a beer bottle was thrown just as the runners were getting into the 'set' position and ended up in on the edge of Blake's lane (between five and six).
You can see the bottle in the pictures below. But that's not all. Dutch judo bronze medallist Edith Bosch claimed on Twitter that she had "beaten" the person who had thrown the bottle. You can see a thumbnail picture of Bosch on the left and if you click on it you'll be taken to a bigger photo of her from Slate.com. We certainly wouldn't want to be beaten by her.
Bosch's tweet was in Dutch but it's been translated by the BBC as: "A drunken spectator threw a bottle onto the track! I HAVE BEATEN HIM .... unbelievable."
Unbelievable indeed.
More: Messageboard Discussion: Man Throws Beer Bottle Nearly Hits Usain Bolt in 100m, Gets Punched By Judo Champ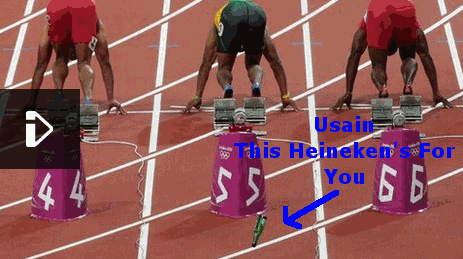 ---
Comments, questions, suggestions, story you'd like to submit? Email us