Usain Bolt the Video Game - Q & A with Matt Taylor
By LetsRun.com
July 17, 2012
Yesterday, RockLive released an Usain Bolt video game for iOS devises (Iphones, Ipad) titled- Bolt!. Bolt!, features superhero, Usain Bolt, but it's not a track and field game. In the game, Usain Bolt runs, jumps, and slides as he tried to collect gold coins and Gatorade while being chased by pirates.
Friend of LRC and guest LRC columnist Matt Taylor was instrumental in the game being developed. After playing the game himself, LRC's Weldon Johnson asked Matt a few questions about the game. You can download the free game in the Apple store here.
1) A Usain Bolt video game sounds pretty cool. Tell us a little about your role with the project and how long its been in the works and how it came about.
About a year ago I was in Jamaica with Usain. I've always known that he's a big gamer and I was really interested in exploring mobile games, so I just asked him if he wanted to do a game together. He said yes, we worked out the details, and I went to work. I eventually found a company called RockLive that had created games for Mike Tyson, Chad Ochocinco and Cristiano Ronaldo. They were interested in working with Usain and me, so we signed a deal and started the process. The development process took about 6 months, the last month or so being the most intense.
2) As for the game itself, it's not a track and field game. Usain Bolt is a superhero running, jumping, sliding, and gathering coins while being chased by pirates. At least that's what he was doing when I got semi-addicted to the game yesterday while using my aunt's iPhone. Did you think of doing a track and field game? Why the pirate theme?
There were a few concepts we considered in the beginning, including a track & field theme. But in the end we wanted to create a fun, casual game that would be enjoyed by kids and adults. Usain transcends track & field and so we wanted the game to be more accessible to more people. The pirate theme comes from the fact that the Jamaican city of Port Royal used to be the home base of Caribbean pirates - like Blackbeard, Calico Jack and Captain Morgan - during their run in the 17th century. So if those pirates were still roaming Kingston Harbor, you can be sure they'd be after all of Usain's gold. A bit silly, yes, but look at the games that are successful in this medium: flinging birds at pigs, getting water to an alligator, racing daylight as a tiny bird, and so on. It's just about entertaining people for short periods of time.
3) The game's been out a day. What's the reaction been so far?
It's been incredible. We're the #1 overall app in Jamaica and #30 in the UK. We also put a lot of emphasis on promoting the game via Twitter and have seen an incredible response there, including tweets about the game from Mike Tyson, Rob Kardashian, Mo Farah, Justin Bieber's dad (no joke), DJ Pauly D and a bunch of others. Although, no tweet from LetsRun yet . . . (editor's note: the existence of an official LetsRun.com twitter account has never been acknowledged.)
4) How much involvement did Usain have in designing the game?
He was pretty involved at the beginning and end. In the beginning we talked a lot about concepts and what his character would look like. Then for the last two months he's been beta testing it with the team. In the middle, it was pretty much all programming from RockLive.
5) What's Usain's feedback been so far? Shouldn't he be training for London instead of playing it all day?
C'mon, you know how boring it gets in between training sessions, especially at this point in the season where you really are just focused on running fast. Usain loves to kill time playing video games, so it's just natural for him. He plays a lot of Call of Duty and Pro Evolution Soccer, and now he has his own game.
6) LetsRun.com, the video game. How do you envision it?
Honestly, that's easy. Given your poker background and the fact that everyone on LRC is an expert with insider knowledge, we'd make a game called "LRC Vegas Stakes" - the most incredible gambling game ever produced. We'd use 8-bit graphics to match the 1999 look-and-feel of LRC. Everyone would be anonymous so you could say whatever you wanted about anyone. And we'd let people gamble on anything.
Like what? you ask. Can I bet on . . .
The women's 3k at NCAA's? Yes.
What place will Ryan Hall finish in London? Yes
Alan Webb's next 1500m time. Yes
Cam "MF" Levins' Vo2max? Yes
Will Mary Cain drop out of high school and turn pro? Yes
Teg running the 15k? Yes
The over-under on how many posts "A Duck" will write today? Yes
Who's hotter, Lolo or Nick Symmonds? Yes
Of course, all of this would be run like a Vegas casino with real-time odds, payouts, jackpots, VIP benefits, etc. I think you guys could make some serious money with that game, retire in two years, and hand over the LRC reigns to the Message Boards. My guess is, legally, you could figure out a way to make this happen using virtual currency.
To download the game click here: http://itun.es/ibx5VR below: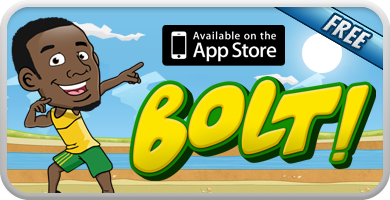 ---
Comments, questions, suggestions, or a story you'd like to submit? Email us