Olympic Trials Saturday: 800 Semifinal Recaps
by: LetsRun.com
June 28, 2008
*Results
*LRC Rest of Day 2 Recap: Women's 100, American Record in Quarters of 100, Men's Shot, Heptathlon
*Day 1 Women's 10k: Flanagan, over Goucher but Amy Yoder-Begley Steals the Show
*LRC Day 1 800/5k Prelims: Men's 5k Semis: Alysia Johnson Out, Khadevis Robinson Struggles

Women's 800
Heat 1: Everyone Advances to the Final


Alice Schmidt, who was out slow yesterday, moved assertively to the font with an opening 200 of 28.4. The fast early pace paid big dividends as heading by the steeple pit at 250 meters, half of the field went down as Olympian Nicole Teter, Kameisha Bennett, (4th at the Trials in 2000), Latavia Thomas and Becky Horn all went down in a heap. The four who didn't go down, led by Schmidt were way clear of the unfortunate group that fell by the time everyone got up. Since the qualifying formula to the finals was top four from each heat, the quartet that managed to stay on two feet basically were assured a spot in the final barring a catastrophic tie-up as a big gap between fourth and fifth existed.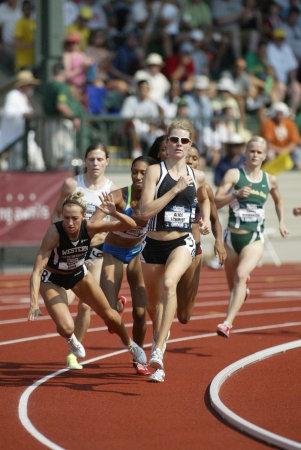 The Start of the Fall

Photo via John Nepolitan

Of the four that went down, Nicole Teter was the only one that really seemed to give serious consideration to somehow making a miraculous comeback by trying to make up a 3 second deficit in the final 400 meters, but it was not to be. Schmidt cruised home in 32.9 after looking awesome at 600 meters at 1:30.0 as Maggie Vessey, Nikey Green, and Laura Hermanson all advanced. Other than Schmidt, only Green from this group had a top 10 seed coming in.

After the race was over, Teter was placed in the final after an appeal. We're not sure of the justification used to put her in the final. Teter even told the Eugene Register Guard afterwards, "I don't know what a protest would be based on.". Then, at the conclusion of the meet, USATF ruled that all eight of the runners from the first heat would be put in the final. This now makes the line-up for the finals nearly unpredictable as there will be twelve women, all with personal bests under 2:03, in the final. Monday evening will be a cluttered affair.

It's getting to be ridiculous. College and pro coaches should start telling their athletes to just fall over if there is contact as the NCAA people and USATF people seem to just place everyone in the next round on appeal.

Prior to knowing she was in the final, Latavia Thomas summed up the situation perfectly when she was asked what she was thinking when she was lying on the ground after the fall. ""It's over."

After today, people who fall will likely be thinking "Sweet, I'm into the next round."

While many of the athletes in the post-race area were distraught about the fall, North Dakota State's Laura Hermanson benefited from it big-time and she knew it. Hermanson, "That was lucky for me. Definitely lucky - good lucky. I wasn't sure how long they were down for so I just tried to hold on for dear life."

Heat  1 Semi-Finals
  1 Alice Schmidt                adidas                 2:03.27Q
  2 Maggie Vessey                unattached             2:03.81Q
  3 Nikeya Green                 Reebok                 2:03.90Q
  4 Laura Hermanson              North Dakota State     2:05.78Q
  5 Nicole Teter                 Oregon TC Elite        2:10.76
  6 Becky Horn                   Western Michigan       2:15.72
  7 Latavia Thomas               L S U                  2:17.53
  8 Kameisha Bennett             Nike                   2:19.98
Heat 2: Only Top 4 Advance
This tough second semi-final heat was head-lined by three time U.S. 800 champ Hazel Clark and also included two other NCAA champions (Geena Gall and Heather Dorniden) as well as high school phenom Laura Roesler. Not to be forgotten, Katie Waits, one of five U.S. women with the Olympic A standard, was also in the field.
Hazel Clark looked very strong and basically controlled the race from 300 meters on in and was an easy auto qualifier. Just before the finish line, she was passed by former Cornell All-American Morgan Uceny who had the fastest final 200 (30.7). 4th last year at USATFs, Uceny ran the fastest time of the day. Uceny's training partner, Waits, was third and Michigan's Geena Gall who also trains under the care of Mike McGuire secured the final qualifying spot.
The higher schooler Roesler closed out a fantastic season and impressive first Olympic Trials with an 8th-place 2:06.82 less than a day removed from her 2:04….those efforts would win a bunch of high school boys meets back in North Dakota!
Hazel Clark admitted after the race that after the fall in the first heat, she decided to alter her pre-race plan given to hear by her coach and brother JJ Clark and take it out in the lead. She'd seen her training partner Kameisha Bennett go down in the fall and didn't want that to happen to her. "You work so hard to get here and then (seeing) something like that is scary. That's why I just went to the front - stayed out of trouble. You just want to make it through."
Uceny who doesn't have the A standard said she isn't going to worry about the pace in the final. "Honestly, I think in order to make the team, it's going to take a sub 2 anyway. I'm not going to really concentrate on that. I'm just going to give it all I have. If I get top three and I miss the standard, then it's just not in the cards. I'll go run the 1,500."
The 16-year old high schooler Roesler justifiably wasn't too upset about not advancing. "It was awesome (to run with those girls). You try not to think about that you are running with Hazel Clark and stuff but it's kind of hard when before they are announcing 'two-time Olympian'. It was fun to run with that crowd. They are just with everyone the whole time. After this I'm probably just going to start focusing on cross country."
Heat  2 Semi-Finals
  1 Morgan Uceny                 Reebok                 2:02.10Q
  2 Hazel Clark                  Nike                   2:02.14Q
  3 Katie Waits                  Reebok                 2:02.38Q
  4 Geena Gall                   Michigan               2:03.03Q
  5 Ty Davis                     Team Indiana Elite     2:03.22
  6 Brenda Martinez              Cal-Riverside          2:05.10
  7 Heather Dorniden             Minnesota              2:05.76
  8 Laura Roesler                Team NoDak             2:06.82


Men's 800 Semis Recap: Krummenacker's Olympic Dream is Over, Hernandez Out
Most of the big guns made it through with the notable exception of NCAA champ Jacob Hernandez of Texas and one of American's all-time great middle distance stars, David Krummenacker. And it was again Andrew Wheating of Oregon that got the biggest rise out of the crowd as his strong finish in heat one had the crowd on its feet.
Heat One: Khadevis Is Back

A day after appearing vulnerable, Khadevis Robinson ran with purpose in the semi-finals, leading from the gun and taking the field out in 24.5 and 51.8. With Jonathan Jackson right behind, Robinson took a still tightly bunched group through 600 meters in 1:19.1. But lurking in fifth, as is becoming his trademark, was Oregon sophomore Andrew Wheating. The Hayward Field crowd, sensing a big move, rose to its feet coming off the last turn and Wheating delivered, running his last 200 in 26.0 to finish only .09 behind Robinson. With his long stride and closing flourish, Wheating will be a force to be reckoned with in Monday's final.
After the race, we caught up with Wheating who at one point admitted he thought he'd left it too late. "It's unbelievable (to finish 2nd in the heat and advance). I thought I was out of the game from the start but I finished better than I thought I would. I've had crappy races before but it always comes down to the last 100 and I always have the last little bit left and a lot of guys don't have that. I'm hopefully going to use that to my advantage on Monday."
2004 US Trials champion Jonathan Johnson was pleased with his seasonal best 1:46.28 third place showing. Johnson said, "I've been focused on the trials (all year). I had some runs that weren't great but I was training through. I've been focusing on the Trials and I'm coming along at the right time. This is my fastest time of the year, " said Johnson. "We got set up in a fast heat yesterday. We had to run fast then, had to run fast now. Some of these guys were a little more fresh as they didn't have to run as hard (yesterday) but I'm right where I need to be. In the finals, I think it's going to be a 1:44 race but I'm ready for that. I feel good and am getting sharp."
2005 world indoor champ (also a Golden League champ) David Krummenacker failed to advance and considering the fact that he's 33 years old, it looks like he will never be an Olympian. Krummenacker said, "It was one of those days where it didn't quite come together for me - (just one of those things that) happens in track and field. You just got to enjoy the good moments and the times that it doesn't fall together (for you), what can you do - you gave it your all."
| | |
| --- | --- |
| Jonathan Johnson | David Krummenacker |
Heat  1 Semi-Finals
  1 Khadevis Robinson            Nike                   1:46.14Q
  2 Andrew Wheating              Oregon                 1:46.23Q
  3 Jonathan Johnson             Reebok                 1:46.28Q
  4 Jebreh Harris                Reebok                 1:46.29Q
  5 Matt Scherer                 OTC/Nike               1:47.14
  6 Brandon Shaw                 Oregon TC Elite        1:47.22
  7 Ryan Brown                   Asics                  1:47.95
  8 David Krummenacker           adidas                 1:48.61
Heat Two: Symmonds Parts the Sea


With the crowd still buzzing after Wheating's finish, Duane Solomon of USC took the second semi-final heat out fast as well, going through in 24.1 and 51.2 Getting out relatively slowly were Nick Symmonds, Lopez Lomong and Sam Burley and with that trio's finishing capabilities, this heat was shaping up for a chaotic finish. Heading into 600 meters at 1:18.1, Solomon remained in the lead and it appeared that Symmonds had run himself into a box, moving up to fourth but on the rail in lane one. Remarkably, the savvy Symmonds patiently held his position on the rail and ran unencumbered up lane one during the final 100 meters as everyone else moved outside. In the process, he passed the field to win in 1:45.61, the fastest time of the day. Running a last 200 of 26.7, Symmonds looked sharp and demonstrated that his competitive instincts remain very much intact.


Of course, there is a fine line between good instincts and luck and some are likely to say that Symmonds was fortunate that Solomon and others started to move wide coming down the last straight-away, clearing space for him in lane one. But our favorite motto about 800s is that it always opens up. Just ask Rich Kenah, the last native American born male to win a distance medal at the worlds, who won a world championship bronze by coming up the inside in 1997.


Solomon was rewarded for his front-running efforts with a second place finish that punched his ticket to the final. Christian Smith and Lomong closed well to grab the other auto qualifying spots but 2008 NCAA champs Jacob Hernandez and 2003 NCAA champ Burley were squeezed out. Someone good was bound not to advance and the two biggest names left out in this heat were Hernandez and Burley.


Lomong who looked really sharp in the first heat yesterday looked a bit flat today. He got out very slow the first 100 but managed to secure the final qualifying spot. When asked if he was flat, Lomong didn't deny it.


"It was just one of those days. The thing is if you don't feel good, you just have to protect your territory. That's what I did. I'm happy with fourth I know I'll feel good (on Monday) - I promise. Everything will be good."

Hernandez was obviously disappointed to not advance to the final. "I'm not going to sit here and smile and say everything is great because it's not. I'd like to be in that final. Unfortunately, that dream just turns into a goal now. In four years, I'm going to be back here and I'm going to make that time - just mark my words on that."

Duane Solomon, who last year was only 7th at NCAAs before making the world championship team appears to be trying to repeat history as after his 3rd place showing at NCAAs, he charged into the final today. He obviously was pleased to advance. "It feels great to make the final. That was the whole plan. It's just a big honor. It's my first one (Olympic Trials) and I'm trying to make it big. Anything can happen in the finals so I'm just waiting to see what happens." At the end of the interview above, we asked him it was extra sweet to get a little revenge on Jacob Hernandez.
Heat  2 Semi-Finals
  1 Nicholas Symmonds            OTC/Nike               1:45.61Q
  2 Duane Solomon                U S C                  1:45.82Q
  3 Christian Smith              OTC/Nike               1:46.02Q 1:46.011
  4 Lopez Lomong                 Nike                   1:46.02Q 1:46.014
  5 Jacob Hernandez              Texas                  1:46.16
  6 Sam Burley                   Asics                  1:46.52
  7 Elliott Blount               Oregon TC Elite        1:46.61
  8 Floyd Thompson               Santa Monica T C       1:51.17

| | |
| --- | --- |
| Jacob Hernandez | Lopez Lomong |
*NBC Makes Us Put This Here: More coverage at http://www.nbcolympics.com/trackandfield/index.html