What Are Carmelita Jeter And Jason Richardson Doing With Mark Block?
By LetsRun.com
August 2, 2012
Former super-agent and convicted doper Mark Block was banned from the sport for ten years for his involvement in doping. Last month, LetsRun.com reported that Block was in the Nike VIP suite during the women's 200 at the Olympic Trials and had gone to Daegu last year for the World Championships. The fact that the sport's biggest benefactor (Nike) was guilty of at a minimum looking the other way while Block enjoyed its hospitality angered us a great deal. But what we've learned since then is much more troubling.
We now have evidence that World Champions Carmelita Jeter and Jason Richardson continue to associate with Block, which raises many questions. The key one being: Why are these athletes traveling all over the world with a convicted drug cheat who is serving a 10-year ban from the sport?
What We Know
After our initial report, we were flooded with tips and did a little bit of an investigation. As a result, we followed up with a second report showing that Block had also been to Penn Relays, the Jamaican Invitational (where Block walked into the stadium with Jeter), and Mt. SAC Relays (where Block, Richardson, and we believe Jeter had dinner together) - all meets where either Richardson and/or Jeter had competed. We also reported that Block's behavior didn't seem to be influenced by our report, as it was discovered he was also in Monaco for the Diamond League meet (another meet where Richardson and Jeter competed). We also wrote that sources had told us that Block had been in "Cap's Corner" of the Nike VIP suite for a celebratory drink after the women's 100 and we had reason to believe that Block had enjoyed the Nike hospitality suite in Daegu in 2011.
What have we learned since then?
A few things. A second source has confirmed that Block was in the Nike hospitality suite in Daegu last year. In addition to Monaco, we've also learned that after the Trials Block went to London for the London Diamond League meet (Jeter and Richardson also competed there).
Today We Have Even More Details About Block's Continued Involvement In The Sport, Especially With Carmelita Jeter And Jason Richardson
Add to the mix of meets that Block attended in 2012 the Shanghai Diamond League meet. Earlier this year, Dr. Craig Dossman, the physio of Jason Richardson, Carmelita Jeter and others, stated on instagram that he was in Shanghai with Mark Block. His instagram read, "Shanghai flow w/Super Agent @TheMarkBlock" and included photos of Mark Block being in Shanghai with Jeter and Richardson.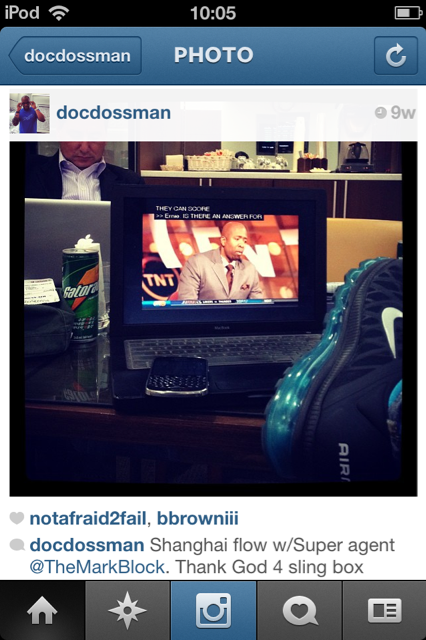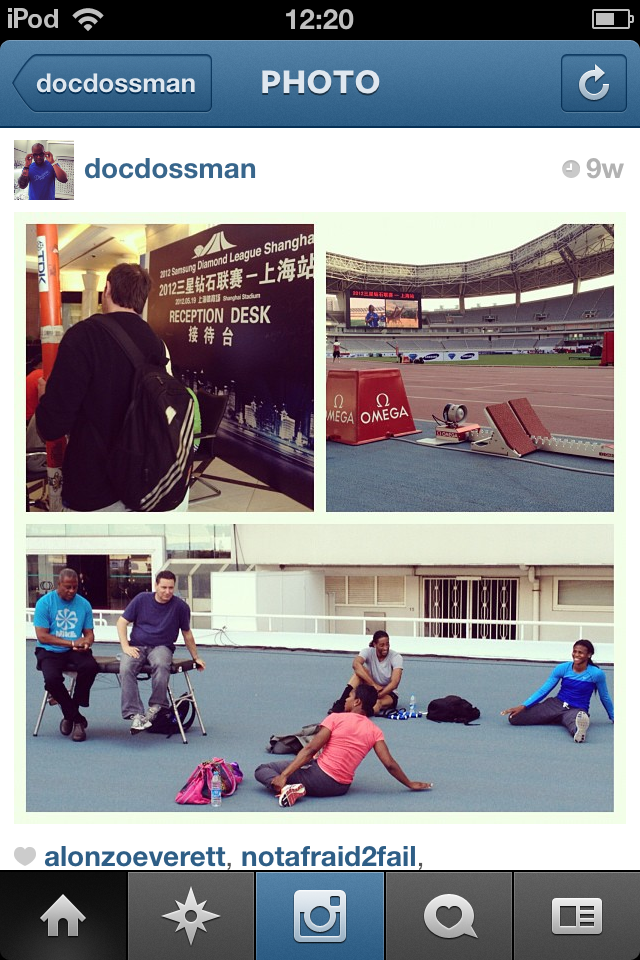 Screen captures from Craig Dossman's instagram account - "DocDossman" - appear on the left. The first one shows how DocDossman states he was in Shanghai with Block. The second one on the bottom shows, we believe Block, HSI coach John Smith, and Jeter and Richardson, next to what we believe is the Shanghai track.
Official Response?
When the story initially broke, USATF spokesperson Jill Geer told us that in the case of an agent ban, USATF makes sure that they don't get official credentials for an event or get USATF funds or stipends of any kind, but she realized "our ability to regulate a private citizen at public events seems to be what is at issue for you." After our second story, we went back to her and to USADA (the anti-doping agency) to see if anyone really cared that Block was traveling the globe with Jeter and Richardson, as to us it seemed as if Mr. Block was being banned from track and field in name only.
USADA didn't get back to us but Geer emailed back a response that went a step farther this time as it began with the following line: "USA Track & Field strongly believes that no person who has been banned by USADA should have any role in track and field or contact with the key players in it." The rest of the email was along the lines of what she told us initially (paraphrasing): *We do what we can. We make sure they don't get credentials and/or prize money/stipends.*
USATF can believe whatever it wants, but we have proof that Jeter and Richardson have been having contact with Block this year across the globe. And unless something has gone on behind the scenes that we aren't aware of, Jeter and Richardson haven't been disciplined or forced to stop associating professionally with Mark Block.
And that is the real issue here, isn't it?
Block And Jeter Have Some Explaining To Do
Regardless of what can and can't be done to Mark Block, the real issue is two of the most prominent track and field athletes in America - World Champions Carmelita Jeter and Jason Richardson - have been proven by their own tweets and photographic evidence to have been associating with a man who was intricately involved in the BALCO scandal. Only three Americans won individual gold at Worlds last year on the track and two of them by their own admission are associating with a doper leading up to the London Olympics. This is a story the press needs to pick up on in London.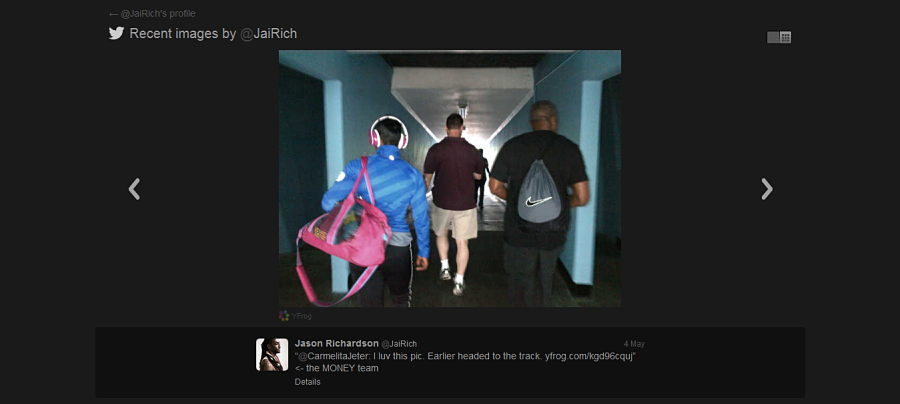 Block And Jeter Heading Into The Track In Jamaica In May
Our question is a simple one: What are Jason Richardson and Carmelita Jeter doing associating with Mark Block?
The most obvious possibility is he is still serving secretly as their agent. However, Carmelita Jeter explicitly said Block's "former" partner, Chris Layne is her agent. Layne is also listed as Jason Richardson's agent on the USATF website. Officially, Block and Layne claim not to be partners, at least in the track and field world, although they have a baseball representation business together according to this website.
If Block is not serving as Jeter's and Richardson's agent, then why is the convicted doper following them around the world?
Nearly all of the other explanations we can think of are even less favorable to Jeter and Richardson. Remember, Block was convicted of essentially doping his wife, 2001 World 100m champion Zhanna Block. Are we supposed to believe that Block is traveling around the world on his own dime, hanging out with two of America's world champions just for fun? Or just because they are friends? That seems like a costly and unlikely scenario to us.
It's Time For Jason Richardson And Carmelita Jeter To Answer Why They Are Associating With Mark Block
They have the right to associate with Block, but the press has a right to ask why. The best case scenario would be that Block is still serving as their agent. If that is the case, his ban should be made a lifetime one, and the IAAF should inform meet directors who work with Block that they will be stripped of their IAAF status if they continue to do so. If Block is not their agent, then why is he following them around the world?
So far at the Games, the press has grilled 16-year-old Chinese swimmer Ye Shiwen about performance-enhancing drugs because she's improved a lot and comes from a country with a less-than-stellar reputation when it comes to doping in swimming. We hope the press is fair and honest - not just xenophobic - as there are two athletes from the US who have improved a lot, come from a country with less than a stellar reputation when it comes to doping in the sprints, and are openly associating with a convicted doper.
The 32-year-old Jeter had never broken 11.48 wind-legal until she was 27. Her PR is now 10.68. Richardson had never broken 13.21 until last year and now his PR is 12.98. Granted, Richardson switched from eight steps to seven steps to the first hurdle last year, but the facts are the facts.
This story has all of the elements the press loves, including even a Twitter controversy.
When we tweeted a question to Geer and Richardson about Richardson's association with Block, he angrily tweeted back and told us to get a life before moving his twitter account to protected status.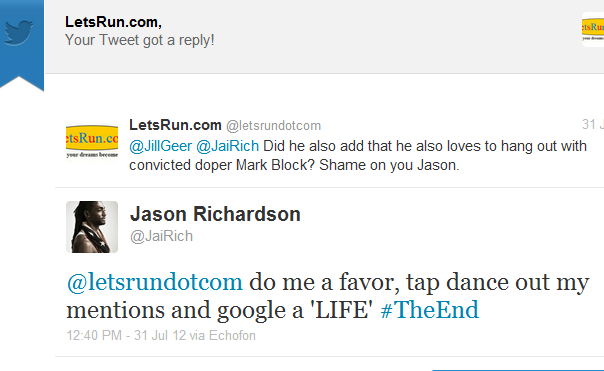 We believe Carmelita Jeter and Jason Richardson should be held accountable for their actions and hope that someone in the press has the courage to ask them about their continued association with drug cheat Mark Block.
Editor's Notes: On July 20, we reached Chris Layne, the listed agent for Jason Richardson and Carmelita Jeter, on his cell phone to try to talk to him about Block but he politely declined to speak to us.
After this story was initially published, this article so that it refers to the press as "press" instead of "mainstream press". Also the story originally said photos "seemingly" show Block to be in Shanghai. The word seemingly was taken out as they do show him to be there unless the photos were doctored.
---
PS. Other sports bans of agents/coaches have been much more strictly enforced. One visitor emailed us the following:
Different countries, different sports, different Sanctioning Association (in this case USATF vs FCI), DIFFERENT RULES
The Italian Cycling federation issued in 2001 a ban for all this members to have any contacts, association and/or professional relationship with Dr Michelle Ferrari (the one also involved in LA's dope scandal).
Just making phone calls to Dr Ferrari would lead to a ban for the rider involved… (let alone being photographed together at a race….)
Read more details below:
http://www.cyclingnews.com/news/pozzato-details-ferrari-relationship
if USATF would have the willingness to do it, it could take the same approach…
Comments, questions, suggestions, or a story you'd like to submit? Email us.