Tiki Gelana Wins 2012 Olympic Marathon As Shalane Flanagan And Kara Goucher Finish 10th And 11th
By LetsRun.com
August 5, 2012
The marathon has a new star, Tiki Gelana. On a rain-soaked course, over the final three quarters of a mile, the young Ethiopian Gelana powered away from the strongest female marathon field ever assembled to win the Olympic crown in 2:23.07, an Olympic record. Priscah Jeptoo of Kenya got the silver 5 seconds back, and Russian Tatyana Petrova Arkhipova was the big surprise in third in 2:23:29, ahead of pre-race favorite Mary Keitany, the world record holder in the half marathon, who was fourth.
The Ethiopian Gelana burst onto the scene with a 2:18:58 clocking to win the Rotterdam Marathon this spring, but she faced little competition there, winning by nearly five minutes. Here Gelana faced a stacked field that included Keitany, two-time World Marathon Majors champion (she won $1,000,000 for winning the WMM twice) Liliya Shobukhova of Russia, and NYC and World Champ Edna Kiplagat of Kenya.
The Race
In the end, none of the three favorites would end up on the podium. Shobukhova was the first casualty. Slowing just after halfway, she then dropped out, grabbing her left leg.
At about the same time Shobukhova was dropping out, Tiki Gelana went down hard at a water stop just after halfway. The race, which started in a heavy rain, was held on narrow streets with lots of turns. At the water stop, things were even narrower, as the runners could only run on half the road. Gelana veered to the right to get her bottle and was hit hard from behind by an unidentified runner. Gelana went down on all fours, cutting herself on the inside of her right arm, near her elbow. She got up quickly and even managed to pick up her water bottle.
The fall was just after halfway, which was reached in a modest 1:13:13, which left 28 women within 6 seconds of the lead, including Americans Shalane Flanagan and Kara Goucher. American Desi Davila started the race, but soon dropped out before three miles.
Edna Kiplagat made the first big move of the race. 1:24 into the race, she pushed to the front and soon the front pack of six consisted of all three Ethiopians and all three Kenyans in the race. American Shalane Flanagan led the chase pack with Kara Goucher not too far behind Flanagan. Flanagan would briefly regain the lead pack before falling off again.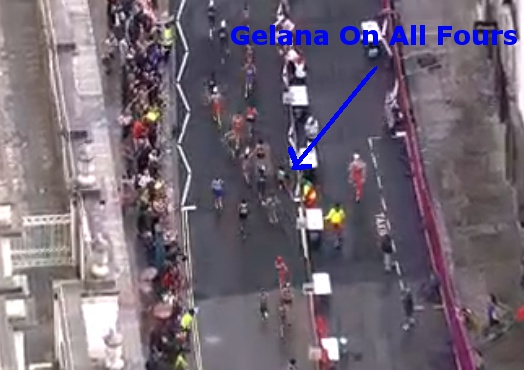 Soon after, about 1:30 into the race, there almost was another casualty, this time caused by Gelana. At a water stop, Gelana just dropped her bottle on the ground after using it. Mary Keitany was running behind her and could not see it, and Keitany stepped right on it. Fortunately, Keitany did not go down.
The course featured one shorter loop and then three eight-mile loops of London, showcasing many of the city's famous sites. The runners even did a 180-degree turn near the Tower of London. With one eight-mile loop remaining, the front pack consisted of five, Keitany, Jeptoo, Gelana, Kiplagat, and Mare Dibaba of Ethiopia. At 30k (18.6 miles) Russian Tatyana Petrova Arkhipova, a former silver medalist at the World Championships in the steeple, was 9 seconds back of the lead pack, with Shalane Flanagan 11 seconds back.
Mare Dibaba was the first to crack and then Arkhipova caught the lead pack from behind. Edna Kiplagat then started to fall off the lead pack, but regained herself and hung on just a little bit more and would hang close until 35k.
It was now a four-woman race and it would remain that way until the last mile. With roughly 3/4 of a mile to go, Gelana upped the pace. Keitany immediately dropped back and now it was a race between Gelana, Jeptoo, and Arkhipova for the medals. Just before the 2:20 mark, Gelana surged again and now she opened up a lead on Jeptoo. Jeptoo tried to hang close but Gelana was too strong. She got the win by five seconds and Arkhipova easily got the bronze.
Shalane Flanagan faded slightly in the final miles and finished 10th in 2:25:51 and Kara Goucher was one spot behind her in 11th in 2:26:07. Edna Kiplagat faded the most, finishing 20th in 2:27:52. The marathon distance can destroy even the best.
The Course Caused Problems For The Field
A lot of the runners after the race talked about cramping. Kara Goucher said she had cramps and back problems. Shalane Flanagan said she had cramping. Priscah Jeptoo said back problems did in Mary Keitany. Jeptoo said the rain causes muscles to get tight and can also cause cramping. Taking for granted that there was more cramping than usual in a marathon, a factor that may have contributed to this besides the rain was the course. The tight turns and difference surfaces to run on did not make running on a wet course easy.
Mary Keitany said, "The weather was bad. And also the route was not perfect. It has a lot of little corners and narrow routes. It rained from the beginning of the race up to the end. So it was a bad race for me."
One runner who did not mind the rain or the course was the champion Gelana. She said, "As soon as the rain started, I said to myself 'Thank God.' I love running in the rain, I have been doing that since I was a small child. I slipped in the middle of the race and my elbow is still injured. But I didn't feel any pain during the race."
Gelana became the second Ethiopian Olympic marathon champion following Fatuma Roba, who won in 1996. Gelana hopes to meet Roba one day and we bet that can be arranged now. Gelana is from the Bekoji, Ethiopia area, where a lot of top runners come from, including 2000 Olympic marathon champ Gezahegne Abera, who has helped Gelana with her career.
Gelana now joins Abera, Roba and Abebe Bikila and Mamo Wolde as Ethiopian marathon royalty. She talked of joining the exclusive Olympic marathon gold club, saying, "It means everything. Winning a gold in the marathon is very special for me. Marathon is my life. We Ethiopians think marathon is our national sport. So this gold medal has a great value in Ethiopia."
A Kenyan still has not won the Olympic women's marathon.
The Americans Come Up Short
The Americans had three strong entrants, but with Desi Davila running, then not running, then just starting and soon after dropping out, training partners Kara Goucher and Shalane Flanagan carried the US hopes. Flanagan said her preparation went great, and Goucher added, "I've trained so hard. I didn't even know women trained the way that I've trained with Shalane. I didn't know it existed. And I really thought that with the right window of opportunity, one of us could deliver and unfortunately it didn't come to be."
Nonetheless, they came up short of their goal of a podium finish. Goucher told LRC that Shalane's race plan was to go with the leaders and try to cover surges while Goucher's own plan was to try and make a big push the final four miles. Goucher said that cramping and back problems which she would have to figure out (we think the course and rain played a role) prevented the big push from coming the final four miles. She finished within one spot of Shalane Flanagan and that only disappointed Goucher, as she said, "I've got to be honest, when I saw her (Shalane) with two miles to go, it actually broke my spirit. Because I thought one of us had a shot (at a medal)."
Goucher, who was at the front of the race early on said it was not in the plans to lead, but the physical nature of the race led her to do it. "A championship race is just different. It was good for Shalane and I. We had no intention of leading and matching everyone else's cadence, but we decided to stay up front because it was clean. Both times I tried to go back to the second and third row, I got pushed and grunted at and stepped on, so I thought, 'What the heck, I'll go ahead and lead the Olympic marathon. I mean, I have no shot of winning this but I'll lead as long as they let me."
Flanagan tried to stay with the leaders but just couldn't do it, in what was only the third marathon of her life. She said, "There were some really tough spots. It was tough just to let people pass me, and I had no oomph to go with them. I tried to react, like in a track race, but it is really different for me in the marathon. You already have a lot of miles in your legs and it is so, so, so hard. I could feel myself cramping, but it is what it is. The fans were amazing; I couldn't even hear my own thoughts. The fans were just deafening. It was a lot of fun besides cramping and feeling awful. ... I just was hoping I could chomp away and get closer, and I did at times, and I fell off at times. I was yo-yo-ing all over the place."
Flanagan said she felt hot at times on the course, and then cold. Whatever the situation, she came up short of her goal of the podium. There were no excuses for aiming high from Shalane. "We all have these perceived boundaries about what we are capable of. I never want to set my goals too low. I am capable of better," she said.
For Desi Davila, much of starting was just about being able to say she was an Olympian. She said she would have given up her spot if there had been someone here ready to run the marathon, but there wasn't.
On her problems, she told USATF, "Obviously I'm coming in a little beat up and injured, and this was the first day of really testing it out on solid ground, and you don't know what you are going to get. I made it to 2.2 [miles] which is the first loop. I could tell on the first turn that it wasn't going to be right today. You know, you can't fake the marathon, and that is where we get our confidence, from training and knowing what it means and training hard. All of that has been missing by running on an Alter-G for basically the last month.

I've been training for this race for the past three months, and I ran into a problem a month out. I've been training through pain and having ups and downs and highs and lows. I do feel like you have to cross the line to be an Olympian and to have that title. And I feel like I've earned that, obviously throughout my entire career, but the last month especially. I've put everything I've had in to getting here and hopefully getting the health and the fitness.

That was one of the hardest things getting to the start knowing that there was a really good chance I would DNF, and I've never done that before. I don't really know how to do that."
All three women are signed up for next spring's Boston Marathon, where they hope to bring home the crown to America.
****
Tatyana Petrova Arkhipova - From Mediocre Marathoner To Great Steepler To Olympic Bronze In Marathon
Until today, Tatyana Petrova Arkhipova was best known as a steeplechaser with modest results in the marathon. A silver medallist in the 2007 World Championships in the steeple, she just missed out on the medals in the steeple in 2008, finishing 4th. Before all of this, she had been a marathoner with a 2:31:03 best. After giving up the steeple, she returned to the marathon with her best a 2:25:01 for 5th in Berlin last fall.
Arkhipova picked the right time to put it all together in the marathon. She said the speed in the steeple had helped her marathon, saying, "I think the steeple has helped me with my speed and it helped me jump over the puddles."
****
Jeptoo showed a nice display of sportsmanship/country loyalty at the last water stop. She grabbed two bottles and ran over and gave one to her countrywoman Mary Keitany.
****
Former Providence star Kim Smith of New Zealand also did not like the course, saying, "It was a rough day. I was hoping for a top six finish but the course did not really suit me. Fifteenth was not I wanted at all. I really struggled on the back parts of the course with the turns."
---
Comments, questions, suggestions, or a story you'd like to submit? Email us.