Why Was A Man With A 10-Year Doping Ban Enjoying The 2012 US Olympic Track & Field Trials From The Nike Sky Box?
Former Agent/Coach Mark Block Enjoyed The Trials In Sky Box Of USATF's & Olympic Trials' #1 Sponsor
by LetsRun.com
July 3, 2012
For a long time, track and field suffered from a serious doping problem. Many in the upper echelons of the sport liked to act like there wasn't a major problem and looked the other way. Finally, after BALCO and many subsequent cases, we thought that the tide had turned once and for all and felt that dopers and its supporters would no longer be welcomed in the sport with open arms or with a wink-wink.
Maybe we were wrong.
On Friday and Saturday, former agent and coach Mark Block, who was given a ten year ban from the sport of track and field (commencing January 1, 2009) for his role in the BALCO scandal, was seen enjoying the 2012 US Olympic Trails from the posh environment of the Nike sky box. Block's ban was given out by an independent three person panel from the American Arbitration Association (AAA) as the result of a case brought by the United States Anti-Doping Agency (USADA) (USADA Press release on ban here, AAA ruling here)
Yes, what you just read in the previous paragraph is correct.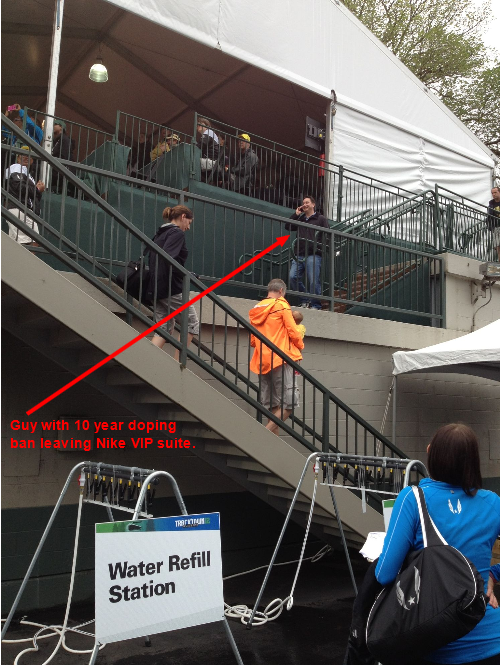 A Happy Mark Block Exiting The Nike Tent Moments
After Former Client Carmelita Jeter's 200m Qualification
If you don't believe us, well then take a look at the photo we got Saturday of him leaving the Nike box. Multiple sources have indicated that they saw Bock in the Nike box on Friday as well.
It's shameful that the VIPs in the Nike suite at a minimum are guilty of looking the other way as Block cheered on his supposed former client - the Nike sponsored - Carmelita Jeter in the women's 200 prelims and finals. Jeter is the reigning world champion at 100 meters and won the US trials in the 100 and was the runner-up in the 200. The picture to the left is of Block leaving the Nike box with a smile on his face after Jeter's runner-up showing in the 200.
When asked, USATF spokesperson Jill Geer told us that Block wasn't credentialed at the meet and USATF has no control over who buys tickets. However, this isn't a matter of possessing a ticket - this is an issue of USATF's #1 sponsor, an official USOC sponsor, Nike, welcoming a man who is supposed to be banned from the sport for ten years into their VIP box.
Geer gave us the cell phone # of a Nike PR person who we reached out to for comment on Saturday but never heard back from.
After the women's 200 final was over, LetsRun.com co-founder Robert Johnson watched Block wait next to an opening in a fence that keeps the fans away the area where the athletes walk from the track to the press area as presumably Block was hoping to get to see Jeter. After Jeter came by without noticing Block, Johnson asked Block about what he was doing at the premiere US meet of a sport that he is supposedly banned from for 10 years.
Block put his head down and didn't say a word as Johnson asked him about what he was doing at the meet, what he thought of Jeter's victory and whether he thought it was appropriate that he was in the Nike hospitality tent despite having a 10-year ban (video embedded below).
What Is Block's Role In The Sport Today?
After one gets over the initial outrage of Block being accepted into the Nike box, the question really is: What is the current extent of Mr. Block's involvement in the sport? Remember he is supposed to be in the midst of a 10-year ban.
Another source told us said Block has been seen at many of the major meets this year - at least in the major meet hotels - holding court. A fourth source told us that Block was in Daegu, South Korea last year during the world championships while they were going on in Daegu. Now logic tell us that one probably doesn't go all over the globe, spending thousands of dollars unless you are still involved in the business side of the sport of track and field.
Forget about whether Mark Block is still involved with doping. This man is not supposed to be involved with the sport at all. Did Block sell his partnership in his agency Total Sports Management? Is he still involved with the sport behind the scenes as an agent or coach? Is he still involved with Jeter? Why are so many in the sport - whether it's Nike, coaches, athletes, or agents who have all presumably also seen Block during his ban- still willing to look the other way?
We don't know but we do know one thing - it's disgraceful he was in the Nike box on Friday and Saturday. The sports biggest sponsor sets a tone and welcoming people with a 10-year doping ban is not something an official USOC sponsor should be doing.
Jeter's Response
In the post-race press conference after the 200m final on Saturday (video embedded below), we asked Jeter what her relationship with Mark Block is and she replied. "I'm with Total Sports and my agent is Chris Layne and I don't know where that question is coming from."

We explained to Jeter that Block been seen at in the Nike hospitality suite and asked her if she thought that was appropriate.
Jeter said, "My agent is Chris Layne. Thank you."
Block's Role in BALCO
Block was no small fry in the BALCO scandal.
According the AAA decision against Block, the agent/coach admitted to paying Victor Conte for "the clear", "the cream", modafinil and EPO and he admitted to doping his wife, the two-time world champ (1997 at 200m, 2001 at 100m), Zhanna Pintusevich-Block, with modafinil. His wife was subsequently banned from the sport for two years herself.
In his defense, Block tried the novel excuse of saying that in the many emails between himself and Victor Conte where doping was discussed that Block was simply lying to Conte - a man whom he admitted to paying for drugs.
USADA's Response
Before publishing this story, we contacted the USADA to let them know about what we witnessed over the weekend and try to see if they'd like to make a statement and to see if Block was now in violation of his 10-year ban from the sport. USADA media relations manager Annie Skinner issued the following statement: "We have received reports and are reviewing the information to determine if Mr. Block has violated the terms of his sanction. If a violation has occurred, USADA will take appropriate action on behalf of clean athletes."
What's Next?
To be truthful, we hope this report raises everyone's ire and we plan on trying at a minimum to hold the feet of Nike and USATF and its new head Max Siegel to the fire until everyone pledges these type of actions won't be tolerated in the future. But many in the sport also deserve scorn. Why haven't other coaches, agents, athletes, and sponsors who've seen Block hanging around said something before now?
If you are as outraged as we are by this development, then get active and help raise awareness via email, twitter, facebook, etc.
---
Comments, questions, suggestions, or a tip? Email us or call LetsRun.com at 607-330-4786.

Editor's Note: LetsRun.com has long had a history of being an organization unwilling to look the other way on doping related issues. Way back in 2002, LetsRun.com's Robert Johnson asked Regina Jacobs some drug related questions long before she was ever nailed for using THG in the BALCO scandal.
More: MB Discussion: Why Was A Man With A 10-Year Doping Ban Enjoying The 2012 US Olympic Track & Field Trials From The Nike Sky Box?

Mark Block Refusing To Talk About Being At Meet
& In Nike VIP Suite


Post-Race Press Conference Where Carmelita Jeter Deflects Block Questions