MB: Official Day 6 Live DIscussion Thread: Take your Pick!! Bolt v Gatlin @200, Taylor v. PPP in TJ + W400 + W800 Semis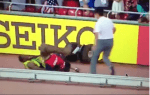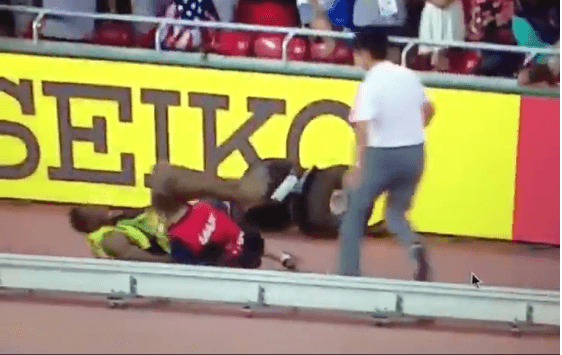 LRC Usain Bolt Crushes Justin Gatlin In 200 Then Gets RUN OVER By Cameraman On Segway Fortunately Bolt appears okay. 19.55 for Bolt. 19.74 for Gatlin.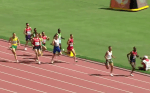 LRC Thursday AM: Souleiman OUT Of 1,500 As All 3 Americans Advance, American Women Disappoint In 5k The big news was Ayanleh Souleiman pulling up with injury in the 1,500 as Matt Centrowitz looked great in qualifying. Nicole Tully advanced for the US in the 5k but did not run great.
*Interviews With: Centro, Manzano, Andrews, Willis, Tully, Hall, D'Agostino and more in our article or on YouTube channel.
Thursday AM: MB: Official Thursday AM/Wednesday Night Live Discussion Thread (M1,500 and W5k Heats) and Women's 5k Preview
*FLASH: Men's 1,500 Round 1 All 3 Americans Make Semis: SOULEIMAN OUT
*CENTROS MEDAL CHANCES JUST SKYROCKETED
*It's all on Centro's Shoulders…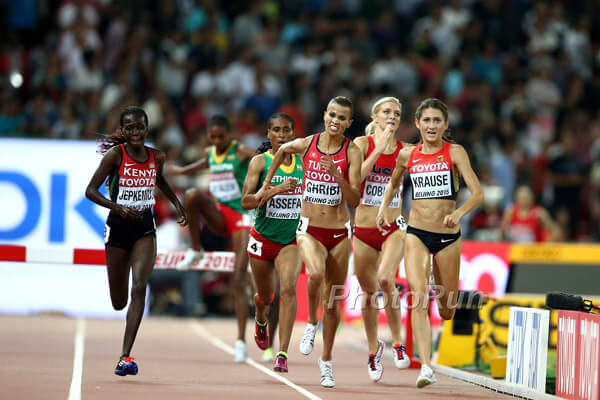 LRC Kenya's Hyvin Kiyeng Wins Wild Steeple As Emma Coburn Settles For Fifth 5 women in contention for gold with 100 to go. Coburn: "I'm bummed … I thought I could medal. I was confident that I could. … I just got to keep at it and come away with some hardware in Rio."
Day 5 MB: Official Wed. Day 5 Live Discussion Thread: Women's Steeple, Men's 400, Women's 400H Finals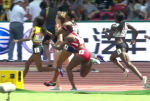 LRC Day 5 Morning Session: Disaster For Alysia Montaño And Close Calls For BMart And Ludlow; All 3 Americans Through To Men's 5,000 Final It was a devastating morning for Alysia Montaño, whose bid for a much-deserved global medal came to a halt before it really even got started when she went sprawling to the track. Caster Semenya barely squeaked in – oh, wait … she had the 3rd best time of the day.  It was a much better morning for Ryan Hill, Galen Rupp and Ben True.
LRC Marquis Dendy Talks After Failing To Make Finals In Long Jump At 2015 IAAF Worlds – Hopes Beijing Flop Will Fuel Him To Double Olympic Gold The US struggles in the sprints/jumps continued as both Marquis Dendy and Will Claye failed to make the triple jump final.
Bird's Nest Jumps And Throws
More Worlds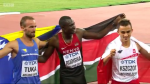 LRC One-Page Recap Of Tuesday's Day 4 Action At 2015 Worlds Rudisha won the 800 and his countryman won the 400m hurdles, Genzebe Dibaba hit burst mode, Greg Rutherford got a Worlds gold, and Justin Gatlin and Usain Bolt cruised in round 1 of the 200.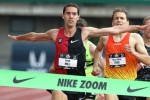 Starting Wed: LRC 2015 Worlds Men's 5,000 Preview: Should We Hand Mo Farah The Gold Right Now? Can Ryan Hill, Ben True Or Galen Rupp Become The First American-Born Athlete To Medal In History? We break it down for you.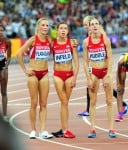 Day 3 Is Complete LRC Agony & Ecstasy In The Women's 10,000: Molly Huddle Gives The Bronze Away To Emily Infeld As Vivian Cheruiyot Wins Gold Once Again Huddle had the bronze until the final step, when she slowed down to throw up her arms, allowing Infeld to sneak by on the inside. Overall, it was a fantastic race for the Americans (Shalane Flanagan was the other), as they went 3-4-6.
LRC Ezekiel Kemboi Cements Status As Greatest Of All Time; Evan Jager's Medal Hopes Come Up Short There were doubts surrounding Kemboi's fitness this year, but once Worlds came around, he did what he always does, blowing away the field over the final 200 to win in 8:11.28. Conseslus Kipruto managed second despite tearing his shoe on the final water jump, while Brimin Kipruto (3rd) and Jairus Birech (4th) helped produced an unprecedented 1-4 sweep for Kenya. Dan Huling (5th) was the top American as Evan Jager (6th) and Donn Cabral (10th) struggled.
MB: Huddle Celebrates Too Soon, EMILY INFELD GETS BRONZE
*Ezekiel Kemboi 5th straight major win Evan Jager 6th.
*Schippers 10.83!!!!!! SAFP 10.76 for gold.
*Official Day 3 Live Discussion Thread: Molly Huddle and Evan Jager go for medals – can they do it?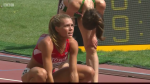 LRC History In The Steeplechase: The US Will Send Three Women To The Final For The First Time Ever It was a great morning for the US women in the steeple as two years after sending zero to the final, Team USA will be sending three to the final for the first time ever.
*MB: Steeple Talk
Worlds Monday On One Page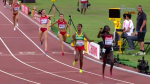 LRC Short On Time? One-Page Recap Of All Of Monday's Action At 2015 Worlds Drama in the 10k, greatness in the steeple and the 100, collegian Shawn Barber winning the pole vault, plus some developments in the qualifying. We recap it all in quick fashion in one article. *Interview With Barber
Day 2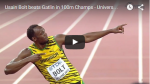 LRC He Is The Greatest: The Incomparable Usain Bolt Wins 5th Global 100 Title As Justin Gatlin Can't Keep It Together In Final Meters Bolt barely made the final after stumbling in the semis but he showed the resilience that makes him the Greatest of All Time by running 9.79 in the final to edge Gatlin by .01. Gatlin led most of the way but he couldn't hold his form once Bolt caught him in the final 10 meters and had to settle for silver. The battle for bronze between college stars De Grasse and Bromell was even closer.
Video Of Men's 100m Final: Usain Bolt Defeats Justin Gatlin 9.79 To 9.80 (Or Did Gatlin Give It Away)? You can rewatch it and decide. Full coverage from Sunday coming. US visitors only.
Shocking Developments In Men's 800 LRC Three Thoughts After Men's 800 Semis – Amos And Aman Go Home Early, David Rudisha Most Certainly Stays And The Amazing Year Of Clayton Murphy Comes To An End 
*After Season Of His Life, Clayton Murphy Gets Some Attention From Grantland.com Their headline: "Running Man: Clayton Murphy On Junk Food, Passports, And Replacing Nick Symmonds"
*MB: US distance runner gets some pub on Grantland.com – You'll never guess who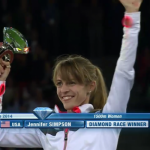 LRC Three Thoughts After Women's 1,500 Semis – A Medal Of Any Color Won't Be Easy For Simpson Or Rowbury; Kerri Gallagher And Lauren Johnson Should Be Proud; And The African-Born Runners Have Been Foolish Jenny Simpson and Shannon Rowbury both auto qualified to Tuesday's final but they are going to have their hands full as the African-born runners are looking great.
Saturday Photo Gallery (224 Photos)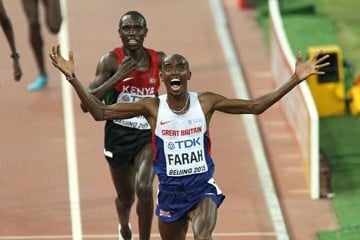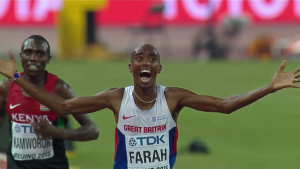 Day 1 In The Books: LRC Kenyan Team Tactics Not Enough To Stop The Invincible Mo Farah In Men's 10,000 – Farah Wins 6th Global Track Title At last, the Kenyans gave the fans what they wanted – a relentless assault on Mo Farah. In the end, it didn't matter as Farah overcame the spirited team challenge to win 27:01 as Kenya was rewarded with the 2-3-4 placings. Galen Rupp ran the 4th-fastest time (27:08) in American history to finish 5th. *Video highlights
*MB: Official 2015 Worlds Men's 10,000 Discussion Thread
*MB: Mo Farah – What a talent!!! 
*Independent On Farah's Win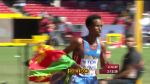 Saturday Morning: LRC 2015 Worlds Marathon: Stars Fizzle As 19-Year-Old Ghirmay Ghebrselassie Wins Eritrea's First Gold, A 2:16 Guy Goes For It, And The Top 10 DON'T KNOW WHERE THE FINISH IS A 2:16 marathoner broke away from the world's best, but he could not hang on as Eritrea got its first Worlds gold ever as the top 10 did not know where the finish was. *AP Recap Of 1st Session: After A Big Surprise In Marathon, Rudisha, Ennis-Hill Restore Normalcy At World Championships
*RRW: 19-Year-Old Ghirmay Ghebreslassie Surprises As Youngest-Ever World Marathon Champ
More IAAF / IOC Political Stuff
Gatlin Is NOT A 2-Time Cheat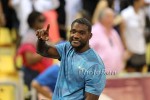 LRC Everything You Need To Know About Justin Gatlin's Drug Positives Before His Showdown With Bolt, Including His Dad Got A Gun And Wanted To Kill Trevor Graham In a LetsRun first, we show some sympathy for Justin Gatlin, reveal how his dad intended to kill Trevor Graham when he heard his son tested positive (as part of an April Fool's Prank), and how Gatlin's own agent didn't buy the Chris Whetstine sabotage story. Plus, we go on the the record and say Gatlin should never have been banned 4 years.
Seb Coe For IAAF President
Book Reviews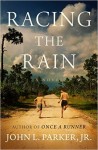 LRC Book Review Of Once a Runner Prequel Racing the Rain By John L. Parker, Jr. – "It works and has the potential to draw a new audience into Once a Runner." Racing the Rain isn't about Quenton Cassidy's development as a runner, but rather his development into a runner. The novel opens by introducing a second-grade Cassidy and concludes with the miler moving into his familiar room in Southeastern University's Doobey Hall. In between, Parker's sharp prose richly describes what it was like to grow up a middle-class baby boomer on Florida's Gold Coast.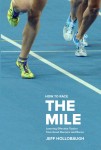 LRC Book Review: How to Race the Mile By Jeff Hollobaugh – "A terrific resource for younger runners." And "… also a great read for even the expert fan." We recommend the book, which is a comprehensive look at the mile from the 19th century to the present and is full of rich race histories.

Want a Better Running Shoe?
Beta Better Running Shoe Site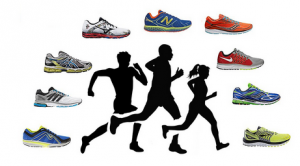 It's Time to Change How We Find Running Shoes