Lehigh Valley Got It Wrong: The Evidence Is Conclusive: Mike Rossi – The Viral Boston Marathon Dad – Is A Marathon Cheat And Should Never Have Been On The Starting Line In Boston
The 3:11:45 Marathon Qualifying Time That Rossi Put Up At The 2014 Lehigh Valley Marathon Was Too Good To Be True
by LetsRun.com
July 16, 2015
(Editor's note: We were about to publish this story six plus weeks ago when we got an emailed statement from the organizers of the Lehigh Valley Marathon that they for now won't be disqualifying Mike Rossi. We address that development at the end of the article, but let us say it is an affront to everyone who has legitimately qualified for the Boston Marathon that Lehigh Valley did not disqualify Mike Rossi when the evidence is overwhelming that Mike Rossi did not run the entire 2014 Lehigh Valley Marathon. The integrity of our sport is very important and for that reason Mike Rossi needs to be disqualified from the 2014 Lehigh Valley Marathon).
Article continues below player
Like our coverage from Albuquerque?
*We Have New Article Published December 1, 2015: LRC Did Mike Rossi – The Viral Marathon Dad – Try To Cheat LetsRun.com Out Of $10,000 On Saturday?
By now, many of you have heard of Mike Rossi – the Viral Marathon Dad. The 47-year-old Pennsylvania resident gained international fame when he posted a proposed snarky response on Facebook to a letter he received from the principal at his kids' school scolding him for their unexcused absences before and after the 2015 Boston Marathon.
Rossi's letter began,
Dear Madam Principal,
While I appreciate your concern for our children's education, I can promise you they learned as much in the five days we were in Boston as they would in an entire year in school. Our children had a once-in-a-lifetime experience, one that can't be duplicated in a classroom or read in a book.
and included this statement
They watched their father overcome, injury, bad weather, the death of a loved one and many other obstacles to achieve an important personal goal.
and before you knew it Rossi was doing television interviews and being featured in newspaper/Internet articles all over the world.
There is one big problem for Mr. Rossi. Mike Rossi didn't legitimately qualify for the 2015 Boston Marathon and thus didn't legitimately "achieve an important personal goal" of qualifying for and running in the Boston Marathon.
Let us be clear: The evidence is overwhelming that Mike Rossi cheated his way into the 2015 Boston Marathon by cutting the course at the 2014 Lehigh Valley Marathon where he was given a 3:11:45 finishing time and he should be DQ'd from Lehigh Valley.
Rossi should never have been on the starting line at the 2015 Boston Marathon as the evidence is overwhelming that he didn't legitimately qualify for the race (or go through the process to secure a charity entry).
After questions about Rossi's qualification started to gain momentum online, the press has covered it but their articles have beaten around the bush by asking if Rossi legitimately qualified. The hemming and hawing has driven us nuts. There should be zero doubt in the mind of any rational person who understands running and physiology that Mike Rossi, like Rosie Ruiz before him, is a marathon cheat.
How do we know? Very simply.
1) Mike Rossi's running background clearly indicates he was not physically capable of running a 3:11:45 marathon.
2) Mike Rossi is the only finisher in the marathon who was not photographed on the course.
3) Mike Rossi has provided zero evidence to support his assertion that he overcame Powerball odds and ran the race of his life while managing not to be seen on the course at Lehigh Valley. In fact, some of his social media posts incriminate himself.
Let us explain.
1) Mike Rossi's running background clearly indicates he was not physically capable of running a 3:11:45 marathon.
According to Athlinks an Internet website that track race performances, Rossi, a frequent racer who had 13 races in 2014, went into the 2014 Lehigh Valley Marathon on September 7, 2014, with the following PRs at shorter distances.
5k – 21:52
Half Marathon – 1:40:42
Those two times are pretty close to each other on equivalency charts. His half-marathon personal best is slightly better in equivalent terms than his 5k PR as 1:40:42 is equivalent to a 21:45 5k according to coach Greg McMillan's conversion calculator. But a 1:40:42 half-marathon/21:45 for 5k is only equivalent to 3:31:56 for the full marathon.
The problem for Rossi is that it's physically impossible for someone with 21:52 5k or 1:41:15 half marathon fitness level to have the "race of their lives" and run 3:11:45 for the marathon. A 21:52 5k comes out to 7:02.3 mile pace. A 3:11:45 marathon comes out to 7:18.8. Physiologically, humans can't run a marathon only 15.5 seconds per mile slower than they can run a 5k. The world record for the marathon is 37.9 seconds per mile slower than the world record for 5k.
The fact that Rossi's supposed marathon PR pace is 22.4 seconds per mile faster than the WR difference may not seem like a lot for a non-runner but it's an eternity to people who understand the sport.
"I've been working with runners at all levels for the last ten years," wrote professional coach Ben Rosario, head of the HOKA One One Northern Arizona Elite professional team in Flagstaff, Arizona. "I've certainly seen the type of athlete that is super endurance-oriented. The type whose times are faster, comparatively, as he or she goes up in distance. But to imagine that someone could run a marathon just 15 seconds slower per mile than their 5k race pace is physically impossible and I feel very comfortable saying that. The strongest runner I've ever been around was (Olympic marathoner) Brian Sell and even with a 5k PR barely under 14 minutes, his marathon PR was still 30 seconds per mile slower than that 5k pace. At fifteen seconds slower he'd have run 2:04. That wasn't going to happen."
Exercise physiologist and coach Greg McMillan was also skeptical as he wrote, "When we test runners in the lab and what is observed in the real world is a relationship between race pace and race distance. As race distance increases, race pace slows. While there can be slight differences in just how much a runner slows as the race distance increases as compared to another runner, experts have seen that there is a somewhat predictable slow down from 5K pace to marathon pace, even in the very best runners in the world. The energetics required to run near 5K pace cannot be maintained for the marathon distance. Too much of the limited fuel stores will be used and performance limiting by-products will accumulate."
If you don't believe the coaches, maybe stats will convince you.
With some help from the people that visit our message boards, we took a look at the 10 people who finished directly in front of and behind Rossi at Lehigh Valley. As shown in this spreadsheet, they all have put up times significantly faster than Rossi in recent months at either 5k, 13.1 or 26.2. All of them had recently run at least one of the following times in another race besides Lehigh Valley — a 5k in 20:12 or faster (Rossi has only run 21:52 — 32.2 seconds per mile slower), half marathon in 1:30:36 or faster (Rossi has only run 1:40:42 — 46.2 seconds per mile slower), or a marathon in 3:21:44 or faster (Rossi's second-best marathon is just 3:43.52 — that's 50.7 seconds per mile slower).
Rossi's personal bests (and training history as we talk about below) clearly show that he's not even remotely close to being a 3:11:45 marathoner.
Message board poster "GregTR" looked at Mike Rossi's race results on his (now deleted) Athlinks account, converted them to their equivalent marathon time and did a statistical analysis of how likely, or should we say unlikely, it is that Rossi ran 3:11:45.
I have excluded the Via Marathon (red) and his bottom 3 races in terms of performance then looked at the averages of his races and their marathon equivalences. His average estimated marathon effort would be a 3:38:29 with a standard deviation of 7:47. What it means that running almost 27 minutes faster than the average performance is statistically improbable. This includes his performances before and after the Via Marathon at any and all distances. For someone to go from and average 62.3% age graded performance to 70.2% overnight on a hot marathon day is nothing short of a miracle.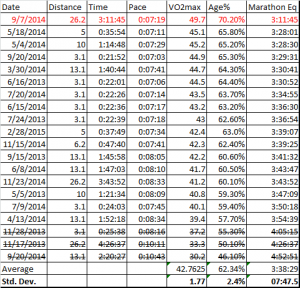 A miracle indeed. When another messageboard poster asked "GregTR" why Rossi didn't run something closer to the Boston qualifying time of 3:25 so it wouldn't be so obvious that he cheated, "GregTR" snarkily replied, "A 3:19 would bring it down from 4 std deviations to 3 std deviations from his previous race indicated performance average. So it would go from 99.9937% improbable to 99.73% improbable."
2) There is no evidence showing Mike Rossi ran the entire Lehigh Valley course.
While we've established that it literally would have taken a miracle for someone of Rossi's fitness level to run 3:11:45, we know a few non-runners may not accept point #1. They want to believe Rossi went out and had a miracle run. If that is the case and Mike Rossi did not cut the course then how come he did not show up any at of the seven photographic checkpoints on the course?
The Lehigh Valley Marathon didn't have timing mats in the middle of its course in 2014. They only used timing mats at the start and finish of its race and thus would be an ideal race to cut the course. Thus if one is looking for proof of people actually running the course, they need to check the photographs that the official race photographers took.
The photographers only make money if people buy the photographs so they take a lot of photographs. Out on the course, not counting the finish line photos where Rossi shows up, they took roughly 8,000 photos. Rossi doesn't appear in a single one of them besides the ones taken at the finish line (where there is both a video and still camera).
"But they miss a lot of runners," you say.
No they do not.
We created a spreadsheet where we listed the 50 finishers in the race directly before and after Rossi at the 2014 Lehigh Valley Marathon (100 people in total) and the LetsRun.com community then looked to see if all of these runners appeared in non-finish line photos. They did indeed.
In fact, all 100 of the finishers closest to Mr. Rossi showed up in photos at least twice out on the course (three times counting the finish) but Rossi was only present at the finish.
Message board poster "Mileage Man" calculated how unlikely it was that Rossi actually ran the race but didn't show up in a photo/video:
I calculated the mean and standard deviation of the "number of different locations on the course where a given runner was seen" for the 100 runners closest to Mr. Rossi. The lowest number of locations was 3, the highest was 7, and the average was 4.66 locations. The standard deviation was 0.97 locations.
I then performed a z-test, which means I assumed the data were normally distributed, and then computed the probability that Mr. Rossi would only have been pictured at the finish line assuming that he actually ran the race. (See "statistical analysis" tab of the spreadsheet for more details). The result was about 1 in 11,190.
So Rossi defied both 1/11,190 photo odds and the laws of physiology (way rarer than 1 in 11,190) in managing to run 3:11:45 at Lehigh Valley?
No way. The odds of winning the Powerball lottery might actually be lower than the odds that Mike Rossi had one of the if not the most amazing races in running history and was the only marathon finisher at Lehigh Valley not seen in a photo in the middle of the course. We're serious. If the odds of him physiologically having a miracle day are greater than 1/15,658 and the odds of not being in the photos is indeed 1/11,190, then it's easier to hit the Powerball than it would be for Rossi and have a miracle day AND not get photographed doing it.
If that isn't enough to convince you, here's some more info. LetsRun.com poster "justAnumbersGUY" created a computer program that ran the bib numbers of all 1,065 finishers of the 2014 Lehigh Valley Marathon through the photographer's website to see if any of them weren't listed as having a photograph out on the course besides Rossi. 23 names including Rossi showed up, but a manual search of the race photos in "lost and found" (which is where photos show up if your bib is covered/missing, etc) found all 22 of the people not named Rossi (and didn't find Rossi). Thus every single finisher of the 2014 Lehigh Valley Marathon was photographed out on the course except for Mike Rossi.
Every single finisher of the 2014 Lehigh Valley Marathon was photographed out on the course except for Mike Rossi.
Additionally, members of the LetsRun.com community have taken a close look at several of the photographed checkpoints that included time stamps on their photos. There is a nearly continuous run of photos at at least three checkpoints. For example, research by messageboard poster "Raysism" reveals that at one of the photo checkpoints there was on average more than 48 photos published per minute for a 13-minute stretch during which Rossi would have to run by the checkpoint (with the fewest photos in any one minute stretch being 40 photos). As shown here, all of the 20 closest finishers to Rossi (in terms of place, 10 ahead, 10 behind) were spotted at all three checkpoints and yet Mr. Rossi is absent from all three.
A picture or video sometimes is worth a thousand words. LRC posters "ConcernedBQer" and Tony Rigdon made a video that takes all of the pictures of the top 200 finishers at the second photo station around mile 7 and shows that Mike Rossi is the only one who doesn't have his picture taken. The video is below: (When a person is shown they are crossed out in green. The only person in the top 200 not shown at mile 7 is Mike Rossi.)
ConcernedBQer made a longer video that shows how often the top 200 runners showed up at all the photo checkpoints during the course.
When one factors in the lack of Rossi photos on the course plus the fact that Rossi often posed for photographers at other races (as shown below)
and that his bib was clearly shown when he crossed the finish line at Lehigh Valley
there is only one conclusion to draw – Mike Rossi didn't show up in any mid-race photos at Lehigh Valley because he didn't run the full distance.
Additionally, it's VERY ODD that Rossi barely talked about his amazing Boston qualifier on his website or social media. Why wouldn't a guy that has his own website and is all over Facebook and Twitter give a detailed breakdown of a race that would be one of the most amazing performances in the history of running?
3) Mike Rossi has provided zero evidence to support his assertion that he overcame Powerball odds and ran the race of his life while managing not to be seen on the course at Lehigh Valley. In fact, some of his social media posts incriminate himself.
Since questions started to arise about Rossi's qualifier, he's defended himself with two arguments.
i) He's claimed he wasn't going all out in his prep races prior to Lehigh Valley.
When asked to explain how he could run 3:11:45 when none of his other races indicated he was capable of a time anywhere close to this, Rossi has responded by saying that "Many of my races were run for fun or were performed while I had documented injuries."
There are lots of reasons to not believe this statement. Rossi's implication that he wasn't trying in many of his races is contradicted by many of his own statements on the Internet. Before Lehigh Valley, he wrote on Facebook, "I'm going to give it my all (as is the case in everything I do)."
In February, Rossi ran a 5-miler in 37:49 (which equates to a 22:48 5k, 1:45:36 half-marathon and 3:42:14 marathon according to McMillan) and expressed disappointment with the time after the race.
In November 2014, 10 weeks after Lehigh Valley, Rossi ran his fastest time ever for a full marathon that had timing mats along the course at the Philadelphia Marathon. His time? 3:43:52 (8:32.3 mile pace). Rossi's post-Philly comments on his now taken-down blog after the race are particularly damning. For starters, he expressed disappointment that he wasn't able to get a Boston qualifier (sub-3:25) so that's an indication that he indeed was trying but unable to come within 30 minutes of his previous marathon best.
Now here's the kicker. Even though Rossi ran more than 32 minutes slower than what he supposedly ran just 10 weeks before at Lehigh Valley, he stated that overall he was "happy" with his time — that's simply illogical for anyone who understands the sport. It's basically an inadvertent confession by Rossi to having cheated in Lehigh Valley and it's easy to understand why Rossi has now deleted his blog.
Here are Rossi's statements after Philly from the cached version of his blog:
After the 20 mile mark and turnaround on Main street it was back onto Kelly Drive.  My legs were very tired at this point, but my breathing was strong and I wasn't sweating at all.  I finally looked at my GPS watch and saw that I was not far from another BQ!
Then, around mile 22 I had to use the bathroom…and that crushed any chance of a BQ.  Bummer 🙁
I pressed on and really soaked in the last mile.  The crowds at the finish were awesome and I sprinted the last 1/2 mile to finish strong. 
Overall I was happy with my time and I cannot say enough about the volunteers, race organizers and the best sports fans in the world!  (Bold added by LetsRun.com)
The facts, as indicated by the chip timing, show that Rossi was never close to a BQ in Philly.
He hit 30K in 2:34:32 (8:17.4 mile pace), which any hardcore runner would know is A LONG way away from the 7:49.1 mile pace he needed to run to qualify for Boston. Again, if you're not a hardcore runner and are reading this, 27 seconds a mile may not sound like a lot but it's A TON. One other way to think of it is to realize that 27 seconds a mile is roughly the difference between an elite woman and elite man. The world record for the men (2:02:57) is 28.5 seconds per mile faster than the world record for the women (2:15:25). So even if you aren't a runner, unless you think an elite woman is going to win the men's Olympic gold medal, then you should realize that Rossi was nowhere near close to qualifying at Philly even at 30k like he said.
Yet when it was all said and done, he was saying, "Overall I was happy with my time." That statement by Rossi makes absolutely zero sense unless he cut the course at Lehigh Valley. And please realize, we're only talking about the 3:25 Boston qualifying time. Supposedly, at Lehigh Valley, Rossi crushed the 3:25:00 qualifying time by more than 13 minutes, running 3:11:45. That's 7:18.8 pace. Rossi ran 8:32.3 pace 10 weeks later and was "happy"? That makes zero sense.
ii) Secondly, Rossi has claimed that doesn't need to defend himself. "I don't need to prove I ran LV. Someone needs to prove I didn't," wrote Rossi on Facebook.

Mike, how are we supposed to prove you didn't do something? You can't really prove a negative. Prove to us George Washington didn't watch television. Please Mike, do it now.
Even if people find a photo of Rossi running off or on to the course at Lehigh Valley (and some people think this guy in the back with a blue jacket is Rossi walking off the course), Rossi could always say he was simply leaving the course to go or come back from going to the bathroom.
Given the fact that the odds of Rossi both running 3:11:45 and not being seen in a photograph might be greater than 1 in 175,000,000 it's clear the burden should shift to Rossi to provide some evidence that he's both the luckiest (running the most amazing race in the history of running) and unluckiest (not being photographed on the course) man in running history. So far, he has refused to do so.
---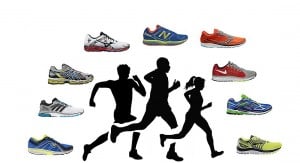 (Article Continues Below)
Looking for a Better Running Shoe?
Check out the New LetsRun.com Better Running Shoe Site
Real Reviews by Real Runners
---
How Could Mike Rossi Prove His Innocence?
There are number of ways Rossi could prove that he indeed hit the Powerball or at least might have hit it. Right now, there is ZERO reason to believe it.
i) He could try to show that cutting the course was logistically impossible.
That's clearly not the case. One could easily walk across the timing mat, start the race and be in their car and on Interstate 78 on their way to the park somewhere near the finish line within a few minutes as the start of the course is conveniently located right next to I-78.
ii) He could provide eyewitness accounts of people who saw him in the race.
Most people don't run a marathon with zero support. A friend or family member is normally out on the course cheering them on.
Additionally, often you run much of a race close to another competitor who can vouch that they saw you out on the course. So far, there are no reports of anyone claiming they saw Rossi out on the middle of the course.
iii) He could provide GPS data or training logs indicating he was capable of running something close 3:11:45.
Rossi owns a GPS watch and often trained with it so he should have lots of data showing he was capable of running 3:11:45 and supporting his assertion that he wasn't trying in his races.
Rossi's claim that he wasn't going all out in races except for Lehigh Valley aren't supported by many contemporaneous statements of his when he ran the races. Nonetheless, he could easily prove that he was just running them as fun runs or training through them by providing his training data.
If someone is in 3:11:45 marathon shape, it means that their lactate threshold is under 6:50 per mile (6:47 according to Jack Daniels). That means Rossi would have been able to do 20-minute tempo runs — a staple of virtually all serious runners' training — at sub-6:50 pace, certainly sub-7:00 pace. If Rossi really ran 3:11:45, Rossi should easily have been able to run a 5k in roughly 21:00 (6:50 is 21:14 pace) in practice. Rossi should have ample GPS evidence of training runs like this but the few training runs he's shown on the Internet show nothing close to that.
The fact that his 5k PR is only 21:52 wouldn't mean much if Rossi was regularly running 21:00 in practice.
Mr. Rossi has said he has the data and will provide it if he is DQ'd from Lehigh Valley.
We are sure it's just a matter of time before we see it (sarcasm).
We reached out to Mr. Rossi to let him know of the pending publication of this article and asking him for evidence supporting his assertion that he ran the race. The fact that he would have the evidence but not want to provide it seems illogical. Our email was met with a reply from a lawyer who has been "retained to investigate and prosecute any and all claims of defamation arising from false allegations of competition cheating made against my client (Mr. Rossi)."
In a subsequent conversation with the lawyer, he said that Mr. Rossi "has identified at least 6 photos, (and) a possible a 7th photo where he thinks he's in the image of people running on the course." Conveniently, neither the lawyer nor Mr. Rossi would provide us with the photos or links to the photos.
Lehigh Valley Takes Easy Way Out and Doesn't Disqualify Mike Rossi
Just as we were about to publish this article nearly seven weeks ago, we received a statement from Lisa Walkiewicz, the Vice President of Communications for Via of the Lehigh Valley, stating that the marathon had decided not to DQ Mr. Rossi simply because they received no reports of wrongdoing as the race took place. Here is their statement:
After a thorough review of the available evidence in relation to Mike Rossi's participation in the 2014 Lehigh Valley Health Network Via Marathon, the Marathon committee concluded that while there is data from Rossi's participation in other racing events indicating that Rossi's time may not be accurate, there is not conclusive evidence that his time in the 2014 LVHN Via Marathon is inaccurate.  The LVHN Via Marathon has not received any reports from the more 2,500 race participants, thousands of spectators, and more than 600 volunteers, course marshals, security personnel, medical personnel or race officials on the course of any wrong doing by any runner.  Therefore the LVHN Via Marathon Committee concluded that Rossi will not be disqualified unless additional conclusive information arises in the future.
Moving forward the LVHN Via Marathon has taken several action steps to verify runner participation and provide the utmost accuracy in timing and scoring the race for all runners.  For the 2015 LVHN Via Marathon, the course will have a minimum of six timing mats – at the start, finish line and four additional on-course locations.  In addition, there will be video surveillance of the course at several locations which Via will archive annually.
The Lehigh Valley Health Network Via Marathon is proud to be a Boston Marathon Qualifying event and will continue to support this race by providing athletes the opportunity to be a part of this longstanding tradition.  The LVHN Via Marathon appreciates the running community's support and vigilance in ensuring the integrity of our race and looks forward to continuing to provide a high quality racing experience.
That statement by the marathon organizers is logically flawed. Imagine if the police in this country weren't allow to charge people with burglary simply because it wasn't reported while it was happening – crime would be even more of a problem than it already is.
When one considers that it's physiologically improbable to say the least (we'd say impossible) that Mr. Rossi was even capable of running 3:11:45 with the fact that he wasn't seen in a single photo on the course, the burden of proof should have shifted to Mr. Rossi to provide some shred of evidence that he ran the race (GPS data, photos, statements from fellow competitors, spectators or family members, etc.) or was at least physically capable of something close 3:11:45 (training logs, GPS data, statements from training partners), particularly when one considers that his own contemporaneous statements contradict his initial explanation (of not running hard in many races) for his amazing 3:11:45 time.
We understand why Lehigh Valley didn't DQ Mr. Rossi. They took the easy and safe way out. When we contacted the marathon, we got a response from Via of the Lehigh Valley which is "a non-profit agency that provides services for children and adults with disabilities like autism, cerebral palsy and Down syndrome." The owners of the race are focused on raising money for their non-profit, not the integrity of the sport. They no doubt don't want to face a potential unfounded defamation lawsuit from Mr. Rossi. We hope that they reconsider their decision but understand why they made the decision they did. When we reached out to author and motivational speaker Bart Yasso, who founded the race and then gave it to Via, for comment on the Rossi situation, he summed up the situation very well, "I have the same statement for everybody when they ask me. 'The people at Via, their job is to work with the disabled citizens of the Lehigh Valley. I don't want them wasting time on Mike Rossi.'"
For us at LetsRun.com, the integrity of our beloved sport is at stake here, and we and a lot of our visitors have devoted a lot of time on Mike Rossi and the evidence is conclusive – Mike Rossi did not legitimately qualify for the 2015 Boston Marathon. The Lehigh Valley Marathon may be a charitable endeavor, but it is first and foremost a race, and it should reverse its course and disqualify Mr. Rossi.
Whether or not Lehigh Valley decides to reconsider its Rossi decision, we are fully confident that Mr. Rossi cut the course in Lehigh Valley.
How confident? We will give Mr. Rossi $10,000 if he breaks 3:25 in the marathon (standard course) in the next 12 months. That's nearly 20 seconds a miler slower than his "official" PR. Update on 7/17/2015: We will pay him $100,000 if he runs 3:11:45 on a legitimate records-eligible course in the next 12 months where we have advanced notice of his participation ($10,000 per year for 10 years). A media outlet interviewed us today and asked about how the 3:25 challenge came about and we said, "We tried to come up with a time that was at least theoretically possible to preemptively rule out his excuse of, 'I can't be expected to have the race of my life once again.'"
Now, we know it's possible he'll say he is injured and doesn't have the time/motivation to train for the marathon. So we'll also give him $10,000 if by the end of 2015 he breaks 70:00 in a standard 10-mile course or 20:00 for 5k. 70:00 for 10 miles is equivalent to 3:16:30 for the marathon according to McMillan and 20:00 for 5k is equivalent to 3:14:53 in marathon according to McMillan.
We'll pay $500 to see the Google location history of Mr. Rossi's phone (assuming it exists and was active all day) for September 7, 2014 (date of Lehigh Valley) as it should easily support his claim that he took a selfie of himself at the start, but turned his phone off during the marathon as the battery was about to die. We don't expect to see that as it was probably needed for GPS guidance as he drove from the start to somewhere near the finish.
We'll pay $500 to see the 6 or possibly 7 photos where Mr. Rossi's lawyer says his client says he is "in the image of people running on the course."
We think the money is safe as Mr. Rossi revealed he truly doesn't understand running in his letter to the principal when he wrote that Boston was a 'once-in-a-lifetime' experience. If one is truly a 3:11 marathoner, qualifying for Boston again (sub-3:25) should be very easy to do again in the future.
*****
Mike Rossi like all of us is a human who makes mistakes. Instead of confessing his mistakes and having a real learning moment for his children, he has doubled down in denial.  We'll gladly give $1,000 to the charity of Mike Rossi's choice if he admits he cut the course at the Lehigh Valley Marathon.
Instead, Rossi has turned to juvenile and/or threatening tactics on the internet. On June 7, the day after Tony Ridgon posted his video "Can You Find Marathon Cheater Mike Rossi???" on YouTube, Rossi tweeted this out (editor's note: Rossi deleted the original tweet once we published this article but screen shot is below)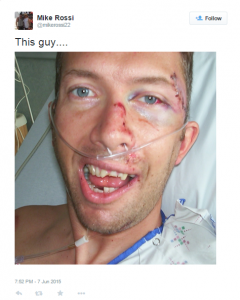 https://twitter.com/mikerossi22/status/607741871423680512
What's that? A picture of Tony Rigdon after he was nearly "killed by a van during a triathlon" and there was this tweet which could be viewed as threatening two hours earlier.
---
More: Discuss this topic on our fan forum. Here is the LetsRun.com messageboard thread where the LetsRun.com community has talked about and helped uncover Mike Rossi's cheating at Lehigh Valley (it had 3,830 posts when we published but now has more than 20,000): Did Mike Rossi (viral marathon dad) cheat his way into Boston? (the piece was published on page 556)

New Article From December 1, 2015: LRC Did Mike Rossi – The Viral Marathon Dad – Try To Cheat LetsRun.com Out Of $10,000 On Saturday?
*Spreadsheet detailing how everyone else in the race is photographed.

*Spreadsheet detailing Mike Rossi's contradictory statements on the Internet.
Or enjoy one some of the many classic Internet memes/Photoshop works of art that have arisen since Rossi's BQ has come into question.