Everything You Need To Know About Justin Gatlin's Drug Positives Before His Showdown With Bolt
by Weldon Johnson
August 21, 2015
(Editor's Note on August 5, 2017. After you read the article below, talk about today's 100 meter final on our fan forum / messageboard.
*DOWN GOES BOLT! / Justin Gatlin- The Champion track deserves
*"Dear London: Boo your f***ing self" – Justin Gatlin
*World Championships 100m: University of Tennessee Dominates
*What happens when Mo Farah or Usain Bolt gets beat at Worlds? 
*Usain Bolt Has Just Lost His First 100m Worlds SemiFinal Ever, Will He Lose the Final? )
The World Track and Field Championships in Beijing start off with a bang the first weekend with the much-anticipated men's 100m final Sunday (9:15 a.m. Eastern) and (hopefully) disgraced drug cheat Justin Gatlin of the USA taking on the sports hero, Usain Bolt.
It should be a tremendous match-up. Two superstars, one portrayed as good, one portrayed as evil, squaring off. Tim Layden of Sports Illustrated has a tremendous piece on Bolt vs Gatlin. If you want perspective on the race, read his piece. It is a must-read.
Article continues below player.
This piece is about Justin Gatlin and his return from his doping ban.
Justin Gatlin's success since returning from his four-year drug suspension is unprecedented in sport. Let's pause for a second. If Gatlin was an NFL player and he failed a drug test, he'd miss four games. After his positive test in 2006, he missed four years.
When Gatlin first returned from his ban, he was an afterthought. Now he is the top sprinter in the world and with that success comes scrutiny.
Gatlin has never admitted to knowingly taking steroids and does not want to talk about the "incident" in his past. Gatlin admitted to having exogenous testosterone in his body. His defense at his USADA hearing was a combination of pleading for leniency because he co-operated by recording phone conversations with his ex-coach Trevor Graham at the request of federal investigators and trying to claim the testosterone was secretly rubbed on him by masseuse Chris Whetstine.
At the Prefontaine meet this year, when I asked Justin Gatlin if he would admit to taking performance-enhancing drugs, he told me "If you are a history major you can go back in the archives and read those articles," as things got a little bit testy between us.
I actually was a history major and went back and read Gatlin's 947-page USADA hearing trial transcript and attempted to follow up with him at the USATF Championships a month later. Gatlin interrupted me and said, "Who you with? LetsRun?" and then said, "No comment."
Since Justin Gatlin won't comment on his doping trial, I'll have to.
The trial transcript is very interesting, and reveals some of the inner workings of the sprint world: how much Gatlin was making, what his team thought of other sprint groups, and more.
I'll save the details for after Worlds.
Beore Worlds, there are three points worth getting across – two in Gatlin's favor, one against him.
1) Justin Gatlin Shouldn't Be Called a Two-Time Drug Cheat
Everything in the trial points to Gatlin's first one-year suspension while he was in college being a travesty. The facts:
a) Gatlin had a well-documented diagnosis of ADD and had been taking Adderall to treat it for 10 years.
b) USADA advised athletes to discontinue ritalin usage before competition so it would not be in their system.
c) Gatlin did not like competing while taking Adderall because it made him feel sluggish, so he discontinued taking it three days before he tested positive. Yet he tested positive and was given a two-year suspension that was reduced to one year.
d) USADA admitted that "Mr. Gatlin neither cheated not intended to cheat."
With the circumstances above, it is an absolute travesty that Gatlin had to serve a drug suspension.
I want our anti-doping laws to catch cheats, not people caught up on a technicality. Justin Gatlin is not a two-time loser in the sport as Tim Layden points out in his excellent article from today.
Having said that, I firmly believe:
2) Justin Gatlin Firmly Deserved His Second Drug Suspension and Doesn't Deserve Your Sympathy
Nothing in the trial transcript proved Justin Gatlin was sabotaged by Chris Whetstine. Gatlin's team wasn't even going to call Whetstine as a witness, so USADA called him. Gatlin's team never called his coach, convicted doper Trevor Graham, as a witness. There is no evidence presented showing Gatlin knowingly doped, but a much more likely scenario than Gatlin being sabotaged was that he was being doped by his inner circle.
The Gatlin was sabotaged by Whetstine story was not Justin Gatlin's original idea, it originated from Trevor Graham himself, the man banned from the sport and who coached 11 athletes (Marion Jones, Tim Montgomery, Antonio Pettigrew, Jerome Young, Calvin and Alvin Harrison, Michelle Collins, Duane Ross, Latasha Jenkins among others, thread here) who would test positive and/or served drug suspension.
If Gatlin was clean under Graham, he would be the exception to the rule. The fact is, Gatlin continued to train with Graham after many of his athletes were busted for steroids. Gatlin may not have known what was going into his body, but instead of blaming Chris Whetstine for sabotaging him, how about accepting blame for continuing to associate with a coach closely linked to doping?
A few points:
a) Justin Gatlin's own agent, former world record holder in the hurdles Renaldo Nehemiah, did not believe the Whetstine sabotage story. When asked whether he believed the story when he first heard it, he testified, "No, no. I just felt it was too convenient." At the trial he also said, "My gut has always been until proven otherwise, that he (Trevor Graham) knows something about it. Whether he did it himself, I don't know, but I have always felt that between he and Chris, therein lies the answer."
b) Justin Gatlin admitted to getting shots from Trevor Graham's assistant coach Randall Evans, who was not a medical professional, yet his defense tried to go to great lengths to show Gatlin was very cautious about went in his body. That does not sound like someone careful about what he put in his body.
c) Justin Gatlin, the man so cautious about what he took, admits to taking brown or green pills. There is debate whether he called them"beans" (street slang for testosterone pills).
d) Justin Gatlin's dad at one point wanted to kill Trevor Graham when he thought Gatlin had tested positive previously. An interesting tidbit was that one April Fool's Day, some website had a joke that Gatlin had tested positive (the LRC April Fool's Day pages are legendary, but we went though the archives and it wasn't on our site). Gatlin's dad read it and believed it. It definitely was not a joking matter to him. What did he do? According to Gatlin's mom, when she got home, Gatlin's dad was "packing his gun" and "he was headed to kill Trevor Graham." If Gatlin's dad thought Trevor Graham might be behind Gatlin's positive, why shouldn't we?
3) It's Unfair that Tyson Gay Has Been Welcomed Back to the Sport While Justin Gatlin Has Been Castigated for a Similar Offense
In 2013, Tyson Gay tested positive for the presence of an exogenous anabolic steroid. While that's not the same substance as Gatlin ("testosterone or its precursors") in terms of severity, it's pretty similar. Most people would agree that two people who test positive for those substances should receive the same ban.
But because Gatlin had already served a doping ban (we explained earlier how that was harsh) and Gay cooperated with USADA and provided evidence against his coach, Gatlin served a four-year ban while Gay only had to sit out for one year.
Additionally, Tyson Gay has been welcomed back in the sport much more so than Justin Gatlin since returning from his ban, and that does not make sense. If Gatlin wants some sympathy, he should follow Tyson Gay's lead.
First, he should follow the Tyson Gay route and at least show some contrition.
Gatlin has been unrepentant during his comeback. America is very forgiving of people who admit their wrongs, but Gatlin has never done that publicly. At his trial, he did say, "I just think I was born to run, and that's what I want to do, and I didn't really want to have no part in doing anything that was to harm my country or deface my country, and I apologize for that."
If Gatlin would try that route publicly, he might get somewhere.
Another thing Tyson Gay did is blame his coach Jon Drummond for getting him to take some things he didn't know were banned. USADA accepted the explanation, giving him a reduced ban even though there are a ton of unanswered questions in his drug case, including who was doping him when he tested positive.
Gatlin, meanwhile, has not shown contrition, but he did co-operate with the feds. It is unfair that Gatlin is viewed as a pariah and gets a four-year ban, while Tyson Gay is viewed as in a far more positive light, and got a one-year ban.
I'm open to the idea Gatlin did not know what he was taking, but the point is, he continued to associate with Trevor Graham and after his first drug suspension should have been way more cautious. And after returning from his drug ban, Gatlin chose as his coach a convicted doper Dennis Mitchell. It is hard to give Gatlin much sympathy considering his choices.
One thing we do know is that Gatlin thought he would never be on top of the world again. When he found out he tested positive, he broke down screaming, telling his mom, "I'm dead, I'm dead. It's over, it's over, it's — I'm dead, Mommy. I'm dead." His mom was worried he would harm himself.
Gatlin's mom's testimony on Gatlin's reaction when he found out he tested positive: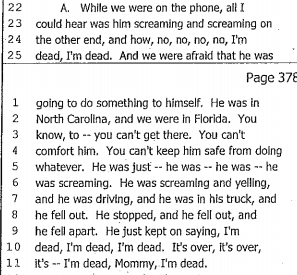 Justin Gatlin thankfully did not harm himself, and the public will get some great theater when he faces Usain Bolt on Sunday. It should be a match-up for the ages, hands-down the best one of these World Championships.
---
(Editor's Note on August 5, 2017. After you read the article below, talk about today's 100 meter final on our fan forum / messageboard.
*DOWN GOES BOLT! / Justin Gatlin- The Champion track deserves
*"Dear London: Boo your f***ing self" – Justin Gatlin
*World Championships 100m: University of Tennessee Dominates
*What happens when Mo Farah or Usain Bolt gets beat at Worlds? 
*Usain Bolt Has Just Lost His First 100m Worlds SemiFinal Ever, Will He Lose the Final? )