Week In Review
LRC WTW: Lawi Lalang, Charles Jock, Nick Symmonds, Russell Brown, Nervous Drug Cheats, Ryan Hall , Kenenisa Bekele, And More This week we wonder if Lawi Lalang is cooked, teach Nick Symmonds and Robby Andrews and you about the merits of frontrunning in the 800m, talk about something inherent about track and field that makes it unpopular, analyze the fantastic Diamond League opener in Doha, and Ryan Hall speaks and we listen.
75 74 73 Days Until London - USOC Media Summit
LRC: Bernard Lagat Talks London 2012: "I'm More Hungry Now" The American 5,000m star talks about the Olympic Trials, admits Chris Solinsky almost cracked him last year, looks ahead to London, and gives his assessment of rivals Kenenisa Bekele and Mo Farah. Text and video.


LRC: Michelle Obama Gives Track Athletes Some Love The First Lady attended the US Olympic Media Summit to expand her "Let's Move" campaign. In the process, she gave LaShawn Merritt and Wallace Spearmon great TV time standing behind her, Lashinda Demus got a hug, and Bernard Lagat a handshake.
*Alan Abrahamson On Michelle Obama's Visit

LaShawn Merritt: "When I was at home, looking at a bank account when I wasn't getting paid, it was, 'OK, what am I going to do if I won't be able to run in the Olympics?'"
Day 1 Media Summit
LRC: Team USA Sprint And Field Love: Allyson Felix, Wallace Spearmon, Sanya Richards-Ross, Lashinda Demus, Trey Hardee, Jillian Camarena-Williams, Brittney Reese, Hyleas Fountain Talk Olympics The London Olympics start in 75 days and some of Team USA sprint and field events stars kicked off the USOC Media Summit in Dallas. Allyson Felix talked 100/200 double, Sanya Richards-Ross talked 200/400 and her health, Wallace Spearmon talked about working hard and no more NBA pickup games, Trey Hardee talked choking, Jillian Camerena-Williams talked Diamond League and much more. Letssprintandthrow.com had all the coverage.
*Allyson Felix At The Olympic Summit: The 100/200 Double Is A Real Possibility In London Video.
*Wallace Spearmon Video From 2012 Olympic Media Summit
*Sanya Richards-Ross At The 2012 Olympic Media Summit Video.
*WP: USOC Officials Defend Slow Pace Of Revenue-Sharing Talks This is an important issue because there will be no U.S. bids to host the Olympics until it is resolved.
*Philip Hersh's Take On The USOC-IOC Debate: Revenue Conceded To IOC Would Come From Athletes
*400m Hurdles World Champ Lashinda Demus Says Track Is "a dying sport." "People are making $15,000 a year and calling themselves a professional athlete. To me that's not a good job."
Monday Was A Very Slow News Day On The Running Front
Doha: LRC LetsRun.com's Recap Of Doha 2012: The Samsung Diamond League Starts Off In Style If all the meets this year are as good as this one, we're going to have an incredible Olympics. Asbel Kiprop went sub-3:30 for the first time ever and lost to Silas Kiplagat, a race was perfectly designed for Vivian Cheruiyot to lose and she won, Kenenisa Bekele looked average, Paul Koech tore up the steeple, and Pamela Jelimo may have a new challenger. American stalwarts LaShawn Merritt and Allyson Felix impressed, and Americans Russell Brown and Molly Beckwith did what they wanted in the distances.

Flash Recaps Included In Overall Recap:
LRC Men's 1,500: Fabulous Start To 2012: Silas Kiplagat Wins, Asbel Kiprop Finally Breaks 3:30 As He Nearly Gets Knocked Down The men's 1,500 started off with a bang with the World #1 and World #2 colliding, racing all the way to the line, and running faster than anyone in all of 2011.
LRC Men's And Women's 3ks: Bekele Is Well Beaten, Vivian Cheruiyot Finds A Way To Win We want you to read our full recap up top, but if you're pressed for time, Kenny B was well beaten in the 3,000 and we were left wondering when Vivian Cheruiyot will be beaten again.

More:
*US Sprinters Feeling Confident After Solid Showing LaShawn Merritt on World Champ Kirani James: "He's a great talent, and he's definitely learning the race. But I'm here. I'm here to whup him."
*Is The 100m A Golden Opportunity For Allyson Felix In London?
*AP Recap Highlights US-Jamaica Sprint Rivalries
*Powell Blames Jet Lag For Loss To Gatlin
*UK 800 Runner Andrew Osagie Gets 3rd With "A" Standard
*SA's Olympic LJ Silver Medalist Khotso Mokoena And Steeple NR Holder Ruben Ramolefi Just Miss "A" Standards
*IAAF Recap: Middle Distance Magic Highlights
*Doha Stats - Gatlin's Is Fastest 100m By American Ever In Early May
*Doper Justin Gatlin Talks Big After Win: "I want everyone to know Justin Gatlin is back and I want the Olympic title." "You've got to take track and field as a soap opera with spikes on."

Pre-Race: Bekele "History has a big place in my heart. It is not easy to achieve three Olympic titles, and it will be great if I can do it."
*What Is Asafa Powell's True Legacy? Underachieving on the big stage is our best guess.

Doha Flash On The Boards:
News From Over The Pond
Upcoming
Next Weekend: Liu Xiang Vs. Jason Richardson + Keninisa Bekele At 5,000 Will Highlight Next Week's Shanghai DL Plus some great mid-d action including Asbel Kiprop vs. Lewandowski and World champions Alfred Kirwa Yego and Mbulaeni Mulaudzi at 800m and Genzebe Dibaba vs. Janeth Jepkosgei at 1,500.
May 20: Haile G. &. Patrick Makau To Clash At Bupa Great Manchester Run
*Sanya Richards-Ross Running 200, Dwain Chambers, Walter Dix 150 At Street Meet Next Week In Manchester

June 2nd: A Look At The Great Mid-D Action That Will Take Place At Pre Classic A great men's 800 with 5 WC finalists including Kaki, Amam and Americans N. Symmonds and KD. Jenny Simpson, Anna Pierce, Shannon Rowbury and NCAA ace Sheila Reid at 1,500.
*Pre 800/1,500 Field Released: Nick Symmonds, KD Taking On Mohamed Aman, Yuri B, Mulaudzi; Jenny Simpson, Anna Pierce In Women's 1,500
*Behind The Scenes With Paul Swangard, The Voice Of Hayward Field

June 9th: Dayron Robles To Makes 1st US Appearance On June 9th At adidas Grand Prix He'll face Jason Richardson, David Oliver and Aries Merritt. *Robles: "I am very fired up to run in New York."
Gearing Up For The Olympics
Usain Bolt 9.82 Opener! Sanya Richards-Ross Beaten Usain Bolt showed he should be a force in 2012 as he blasted the field. In other action, Novlene Williams-Mills ran 49.99 to upset Sanya Richards-Ross in the 400 (50.11), Yohan Blake ran 19.91, and Carmelita Jeter ran 10.81. *IAAF
*Video And Flash Recap Of Jamaica Invitational And Bolt's 9.82 100m Opener Ben Bruce won the steeple and AJ Nation ran the 1,500 and was in the steeple too, as Hilary Stellingwerff won the 1,500.
*Do You Like Rap? An Usain Bolt Rap
*Jamaica's Kimberly Williams Hits TJ "A" Standard At Jamaican Invitational
On The Boards: Bolt 9.82 at 2012 Jamaica Invitational
*Brigette Foster Hilton 12.51 in 100h!!!

Japan: In Bad Weather, Liu Xiang Opens In 13.09, Allyson Felix Runs 11.22, Amantle Montsho Runs 50.52
*Recap Of Last Week's Japan Track Action: Paul Tanui Runs 13:19 5k And Jairus Kipchoge A World-Leading 8:18 Steeplechase

Remember This Name - Dennis Kimetto: Dennis Kimetto Breaks 25km World Record In Berlin In the last 3 months, Dennis Koech has become Dennis Kimetto and gotten 10 years older. He is the same guy, is a training partner of Geoffrey Mutai, and he is a huge talent. He's 3 for 3 in races outside of Kenya with this win.

Germany: Bekele Goes To The Marathon ... TUI Hanover Marathon, Two Super-Tight Finishes As Tamrat Bekele, Bekele's Brother, Runs 2:11:11 In Debut

Oxy Invitational Results: Jason Richardson Runs 13.30, Felix Sanchez 45.34, Ryan Bailey 10.01
*Oxy Inv. 800: Brenda Martinez Beats Alice Schmidt

Kenyan Prison Champs: Kiprop & All 1,500 Runners Watch Out: Silas Kiplagat Runs 1:44.8 In Kenya updated The IAAFand tilastapaja didn't even list an 800 PR for the guy.
Day 1: Silas Kiplagat Runs Fastest 800m Of Day (1:47.1) In Pouring Rain Isaac Korir won the 10k (28:25) over Africa XC champ John Mwangangi.
*The Usually Cocky Silas Kiplagat Taking On A More Humble Tone "I cannot say that I'm the best, I'm not the best, there are emerging athletes."
*IAAF: Kenya Dominates Youth Meet: 3k Won By Kenyan Boy In 8:06 They also dominated in the sprints.
Pro Distance News
Korir Running Chicago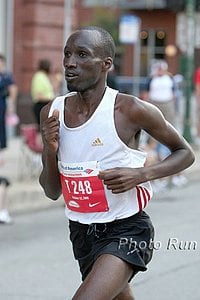 LRC Wesley Korir: From #T248 To #1 At Chicago The first time Wesley ran Chicago (photo here), he paid his entry fee like everyone else and started with the masses. Now 4 years later he's returning as the Boston Marathon champ. Learn more about Wesley (he hopes to be a US citizen soon) and how the late Sammy Wanjiru inspired Wesley to be a champion.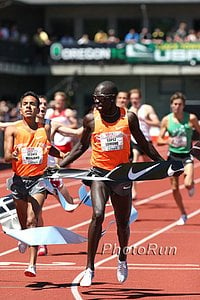 Alan Webb In San Jose Paper: "I almost try not to compare myself to what I did in the past ... I know that it's there. I know I can still do it."

In Case You Missed It: LRC Men's Recap: One Of The Most Exciting Men's 5,000s We've Ever Seen; Alan Webb Doubles; And Chris Derrick And Cam Levins Battle It Out With Sam Chelanga

LRC Women's Recap: Anna Pierce Is Back!!! Betsy Saina And Sally Kipyego Impress As Deena Kastor Returns Impressively But Comes Up Short

LRC Nick Symmonds Runs 1:44.0, Leo Manzano Outkicks Bernard Lagat To Highlight 2012 Penn Relays Distance Action Nick Symmonds soloed a 1:44.0 800m in impressive fashion to run away from Khadevis Robinson, who opened his 2012 season with a 1:44.9 in the DMR. All that did was give Bernard Lagat a big lead which he coughed up to Leo Manzano. Plus, Oregon, Princeton and Penn State (with Robby Creese on the anchor) all get their second Penn titles of 2012.
*US Dominates Relays At Penn AP Recap
*Madison, Felix, Knight, & Jeter Go 42.19 @ Penn!
*Asafa Powell At Penn For Sponsors, Not To Run
Lagat: "I felt that my legs were a bit heavy."
*Nick Symmonds: "I said if I'm going to come all the way here, I might as well throw one down" + Oregon's Anne Kesselring Gets Performer of Meet Post-race interview with Nick here.

Penn Saturday On the Boards:
Kenyan Olympic Team Named

Kenyan Olympic Marathon Team Announced: Makau AND Mutai Left Off The Kenyan Olympic Marathon team was announced (video here) and the AP is making a big deal of the World Record holder Patrick Makau being left off. The big news in our minds is the world's best marathoner in 2011, Geoffrey Mutai, being left off in favor of Mosop Mosop (and Abel Kirui). The women's team was the top 3 in London, although Employee #1 was surprised Boston Champ Sharon Cherop was left off.
*IAAF *Athletics West
Discuss: The Kenyan OG Marathon Squad Revealed
*World Record Holders Not Chosen For Olympic Team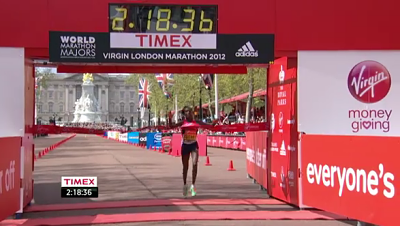 LRC Mary Keitany Runs Fastest Final 10km In Marathon History To Repeat & Become The #3 Performer In History The Kenyans certainly came to play when it was time to battle it out for the title and London Olympic spots, as they went 1-2-3-4-5, but in the end, everyone was left talking to about Keitany, who used a 5:07 23rd mile and 4:59 24th mile to pull away from world champion Edna Kiplagat and mark herself as the Olympic favorite.

On The Boards: *Live Update Thread *Kenyan Olympic team
Non-London Marathon News
Meet Glenn Randall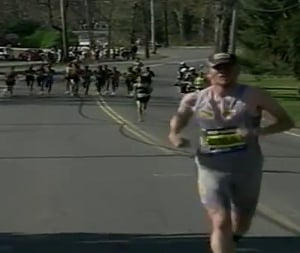 LRC The Story Behind Glenn Randall (The Guy Who Led Boston) Who was that dude leading the first 10k of the Boston Marathon? Believe it or not, he's an NCAA champion (in another sport). LetsRun.com talks to the guy who made the first 10k of the marathon entertaining. His frontrunning was no stunt and has paid off big time in the past. This time it resulted in a 2:37:13 61st place finish.
Recommended: Excellent Post By Science Of Sport On Boston Conditions: The Surge Between 25 And 30k And The Sun Did The Leaders In We'll have more LRC analysis but this post does an excellent job of explaining what happened. Also read this post that explains why telling people to over-prepare for the heat may not be the best idea. And only 427 people deferred to next year's race.



RRW: Wesley Korir Comes From Behind For Shock Victory Korir, the former University of Louisville, Ron Mann-coached athlete was 57 seconds behind the leaders with less than five miles to go. Then the heat took its toll on leader Levy Matebo and Korir stormed to victory in 2:12:40 as American Jason Hartmann used a similar tactic to get 4th in 2:14:31. The winner was nearly 10 minutes slower than last year. Crazy.
*Top Results/Splits *Winners Photos *Video Highlights
High School Big News
17-Year-Old High Schooler Cayla Hatton Runs 33:17 10,000m Olympic Trials "B" Qualifier The prodigy only started running full-time this year. Now she's putting up a time that would make her 5th in the NCAAs last year. Truly ridiculous. The time is so fast some were wondering if it was a lap short, but this video proves it's legit and shows she ran every lap (16:30-16:46).
*A Q&A With HS Prodigy Cayla Hatton Two years ago, she was in awe of Kara Goucher and asking for her autograph. Now she'll be racing against people like her at USAs in the 10k.
Sammy Wanjiru RIP: Nov 10, 1986 To May 15, 2011
4 Really Great Recommended Reads
#1 - Journalism Still Exists: ESPN The Magazine's Shaun Assael Writes 5,122 Word Epic On Sammy Wanjiru's Life And Death From his start as a schoolboy to details as to why his mother claims he was murdered, Assael leaves no stone uncovered. He also points out that many other successful Kenyans before Wanjiru have also struggled with fame, including Paul Kipkoech, Richard Chelimo and Benson Masya, who all died young. Sadly, Wanjiru was going to train in San Diego to get away from it all but couldn't because of a gun charge. *Interview Of Author On Right Column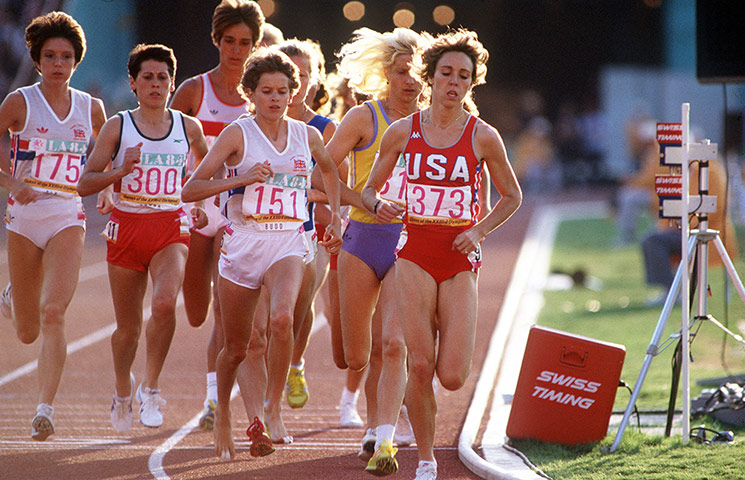 #2 - 50 Stunning Olympic Moments No. 30: Zola Budd In 1984 Do most people remember Budd was just 17 when she set the WR in the 5,000 at 15:01 and when she collided with Mary Slaney? The article reveals that Budd's family disintegrated after she left South Africa to compete for GBR and it also reveals Mary Slaney to have been unbelievably rude to rip a 17-year-old. *Zola Budd - In Pictures

#3 - Wall St. Journal Profile Nails Abdi Abdirahman's Personality Perfectly!!! "Going for Gold - or Whatever The Secret to an Aging Olympian's Endurance: Don't Let Training Get in the Way of Fun" Is Abdi's love of life (ohers might say laziness) an asset?

#4 - What Really Happened At 1st Olympic Women's 800 In 1928? Despite what was reported, 5 of the 11 runners didn't drop out with another 5 collapsing at the finish. The only person collapsing at the finish that year was Paavo Nurmi, but women's mid-d and distance running would be banned for years nonetheless.

More Good Reads: After Disappointing Start To Season, Jordan Hasay Is Having Fun Again With Running "Obviously, my season hasn't been going like I would have hoped. ... Mostly it's a change of mindset," she said. "Having fun with it and enjoying every moment ... I saw this lady in the grocery story earlier this week, and she asked me, 'Are you the runner?' and I said, 'Yeah' and she said, 'Just do it for me. I can't run. I wish I had your legs. Just go out there and run.' That kind of put things in perspective for me because there are people who would love to be out here. It's such an honor to wear the Oregon uniform and help win a conference title."

A Nice Chat With David Torrence - The 1,500 Man Has The "A" At 800 And 5,000 But Not 1,500 He just missed it in his season opener but wisely (in our minds) decided not to keep chasing it and stick to his training plan. Hopefully that changes this weekend. He should have gone to Swarthmore and he'd have it.

CNN Catches Up With Tyson Gay, Who Seems Pumped For 2012 And Admits He Couldn't Beat His Sister In A Race Until He Was 14
Miles Batty Is Smart, Too - Batty Wins Renewable $24,000 Post-Grad Scholarship He's a neuroscience and exercise science major with a 3.93 GPA. collegiate indoor mile record (3:54.54).
Interesting Olympic-Related News
3-Time Olympic Medallist From Australia Loses Bet & Says He'll Wear A Mankini To Opening Ceremonies

1996 Olympic 100 Champ Donovan Bailey Charged With DUI He's had some car problems in the past as he once totalled an $80,000 Mercedes in a one-car accident where he fled the scene and also was caught going 200km/hr.

Olympic PV Champ Steve Hooker: "I needed to hit rock bottom."

Sean Hartnett Has Made An Olympic Elevation Chart - Will Give Talk On How He Created it on Thursday In Wisconsin *Sean Hartnett's Olympic Elevation Chart

We 100% Agree: LaShawn Merritt: "People shouldn't use the word doping about me because I'm not a drugs cheat."
We 100% Agree: LaShawn Merritt: "Pistorius' blades could allow him to outrun able-bodied sprinters."

Mark Lewis-Francis Races A BMW - Professor Determines Humans Are Faster Than Cars For 4 Seconds

British 4 X 100 Sprinter Craig Pickering Forced Out Of Summer Games Following Back Surgery

War-Torn Syria To Send 10 Athletes To The Olympics
Ashton Eaton & Walter Dix To Compete In Canada Next Month
Jason Hartmann And Nick Arciniaga Running NYRR's Brooklyn Half Marathon This Weekend
Swarthmore Last Chance Meet
Columbia's Kyle Merber Sets American Collegiate Record Of 3:35.59 updated *Instagram Proof If You Don't Believe Talk about your dreams becoming reality. Merber pulled a Brian Hyde and beat a stellar field and lowered his PR nearly seven seconds!!! A guy who was recently 14th at Stanford in 3:42.49, got outkicked by Donn Cabral at Penn, and has never scored a point at NCAAs is the NCAA American record holder. Unbelievable. But Merber is legit as he was a former Millrose champ in HS who missed all of last year with an injury. He may have just missed the Olympic "A" of 3:35.50 but we bet he doesn't care as he likely started the race hoping to not embarrass himself. Merber was in 9th with a lap to go. Nick Willis paced for 1,300 before dropping out. Jordy Williams 2nd (3:36.74), Nate Brannen 3rd (3:36.77). Will Leer and Lee Emanuel were back in last and second to last. *MB Thread
*Video Of Merber's Race
South African 1,500 Star Juan van Deventer On Comeback Trail After Car Crash van Deventer, who was 7th in the 1,500 in Beijing, might be a legitimate medal contender had he stayed healthy, but a stress fracture in 2009, an ankle fracture in 2010 and a car accident in 2011 that resulted in his left kneecap being broken in two have hurt his chances, but we LOVE his attitude and the fact he's not suing. "(The car accident that broke my kneecap in two) could have been worse. There was no cartilage or ligament damage. I was lucky because I don't know if I would have run again. ... (As for the driver), he didn't see me and I didn't see him. He's been really good, he's always phoning to see how I'm doing."
NY Times Asks: Can Runners Have "Too Many Miles On The Tires"? Would you be faster later in life if you don't run when you are young? We doubt it.
Title IX To Its Logical Conclusion
Author Asks: In 10 states, girls run shorter cross country races than boys. Is that practice fair? What about at the NCAA level? Or in tennis (2/3 sets versus 3 of 5?). We've never understood why title IX only applies to certain things.
Sprint News
Wallace Spearmon Is Feeling Best He's Felt In Years "It looks like this year is going to be the best I've had in quite some time health-wise. This is the first time I've actually been healthy leading up to the trials. I really have no idea what I'm capable [of]. I just want to go out and have a day where I run without pain, injury free, where I just see how fast I can run."

Allyson Felix Is Taking Her Time To Decide What She'll Run At Olympics But One Thing Is Certain - She'll Do The 200m What range. The 100/200 and 200/400 are both options. "I like to call the 200 my baby ... it's my favourite."
Kenyan News
One Year Later, The New Yorker Looks At Sammy Wanjiru's Death & Says He Looked Into Running For Qatar We imagine that piece of info was included to get people to read it, as he wasn't hurting for money. *New Yorker Article On Wanjiru (Subscription needed for whole article)

A Brief Chat With "Running With the Kenyans" Author Adharananand Finn The subtitle is "Discovering the secrets of the fastest people on earth."
Big 10, PAC-12, IC4A, SEC *Championship Central Results Here
PAC-12: *Results *Oregon Sweeps Men And Women's PAC-12 Titles Arizona State men and Stanford women were the runner-ups.
*Everyone In Oregon, Including Jordan Hasay, Is Thrilled With Ducks' Stellar Performances At PAC-12s "Our team is just on fire. Obviously, we did well at this meet last year too, and the last four years. But we really want to bring home that national title this time."
*Lalang Wins 1,500, Derrick Wins 5,000 Chris Derrick 2nd in 1,500; Stephen Sambu 2nd and Lalang 3rd in 5k. Jessica Tebo won the women's 5k easily.
*Jordan Hasay Beats Katie Flood & Jessica Tebo In 1,500 *Video Interview
*MB: OREGON DUCKS! WHAT A DAY *Oregon Prefontaine Throwback Jerseys
*Day 2 Photos *Day 1 Here & Here
*Everything Goes Right For Oregon Men And Women On First Day Alex Kosinski won the 10k in her debut; Stephen Sambu over Luke Puskedra.

Big 10: *Full Results *Wisconsin Men Win Big 10 Mohammed Ahmed won the 5k in 13:41 over Hassan Mead, Craig Forys and Andy Bayer. Bayer won the 1,500 and Indiana's Zachary Mayhew the 10,000 in 28:55.
*Ohio State Women Successfully Defend Big 10 Title
*800: Casimir Loxsom 1:46.1!
*Craig Forys Runs Collegiate-Leading 8:28 Steeple At Big 10s

Big 12: *Results *Aggies Defend Their Big 12 Men's Title
*Texas Women Take 7th Big 12 Outdoor Crown
*German Fernandez 2nd At Big 12 1,500 Riley Masters won, Patrick Casey 3rd.
*Oklahoma State's Natalja Piliusina Wins 4th-Straight 800m Title (Indoors/Outdoors)
*Florida State Moving To Big 12?

DIII - Chris Brown (Brandeis) 3:43.49

SEC: Arkansas Men, LSU Women Win SEC Champs *Full Results The Hogs crusehd it on the men's side, racking up 196.
*Indoor NCAA Champs Get Killed By Arkansas As Jeff Demps Is Held Out With Hamstring Injury & Star Decathlete Gray Horn Is Out After DUI
*Nice Triple: Florida Sr. Genevieve LaCaze Won 1,500, Steeple & 5k

Big West: *Charles Jock 1:44.75!!! Ryan Martin 1:44.77!! *Video
*UC Davis Women, UC Santa Barbara Win (Results Included)

IC4A/ECAC *Results *Duke Women Win ECAC Champs
*George Mason Men Win IC4A Title

Virginia Challenge: Erik van Ingen Runs NCAA #3 3:38.06 *Video

Summit League: Cam Levins Quadruples Again! Wins 10k, 1,500, 5k, and 3rd in 800. *Results

Northern Arizona Men Win Big Sky Champs

Idaho Men, Utah State Women Win WAC Champs Nothing like a 4-team men's championships.
Sexy Olympics: World 1,500 Silver Medalist Hannah England Poses In Gold Tights To Promote "Official Team GB Sun Care Products"
*Sex And The (Olympic) Village: New Book Tells All
Other Weekend Results
High School: Fast 1,500s For Josh Lampron (3:45.74) And Cayla Hatton (4:18.65) #18 all-time for Lampron, #14 all-time for Hatton.
*Craig Novak Wins Texas State Championship 1,600 With 4:06 And 55 Last Lap
*Aggie Recruit Madu Wins 4 Texas State HS Titles
*MileSplit Weekend HS Coverage Mary Cain ran season-leading 2:03.34. #10 all-time, just off Mary Decker's soph. record (2:02.29).
Recommended Read: Nick Willis Reflects On His Start In Running And His Silver Medal In Beijing "I was a late developer, so having [my brother] pave the way inspired me to suck it up and not quit on my sport like I wanted to when I was a 14-year-old skateboarder being tempted by cigarettes and other stuff."
May 17th: 3-Time Defending Champ David Torrence Won't Defend US 1 Mile Road Title Instead he will be at the Oxy High Performance meet, which should have some great races based on preliminary entries.
Healthy 10k Pre-Race
Meb, Abdi, Ryan Go To The Empire State Building

LRC: Ryan Hall Talks Olympic Marathon Atop The Empire State Building Prior to Saturday's UAE Healthy Kidney 10,000m with a $25,000 first prize, the US men's Olympic Marathon team of Meb Keflezighi, Ryan Hall and Abdi Abdirahman talked to the media on Thursday atop the Empire State Building. Employee #1 talked Olympic Marathoning with Ryan Hall. Read all about it.
Week In Review
LRC WTW: Lopez Lomong Is No Niyongabo, Wheating, Webb And Ulrey, Changing Names, And Changing The DMR Order We take you back and review the last week in the track and field world. We look at the debuts of Andrew Wheating and Dorian Ulrey and thanks to a LRC emailer take another look at Lopez Lomong being the next Venuste Niyongabo.
Sprint News
Yohan Blake 1 - Usain Bolt 0
Cayman Invitational: IAAF Recap Blake's 100 was the big news but Carmelita Jeter ran 11.04, Novlene Williams-Mills won again, William Claye won and more.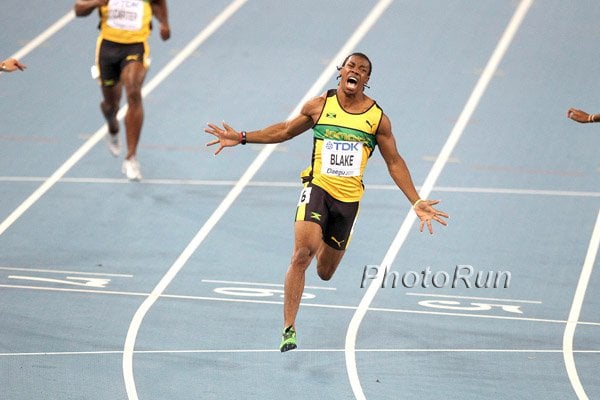 MB Yohan Blake Runs 9.84 Since Usain Bolt ran 9.82 last weekend, many may think the scorecard reads Usain Bolt 1, Yohan Blake 0. But we point that adjusting for wind, Blake ran 9.86 and Bolt ran 9.90. *Race Video *Article *More MB

David Rudisha Vs. Usain Bolt At 400? Both Promise To Run 4 X 400 At Olympics Bolt will do it if Jamaica can win gold and Rudisha will do it if Kenya makes the final.

Bolt: "I need to win ... and run fast" - Usain Bolt charts route to legendary status
*Gatorade Chooses Usain Bolt To Lead Its Global Ad Campaign
*Usain Bolt Ad In Britain Banned For Being Misleading
CliffsNotes, Anyone?
Dutch Journalist Has Completed 288-Page Book On Sammy Wanjiru's Mysterious Death The Dutch version of "Death Runner - The tragic end of Olympic marathon champion Samuel Wanjiru" is out now - English version coming soon.
Excellent News: 2004 Olympic Drug Samples May be Retested Rashid Ramzi was busted in '08 when his sample was tested for CERA.
Distance Profiles
Recommended Read: Excellent Look At Masters Ace Kevin Castille Castille was sexually abused as a kid and was a former drug dealer. He finally quit feeling sorry for himself for the cards dealt to him in life and now he is rewriting the US master's record books.
*Pete Magill 15:11 5k At 50

Boston Globe Feature On Shalane Flanagan And Her Jump To The Marathon The Boston Marathon inspired her as a kid.
Sprint/Field News

Duke Twilight: LRC Michael Rutt Wins The Robby Andrews, Alan Webb, Curtis Beach 800m Showdown Rutt outkicked Andrews for the win. The win may be a shock to some, but Rutt had the fastest time in 2012 of anyone in the field and was a finalist at the World Indoors. Alan Webb ran 1:51 and Curtis Beach was a non-factor. Story, race video, and results.
On The Boards: Rutt Wins 1:46.86, Webb 1:50, Andrews 1:47.11
Some Good Interviews And Other Interesting Stuff
Christchurch's Queen Elizabeth II Stadium, Home Of 1974 Commonwealth Games, Will Be Torn Down Due To Damage From Last Year's Earthquake
Oregon Twilight: Andrew Wheating Returns With 3:44.97 Win Over Dorian Ulrey Wheating got the win over former World Championships team member Dorian Ulrey in windy conditions. Video of last lap on right of homepage, full race here. Tommy Skipper no-heighted and Jordan Hasay ran 4:19.90 and 2:08.32.
*More On Wheating's Win Here

Oregon Twilight On the Boards: Wheating opens with 3:44.97
*Franek runs 9:39.37 steeplechase WL
*HASAY doubles? 4:19.90 and 2:08.32
Pre-Race Profile: Bridget Franek Wants To Make Olympic Final In Steeple

Lilac Bloomsday: Kenya's Allan Kiprono, Ethiopia's Mamitu Daska Take Bloomsday Titles Janet Cherobon-Bawcom was second overall 57 seconds behind Daska. *Results

Remember Him? German Fernandez Runs 3:43.88 Two weeks ago, he ran 3:46.32. Now he's down to 3:43.88. Coach Dave Smith said Fernandez "looked the best he's looked in a long, long time. ... He competed well ... and is kind of starting to look like the old German Fernandez."
*Message Board Thread Here
Sad News For Chris Solinsky Fans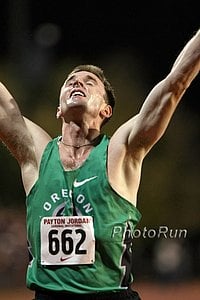 Chris Solinsky Will Not Enter The 2012 US Olympic Trials "I tore 90% of my hamstring off my pelvis. I'm going to have to bag it this year and swallow the hard pill that it's not going to happen. It's a matter of my body not responding."
*LRC Message Boarders Do It Again: Solinsky Pulls Plug on 2012
*Quick Interview From Before Announcement He also talks about how if he bumps into the rival Oregon Project guys on a run, they'll run together.
Diego Estrada Update
LRC Diego Estrada Would Have Been Eligible To Run Olympic Trials Diego Estrada, the recent American citizen and NAU redshirt junior, ran the second-fastest time ever by an American collegian at 10,000m on Sunday. Afterwards, he declared he'd be running at the Olympics for Mexico. One of the reasons he cited for his decision was that he wasn't eligible to run the US Olympic Trials. Turns out that was incorrect, as Diego was given erroneous information.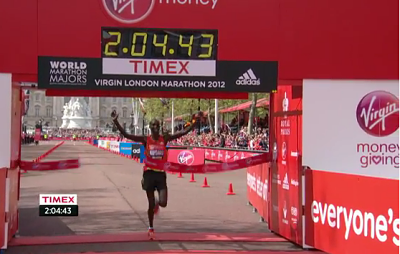 LRC A New #1: Wilson Kipsang Destroys One Of Greatest Marathon Fields In History In his first marathon major, Kipsang certainly wasn't scared of the bright lights, as he did something unheard of in major marathoning in the year 2012. He took off before halfway and used a 14:09 fifth 5km to obliterate the lead pack, as a 1:02:12 halfway wasn't fast enough for him, and he went to earn the largest margin of victory in 30 years, while Martin Lel was second. We recap it and speculate as to who gets the Kenyan Olympic spots and tell you why a DNF in our minds is a positive for someone's Olympic hopes.

LRC Meet Wilson Kipsang: "If I had to compare him to an NFL quarterback, I'd compare him to Peyton Manning."
Great Read If You Didn't Read It Yesterday: Alberto Salazar Unplugged - Part II This interview with Amby Burfoot is great. From Ritz's struggle in the marathon, to Ritz's form change, to Alberto's competitive relationship with Jerry Schumacher, to Galen Rupp's marathon future and, to Alberto's biggest regrets, Amby Burfoot leaves no question unasked and Alberto doesn't shy away from any of them and talks about Rupp running 12:45 and in the 26:20s.
*Part I: Alberto's Book & The "Duel In The Sun"
MB: An Incredible Amby Burfoot Interview With Alberto Salazar
Khannouchi's Retirement
LRC Carey Pinkowski Reflects On Khalid Khannouchi's Career: "He Was The Absolute Best I've Ever Seen" The Chicago marathon director talks about the man who made his name in the Windy City. Plus quotes from London Marathon director Dave Bedford and a tweet from Ryan Hall.

LRC Marathon Legend Khalid Khannouchi Officially Retires Khalid Khannouchi, one of the greatest marathoners of all time, has told LRC that he is officially retiring from competitive running. Khalid helped revolutionize the sport of marathon running, setting two world record in the span of three years, including his final one at the "Greatest Marathon Ever Run" - the 2002 London Marathon matchup that featured Khannouchi, Paul Tergat and Haile Gebrselassie.
ESPN Video About Wanjiru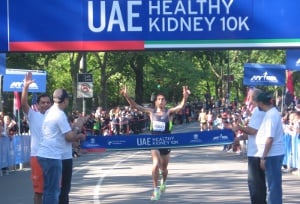 LRC: Daniele Meucci Wins $25,000 Healthy Kidney 10k Crown, Leonard Korir Second In Pro Debut new article The Italian Meucci, who ran 27:32 at Stanford on the track two weeks ago, triumphed over two-time NCAA champ Leonard Korir in Korir's pro debut. Bobby Curtis was 3rd, Abdi was 5th, Meb 7th, and Ryan Hall 15th behind masters runner Kevin Castille. Meucci was best today but would have had his hands full last year or the year before. Afterwards, Abdi jokingly got himself into the 4 mile tomorrow and the half marathon next weekend.
*Ryan Hall: "You know I just haven't done 10k work, my training is very specific to the marathon, even this far out I haven't done any 10k work and I think that was just a reflection of that today."
*More: Race Results Weekly Recap *IAAF

US 25k Champs: Janet Cherobon Bawcom Gets US 25k Record Bawcom picked up $12,000 for the win over Lindsey Scherf. Bawcom may have gotten the AR, but Deena Kastor has split 2 minutes faster in a marathon. On the men's side, Robert Letting pulled away from Joseph Chirlee to win overall, but Chirlee got the US title.
*Results *Thread
UAE Healthy Kidney 10k Photos
Worth A Listen: Music Video Featuring Canadian Marathoner Reid Coolsaet
War Games: NY Times: London Might Put Missiles On Building Rooftops Sounds like they're mostly for intimidation.
Inspiring: Gabriele Anderson Has Survived Cancer, Now She Wants To Make US Team At 1,500m

Lend A Hand: Paralyzed High School Track Athlete Needs Your Clicks

An Old Sprinter: 39-Year-Old Danny McFarlane Hoping To Make Jamaican Olympic Team In Hurdles
Previous Conference News
PAC-12: *Colorado Should Make Dent In Distance Events In Inaugural Pac-12 Champs
*Form Charts Predict The Oregon To Win Dominantly And The Men To Be A Close 2nd To Arizona State
*Can Hayward Field Magic Lead Oregon Men To 6th Straight PAC-12 Title?
*Oregon Women, Arizona State Men Are Favored At PAC-12s
*Mike Berry Focused First On PAC-12 Title, Then Trying To Make Olympics In 400
*Oregon Women Huge Favorites At PAC-12s
*Jessica Pixler (Tebo) Is Very Pleased She Chose Colorado For Grad School She got a husband, grad degree, Olympic "A" standard and 6th year out of the deal.
*Excuses For Oregon Men Starting To Come OutTheir quest for a 6th straight conference title is in doubt as Mac Fleet is out.
Big 10: *Wisco's Mo Ahmed's 27:34 Broke The Longest Big 10 Record On The Books - Craig Virgin's 27:59 From 1976 Ahmed will run Big 10s this weekend, which Wisco hasn't won outdoors since 2007.
Eight Days Of Glory
LRC Eight Days Of Glory Surprise: Kenyan Olympic Marathon Team Analysis The marathon world has turned upside down in 2012, as the six best marathoners in the world in 2011, all from Kenya, have run their spring marathons and only one, Wilson Kipsang, came out on top. The Kenyan Olympic team of Kipsang, double World Champ Abel Kirui, and Moses Mosop is not the team that would have been selected at the end of 2011. Emory Mort, author of the 8 Days of Glory Series, tries to make sense of it and he looks at the Kenyan and American medal chances in London.
LetsRun.com Track/Training Talk
32 Minutes With Diego Estrada And NAU Coach Eric Heins (Listen Below Or Download Here)
Michael Rutt > Robby Andrews Vs. Alan Webb Vs. Curtis Beach (More Here)
Another Steeple Fail (Getting Picked Up By USA Today Blogger)
We Never Posted These: Paula And Haile G In Vienna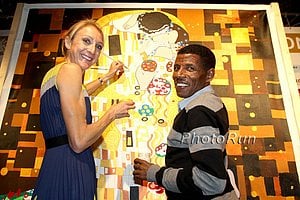 Virgin London Marathon Photos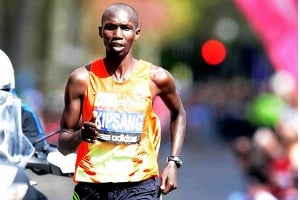 Updated Boston Photos (Now With Many More Men's And Women's Photos)
Interesting Read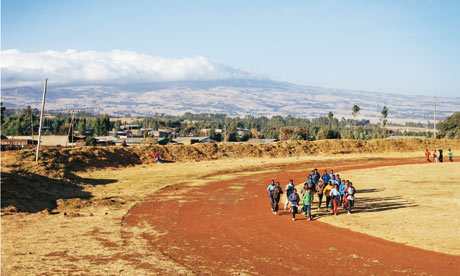 Bekoji, Ethiopia: Town Of Runners By now many of you have heard of Iten, Kenya - the tiny town where many Kenyan stars train. The Ethiopian town of Bekoji may be even more impressive, as it is where Kenenisa Bekele (3 Olympic golds), Tirunesh Dibaba (2 Olympic golds), Derartu Tulu (2 Olympic golds), and Fatuma Roba (1 Olympic gold) were all born. Lengthy Guardian profile on the town and its unheralded coach Sentayehu Eshetu. A movie on the town - "Town of Runners" - comes out later this month.
*Bekoji Photo Gallery
Alberto Salazar's Book Released And Endurance Now On DVD
More London
Employee #1 Goes To Kenya

LRC Meet Mary Keitany The half marathon world record holder destroyed the best women's field in the world last year in London. Then on the hilly New York course, she went out faster than Paula Radcliffe during her world record before falling apart miserably. Now she has to qualify for the Olympics in London. Get to know Mary Keitany.
*Keitany Photo Gallery *Getty Images Photos From Kenya


LRC Meet Wilson Kipsang: "If I had to compare him to an NFL quarterback, I'd compare him to Peyton Manning." link fixed We share with you this unpublished segment on Wilson Kipsang from Employee #1's final piece in the 8 Days of Glory Series. Short segment with video interview with Kipsang overlooking the Rift Valley.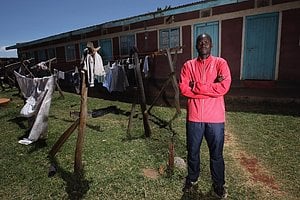 LRC The Electrifying Abel Kirui The two-time World Champion has dominated non-rabbited races. Can he do the same in London on Sunday? Learn about his training and his set-up in Iten as he talks about phantom planets and more - from Employee #1's trip to Kenya.
New: Renato Canova Talks About Abel Kirui (Video)
Training Corner (More In The Training Forum)