Marathon Great Khalid Khannouchi Officially Retires
Two-Time World Record Holder Calls It Quits At Age 40 After Struggling With Injuries For Years
By LetsRun.com
March 27, 2012

Khalid Khannouchi
40-year-old American Khalid Khannouchi, one of the greatest marathoners of all time, has announced exclusively to LetsRun.com that he is retiring from competitive running.
Khannouchi will be most remembered for his two world records in the marathon, including his last world record at the 2002 London Marathon, where an overlooked Khannouchi beat two of the great icons of the sport in Kenya's Paul Tergat and Ethiopia's Haile Gebrselassie. At the time, Gebrselassie and Tergat were both #1 and #2 in history at 10,000 and both men would go on to eventually be marathon world record holders themselves, but it was Khannouchi who came away with the world record and victory that day (2:05:38).
On his career, Khannouchi said, "I'm proud of myself. I truly want to thank my family, all the people, the fans, my sponsors who really gave me the opportunity. I want to thank them for the time, the great time I had, the support I had, and the great moments in the history of running that I had as they were a part of it."
Ultimately Khannouchi said it was the foot injuries that nagged him since 2003 that caused him to retire. "It was really my feet that betrayed me. Every time I go and try to push hard, I get the pain and soreness again. I can't train hard and if you can't train at a certain level where you can be competitive it's not worth it to keep wasting time."
His days of a competitive runner may be over, but he's a runner for life. "I want forever to be a runner, running 20 or 30 miles a week, jog races or whatever it is and have fun," he said.
A Look Back At Special K's Incredible Career
After falling out with the Moroccan federation and immigrating to the United States in 1992, Khannouchi personified the American dream. Working as a dishwasher in New York City, Khannouchi continued to train and soon was a force on the US road scene in the mid-1990s. What proved to be unique about Khannouchi was how he made the transition from US road star to marathon star all in the span of a few months.
Khannouchi's 1997 season was one for the ages. After finishing second to nemesis Joseph Kimani of Kenya at Peachtree, Khannouchi produced wins at a string of some of America's biggest races. A win at Bix was followed by a win at Falmouth, which was followed by a win and course record (60:27) at the Philadelphia Distance Run (now the ING Rock N Roll Philadelphia Half Marathon).
With so many races and so many wins, many wondered if Khannouchi's marathon debut later that Fall in Chicago would go well. The answer was undoubtedly yes.
Khannouchi Makes His Mark In Chicago
Khannouchi's greatest victory may have been in London, but he made his name at the Chicago Marathon.
Khannouchi made his marathon debut in Chicago in 1997. The result was a 2:07:10 victory, just 20 seconds short of Belayneh Dinsamo's 2:06:50 world record, which was nearly a decade old.
A marathon star was born. When LetsRun.com asked Khannouchi if one race stood out for him in his illustrious career, he did not cite his world records, he cited his marathon debut. "It would be my first marathon. 1997 first time I run 2:07:10. That is the race that will always stick in my mind. Everybody has such great memories of running their first marathon. I feel like that day was just yesterday."
The next year in 1998, Khannouchi picked up wins at Peachtree and Falmouth before retuning to Chicago a few weeks after suffering an injury. Khannouchi had to settle for second as he was beaten by Ondoro Osoro, although he ran a quick 2:07:17.
The following year, Khannouchi found that the third time was indeed the charm. Khalid picked up his first marathon world record in style as he became the first man to get under the 2:06:00 barrier, coming from behind to win Chicago in 2:05:42. Running in the lead pack at mile 17, Khannouchi was then gapped by two-time Boston champ Moses Tanui, who soon built up a 33-second lead by mile 21 only to see Khannouchi come storming back and taking the lead with less than 2 miles to go.
Khannouchi later recalled to GQ what he was thinking when he was gapped by Tanui: "I was about to go after him, but I thought, 'Why is he going now? Maybe he's feeling too good.'"
Khannouchi's time would remain the fastest time run on American soil for a full decade until the late, great Sammy Wanjiru eclipsed it by 1 second in Chicago in 2009.
The US Citizenship Quest
Meanwhile, Khannouchi was trying to get American citizenship so he could represent America at the 2000 Sydney Olympics. Eventually, Khannouchi's wife (now ex-wife) and coach and American citizen, Sandra, took a job with Elite Racing in Madrid to expedite his citizenship request (spouses of American's working abroad could speed up their citizenship request). Unsure of whether he would be a citizen by the May Olympic Trials Marathon, Khannouchi ran the London Marathon in April and finished fourth third in 2:07:04. Five days before the Olympic Trials in Pittsburgh, Khannouchi got his citizenship. The next day, at a tearful press conference arranged by his sponsor New Balance, Khannouchi announced he was too injured from London to run the Olympic Trials Marathon (the NY Times has an excellent article on this).
Khannouchi had to watch the Sydney Olympics from home and would never compete at the Olympics. He was back in Chicago that fall and got his third Chicago win in 2:07:01, which was his first American record, as his time easily surpassed Alberto Salazar's 18-year-old American record (for a record-eligible course) of 2:08:52.
In 2001, Khannouchi was injured for most of the year. He dropped out of the World Championships Marathon in Edmonton with an injury.
2002 - Khannouchi's Greatest Year
That set up Khannouchi's greatest triumph, his world record win in London in 2002 versus arguably the greatest marathon field assembled, including the Olympics. In addition to Khannouchi, the London field featured Haile Gebrselassie in his debut and Paul Tergat. Tergat and Gebrselassie were the two greatest 10,000-meter runners in history at the time, and the two subsequent world record holders in the marathon. Also in the field was Ethiopian Tesfaye Jifar, who the previous November had set the New York Marathon course record that would last a decade, and two time London champ, Abdelkader El Mouaziz. Altogether, race organizers spent a record $3 million to assemble the London field that year. Steven Downes writing for the IAAF called it "the greatest field of marathon runners ever assembled" and the Association of Road Race Statistics still ranks it as the most competitive marathon field of all time, including the Olympics.
Amazingly, the race lived up to its hype and even surpassed it if that's possible, as it featured a three-way duel over the final miles between Gebrselassie, Tergat and Khannouchi, who had not finished a marathon in 18 months and was largely overlooked heading into the race. First Gebrselassie had the lead and then Tergat, but in the end Khannouchi pulled away from Tergat late to win in a world record 2:05:38, while Tergat was second in 2:05:48, in the first marathon with two sub-2:06 performers. It remains the only time the men's world record was set at London, which is widely regarded at the world's premier marathon.
Khannouchi's London win in 2002 surprised the entire world - even Khannouchi and his then-wife Sandra. While watching Khannouchi run with the leaders from the lead press truck, Sandra admitted, "He's not in shape to be running this fast." Afterwards, Khannouchi said, "I was pretty surprised. I grew up watching these guys at the World Championships and Olympics just imagining what it would be like to race against them. To beat them, well ..."
Pundits wondered afterwards if it was not only the greatest marathon ever run, but greatest distance race ever run. As Downes wrote:
The organisers had claimed it was the "World's Greatest Race." If anything, they could be accused of classic British understatement, as the 22nd running of the London delivered probably the greatest display of distance running ever seen, and all in front of some 32,000 in the mass event.
Khannouchi's brilliance continued that October as Khalid ran 2:05:56 to get his fourth and final Chicago win, defeating Tergat and El Mouaziz as well as Japan's Toshinara Takaoka and Kenya's Daniel Njenga in the process. Khannouchi's final Chicago win came yet again in his signature come-from-behind style, as he waited until past the 23-mile mark to make up the 20-second gap Takaoka had on the chase pack. Although no one would realize until years later, Khannouchi was at the pinnacle of his career and the marathon was at a different place thanks in large part to Khannouchi. At the end of 2002, he had three of the four fastest marathons ever run. Of the nine fastest times ever run in the marathon, eight of them were run in races won by Khannouchi.
All-Time Marathon List End Of 2002
1
Khalid Khannouchi
London 2002 WR
2:05:38
2
Khalid Khannouchi
Chicago 1999 WR
2:05:42
3
Paul Tergat
London 2002
2:05:48
4
Khalid Khannouchi
Chicago 2002
2:05:56
5
Ronaldo Da Costa
Berlin 1998 WR
2:06:05
6
Moses Tanui
Chicago 1999
2:06:16
7
Daniel Njenga
Chicago 2002
2:06:16
8
Toshinari Takaoka
Chicago 2002
2:06:16
9
Paul Tergat
Chicago 2002
2:06:18
10
Gert Thys
Tokyo 1999
2:06:33
Note: Bold Races Which Khalid Khannouchi Won
With stats like that associated with Khannouchi's two biggest wins, it's no wonder that Chicago Marathon director Carey Pinkowski later told the Wall Street Journal in 2011 that Khannouchi had "revolutionized" the way runners attacked the marathon.
Injuries Plague The Rest Of Khannouchi's Career
The rest of Khannouchi's career was hampered by injuries related to his feet. Khannouchi would miss 2003 with injury and the 2004 Olympic Trials with injury. He was back in Chicago in the fall of 2004, running 2:08:44 for 5th. 2005 was missed with more injuries. In 2006, Khannouchi ran 2:07:04 in London for 4th.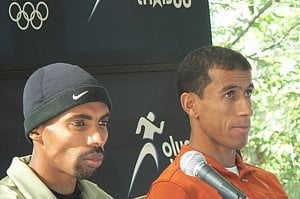 Khalid And Meb At The 2007
Olympic Trials Marathon
After another year and a half of injuries, Father Time seemingly had won the battle with Khannouchi. However, he hadn't given up on his dream to represent the US in the Olympics. In New York in November 2007, Khannouchi competed in his only US Olympic Trials Marathon. Three weeks after running a mediocre 1:05:04 half marathon, a 35-year-old Khannouchi put forth a valiant effort in New York, but came up 54 seconds and one spot short of the Olympic team, as he finished 4th in 2:12:34.
The Trials race would be Khannouchi's final marathon and his Olympic dream would go unfulfilled.
"That race is the real disappointment I had (in my career). I had some bad marathons, but that (race) stands out in my mind because I was very close (to making the Olympics)," Khannouchi said to LetsRun.com yesterday. "I didn't have enough time to train for the Trials and despite that I was very close to making the US team."
Khannouchi's Lasting Legacy
In many ways, it was appropriate that Khannouchi's Chicago course and US all-comers record was broken by 2008 Olympic champ Sammy Wanjiru. Pundits can debate who the greatest marathoner of all time is, but in compiling our short list Wanjiru and Khannouchi are two of the guys at the very top. Wanjiru never got the world record in his short life, but he got the Olympic gold that Khannouchi always wanted, and Wanjiru's attacking style in the heat of Beijing pushed the sport to a new level.
Men's marathoning had largely been stagnant for over a decade until Khannouchi came on the scene and pushed it to new heights with his fast times and late-race heroics. In the decade since Khannouchi's reign ended in 2002, the progression in the marathon has been remarkable. At the end of 2002, Khannouchi had 3 of the top 4 times ever, but now his personal best is only the 46th fastest marathon of all time.
"A lot of runners are attacking the marathon when they are very young and most of them are 22-23 years old, and that is very important. If you have a solid base at 10k and half marathon and can do a marathon earlier that will help you run faster," Khannouchi said on the transformation of the marathon.

Ryan Hall, Khalid, And Meb At London 2007
Khannouchi's Future Plans And A Look Back
Khalid currently is splitting his time between Ossining, New York and Colorado Springs, Colorado. Now that he's no longer going to try to compete again, the first thing he wants to do it give his mind a break. "It's a tough decision for me to make (retiring) but I have to do it. I want to rest my mind. I have a lot of ambitions, I want to go back to college, I want to do some other things, but I want to rest mentally, rest a little bit, travel a little bit and then focus on what I want to do. I don't have any idea what the future holds for me."
When reflecting on his career and the fact he never competed in the Olympics or won an Olympic medal, Paula Radcliffe's name came up. The female world record holder is still looking for an Olympic medal.
Khalid said, "I hope she gets it, like my buddy (Hicham El) Guerrouj did."
Khalid then used that moment to show his familiarity with American football and reflect on his own career and some of the great athletes in other sports who did not end up with global titles saying:
"(Look at) Dan Marino, he's one of the best quarterbacks, but no Super Bowl. It's going to happen to some people in their careers but I don't have any regrets and I'm happy with my career. There were a lot of people in the same level with me who didn't make it. You always have to look at the people in the pack and not look at (just) the people with titles and Olympic medals and all that and compare yourself with them. Compare yourself with the pack. I think I did a lot of great things for the sport of marathoning, the way people are training now. I lot of people have taken advice from my experience."
With his competitive days over, Khalid will leave the pontificating to the pundits.
He retires proud of his own accomplishments, "It's the history of sport. LeBron James is facing the same thing. As long as he doesn't win a championship he'll have everybody criticizing him. He should be proud of what he does well. In my case, I was very happy in that in many years I was the best marathoner in the world. You don't take that for granted but you're proud of what you've done."
Well said.
---
Below we have some additional quotes from Khannouchi that didn't make the main story, as well as some additional links for more info on Khannouchi.
*** Khalid On The Marathon
"You always have doubts. You can not think you can master the marathon. That is basically the idea I had preparing for any marathon."
*** Khalid On His Preparation For The Marathon
"I really wanted to be perfect."
*** Khalid On Working Hard And Getting A Little Bit Of Luck
"Hard work is everything. You have to have a little bit of luck and the right people around you and I think I had that. I don't credit everything to my work. I had the right people around me, financial support, New Balance being there for all these years, I feel like I was lucky."
*** Khalid On The End Of His Career
"Over twenty years of running, you're gonna hit the wall. If not now, sooner or later."
*** Khalid Leaves With No Regrets
"I'm really happy. It was a lot of fun, I don't have any regrets any complaints despite the last ten years being with a lot of nagging injuries. I'm very happy with everything and I want to thank everybody who contributed to my running career and I want to thank my fans for being supportive."
*More: Chicago Tribune's Phil Hersh Reacts Bitterly To Khannouchi's Retirement: Khannouchi calls it quits, which is nothing new Hersh is apparently very upset that Khannouchi never ran for the US in the Olympics.
*1998 New York Times Profile of Khalid Khannouchi - From Morocco to Brooklyn, A Runner's Road to the Top
*1998 Chicago Tribune Profile Of US Immigrant Khalid Khannnouchi
*Wall Street Journal Profile On Khannouchi Last Year
*Recap By IAAF Of Khannouchi's Win In London Over Tergat And Gebrselassie *BBC Recap
*MB: *Khalid Khannouchi Retires *Is Khalid Khannouchi The Greatest American Marathoner Of All Time?