Mary Keitany - Generous Host and Narrow Favorite for Virgin London Repeat
World's Best Invites 20+ Media Visitors into her Home in Iten
By Emory Mort
April 20, 2012
Editor's note: In February, LetsRun sent Employee #1 Emory Mort to Kenya to participate in the IAAF's Day in the Life project and he shares some of the wisdom gleaned from that trip here. Mort spent twenty days in Kenya and many days with the sport's biggest stars including 800m world record holder David Rudisha, double world champ Vivian Cheruiyot, World and Olympic 1500m medallist Asbel Kiprop, world marathon record holder Patrick Makau, Abel Kirui, Wilson Kipsang, Emmanuel Mutai, and coach Renato Canova, among others. Mort started recapping his trip in the 8 Days of Glory Series which talks about the Rotterdam, Boston, and London Marathon. We're down to 1 Day of Glory on Sunday at the Virgin London Marathon. Mort's first piece on London is below. The IAAF paid for portions of his trip but had no say on the article below.
"Normally we'd be at church," Mary Keitany told us as we were sprawled out on her front lawn after her training run on a sunny Sunday morning in February, "but this week we're with you."
This Sunday, Keitany won't be at church either. She'll be competing for her second straight win on the streets of London. Last year, the half-marathon world record holder put on an exhibition in London running 2:19:19, the first sub 2:20 clocking since 2008, to defeat World #1 Liliya Shobukhova by nearly a minute.
While in Kenya we met with about a dozen of the country's best distance runners. When I say "we", I'm talking about a group of roughly 20 people, journalists on the IAAF Day in the Life Project meant to help bring the stories of the sport's Kenyan stars to live. The only one brave enough to invite us all into their home was 2011 Virgin London Marathon Champion Keitany and her husband Charles Koech.
As we crowded into her living room, Keitany offered us tea, and one-by-one we all were served a cup of Kenyan chai. (Think one third-tea, one-third sugar, one-third whole milk.) Race photos, wedding photos, religious ornaments and other items decorated the walls of the house.

Mary Keitany, her husband and training partner Charles Koech their son and nephew serving
tea to our group in Iten. Photo © Emory Mort.
Mary and Charles fielded questions, talking about their recent wedding, their pasts and their futures. On their relationship, Charles said, "First we trained together and we become friends. And the relationship came slowly by slowly. She's an understanding wife; we share many things together." Charles still trains with Mary on many days. When I asked him if he could beat Mary in a half-marathon, he was a bit insulted. "Did you see the photo? I have run 61 minutes for the half marathon." I had seen the photo, but I still wondered. After all, his wife is just a tad faster than the average woman! To beat WR-holder Mary in a half marathon, you need to be running about 5-minute miles, flat. She's by far the best half-marathoner in the world currently, and perhaps ever, with 8 sub-67:00 clockings.
After many years together, Koech and Keitany recently were married, completing the traditional 3rd stage of relationship: first "Show-up" as girlfriend and boyfriend, "Pre-wedding" and then "Wedding". They have one child, who was joined by his cousin the day we stopped by. Apparently the Keitany/Koech wedding was quite a party as there were around 2,000 people in attendance including Berlin Marathon organizer Christoph Kopp. The DVD for the party reportedly runs 8 hours. Like most of the Kenyan-born women runners, Keitany lives at home with her husband. Many of the men we met, though not all, left home to live at training camp for six days a week. The women like Keitany, generally do not go away to camps.
Mary was asked about how it was to have a child and return to racing. She said she put on a lot of weight. The women in the room were laughing at this idea of such a small person being heavy, so when asked for specifics Mary said she went from 40kg to 46kg. For a runner, that's a lot. Once she lost the weight, she said, it has been no problem. The performances certainly back her statement up. On Sunday in London, she'll perhaps lose a few kg's from start to finish, but maybe gain a nice trophy and her first Olympic berth at age 30.

Mary Keitany, her husband and training partner Charles Koech their son and nephew
Photo © Michael Steele, Getty Images
Keitany does some hard training every week with Lydia Cheromei and Hilda Kibet, taking instruction from Gabriela Nicola. The day before we met her, she ran 40k in around 2'45". Recently Italian coach Renato Canova, who keeps in touch with Keitany's training, wrote me and said that Mary "seems better than last year." From Mary's performance chart, we can see that she won the RAK Half Marathon by almost 2.5 minutes, or about 10 seconds per mile. This was after she went out under her own world-record pace from the previous year despite the windy conditions. When we met with her, she assured us she was running RAK "just to win". Perhaps her inability to hold herself back explains why, when I asked her if she preferred races with pacers, she said, "with pacers is better for me."
Last year in New York with no pacemakers, Keitany took off from the gun. By 10k she was nearly a minute up on the field. At 20k, she was still on 2:15 pace despite slowing slightly the 2nd 10k. And remember this was at New York with the Verrazano bridge. At half-way 1:07:56, she was faster than any woman ever before in a marathon, including Paula Radcliffe in her world record 2:15:25 run. The pace was suicidal even for the world half marathon record holder and Keitany's gradual collapse ended in a dramatic late-race pass by an Ethiopian duo led by Firehiwot Dado (recently 4th at Boston).
Keitany Turns to London
You might think Mary's a lock for the Kenyan Olympic team considering her status, but she's going to have excellent Kenyan competition in London. Leading the contenders is 2010 NYC Champ Edna Kiplagat who followed up her New York win with a 3rd place 2:20:46 pr in London last year and then topped it all with a World Championship win in Daegu last fall. Florence Kiplagat, who easily dispatched of Paula Radcliffe in Berlin last fall running 2:19:44 is in the field as well. Then there is Kenyan Lucy Kabuu, who ran 2:19:34 in her marathon debut in January to win Dubai. Kenyan officials say no matter what they won't put Kabuu on the Olympic team. Regardless, she represents another serious competitor for Keitany. Then there is Priscah Jeptoo with a 2:22:55 best who was silver medallist at the World Championships and is on the short list of those who could be selected for the Olympics. Looking at the high level of Kenyan competition, Mary will probably need another very solid performance to ensure an Olympic selection. Look for Mary to try to break away fairly early like she did last year if she feels good.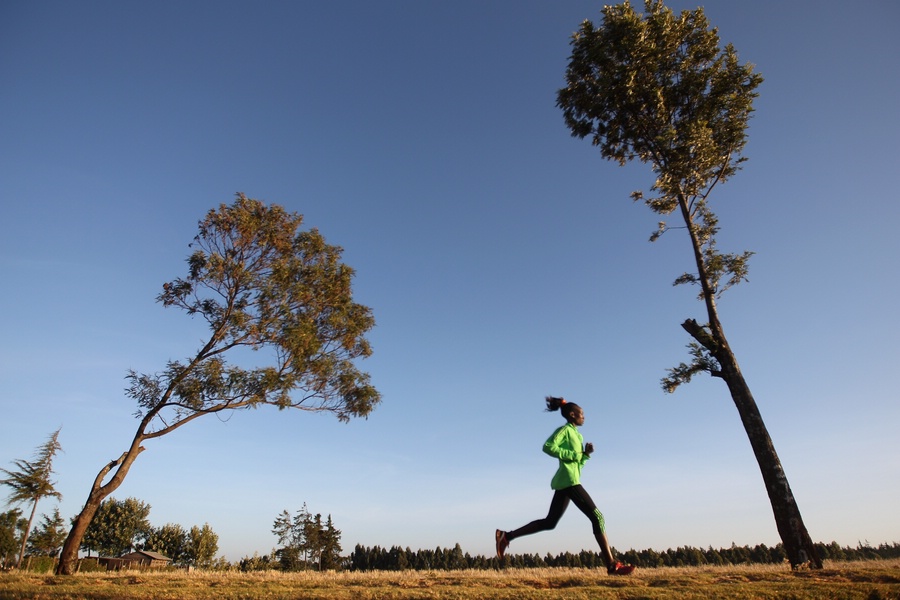 Mary Keitany Training in Iten, Kenya
Photo © Michael Steele, Getty Images
The Ethiopian challenge is led by Buzenesh Bekele (2:20:30) and Aberu Kebede (2:20:33) who both ran 2:20 in Dubai in January but that only got them 4th and 5th place respectively. The Ethiopian to watch is Ejegayehu Dibaba sister of world beater Tirunesh Dibaba. Ejegayehu debuted in 2:22:09 in Chicago in the fall for second place, the third fastest debut marathon ever, and it was her first race farther than 10km. Clearly, she has the talent and if she continues to take to the marathon she could be a factor. Former World Marathon Majors champ Irina Mikitenko may be on the back nine of her career but she still ran 2:22:18 in Berlin last year.
Mary's half-marathon success and even first half in New York last year, leave open the possibility of her eventually challenging Paula's world record. As crazy as it sounds is the world record possible for Mary in London? "Maybe." she says. "Perhaps 2:17." Mary's quick to smile and joke around with most questions, but she isn't eager to give away bold predictions. "The Olympic gold is very important and very tough," she says, also noting that having an Olympic gold puts you at another level when you go for the next race.
Look for 1:09:15 at Halfway
According to Canova, the pace should shake out like this in London: "There are two good pacers, Peninah Arusei for a split of 1:09:15 at HM, and Joyce Chepkirui till 25k (but maybe she can go till 27k)". Last year Keitany split the pack with a 5:00 16th mile in running the last half of her then #4 all-time marathon performance in 68:41. She left the most dangerous competitor Liliya Shobukhova in the dust. The gap never closed significantly.
Given proper pacing and a good day for Mary, look for her to start pushing with plenty of miles left to be run. Sitting and kicking is not her style.
So what does Mary Keitany hope to do after she's done running? "I want to be a coach," she says quickly. Perhaps someday she'll be coaching the next Mary Keitany, telling her, "if you could just slow yourself down at the beginning, you'd win every time!!"
More: Emory Mort's Mary Keitany Photos *Getty Images Day in the Life Photos
More London: Video: Race Director Dave Bedford Breaks Down the Women's Field

More Keitany: LRC Keitany Beats Herself in New York City *LRC London 2011: Women's Marathoning Has a New Star
Don't Miss: Saturday 1pm Eastern: Live LetsRun.com London Preview Show
Also in this Series:
Meet the Electrifying Abel Kirui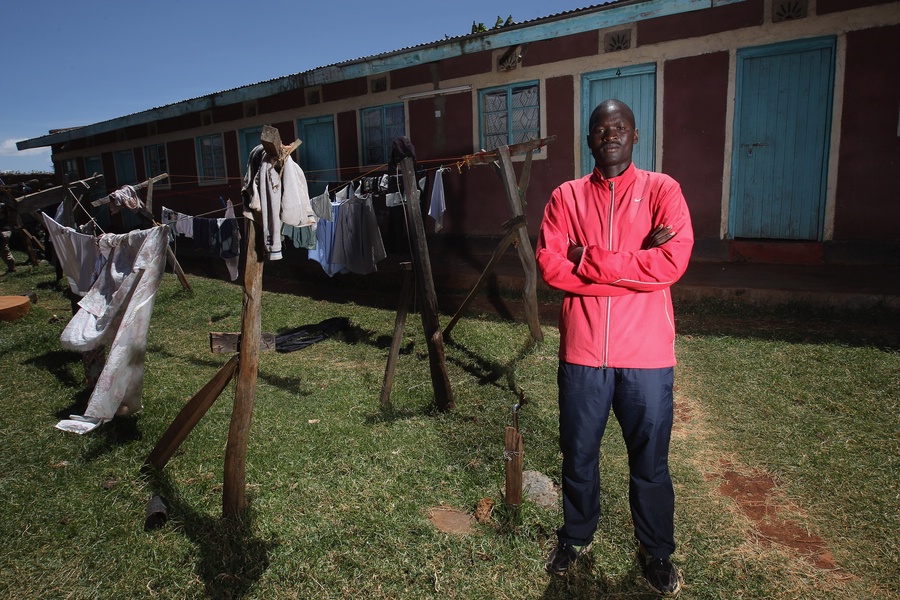 8 Days of Glory Series: The Kenyan Marathoning Greats
Prologue: 8 Days for Glory - A Kenya-Flavored Preview of the Upcoming Men's Marathon World Record Assault
Episode 1 Moses Mosop*: "Moses has speed that has never been seen."
Episode 2 Geoffrey Mutai Returns to Boston: A Look Back At Boston 2011 And A Look Ahead To Monday's 116th Running
Episode 3 Mary Keitany* Meet the Amazing Mary Keitany
Episode 4 Abel Kirui* The Electric Marathoner
Bonus Episode: Wilson Kipsang*: 2012 Virgin London Marathon Champion "If I had to compare him to an NFL quarterback, I'd compare him to Peyton Manning."
Episode 6: 8 Days of Glory Surprise: What We've Learned from the Kenyan Olympic Selection Process
*on the 2012 Kenyan Olympic Team

More
London 2012:
Women: Mary Keitany Runs Fastest Final 10km In Marathon History To Repeat & Become The #3 Performer In History
Men: A New #1: Wilson Kipsang Destroys One Of Greatest Marathon Fields In History