A Look Inside Glenn Randall's "15 Minutes Of Fame"
LetsRun.com Catches Up With The Former Dartmouth Cross-Country Standout Who Led Monday's Boston Marathon In The Early Miles
By Zeb Lang for LetsRun.com
April 18, 2012
During Monday's Boston Marathon, the largely unknown Glenn Randall found himself in the lead after the first mile alongside 2:11 marathoner Nick Arciniaga. Despite the day's soaring temperatures, Randall was only getting warmed up.
After a 4:50 opening mile, Glenn forged ahead to take a 5-second lead at 5 kilometers in 15:04. He'd keep the lead until something close to 9k and was still in the lead pack at 10k (31:02). After relinquishing the lead, Randall was unable to maintain his strong early pace and subsequently faded to 60th place in 2:37:13. Ever since, the LetsRun.com message board has been red hot debating the merits - or some might say lack thereof - of Randall's opening surge, which has been affectionately labeled: "Pull a Glenn Randall (GR)."
Who Is Glenn Randall?
While Glenn was an unknown factor leading one of the world's most prestigious marathons, the reality is he already carries a full and intriguing athletic résumé at the age of 25.
Check this out. Unbeknownst to most, Randall, a 2009 graduate of Dartmouth, was an individual and team NCAA champion in cross-country in college - cross-country skiing, that is.
In reality, Randall excelled both as a cross-country skier and runner as an undergrad. In skiing, he was a member of the 2007 NCAA championship skiing team and won the 2008 10k NCAA title in cross-country skiing. However, his running exploits were legitimate as well. He qualified individually for the 2008 NCAA cross-country running championships, where he was 61st and took a lot of nice scalps in the process. Just glancing at some of the names who finished within 10 seconds of him, one finds standouts like Andrew Wheating, Ciaran O'Lionaird and Colby Lowe. After the ski season, his collegiate track exploits weren't quite as significant, but he did run 30:00.40 at the 2008 Penn Relays.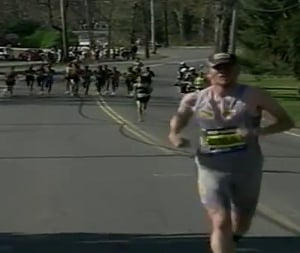 Glenn Randall In Boston
And Randall clearly is a talent, as in high school he was a state champion in Colorado and he missed making the Foot Locker finals by 1 spot, as he was 9th in 2004 at the Midwest regional. Nowadays, he'd be a Foot Locker finalist as they take 10 from each region (plus things watered down with Nike).
Since college, Glenn won the 2010 Pikes Peak Ascent in his home state of Colorado and last fall ran his marathon debut at Chicago in 2:20:40, good for 20th place. Having eschewed ski races since early 2011, he has spent the last year focusing solely on running.
Monday's Race
As he was widening his lead in the early miles, many observers were thinking something along the lines of, "Who is this moron that went out too fast to try grab 15 minutes of fame?"
However, Glenn Randall was thinking just the opposite. Randall was worried he had gone out too slow.
"(I felt I) should've let loose a little more. I was physically holding back and I wasn't flowing," said Randall on a phone interview from Colorado on Tuesday. "Then all of a sudden, I was all alone. I really wasn't going that fast. Last year I would've been way off the back. At 9 km I started feeling pretty bad and had a rough last 20 miles."
When asked whether he got a thrill out of leading at Boston, Glenn replied, "It was somewhat of a rush, but I was trying to stay within myself. I wasn't giddy."
Although he is partially sponsored by Powerbar, Glenn dismisses any thoughts that he may have taken the early lead to earn a promotional bonus. "I have no incentives for early leading, only incentives for finishing well."
He views Monday's strong start as just part of his routine approach to racing. In hindsight, despite several 80-degree March and April days in Colorado, Randall, like many others, was not ready for Boston's heat and humidity.
Always Aggressive
"During every good race of my life, I've been aggressive," said Randall. "People thought I was being stupid, but I live by the sword and I die by the sword. Sometimes it doesn't work out. I'm at peace with this. It's not always going to be your day."
Randall has history on his side when he says that bold, aggressive moves have worked for him in the past. In 2010 at the Pikes Peak Ascent, a big mountain run in Colorado, Randall did exactly what he did in Boston. As a race rookie, he did something that nearly all observers thought was suicidal - he went out hard. The result? A stunning victory.
Check out what Tim Bergsten wrote about Randall's 2010 Pikes Peak win in a column on PikesPeak ports.us entitled, "Randall breaks the golden rule and wins."
Glenn Randall bolted away from the starting line of the 2010 Pikes Peak Ascent, cracking the golden rule of the race: Don't go out too fast.

His early pace Saturday morning was something better suited for a 5k, rather than a 13.2-mile run to the top of 14,115-foot Pikes Peak.

The other top runners in the field couldn't believe their eyes.

"I thought it (Randall's pace) was a joke, to be honest," said Rickey Gates, who eventually finished third. "For him to do that, it was humbling for the entire field. I
don't think a single person who placed in the Top 10 expected him to be out there … insane."

Yeah, crazy like a fox. His plan worked perfectly, and 2 hours, 9 minutes and 28 seconds later, the guy who started too fast was the Pikes Peak Ascent Champion.
When asked about the heated message board thread about his 2012 Boston lead: Pull a "Glenn Randall" (GR), Glenn denies reading or authoring any posts and instead points out a quote he lives by from Dr. Seuss (a.k.a. Theodor Geisel, Dartmouth Class of 1925):
"Be who you are and say what you feel because those who mind don't matter and those who matter don't mind."
---
About the author: Zeb Lang has been a letsrun visitor since the website's first days in 2000. Lang was coached by RoJo as a Cornell undergrad and has served as a volunteer assistant coach for the past three years while completing his MBA at Cornell and working as a financial analyst. Zeb credits letsrun guru John Kellogg ("JK") for guiding him to his marathon PR.
LetsRun.com Editor's Addition: Someone has been impersonating Randall on the message board. None of the posts that were from the name Glenn Randall actually came from him and have been deleted. Additionally, an impersonator also sent us a fake email which is pasted at the bottom of this article. The email is pretty clever but if the impersonator is reading this, please stop your antics.
If you want to learn more about Randall, Running Times did a nice feature on him and his teammate at Dartmouth, Ben True, in 2009. You can see that link and others below.
*Running Times Three: Sport Stars: Two Dartmouth Runners Take on XC, XC Skiing & Outdoor Track
*The Dartmouth Article On Randall's NCAA Ski Title: Randall: "I had a really good race but I haven't had time to sit down and think about why. I guess you've just got to go out and ski a hard race, and see what happens."
*Running Times Article On Randall's 2010 Pikes Peak Win
*Pikespeaksports.us: Randall breaks the golden rule and wins
*Dartmouth XC Skiing Bio
*Dartmouth XC Running Bio
The Fake Email We Received:
>
> My side of the story
> Leading up to Boston my training had been going steady. I was running around
> 90 miles a week with a peak of 110. I ran a 2:20:40 in Chicago so I was
> eager to come out to Boston and break a 2:20. I didn't really keep much
> track of the weather leading up the race. I was focused on what I had to and
> the pace I had to run. The night before I first became of aware of how hot
> it would be. It was then I figured that I had no reasonable shot of running
> a 2:20, not with the forecast calling for temps in the 80's. I abandoned the
> hope of doing that and just decided to go out and see what I could do.
> I really had no intentions of doing what I did, it wasn't a stunt, it just
> happened. When we started I found myself right in the front, I'm no stranger
> to finishing high up in a major marathon as I had a top 20 in Chicago when I
> ran 2:20 and change. The opening pace seemed slow for Boston and I found
> myself with the leaders I've lead many smaller races before but never had I
> found myself in the lead of Boston. Yes it was very early in the race but I
> was excited and I saw an opportunity to make a name for myself. I knew 2:20
> was out of reach. I figured with the heat I was capable of running 2:25 to
> 2:30 on a good day. I knew if I went out hard and blew up I was going to run
> 2:35 to 2:45. To me there wasn't much of a difference between 2:45 and 2:25,
> when you've run a 2:20. Nobody is going to know or care about that 20 minute
> difference. But what they will care about is if you can say you lead the
> Boston Marathon. There I was through 5k with a big lead in Boston. I was
> thrilled and loving it. Do you know how hard it is to live the life of a
> 2:20 marathoner? You have little or no sponsorships, or endorsements, you
> work your butt off and work full time on top of all that. Elites work hard
> as well, but they're not working full time. Sometimes that ignites my fire
> to keep running, but in Boston it triggered an explosion as hot as the day.
> When I made my decision very early in the race to take it out I knew what I
> was doing, and I had no problems then doing it and I don't regret it now.
> After getting passed by the chase pack, I faded and I faded bad. The last
> 10k was horrible, I felt like I was "walking." But so were a couple of other
> guys around me. I know I blew up, but look at how many people had a worse
> positive split than I did. Can they say lead Boston? When I got back to the
> hotel I had a lot of calls and texts from family and friends saying they had
> seen me lead Boston. I doubt if them or many non runners would have known
> the difference between a 2:37 and a 2:25. But what they do know is the
> difference between leading a race and not leading.
> Simply put I had fun out there. I made the most out of a crappy day. Isn't
> that what running is all about? If you're not running as a living you should
> go out there and enjoy yourself. My decision didn't cost me any money, or
> fame. Just time on the clock, and I've got plenty of that.
> I hope this explains my thought process,
> Thanks for reading,
> Glenn Randall