Carey Pinkowski Reflects On The Career Of Khalid Khannouchi: "He Was The Absolute Best I've Ever Seen"
The Bank Of America Chicago Marathon Director Talks About The Marathon Great Who Made His Name In The Windy City
By Weldon Johnson, LetsRun.com
March 28, 2012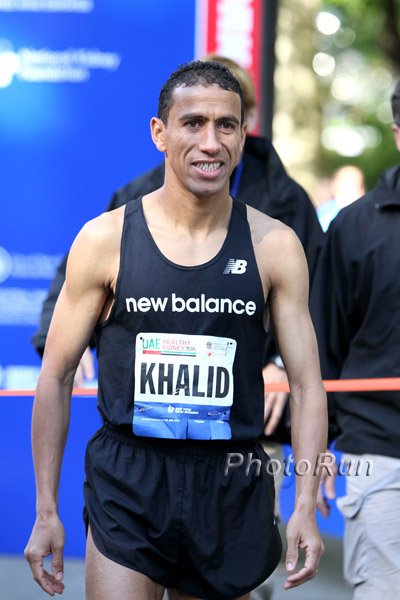 Khalid Khannouchi
Editor's Note: Tuesday, when we exclusively broke the news of Khalid Khannouchi's retirement, we stated that Khannouchi's greatest victory was his 2002 world record triumph over Paul Tergat and Haile Gebrselassie. However, we also pointed out that Khannouchi is most associated with the Chicago Marathon. Khannouchi made his debut in Chicago in 2007 with a 2:07:10 win (when the world record was 2:06:50) and went on to win it three more times (1999, 2000, and 2002), including his world record run in 1999.
On Wednesday, LetsRun.com's Weldon Johnson ("Wejo") caught up with Bank of America Chicago Director Carey Pinkowski to talk to him about Khannouchi's legacy in the sport. Pinkowski was coming off of last weekend's Bank of America Shamrock Shuffle, the nation's largest 8k that capped registration at 41,000 entrants and had 34,700 finishers.
Khannouchi's success in Chicago mirrored the Chicago Marathon's phenomenal growth as it re-established itself as a truly world class international marathon. In 1997, when Khannouchi first ran Chicago. there were 17,204 finishers. By 2002, the year of his final win, there were 31,135 finishers.
---
Bank of America Chicago Marathon race director Carey Pinkowski remembers what he told Khalid Khannouchi after watching him win the 1997 Steamboat Classic in Peoria, Illinois. Pinkowski said, "I remember seeing him after the race and saying to him, 'If you ever decide to run the marathon, you'll break the world record.'"
Pinkowski had gone to Steamboat, a four-mile road race, to recruit another athlete, Jon Brown, who would become the British 10,000m record holder and get fourth at the 2000 and 2004 Olympics in the marathon. When Pinkowski saw Khannouchi run, he was captivated: "I had not seen an athlete that could run on the road like he did, as relaxed and efficient as he was. It just looked like his feet stuck to the road. It just seemed like he was built to run on the road."
Pinkowski added, "I knew at that point in time he could be a great, great marathon runner."
Pinkowski went to work on recruiting Khannouchi and signed him to make his debut at that October's Chicago Marathon. As Pinkowski said, "The rest is history."
Khannouchi's debut was a smashing success. He ran 2:07:10, the fourth-fastest time ever at the time, and the fastest debut, blitzing the second half in 1:03:01. Here is how Skip Myslenski of the Chicago Tribune described Khannouchi's first Chicago win in his marathon debut:
"He was a mesmerizing vision of grace and strength, his head steady, his shoulders loose, his stride even stretching out as he traipsed over this race's last 385 yards. So often, at this stage of this event, a runner looks as if he is staggering out of an alley in which he has just been mugged. But not Khannouchi, who here was finishing his first marathon."
Pinkowski saw the same grace and strength Myslenski did and remarked 15 years later, "He could have run 2:06:10 or 2:06:15 easily (but) we didn't set it up for that (fast a race). There is no doubt in my mind he could have broken the world record in his first outing because he was well within himself. He had some crazy last couple of miles. He had some crazy splits."
Pinkowski added, "We knew he was going to be good, but not that great right out of the blocks."
Khannouchi Was Injured At The Height Of His Career
One thing Pinkowski stressed and wanted to make sure that fans of the sport understood is that Khannouchi struggled with injuries throughout his career. Pinkowski pointed out that Khalid did not just struggle with injuries the last ten years of his career, but "was struggling with injuries from the front end of his career." Khannouchi's injuries were usually related to his feet and may have been caused by a leg length discrepancy.
In 1998, the year after his debut, Khannouchi came back to Chicago with an injury and was pushed into second place by Ondoro Osoro. Pinkowski said of the injury, "He (Khannouchi) couldn't walk for a week after that."
The next year in May of 1999, Khannouchi was still worried he would not be healthy enough to run Chicago. He got healthy, and his return was a grand one as he left with his first world record, 2:05:42. It was a magnificent race, as Khannouchi ran down Moses Tanui, who had opened up a 27-second lead on him.
2000 saw more injuries. As the world record holder, Khannouchi no doubt got a huge payday to run the 2000 London Marathon, where he finished third in 2:08:35. But he ran with an ankle injury and left the race with ankle and hamstring injuries that would keep him out of the next month's 2000 Olympic Trials Marathon, in what was the most controversial segment of Khannouchi's career, as some ripped Khannouchi for not skipping London and waiting to run the Trials even though at the time of London, Khannouchi wasn't yet a US citizen.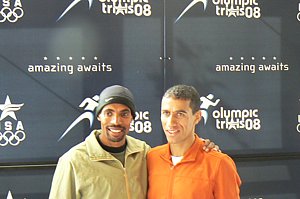 Khalid And Meb At Olympic Trials
Khannouchi was able to get healthy to win Chicago in 2:07:01 in 2000, but then he was injured during most of 2001, dropping out of the World Championships and not running a big city marathon.
Having been injured for so long is what made Khannouchi's greatest triumph, his 2:05:38 world record win in London over Paul Tergat and Haile Gebrselassie in 2002, even more remarkable. The marathon world record holder had not finished a marathon in 18 months and was largely overlooked heading into the race. His performance even stunned his coach and then wife, Sandra who said mid-race from the press truck, "He's not in shape to be running this fast."
In October of 2002, Khannouchi followed London up with his final Chicago triumph, a 2:05:56 come-from-behind victory that left him as the first man to go sub-2:06 twice in the same year, and with three of the four fastest marathon times of all time. The world would never see Khannouchi win a major again as the injuries would set him back even further the rest of his career.
"He Was The Absolute Best I've Ever Seen"
Without the injuries during the height of his career, we can only wonder what Khannouchi could have done. Pinkowski said, "He had some great comebacks, but he was never really 100% which was tragic ... We saw amazing performances, but there was so much more if there hadn't been the injuries ... If he would have been healthy how fast would he have gone? I think he could have gone low 2:04 easily. The times they are running now were not outside of his ability."
While we can wonder how fast a healthy Khannouchi could have gone with competition like today's, the Bank of America Chicago Race Director was unequivocal about one thing "He (Khannouchi) was the absolute best I've ever seen."
****
Pinkowski shared another interesting tidbit about Khannouchi's debut in 1997. Carey asked Khalid if he'd like to see the whole course before hand. Carey said Khannouchi told him "I really only want to see the last 3 miles, the last 5k, that's what I'm interested in. That's where I'm really going to concentrate." Concentrate he did, as according to the Chicago Tribune, Khannouchi unleashed a 4:38 mile on mile 24 to pull away to victory. And for those of you who think all American marathoners sucked in the 1990s, realize Jerry Lawson ran 2:09:35 in that race. David Morris would run 2:09:32 in Chicago in 1999.
****
Others React To Khalid's Retirement:
Virgin London Marathon Race Director Dave Bedford wrote to us: "Khalid was of course the first man to break the world record in London so he holds a special place in our history. They used to say London was not a fast course ... they stopped saying that after KK's performance and ever since."
ING New York City Director Mary Wittenberg told the IAAF: "Khalid was the dominant marathoner of his generation and ahead of his time. Today, we talk about a trend in marathoning as athletes have begun to specialize at the distance. Khalid led the way and showed, with determination, grit, and grace, what it means to specialise at the marathon."
Marathoner Ryan Hall, still chasing Khalid's American record, tweeted: "Thanks Khalid for redefining US Marathoning! You are a legend of our sport. I am honored to have run beside you."
****
More: LRC Khalid Khannouchi Retires: A Look Back At His Career
Relive Khannouchi's 4 Chicago Wins Via the Chicago Tribune:
*1997 2:07:10 Debut win, 4th-fastest ever - "He was a mesmerizing vision of grace and strength."
*1999 2:05:42 World Record
*2000 2:07:01
*2002 2:05:56 Come-from-behind, 3rd-fastest ever

Profiles: *1998 New York Times Profile Of Khalid Khannouchi - From Morocco To Brooklyn, A Runner's Road To The Top
*1998 Chicago Tribune Profile Of US Immigrant Khalid Khannnouchi
LRC MBoard: Khalid Khannouchi Retires
Disclosure: Weldon Johnson paced Paula Radcliffe to her world record at the 2002 Chicago Marathon. Wejo made more money in that race than any other in his "career." Weldon's assistant pacer in that race? 2008 Olympian Brian Sell.