Wilson Kipsang Destroys One Of Greatest Marathon Fields In History And Wins 2012 Virgin London Marathon
14:09 Fifth 5km Decimates Field As Kipsang Gains Largest Magin Of Victory In 30 Years
By LetsRun.com
April 22, 2012
Pundits were wondering how 2:03:42 man Wilson Kipsang would handle the pressure when he toed the line for the first marathon major of his career today in London.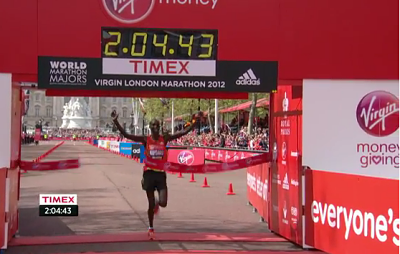 The sentiment was, "Winning twice in Frankfurt is one thing. Taking the title in the most competitive of the world marathons is another thing."
Well let history show that not only did William Kipsang win the 2012 Virgin London Marathon in 2:04:44, he dominated it, winning by a staggering two minutes and seven seconds, the largest margin of victory in 30 years. The two men that dared try to run with Kipsang in the second half of the race, double World Champion Abel Kirui and Ethiopian Feyisa Lilesa, would pay for it dearly as they ended up staggering home more than four minutes behind.
If anything, Kipsang seemingly deserved a bit more - the course record that Emmanuel Mutai set last year of 2:04:40 would have been just in our minds - as Kipsang obliterated one of the greatest fields ever assembled in marathoning history
LetsRun.com's Employee #1 Emory Mort, who spent some time with Kipsang earlier this year in Kenya, was right on the money when he said yesterday on our marathon prediction show that he thought 30-year old Kipsang wouldn't be afraid of the strongest marathon field in the world. Kipsang was far from intimidated as he pushed the pace the entire second half of the race and was rewarded with the dominating victory.
Fast From The Start
With four of the six Kenyan Olympic hopefuls on the start line, as well as a number of Ethiopian Olympic hopefuls, the anticipation for the 2012 edition of London was great. The race certainly lived up to the hype as the guys started running fast - very fast - from the gun.
The first mile was covered in 4:39 and the first 5km was reached in 14:37, which is 2:03:21 pace. The pace was so hot that the likes of world half marathon record holder Zerseney Tadesse, two-time World and 2008 Olympic silver medallist Jaouad Gharib, and two time New York champion Marilson Gomes dos Santos decided against going with it (and two of them would end up in the top 10 and all three in the top 15).
The pace slowed a bit over the next 5km as 12 men went through the opening 10km in the lead pack at 29:36. The second 10km was run in 29:37 and the lead pack was down to 10 as the field was on basically course record pace (59:13 for 20km is 2:04:55 marathon pace).
The new slightly slower pace after the first 5k wasn't sitting well with Kipsang as he did something that one never sees anymore in a time trial race like London, which normally has rabbits toeing the field through at least 30km, Kipsang pushed the pace himself before halfway.
Yes that's right. Just prior to half-way (62:12), the real racing began as Kipsang blasted it from the front. Kipsang surged and soon would break up one of the greatest men's marathon fields in history and drop the rabbits. The pack was probably stunned by his boldness and the 4:36 13th mile. Kipsang however was just getting started.
A 14:09 5th 5k - Three Try Go With It
The 4:36 thirteenth mile was followed by a stunning 4:30 14th mile. Initially, the only one to respond and hang with Kipsang was Ethiopia's Feyisa Lelisa, the bronze medallist at world's last year who in 2010 in Rotterdam had become at the time the youngest sub 2:06 guy in history (age 20 - since broken by countryman Bazu Worku). Two time world champion Abel Kirui was not done however and worked his way back up to the leading duo and the leading trio would stay together through 30km. In hindsight, it's easy to see why no one else went with Kipsang's bold move. Kipsang, Lelisa, and Kirui covered the 20km to 25km stretch in an almost unbelievable 14:09.
Yes, you read that right 14:09 with a 4:30 14th mile. That's 1:59:20 marathon pace for that 5km stretch.
At 25km (1:13:22) the runners were on 2:03:49 pace and they'd stay on this pace basically through 30km (1:28:04 - 4:43.4 mile pace - 2:03:51 pace) before the pace started to fade.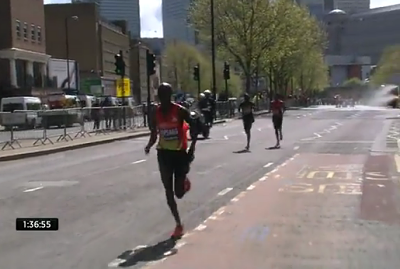 Wilson Kipsang Pulling Away In Mile 21
The 19th mile was 4:47 and mile 20 was 4:44. It was on mile 21 that Kipsang ditched the two that were brave (or some might say in hindsight foolish) enough to try to run with him. Kipsang ran 4:41 on that mile and Kirui and Lelisa were unable to respond. Yes Kipsang picked it up a bit, but in reality, the biggest thing that was happening was that Kirui and Lelisa were starting to slow down significantly as by 35km (21.75 miles) Kipsang's lead was 15 seconds.
Kipsang would start to slow himself but his lead would increase all the way to finish. Mile 22 was 4:48, mile 23 was 4:53 and mile 25 was 4:51, but by 40km (24.85 miles), Kipsang was up by 1:25 on Kirui and victory was clearly in hand. The only question was would Kipsang break Emmnauel Mutai's one-year-old course record of 2:04:40? At 40km, the clock read 1:57:58, which meant Kipsang was on 2:04:26 pace. But 2:04:40 pace is 4:45.3 mile pace and Kipsang was now running over 4:50 pace.
We imagine if he'd known what he needed to do, Kipsang could have gotten the course record as he still managed to run 4:57.7 pace from 40km to the 42.185 km finish. It seemed unjust for Kipsang to come in four seconds in arrears of the record, but he was all smiles and didn't seem to care.
Kipsang's run was truly a run for the ages. A course record would have helped the average person understand its magnificence that but maybe this stat will... he won by two minutes and seven seconds versus the greatest marathon field in the world.
That's the largest margin of victory in London in decades - literally 30 years (click here to see the London marathon margins of victory). The last time someone won London by more than 2:00 was in 1982 when Hugh Jones became the first Brit to win London with his 2:09:24.
Kipsang explained his rationale for the big early move to race organizers after the race:
"I made an early attack because the group was very strong and if we had gone to the latter stages together, it really would have been a problem to leave the group as we'd know how to attack each other," said Kipsang. "I knew when I went away they would have to work very, very hard to beat me as I was feeling so good in myself."
As for whether he thinks he did enough to make the Kenyan Olympic team? Kipsang certainly thinks so. "Now I think I will be the Olympic favourite."
(Quotes come from London organizers audio interview as well as text recap).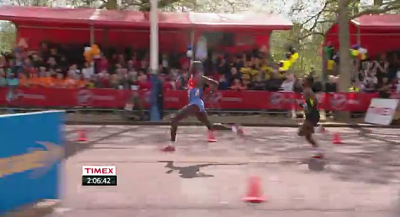 Martin Lel Sprinting Home For 2nd
The Battle For Second
And who finished second, you ask?
Well, it wasn't Lelisa or Kirui. Both of them paid for the 14:09 fifth 5km stretch in a big way at the end.
At 35km, Lelisa and Kirui were in second and third some 1:41 ahead of the next chase pack, which comprised of Kenya's Martin Lel, Eritrea's Samuel Tsegay and Ethiopia's Tsegaye Kebede. At 40km, Kirui still had 41 seconds on Lel and Kebede but that wasn't anywhere close to enough for him to get rewarded with a runner-up finish, as Kirui would stagger home. After a 16:31 eighth 5km segment (5:19 pace per mile), Kirui only could manage 6:16 from 40km to the finish (1.36 miles - 2.19 km) and he ended up in an unjust sixth in 2:07:56.
The battle for second would come down to a sprint and if justice wasn't going to go to Kipsang or Kirui on Sunday, at least it went to Marin Lel. The 33-year-old 3-time London and 2-time New York champ, who missed almost three years of marathoning prior to last year's London race due to injuries, dug deep to overcome a deficit in the last 100 meters to finish second for the second straight year in 2:06:51 as the 2008 Olympic bronze medallist Kebede ended up third in 2:06:52.
Lel's second-place showing means that all five times he has run in London he has finished first or second.
2005 2:07:26 1 London 17 Apr
2006 2:06:41 2 London 23 Apr
2007 2:07:41 1 London 22 Apr
2008 2:05:15 1 London 13 Apr
2011 2:05:45 2 London 17 Apr
2012 2:06:51 2 London 22 Apr
Lel was thrilled to have come in second.
"The last few strides were so hard, I was so pleased to beat Tsegaye," he told race organizers afterwards. "I am pleased to get second place today. It shows that my form is getting back to where it was."
Tsegay, who came into the race perhaps best known for being one of two guys to get in a brawl at the 2011 World XC championships - despite being the Eritrean national record holder (2:07:28) - would struggle home 9th in 2:08:06.
Kenyan Olympic Team?
With Kipsang's victory, it seems certain he's on Kenya's Olympic team. The question is who else makes the team.
World record holder Patrick Makau dropped out before 20km. Two time world champion Abel Kirui ran heroically today (one thing we didn't mention is he pushed the pace himself at around 25km) but only ended up 6th in 2:07:56. A saving grace for him is that while he did totally bonk after 40km, he did manage to finish 5-seconds ahead of last year's London winner Emmanuel Mutai. Mutai, who fell off the leaders just before half-way today, ended up 7th 2:08:01.

Given his two world titles and his bold run today, if we were Kenya, we'd pick Kirui as pick #2. So who would you pick #3?
The candidates are the world record holder Makau (who dropped out here before 20k despite urging the rabbits to push the pace at times), last year's Boston and New York winner Geoffrey Mutai, who was a DNF in Boston last week, 2:03:06 man and Chicago winner Moses Mosop, who ran 2:05:03 in Rotterdam two weeks ago and Emmanuel Mutai, who won set the course record in London last year and was second in New York as well and won the world marathon majors point title.
Various cases can be made for all three. It will be interesting to see what the outcome is.
If we were selecting, Geoffrey Mutai would be our selection assuming he's not injured. He won the Kenyan XC Trals last year, set two marathon major course records, and in our minds his Boston DNF might be a positive. The Olympic Games start in less than 100 days. He's already a week ahead of the London runners in recovery as well as a lot of miles ahead, as he didn't run the whole race. Plus we think his XC prowess shows he's good at accelerating and changing pace. People need to remember the London Olympic course has a ton of turns in it.
British Olympic Team?
32-year-old Brit Merrien Lee lowered his PR from 2:14:27 to 2:13:41 to finish 17th. However, he won't be going to his home Olympics as the Brits require a sub-2:12.00.
Top 20 results appear below as well as a few photos.
*Video Highlights of 2012 London Marathon Here
Top 20 Result From 2012 Virgin London Marathon

| | | | |
| --- | --- | --- | --- |
| 1 | | Kipsang, Wilson (KEN) | 02:04:44 |
| 2 | | Lel, Martin (KEN) | 02:06:51 |
| 3 | | Kebede, Tsegaye (ETH) | 02:06:52 |
| 4 | | Annani, Adil (MAR) | 02:07:43 |
| 5 | | Gharib, Jaouad (MAR) | 02:07:44 |
| 6 | | Kirui, Abel (KEN) | 02:07:56 |
| 7 | | Mutai, Emmanuel (KEN) | 02:08:01 |
| 8 | | Gomes Dos Santos, Marilson (BRA) | 02:08:03 |
| 9 | | Tsegay, Samuel (ERI) | 02:08:06 |
| 10 | | Lilesa, Feyisa (ETH) | 02:08:20 |
| 11 | | Bouramdane, Abderrahime (MAR) | 02:10:13 |
| 12 | | Worku, Bazu (ETH) | 02:10:14 |
| 13 | | Kipruto, Vincent (KEN) | 02:10:39 |
| 14 | | Tadese, Zersenay (ERI) | 02:10:41 |
| 15 | | Cherkos, Abreham (ETH) | 02:12:46 |
| 16 | | Karayel, Bekir (TUR) | 02:13:21 |
| 17 | | Merrien, Lee (GBR) | 02:13:41 |
| 18 | | Rocha, Solonei (BRA) | 02:14:57 |
| 19 | | Beattie, John (GBR) | 02:16:38 |
| 20 | | Anthony, Phil (GBR) | 02:16:40 |

| | |
| --- | --- |
| Wilson Kipsang Pulling Away | Wilson Kipsang Nearing Victory |
| Wilson Kipsang Wins | Battle For Second |
| Kebede Leads | But Lel Finishes 2nd |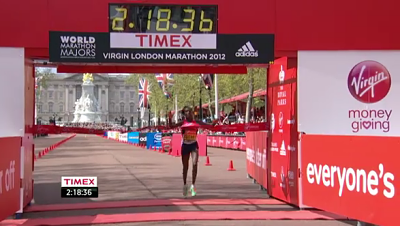 LRC Mary Keitany Runs Fastest Final 10km In Marathon History To Repeat & Become The #3 Performer In History The Kenyan certainly came to play when it was time to battle it out for the title and London Olympic spots as they went 1-2-3-4-5, but in the end, everyone was left talking to about Keitany who used a 5:07 23rd mile and 4:59 24th mile to pull away from world champion Edna Kiplagat and mark herself as the Olympic favorite.
LRC Meet Wilson Kipsang: "If I had to compare him to an NFL quarterback, I'd compare him to Peyton Manning." link fixed We share with you this unpublished segment on Wilson Kipsang from Employee #1s final piece in the 8 Days of Glory Series. Short segment with video interview with Kipsang overlooking the Rift Valley.