Michael Rutt Wins Robby Andrews, Alan Webb, Curtis Beach 800m Showdown at Duke
By LetsRun.com
May 6, 2012
The 800m showdown at the Duke Twilight meet between two time NCAA 800m champion Robby Andrews, American record holder in the mile Alan Webb, and 1:47.99 800m Decathlete Curtis Beach was won by... Michael Rutt.
Rabbit Sean-Pat Oswald led the first 400m before dropping out, and behind him the field led by Robby Andrews hit the 400 in 52 mid. Andrews would still lead at 600 where Rutt, Christian Gonzalez, and Billy Ledder were still in contention with a gap back to Alan Webb. Curtis Beach who had previously competed in the hurdles and the high jump was never a factor in this one and would run 1:56.57. On the final turn Andrews still led, and he and Rutt opened up a lead on the rest of the field. Andrews led onto the homestretch and Rutt went wide to try and pass. Andrews held him off until the final thirty meters where Rutt was able to come by and get the win in 1:46.86 to Andrews 1:47.11. Gonzalez, the New York/New Jersey Track Club teammate of Rutt got third, Billy Ledder was fourth and Duke's Stephen Clark was 5th. Alan Webb ran a season's best in 1:51.05 in 6th. (Race video below)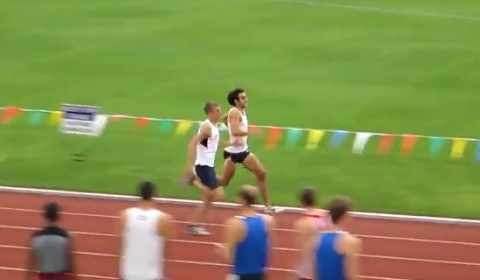 Rutt's victory should not be a total shock as he is a former NCAA runner-up indoors at 800m, he made the final of the recent World Indoor Championships at 800m, and he had the fastest time in 2012 in the field, his 1:47.04 at Mt. Sac. Andrews had only raced once all year running 1:49.08 on April 14th, so this was a nice nearly two second improvement.
Both Rutt and Andrews have 7 weeks before the Olympic Trials. Rutt's pr is 1:46.47 and he'll need to at least get down below the 1:45.60 Olympic "A" standard if he wants to go to London, but realistically he and Andrews will need to be in sub 1:45 shape to make the US team.
Alan Webb amazingly still has not broken 1:50 in 2012. Webb may be known for his endurance (he's run 27:34 for 10,000m), but he did run an amazing 1:43.84 in 2007. This 1:51.05 was a season's best, as Webb's previous best was a 1:51.91 indoors back in February.
***
LetsRun.com' Wejo spoke to Duke Coach Norm Ogilvie on the phone after the race. Coach Ogilvie said there was local media interest in the meet solely because of the 800m matchup and that there were more people in attendance. Coach Ogilvie also said his athlete Curtis Beach does not do any specific endurance training outside of his regular decathlon training and has still run 1:47.99.
***Updated: Quotes from Rutt and Andrews
Speaking of the local media the News and Observer story on the meet is now out. Michael Rutt said to Mike Potter of the News and Observer, "I was just trying to run fast and compete. I ran a smart race. I was just trying to tuck on Robbie (sic) and try to win. That was the goal today." Robby said, "I felt pretty good. It was weird being out front, but that's just racing. We were having fun."
And Curtis Beach had the one quote that applies to everyone hoping to make London 2012. Beach hoping to make the decathlon team said, "This is just a step along the way, a meet to practice and get better. The big focus is to be the best I can for the Olympic trials."
Update #2: Flotrack has three very short (less than 1 minute) interviews with Rutt, Webb, and Andrews that are embedded below. Webb said, "It was all right.. That pace was fast.... I feel good about my progress. I'm making lots of strides. I've got to keep on ticking," Rutt and Andrews both indicated they will race next at the Occidental meet May 18th. Rutt then hopes to run the adidas Grand Prix 800m.
*News and Observer story here
***
In other action, Anthony Famiglietti vowed to break Olympian Tim Broe's Stadium record of 8:39.09 from the 2000 NCAA meet at Duke. Fam came up just short in solo effort running 8:39.49. Update: Fam talks about his race below and video of Fam's race.
Full Results here
Full Men's 800m Race Video
(Props to LetsRun regular James Smoliga, aka Dr.S, for recording this)

Results
Section  1                                                     
  1 Rutt, Mike                   New Jersey-N           1:46.86
  2 Andrews, Robby               Unattached             1:47.11
  3 Gonzalez, Christian          New Jersey-N           1:48.60
  4 Ledder, Billy                Unattached             1:48.90
  5 Clark, Stephen            SR Duke                   1:50.45
  6 Webb, Alan                   Nike                   1:51.05
  7 Beach, Curtis             SO Duke                   1:56.57
 -- Owswald, Sean-Pat            Unattached                 DNF
    
| | |
| --- | --- |
| Mike Rutt | Robby Andrews |
| Alan Webb | |
Fam's Steeple
(Thanks to LetsRun regular James Smoliga, Dr.S)

Fam Talks About His Race
and Trying to Peak Later