2011 Healthy Kidney 10k: Aggressive Start Helps Leonard Komon Net $45,000 Payday
By David Monti
May 14, 2011
(c) 2011 Race Results Weekly, all rights reserved
NEW YORK (14-May) -- On his first trip to New York City, world 10-K record holder Leonard Patrick Komon came ready to race.

Spurred on by a $25,000 first place prize and the promise of a $20,000 course record bonus, the 23 year-old Kenyan burst from the starting line of the 7th annual UAE Healthy Kidney 10-K here this morning. Pushed by compatriots Micah Kogo, the previous world 10-K record holder, and Joseph Ebuya, the 2010 world cross country champion, Komon ripped through the first mile in four minutes and 17 seconds, on pace for a 27-flat finish time on the IAAF-certified and hilly Central Park course.

"When we arrived in New York, we walked through the course, and I saw that it wasn't too easy with all the hills," Komon said after the race. "It was in my mind to run a fast first 5-K."

Through the second mile Komon, who also holds the world 15-K record, kept up a torrid pace. The trio hit the two-mile mark in 8:38 (4:21) before ascending the biggest hill on the course in the north end of the Park. On that climb, Kogo and Ebuya began to lose contact, then Komon opened up a 50-meter lead on the descent. Clipping through 5-K in 13:26, Komon punched his fist in the air signifying that he was feeling strong. He had a 12-second lead on Kogo.

"I was expecting more of a challenge from my colleagues," Komon lamented. "But generally, Joseph Ebuya and Micah Kogo are big challenges for me. I had to start pushing from the start so I'd have the chance to run (fast)."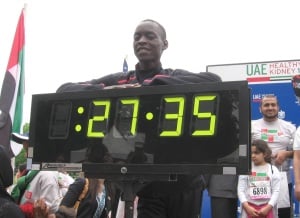 In the uphill fourth mile Komon slowed to 4:42, but got down to a 4:31 for the downhill fifth mile, putting him at the 8 km/5 mile checkpoint in a blazing 22:08. Kogo, who only arrived here yesterday afternoon due to a later-than-planned visit to the U.S. Embassy in Nairobi to receive his visa, was now running with Ebuya about 20 seconds behind.

"It was tough; I feel a little tired," Kogo explained. "From the start my body didn't respond like Leonard's did. I arrived yesterday, and maybe I'm tired from the flight."

In the final 800 meters --which gains about six meters in elevation-- Komon sprinted furiously to reach the finish tape in 27:35, seven seconds under Gebre Gebremariam's course record from one year ago. The performance earned him a $45,000 payday, the largest of any 10-k in the world.

"The last mile I was not pushing," said Komon, who has seven brothers and one sister. "I felt very tired."

Behind him, Kogo won the sprint for second against Ebuya, by one second in 27:55. Ethiopia's Lelisa Desisa and Kenya's Simon Ndirangu battled for the fourth spot, and officials declared Desisa fourth, although both men were given the same time: 28:19. The top American was Bobby Curtis, the former NCAA champion who finished ninth in 29:09.

Immediately after the race, officials of the Embassy of the United Arab Emirates, the sponsors of the race who provided the $60,000 prize money purse, announced that the Sheik Zayad course record bonus would be raised to $30,000 next year. Komon loved the idea, but said that running near his world record time of 26:44 would be too hard.

"It's a hard course, too hard for under 27:00," he said.

PHOTO: Leonard Patrick Komon after setting a new race and Central Park record at the UAE Healthy Kidney 10-K (photo by Jane Monti).
*Top Results below, Full Results here, race website here

Top Results - 7th Healthy Kidney 10-K, New York, NY, USA
MEN -
1. Leonard Patrick Komon, 23, KEN 27:35 CR* $25,000 + 20,000*
2. Micah Kogo, 24, KEN 27:55 12,500
3. Joseph Ebuya, 23, KEN 27:56 8,000
4. Lelisa Desisa, 21, ETH 28:19 5,000
5. Simon Ndirangu, 26,KEN 28:19 2,500
6. Tesfaye Girma, 28, ETH 28:25 1,250 + 1000^
7. Ezkyas Sisay, 22, ETH 28:47 PB 750 + 500^
8. Bado Worku Merdessa, 22, ETH 29:06 500 + 250^
9. Bobby Curtis, 26, USA 29:09 PB 250
10. Derese Deniboba, 28, ETH 29:10 100 + 200^
11. Shawn Forrest, 27, AUS 29:10
12. Ben St. Lawrence, 29, AUS 29:16
13. Harbert Okuti, 25, UGA 29:42 PB 150^
14. Abdi Abdirahman, 34, USA 29:44
15. Girma Tolla, 35, ETH 29:46
*Course record; previous 27:42, Gebre Gebremariam (ETH), 2010

WOMEN -
1. Buzunesh Deba, 23, ETH 33:39 $1000^
^Earned NYRR member award

NOTE: Race Results Weekly provides professional athletes consulting for the New York Road Runners
---
Runner's World &
Running Times



Combined Only $22
a Year
Save $87

---

Running & Track and Field Posters
---

Great Offer: Nike Lunar Glide Sale Multiple colors of this shoe available.

*Nike Air Max Moto 7 Get 2 Pairs for a Crazy $112
---