Meet Abel Kirui: The Electric Marathoner
By Emory Mort
April 20, 2012
When the selectors sit down in Nairobi in late April, poring over evidence and taking calls from informants trying to get every bit of advantage heading into the Olympic Marathon, I envision this scenario unfolding:
"Gentlemen! Enough debate! What I want to know is... Do we have anyone who will give us a good victory dance after the race?"
"Thank you, Abraham! Finally someone is loosening up around here!"
"Jacob, get serious, we have a team to pick!"
"Yea, I hear you Joseph, but I AM serious. TOO serious. I'm so stressed trying to make this decision, I'm going to need someone to give me a laugh after the race."
"Sir! Sir! I believe I have the man for you."
"But Cain, he's going to have to win to make the dance take effect! Who do you propose?"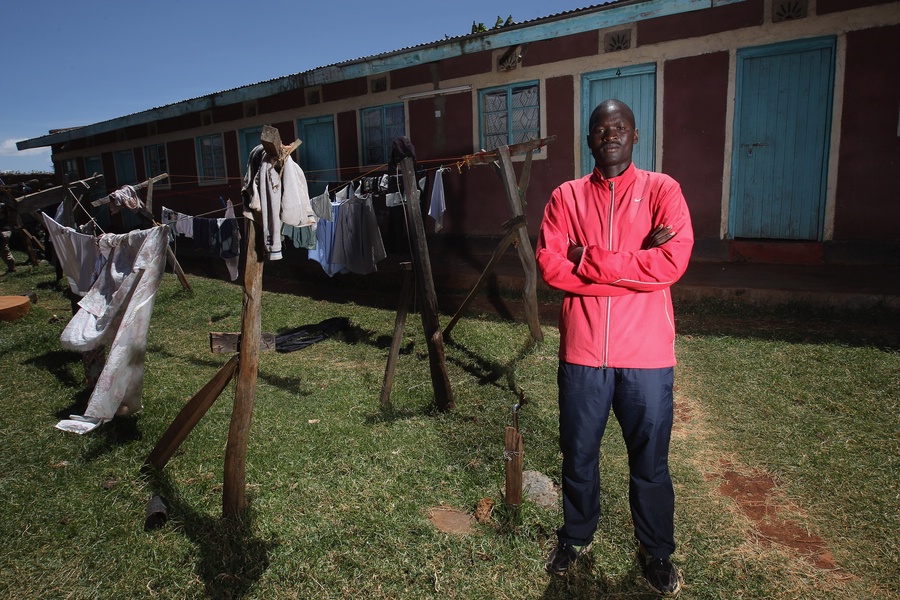 Abel Kirui in Iten
Photo © Michael Steele, Getty Images
***
At this point, with super Geoffrey Mutai cramping and dropping out of Boston, and Moses Mosop failing to part the sea of Ethiopian marathoners in Rotterdam, the Kenyan Olympic marathon selectors are closer to the time of selection, but they're no closer to having a clear choice. In case you're just joining us, the Kenyans said they would pick their three-man Olympic team from six men, Mutai and Mosop and four Kenyan stars running this Sunday's London Marathon: world record holder Patrick Makau, double marathon world champ Abel Kirui, 2:03:42 man Wilson Kipsang, and defending London champ Emmanuel Mutai. Even worse, with word of Emmanuel Mutai's recent bout with typhoid, their team is no longer looking like runaway favorites. Six Days of Glory, is now down to one day - glory or no glory. A consultation with a burning bush may be in order. But given our modern times, perhaps a blend of electricity and magnetism will do the trick.
***
The crews are in a good mood. The written press relaxed after a good laugh, the camera crews eased from an easy interview, Anna from the IAAF chuckling from the burst of energy we all just received. Welcome to a mid-day spent with Abel Kirui in his training camp.
Kirui's not boldly pronouncing himself as a future world-record setter; not making outlandish claims, not even showing off. He's just really funny. Since rational seriousness has yielded anything but predictable results in 2012's opening marathons from Dubai to Boston, perhaps a dose of crackling charisma is what we need. Viva Kirui!!
Kirui, who succumbed to cramps 35km in to his planned 40k speed test earlier that February morning, welcomed us to his training camp. Well, perhaps it's more accurate to say that he and his coach Renato Canova welcomed us to the camp. When asked for one word to describe Kirui, Canova offered "Electric". When I wondered how "Electric" and "Electric" worked together, Renato flipped the current on me, replying "maybe I am the Magnetic". A common occurrence through the day, I lit up like a light bulb. So much for objective journalism.
There are some reports out there saying that Kenyans are good at running for this or that reason. They're light, they're tall, they're genetically superior, they're from altitude, they're running to and from school, they're they're they're... In Abel Kirui's case, since apparently we have to find "good reasons" (typically immediately disputable blanket statements) to explain everything we don't immediately understand, perhaps his greatness can be traced back through the family line. Seated, legs crossed with a background looking like a college kid's tiny dorm, eyes sparkling, Kirui held court "My great grandfather was in the south, part of the Nandi, chasing antelope," Kirui explains. "A long, long time ago we used to be hunters. We used to go to the escarpment and chase the antelope. When I was a kid I came home and my mother had made porridge without sugar. Life was difficult, and I said 'No, my life will not be like that,' so I struggle. My life is focusing on how to assist people. You have to struggle. I like it! From nowhere I have a good house and I can buy a house for my parents. I have to give to others who have nothing."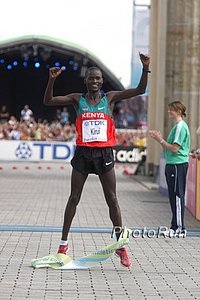 The Start of Kirui's Dance
More here
More than others, Kirui is an outspoken advocate of the Christian way. He is hoping to bring resources to his village and to his church community to be shared. He seems to have a view that looks at the world and sees some mysteries that only God can explain. Like the marathon. And the findings of scientists. So if the marathon is so mysterious and difficult to predict, how did Kirui win two World Championships in a row? And how, we might wonder, did he win by so much distance? I don't know! Neither does he! But he does know that it felt amazing to run alone in front. And, since it felt so good, as one of the many newspaper cutouts of sports pictures on his wall shows, he gave a cool dance afterwards. Maybe he just needed to kill some time before he could see the next runners coming in.
Using math and statistics, is there any reason Kirui should be considered a favorite in London? He hasn't run extremely well in Majors outside of world championships. In the recent 2:03 era, he hasn't run under 2:05. But, there are several stats in his favor: at the 2009 Worlds he beat both Emmanuel Mutai (silver) and Tsegaye Kebede (bronze) by 54 seconds and 1:41 respectively. How's that for a "watered down" field? Then at the most recent worlds he won by a ridiculous margin of 2:28. He could have done his post-race interviews before the silver medallist came in.
Who is the fastest Kenyan marathoner of 2012? Jonathan Maiyo. Kirui trains with Maiyo, and according to Canova, Kirui and everyone in the group knows Kirui is 2 minutes better than Maiyo. Under perfect conditions, Maiyo clocked 2:04:56 in Dubai. Doing the math, Kirui knows he has a shot in a race like London with rabbits.
Perhaps the weather will hurt Kirui. Perhaps he likes is a bit muggy and hot. Weather in London looks to be mild with potential for rain and wind. If the runners are clicking off 4:45 miles for 20 miles, things will be plenty hot internally. It's hard to see anybody, Kirui included, breaking away from such a strong pack, but with Kirui we've seen it before.
***
40km Hard in Training
What are guys like Kirui doing for training in Kenya? As Renato explains it, he bends the sports physiology to fit the athlete, not the other way around. Handed a herd of relatively fresh-legged athletes who are skipping the shorter events, Canova is training them with, more or less, whatever seems to suit them and the changing situation the best. With Kirui's group, he has handed them some incredibly long (up to 40k), fast runs. Basically, a few times each marathon cycle, these guys are running almost full marathons at almost full effort, considering the altitude. "They ran essentially a 2:10 marathon today," Canova explains in the Saturday afternoon sun. They will run very easy until Thursday, when they'll get on the track.
The training camp roommates are cooking some white rice, with fresh raw cow's milk on the side, and a dish of potato stew, all in a tiny space. With my video camera on, they joke around with the cement and steel barbell, almost taking out the modest flatscreen. Just outside in the quad between athlete's rooms, a woman uses a rope and a bucket to pull water up from a well. Kids linger curiously, staring at us and laughing at their images on the video camera. The training camp is a very different world than the glitz, glamour, and big dollars of the Virgin London Marathon.
Kirui would certainly like the two worlds to continue to come together. "Did you hear!?" he says, "about the planet they say they found?"
"You mean the 'earth twin?' " I ask back, feeling that I know exactly what he's talking about.
Electrified, he shocks back, "Yea!"
Uh-oh. Two wacky people have struck a chord. We start rattling back and forth in excitement. Others look on somewhat disturbed.
"Did you hear they found a particle that moves faster than the speed of light?" I exclaim in wonder.
"What?! Wait. No, this is not possible. You're - you're..."
"Yea, they think they found a particle that goes faster than the speed of light, that they have good evidence."
"Whooooaa!"
This party of stammering, bubbling intermingling goes on for a while. We're exchanging emails, arms-over-shoulders getting lost in our eccentricities. Looking back, I think the rest of the group was waiting for this tryst to end so we could go get dinner. Of course I only realize this after I leave the Emory/Abel velodrome vortex.
"The challenge with Abel is to control his abundant energy," his coach says, "but when he is channeled in, he's incredible."
Abel Kirui's tune-up for London went well: he won easily in at the Barcelona half-marathon in 1:00:28 in February. And did a dance afterwards. If Kirui is going to run the streets of London not just once, but twice in 2012, all will depend on the power-plant's energy supply on race day. If the switch is flipped and the turbines are whizzing, look out. But he's not a steady flowing river, always heading downstream and gently wearing away the riverstones. This is more Emmanuel Mutai's style. After "A Day in the Life" of Abel Kirui, I don't know if he'll win, but I do know he might, and if he does, then the cameras should be ready to capture the moment, like lightning striking the London Eye.
Abel Kirui's Stats
Claim to Fame: Two Time and Reigning World Marathon Champion
Personal Best: 2:05:03 for 4th 2009 Rotterdam Marathon
Marathon Record
2006 Singapore 3rd 2:15:22
2006 Berlin 9th 2:17:47
2007 Vienna 3rd 2:10:41
2007 Berlin 2nd 2:06:51
2008 Vienna 1st 1:07:38
2009 Rotterdam 3rd 2:05:04
2009 World Champs 1st 2:06:54* Championship Record (2nd place 54 seconds back, Emmanuel Mutai 2nd, Tsegay Kebede 3rd 1:41 back)
2010 London 5th 2:08:04
2010 NYC 9th 2:13:01
2011 London DNF
2011 Worlds 2:07:38 (Margin of Victory 2:28)

Room of a Champion
Photo © Emory Mort.
Editor's note: In February, LetsRun sent Employee #1 Emory Mort to Kenya to participate in the IAAF's Day in the Life project and he shares some of the wisdom gleaned from that trip here. Mort spent twenty days in Kenya and many days with the sport's biggest stars including 800m world record holder David Rudisha, double world champ Vivian Cheruiyot, World and Olympic 1500m medallist Asbel Kiprop, world marathon record holder Patrick Makau, Abel Kirui, Wilson Kipsang, Emmanuel Mutai, and coach Renato Canova, among others. Mort started recapping his trip in the 8 Days of Glory Series which talks about the Rotterdam, Boston, and London Marathon. We're down to 1 Day of Glory on Sunday at the Virgin London Marathon. The IAAF paid for portions of his trip but had no say on the article below.
More: Emory Mort's Abel Kirui Photos *Getty Images Day in the Life Photos
Also in this Series:
Meet the Amazing Mary Keitany

8 Days of Glory Series: The Kenyan Marathoning Greats
Prologue: 8 Days for Glory - A Kenya-Flavored Preview of the Upcoming Men's Marathon World Record Assault
Episode 1 Moses Mosop*: "Moses has speed that has never been seen."
Episode 2 Geoffrey Mutai Returns to Boston: A Look Back At Boston 2011 And A Look Ahead To Monday's 116th Running
Episode 3 Mary Keitany* Meet the Amazing Mary Keitany
Episode 4 Abel Kirui* The Electric Marathoner
Bonus Episode: Wilson Kipsang*: 2012 Virgin London Marathon Champion "If I had to compare him to an NFL quarterback, I'd compare him to Peyton Manning."
Episode 6: 8 Days of Glory Surprise: What We've Learned from the Kenyan Olympic Selection Process
*on the 2012 Kenyan Olympic Team

More
London 2012:
Women: Mary Keitany Runs Fastest Final 10km In Marathon History To Repeat & Become The #3 Performer In History
Men: A New #1: Wilson Kipsang Destroys One Of Greatest Marathon Fields In History