LRC The Week That Was Last week, Usain Bolt shocked the world by barely winning, whereas Khadevis Robinson shocked the world by winning convincingly, World XC champ Imane Merga picked up the track season right where he left the XC season, and two female stars trying to rebound from sub-par 2010s had totally different results, as Maryam Yusuf Jamal shined and Sanya Richards-Ross struggled. Paula Radcliffe returned after an 18-month hiatus and struggled as well. Along the way, the NCAA regionals were held and Vin Lananna complained about the format even though his men and AJ Acosta greatly benefited from it. Along the way, Jos Hermens may have jinxed his star pupil Yenew Alamirew, who turned 21 last week.
2011 Pre-Classic Is This Friday/Saturday *Pre Start List
News From Overseas
Doping News
Paula Radcliffe Returns To Action After 18 Months Away
Paula's Return Is A "Bit Of A Disaster" & Results In Tears At Finish The marathon world record holder hadn't raced in 18 months and her much-anticipated return to action went horribly wrong. A tear in one of the discs in her back resulted in her generating no power and running a slower pace for 10k than she'd like for a marathon (33:17). Radcliffe: "I didn't have any power."
*IAAF Recap Of Bupa London 10,000 - Jo Pavey And Mo Farah Win *MBoard: Paula third Mo wins
*Radcliffe Rules Out World Champs And Reveals That In Addition To Back Problems She Has Been Hampered By Bronchitis, Which Flared Up Her Asthma
*Radcliffe: Back Problem Keeps Me From Training On The Track
*Recommended Listen: BBC Audio Interview Of Teary Radcliffe, Who Says She Was "Embarrassed" But Explains Her Medical Problem Radcliffe says her track sessions had been a struggle, but her road sessions had been good.
*Racers Give Olympic Course A Thumbs Up It's interesting note that this says the Olympic marathon will be run at 11 am to placate Japanese and US television audiences.
*Pavey Will Decided On World Championship Marathon In Next Few Days Did we even mention that Brit Jo Pavey won the race?
Pre-Race: Paula Radcliffe Returns To Action Monday At BUPA London 10k
US Women Use Slow-Start Strategy To Finish Surprising 2nd As Ryan Hall Runs 30:29 Amy Hastings (34:19) led the US women with a 4th-place showing individually in a race that was dominated by Lineth Chepkurui (32:29). James Carney (30:16) was the #1 American man over Ryan Hall (30:29), as Crescent City winner Belete Assefa won in 29:22. For comparison's sake, in 2008, Hall ran 30:07 at Bolder Boulder. MBoard: Bolder Boulder Race Coverage
*Pre-Race: US Women Were Actually Strategizing For A Win *Ryan Hall Back At Bolder Boulder, But With More Reasonable Expectations
*Recommended Read Q&A With Bolder Boulder Founder Frank Shorter Shorter talks about his most courageous race and says he still runs an hour every day.
Memorial Day Action
US Bolder Boulder: America's marathon star ran Bolder Boulder (one of America's premier road races that expects 54,000 this year) in 2008, 6 weeks after the London Marathon. He thought he could contend but learned otherwise. This year, he's back 6 weeks after Boston. A new uphill start may help him stay in contention longer. Interview with Ryan here.
*Renee Metivier-Baillie, Amy Hastings And Magdalena Lewy-Boulet Are Back As Team USA With Experience
*Frank Shorter Answers Questions On His Running Career, His Gutsiest 2 Races And Minimalist Shoes
Latest Sammy Wanjiru News
Autopsy: Wanjiru Died Because Of Blunt Trauma To Back Of Head (Could Be From Fall) Some in Kenya, including this guy, are suspicious Wanjiru's injuries were on the back of his head. Meanwhile, the drama with the women claiming to be Wanjiru's wives and men claiming to be his dad continues.
*2nd Man Steps Forward Claiming to Be Wanjiru's Biological Father He's even got a photo to prove it, which the guy last week didn't. Plus Sammy's mom publicly confronted the first guy claiming to be his father.
Meanwhile, On The Wives Front: Wanjiru's 2nd Wife Gets DNA Testing Done To Prove The Child She Is Carrying Is His
NCAA Qualifiers: Men Women

Recommended Read: Meet Temple's Unlikely Steeple Star Travis Mahoney A year ago, Mahoney had never broken 9:00. Now he's hoping to be Temple's first NCAA scorer in 40 years.

Things Go Well For Oregon Ducks At Regionals Luke Puskedra didn't make it in the 5,000m, but that isn't a surprise. The big surprise was NCAA XC runner-up Stephen Sambu not making it.

DII: Grand Valley State Women Win DII Title Recap and video.
Abilene Christian Men Are Back On Top Recap and video.

DIII: Impressive: North Central Men Complete Two-Year Sweep Of Indoors And Outdoor In DIII
*Oshkosh Women Dominate Throws To Win 9th DIII Title Recap and video.
Doping News
Week In Review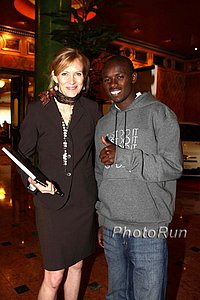 LRC Week That Was: Sammy's Shoes, Winners And Losers At Occidental - And, Yes, Ultra Running In our weekly look at the running world, we have some interesting tidbits on Sammy Wanjiru's shoes, we look at the action from the Occidental High Performance Meet, we have a simple tip to improve the sport, and we even talk about running for 48 hours straight.
Other Future Meets/Events
Thursday Brazil's World Indoor Pole Vault Champ Fabiana Murer Highlights IAAF World Challenge Meet In Rio de Janeiro UK's Dwain Chambers will be racing here, as he is not allowed to race in Rome due to previous 2-year drug ban.
June National Running Day Is June 1st
October $70,000 In US Prize Money, And $22,000 To One Winner At Medtronic TC 10 Miler
October Race A 5k Where You're Being Chased By Zombies?
Some Interesting Stories/Interviews
Wanjiru Family Drama Back In The News
Recommended Read: Sammy Wanjiru's Dangerous Idea: What If We Ran The Marathon With No Fear? "Throughout the last century, the marathon was the one distance that demanded conservatism ... marathon runners don't go out too hard in marathons, because they fear what will happen in the final miles if they do. This fear is rational. It's sane. It's healthy. And it was shared by everyone and corroborated by years of collective experience. You don't have to be told to fear the marathon, you just do." Sammy Wanjiru didn't share this fear.
Doug Logan Lawsuit Over
Doug Logan Reaches Settlement With USATF On His Termination Eight months ago, Doug Logan, the USATF CEO, was canned by the Board of Directors and USATF argued he was fired with cause and they did not owe him his $1.6 million in severance. USATF reportedly had offered him a $500,000 severance before he sued. In their counterclaims, USATF argued he abused expense reports and called the Board a bunch of clowns. Meanwhile, 8 months later, USATF still doesn't have a new CEO, but things are running smoothly. Maybe the interim head should stay.
Our Sport's Top Events Are Popular
More Than 1 Million People Apply For Olympic Men's 100m Final Tickets

New York City Marathon Wins Sports Business Journal Sports Event Of The Year Award Congrats to the NYRR.
It Took A Full Week, But Sammy Wanjiru News Bumped Off The Top Spot *Pay Your Respects Here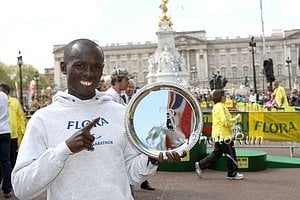 Latest News: Wanjiru's Lover Says He Didn't Commit Suicide, Says He Planned To Marry Her That would have made her his 4th wife.

Judge's Ruling Postpones Sammy Wanjiru's Funeral 14 Days Sammy Wanjiru's tragic death has turned into a soap opera of sorts. Charges of murder against his legal wife by his mother, two other women coming forward claiming to be his wives, and two men coming forward claiming to be his dad (one a stepdad and one a biological dad he never met.). On Thursday, a judge postponed the funeral while the investigation continues and it was revealed the video cameras at Sammy's house don't show his fall.
*What The Video Cameras At Sammy Wanjiru's House Showed

Sammy Wanjiru's Biological Father, Who Never Met Him And Fathered Him While Married To Another Woman, Comes Forward

If It Hadn't Ended Tragically, You'd Have To Chuckle: Sammy's Biological Dad Says He Never Actually Spoke To Sammy Because He'd Call Between 8pm And 9pm And He Knows Now Sammy Was At The Bars Then

Nice Read: Professor Of The Marathon Sean Hartnett Remembers Sammy Wanjiru This article had the quote of the day earlier Friday.

Previous News On Sammy's Death
Post-Nuptial Shutoff
British 800m Star Jenny Meadows Sleeping In Altitude Tent Apart From Her Husband Until 2012 Olympics Her husband hopefully can find some solace in this thread.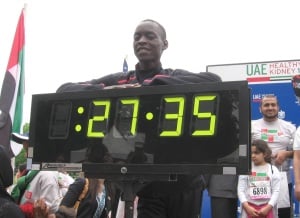 World Record Holder Leonard Komon Trounces Field To Pick Up $45,000 At Healthy Kidney 10k In Central Park Komon, the 10k world record holder, took on former World record holder Micah Kogo, World XC Champ Joseph Ebuya, and recent 27:24 10,000m runner Bobby Curtis, in New York's Central Park. Komon ran 27:35, smashing the course record and picking up $45,000. *Results
LRC Another Great Stanford Meet Is In The Books The 2011 Payton Jordan meet did not disappoint, as 22 runners got under the Olympic A standard in the men's and women's 10,000, as the "star" Americans in Matt Tegenkamp and Shalane Flanagan got beaten. In the men's 10k, the winner was 20-year-old Bedan Karoki, whose breathtaking move with more than seven laps to go instantly ended the race, which was the first one in American history where three Americans broke 27:30 (led by Bobby Curtis). In the men's 1,500, German Fernandez's struggles continued in the B heat (is it officially time to panic?), while Lopez Lomong and Evan Jager returned to action in the A heat that was won by Ben Blankenship. In the ladies' 1,500, Jordan Hasay got a PR and collegiate leader but only finished 5th. The story of the steeple was that Mark Wetmore-coached athletes shined and got the Olympic A standards, as Emma Coburn impressed from the opening moment of the race while Billy Nelson waited until late to unleash an incredibly impressive kick. In the men's 5k, Elliott Heath's unreal kick wasn't quite enough to get him the win, as seven broke 13:30. Read all about as we recap the top action for you.
*HS Senior Ammar Moussa Runs 14:05 To Win Heat In Payton Jordan 5k
*Athletics Weekly Recap Of Stanford 10k: Brit Chris Thompson Runs Fastest UK Time In 13 Years With 27:27
*IAAF Recap Of Payton Jordan 10k
*Register Guard Recap Of Payton Jordan Meet
*MB: Teg, Nelson 27:28, 13 under 'A' standard!
*Bobby Curtis 27:24, you all saw that right?
*Jordan Hasay 4:10
*Photos
LRC John Kellogg Explains How He "Predicted" The Unpredictable - A Sub-2:03:59 In Boston LetsRun.com's coaching guru explains the rationale behind his non-prediction that is making waves around the globe. Years of timed out-and-back and straight-shot tempos with the wind in Waco, Texas (and other windy Texas venues) proved invaluable to his understanding the effects of the wind. JK took a stab at converting the Boston performances by Mutai and Hall to London and Berlin and even reveals what would happen if the Boston Mutai raced the London Mutai.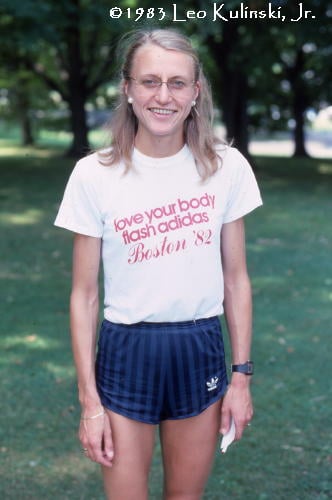 Grete Waitz Loses Battle With Cancer Waitz is best known for being a 9-time New York City Marathon champion, a class act, and a pioneer in the sport, but she also was a 4:00 1,500m runner and an 8:31 3,000m runner. As a kid, watching her on ABC win NYC every year was one of the site founders' earliest running memories. She will be missed. Thanks to Leo Kulinski for the photo. Another one here.
*Pay Your Respects In This Thread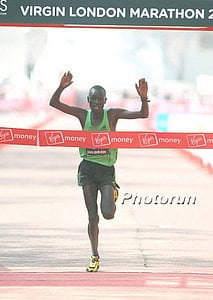 LRC Emmanuel Mutai Runs The Best 10km Ever In A Marathon To Destroy The Field & Arrive As One Of The World's Best A lead pack that was a who's who of marathoning went through 30km together, but soon the race would be nothing but a coronation for Emmanuel Mutai, who destroyed the field with a 28:44 4th 10k and ended up with a 2:04:40 course record. Almost as big of a story as Mutai's incredible run was the fact that the 2nd placer ended up being one of the all-time greats - Martin Lel - who shocked even himself in his first marathon since Beijing 2008. American Jason Lehmkuhle was the only elite American finisher as the three rookie American marathoners went out too fast and blew up - none worse than Mo Trafeh, who ran with the lead pack for 15 km.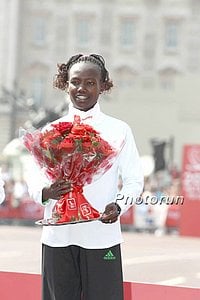 LRC Women's Marathoning Has A New Star Named Mary Keitany Keitany knocked nearly 10 minutes off her personal best and knocked Liliya Shobukhova off her pedestal as the best in the world, as Keitany ran the first sub-2:20 since 2008 and made mincemeat of "undoubtedly" of the strongest women's field in London history. All together, a record 22 women broke 2:30 - but that didn't include US Olympian Magdalena Lewy-Boulet.
April Fools News
LetsRun's 2011 April Fools Edition
Tokyo Marathon: A Legend Is Born *Photos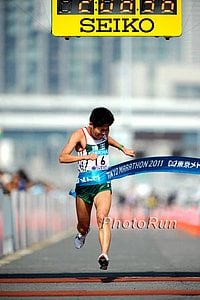 Hailu Mekonnen Wins, Japanese Amateur Yuki Kawauchi Runs Amazing 2:08:37 For 3rd And Faints At Finish Yuki Kawauchi's story is amazing. A 13:59 5ker and 29:02 10ker, he has a full-time job and has stayed away from the Japanese collegiate and professional system, yet he stunned all of Japan with a 2:08:37 run. Dreams do become reality.
*On The Boards: 13:59 5k, 29:02 10k Japanese AMATEUR Runs 2:08:37 at Tokyo Marathon and Passes Out
The 10 Best High School XC Runners Ever
LRC Week That Was: The 10 Best High School XC Runners Of All Time, Verzbicas, Tribute To Gary Reed, The NY Times & The NE Patriots And More We've got the entire running world covered from San Diego to Japan, from the high school ranks to the pros, and even talk about the NE Patriots and the NY Times.
Ostrava & Usain Bolt On Tuesday *Results *Photos
Ostrava: Bolt Wins Again With 9.91, Veronica Campbell Brown Blasts 10.76 PR Usain Bolt got the attention like he always does and ran 9.91 for the second time in a week, but this time into a headwind. Veronica Campbell Brown (VCB), however, had the performance of the night. She blasted a 10.76 100m. Last year, she had the top 100 and 200 times in the year despite racing infrequently. Dayron Robles got the win in the short hurdles and LJ van Zyl continued his winning ways in the long hurdles. Bolt didn't win by much, but he was much happier with this race than his season opener. "I had a good first 50 metres and as long as I get to 50 meters first, I'm not going to let you pass me." Some great distance action also took place, as Paul Kipsiele Koech ran 8:02 in the steeple as, Aussie Jeff Riseley just missed setting a national record in winning the 1,000 in 2:16.75, and reigning world silver medallist Meselech Melkamu won the women's 10,000 in 31:14.
*New Hammer World Record Holder Betty Heidler Remains Unbeaten
*Reuters Recap: Slow-Starting Bolt Wins
*Oscar P Disappoints With 46.19

Bolt's 9.91:

Pre-Race News From Ostrava:
*Maurice Greene Is Guest Of Honor In Ostrava *As Is Donovan Bailey, Who Predicts 9.80-9.90 For Bolt & Says He's More Busy Than Now Than When He Was An Athlete
*Usain Bolt Takes 1st Golf Swings - Says He'd Beat Tiger Woods If He Practiced He swung and missed on swing #2.

Bolt Golfing/Talking To Press In Czech

Sammy Wanjiru Will Probably Be Buried On Wednesday According To His Wishes - Wanjiru Loved Wednesday, As He Supposedly Won Several Marathons On A Wednesday The only problem is Wanjiru never ran a marathon on a Wednesday from what we can tell. Meanwhile, the article also says his Mom has asked for a lawyer to be removed as the head of his burial committee, as she represented Sammy and his wife in matters and is biased.
Recommended Read/Free Coaching Advice
Struggling AJ Acosta Tells How He Was Able To Qualify For NCAAs In 1,500 After Finishing 7th At PAC-10s - "I treated (regionals) as the NCAA final." We like this article, as it provides great advice to up-and-coming mid-d runners. AJ apparently share some of our same beliefs about mid-d racing. Remember: 1) It always opens up and 2) Don't kick too early. "I didn't want to make the same mistake I made at PAC-10s, which was all-out with 300 meters to go. I kind of closed my eyes a little bit and was telling myself to be patient, something will open up, because I didn't want to swing out to lane three. I told myself just be patient, it will open up, it will open up, it will open up."
Now That Johnny Mac Is Retired, Phil Hersh Asks: Is Kelly Amonte Hiller The Best Coach In Any Sport At The NCAA Level?
Asian Grand Prix Concludes In Wujiang
Hengelo: Maryam Jamal Runs 4:00 World Leader In 1,500m, Dayron Robles Shows It's A 3-Man Battle In 110 Hurdles With 13.07 Win This is always one of the better non DL meets, but the withdrawal of Kenenisa Bekele and David Rudisha with injuries hurt. *Results

Senegal: Caster Semenya Wins In 2:00.61, Prefontaine Up Next *Results

Comrades: Stephen Muzhingi Becomes First Man To 3-Peat, Elena Nurgalieva Recovers From Fall To Beat Her Twin Sister

Hypo Götzis: World Champs Jessica Ennis And Trey Hardee Dominate Heptathlon And Decathlon At Götzis

Canada: Taylor Milne Sets Canadian 2,000m Record Of 5:01.37

Ottawa:
News From Europe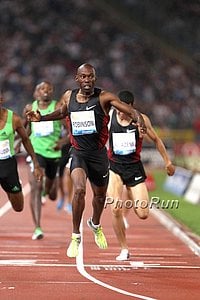 LRC: Usain Bolt Nips Powell, Khadevis Robinson Storms From Last To First To Shock The World In 800 47,000 fans and a worldwide television audience were focused on the Usain Bolt-Asafa Powell showdown and it did not disappoint, as Usain Bolt - who said he was nervous for the first time ever - overtook Asafa Powell in the final meters. The surprise of the evening was the men's 800m, where 8 time US champion, 34-year-old Khadevis Robinson put on a stunning display the final 250m, going from last to first to win (video here). Last year, KD was rabbiting Golden League races, now he's winning them. In other action, Allyson Felix went sub-50 to defeat Sanya Richards-Ross in the 400 and world XC Champ Imane Merga showed his great finish in the 5,000m, running 12:54 and throwing down the gauntlet to Bernard Lagat, whom he'll race in 25 weeks in NYC. Sara Hall had a 9-second PR to get a Worlds and Olympic qualifier in the steeple and Christin Wurth Thomas led the women's 1,500 at the bell before finishing 6th in a qualifying 4:03.72.
More Rome:
Lamine Diack Will Be Unopposed For Re-Election In August Ah, the joys of top-level international sports bureaucracy. *Diack Unopposed As Sergey Bubka & Seb Coe Decided Not To Run

Non-Rome Pro Action:
More Pro/International News
Stephanie Hightower For USATF CEO?
USATF President Stephanie Hightower Could Become USATF CEO Search committee chair Steve Miller acknowledged to the preeminent Olympic writer in the US, Philip Hersh, that USATF president Stephanie Hightower could become the CEO of USATF. The move would be highly controversial, considering the USOC has said it would not be a good idea to make a board member CEO, not to mention the fact that many of you all do not have a positive perception of Hightower. The search committee has kept the candidates names confidential until now, so the leak of the Hightower candidacy seems deliberately done to test the public reaction. It seems obvious to us that if Hightower wants to be considered for the job, she should resign as USATF President immediately.
On The Boards: "Very Possible" That Hightower Could Be CEO
*Toni Reavis Says The USATF Is Too Late And At This Point It Doesn't Matter Who They Pick For The New CEO
*Vin Lananna Admits He Met With The USATF About Its CEO Job Apparently he was their first choice, but turned it down. There is talk, though, that they may leave the position open until after the 2012 Trials when Lananna would be more available.
Meet Some Of The Best NCAA Coaches Past & Present
A Must Watch John McDonnell Uncut: 17 Minutes Of Video With The Greatest NCAA Track/XC Coach In History This video interview is very well done and covers McDonnell's whole career from the highlight (first NCAA title) to lowlight (losing NCAAs after winning 14 years in a row), but what comes across is what a class act Johnny Mac was and still is. The secret? Hard work. "When I was coaching, I was the drillmaster to myself. I left the house - never later than 6:30 in the morning - and never got home before 6:30 and that went on all year long except for two months in the summer. I'm definitely not an ego-type person. I always like to stand back and let the athlete get the glory. They are the guys out there hurting and doing the job. It helped me as coach to (not have an ego). Egos are good if they are controlled.
Meet UConn Coach Greg Roy - A High School Coach At Heart Roy is terribly underrated, as UConn is a Big East power seemingly every year. "As a high school coach, you kind of take what you've got and you make a team out of it. You don't have the luxury of going out and recruiting the best distance guy or the best thrower. You've got to be a teacher and you've got to field a full team. That's been my approach ever since."
2011 USATF High Performance Meet At Occidental College
*Results *Watch 800 & 1,500 Race Replays On Right & All Races Here & Here
Five 800 Runners Get "A" Standard As Men's 1,500 Runners Don't Go With Rabbits The men's 1,500 was supposed to be the highlight, but the 800 runners stole the show, as Cory Primm (1:44.71) and Tyler Mulder (1:44.83) picked up the A standard in the men's 800, with Jeff Riseley (1:45.02) dominating the "third" section with an A qualifier of his own, and Khadevis Robinson (1:46.01) taking the "second" heat. In the women's 800, Alice Schmidt (1:59.48) and Maggie Vessey (1:59.56) got Worlds qualifiers as well. In the men's 1,500, 7 guys ran 3:37.20 or better but none got the A standard. In the end, Andrew Wheating outkicked a bunch of guys to win in 3:36.46 in a race where Canada's Taylor Milne was the only one who ran with a pair and tried to go with the perfect pace that was being effortlessly set by Olympic silver medallist Nick Willis, who went through 1,200 in 2:53. Sub-13 man Matt Tegenkamp finished dead last in 3:40.
*Nick Willis Is Rightly Not Worried About Not Having Worlds Time Hardly anyone has the time and the Olympic silver medallist is starting his first season after an injury-free buildup for the first time in 3 years. He rabbitted the 1,500 on Saturday and looked effortless in going through 1,200 in 2:53.
High School News
Not Your Everyday Running-Related Story
John Perry, Former MD Decathlete And Roommate Of Olympian Mark Coogan, Is On Hunger Strike In NYC And Vows To Continue Until Death Perry vows the hunger strike will go on unless the New Yorker retracts a story it wrote about him last year.
*Perry's Website *New Yorker Article *More Info
Time To Learn Some T&F History - 40 Years Ago, Jim Ryun & Marty Liquori Ran A Dream Mile In Philly & It More Than Lived Up To The Hype
"The Road Of Death"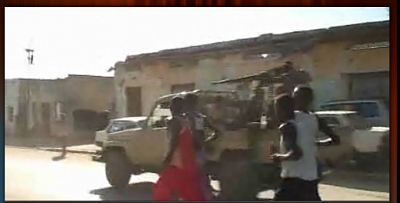 Feature On Somali Runners Training Each Day On "Road Of Death" For London 2012 (Video) The video shows how some Somali athletes avoid gunfire each day to realize their dream of competing and winning at the 2012 Games. *LRC MB: Top Video on MSNBC Is Feature on Somali Runners Training Each Day on 'Road of Death' For London 2012
Pre Classic
Distance Races At 2011 Pre Classic To Be Run Under Lights And Free To Public!!! Tom Jordan is right in saying he has assembled "the best fields ever on American soil," as marathon aces Asbel Kirui and Moses Mosop will go after the men's world record at 25k and 30k, Dibaba, Cheruiyot, Masai and Flanagan will race the women's 5k and 7 Ethiopians and 12 Kenyans are scheduled to go out in 13:18 in the men's 10k. *LRC MB: A Look At Who's Running What In The Magical Distance Races At The 2011 Pre Classic
One For The Ages In Boston: Desiree And The Fastest Marathon Ever Run "Unbelievable" is probably the best way to describe the 2011 Boston Marathon. First, American Desiree Davila, off the back of the lead pack multiple times, was gutsy as hell, battling for the win with Caroline Kilel down the final straight. There were 4 lead changes on the final straight before Kilel came out on top. In the men's race, American Ryan Hall ran 2:04:57 and lost by nearly 2 minutes. Yes, ladies and gentleman, Geoffrey Mutai and Moses Mosop ran faster than anyone else ever before the in the marathon, 2:03:02 and 2:03:06 respectively, thanks in part to 20 mph tailwinds. Mutai cemented his status as the strongest runner on the planet with the win. We give you some post-race comments below but purposely are holding off discussing the wind.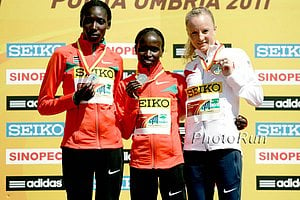 LRC: Shalane Flanagan Gets Bronze The Olympic bronze medallist and ING NYC Marathon runner-up ran a stellar race to snatch the bronze versus a star-studded field. Flanagan appeared to be dropped with 2km to go, but dug deep to stay in contention and battle back for the bronze. World 5,000m champ Vivian Cheruiyot pulled away from World 10,000m champ Linet Masai for gold. The American women did very well to get a repeat bronze medal.

Men: Imane Merga Blasts Away From Four Kenyans In Sprint To Win The Kenyan men dominated the team competition and had 4 of the top 5 guys in the pack for the sprint the final 400m. However, the lone Ethiopian - Imane Merga, the Diamond League 5,000m champion - got the win the Kenyan nation wants most every year. Ben True was the first American in 36th, as he and fellow Ivy Leaguer Max King were America's two best.
Sad News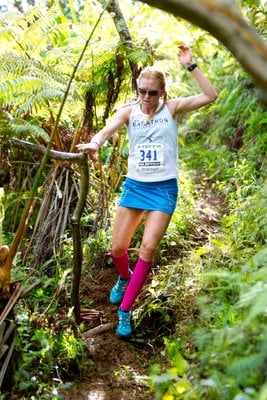 Sad News: Sally Meyerhoff Killed In Cycling Accident The two-time All-American and US Olympic Trials qualifier as well former US champion at 25km was killed on Tuesday in a cycling accident at the young age of 27 while she trained for the Ironman World Championship. *LRC MB: Sad News: Sally Meyerhoff Killed in Accident
*Abc15.com Article With Video On Meyerhoff's Death
*More Sad News: Florida High School Track Athlete Sarah Landauer Dies After Collapsing At Practice
Photos Of The Week
Jerry Buss Track & Field Photo Album Buss, the 77-year-old owner of the Lakers, is notorious for dating much younger women, and in all the photos of him at USC track meets the last two years, he's seated next to a much younger woman. Surprised no one has discussed this on our forums. No doubt Phil Jackson is upset. *LA Lakers Owner Jerry Buss Is Track Fan Who Knows The Name Of Oregon Sprinter English Gardner
African 10k Champ Wilson Kiprop Wins 10k In Iten In 28:55 Be sure to check out the photo of the timing clock being powered by a car battery.
KD Wins 800m In Rome (More Here)
Usain Bolt Nips Asafa Powell (More Here)
Everyone Might Want To Watch 60 Minutes On Sunday
George Hincapie, Like A "Brother" To Lance Armstrong, Reportedly Testified Armstrong Doped A day after Olympic champ (and liar and cheat) Tyler Hamilton said Lance Armstrong doped, George Hincapie, who is like a "brother" to Lance, reportedly told the grand jury Lance doped. This is big news because many, including just today The Ticket (a top 5 sports radio station in America), said if someone who was more credible like Hincapie came forward, it would bear more weight.

Tyler Hamilton Confession Letter He explains to his friends why he lied for so long.
Remembering Sammy Wanjiru (News On Events Surrounding His Death In Left-Hand Column)

LRC RIP Sammy Wanjiru: The World's Greatest Marathoner Has Died Yesterday in the article above, we paid tribute to Sammy's incredible career and now athletes, journalists, and industry insiders are all paying their respects to the incredible marathoner Sammy Wanjiru.
Stanford Photo Gallery
London 2011 Photos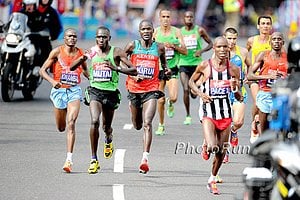 Desiree Davila Pure Guts
Women's World XC In Photos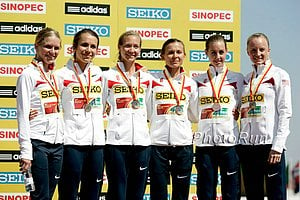 Men's World XC In Photos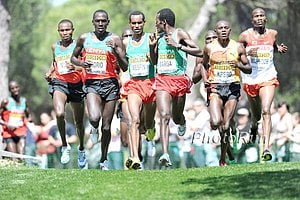 Relive Men's NCAAs: *Recap *Results *Photos *New (2nd Photo Album Added Here)
Great Deals

Universal Sports Back To Top