Sally Meyerhoff Killed In Cycling Accident
Former Two-Time Duke All-American And US Olympic Trials Qualifier Dies While Training For Ironman World Championship
By: Letsrun.com
March 8, 2011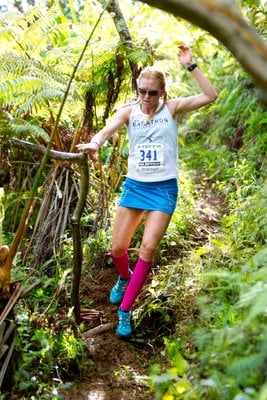 Two-time NCAA All-American and two-time US Olympic Marathon Trials qualifier Sally Meyerhoff has died. The 27-year-old Meyerhoff was killed in a cycling accident on Tuesday in her native state of Arizona. ABC15.com is reporting that Meyerhoff failed to yield at a two-way stop sign, struck a pick-up truck and died at the scene.
Meyerhoff will be missed by many in the running community. A two-time state champion in high school, Meyerhoff competed collegiately for Duke where she was a two-time All-American. A teammate of Olympian Shannon Rowbury, Meyerhoff was the ACC cross-country champion as well as All-American in 2004. In 2005, she ran on Duke's third-place NCAA cross-country team. She also earned All-American honors on the track in the 10,000 in 2006.
As a professional, Meyerhoff was a US champion at the 25km distance in 2009. 2009 was her best year as a pro as, in addition to her 25km US title, she also set her 10,000-meter personal best (33:03.19) and she also twice ran 2:35 in the marathon that year, including her 2:35:49 personal best at Twin Cities. In 2010, Meyerhoff was extremely disappointed with her 2:41:00 27th-place showing at the 2011 ING New York City Marathon. After that performance, Meyerhoff questioned whether she even wanted to continue to run, as she realized she wasn't enjoying herself. However, she rediscovered a new love for the sport when she won the XTERRA Trail Run World Championship in Hawaii in December. After that experience, a re-invigorated Meyerhoff took home the title in her hometown marathon - the P.F. Chang's Rock 'n' Roll Arizona Marathon when she ran 2:37:55 on January 16th.
Thirteen days after her dream came true win in Arizona, Meyerhoff ran the US Half Marathon Championships in Houston so she could preview the Olympic Trials course for 2012. Then she switched modes and began triathlon training, as she wanted to try to excel at the Ironman World Championships in October and then run the US Olympic Marathon Trials in January. A swimmer before she was a runner in high school, Meyerhoff had recently pondered if perhaps she might ultimately be one of the world's very best in the triathlon.
Meyerhoff was probably better known than other similarly accomplished distance runners, as she maintained a personal blog and she also had previously blogged and written for Running Times. Recently, Meyerhoff's XTERRA win, her unconventional training plan and her new found exuberance for enjoying the process of training and competition as well as her blog had garnered her a number of new fans.
---
Photo Courtesy Of Eric Wynn/XTERRA
More (In Reverse Chronological Order): LRC MB: Sad News: Sally Meyerhoff Killed in Accident Today *Meyerhoff killed in accident while training *P.F. Chang's marathon winner killed in Maricopa accident *Sally Meyerhoff wins women's marathon title in her hometown *Sally Meyerhoff taking path less traveled toward 2012 Olympic Marathon Trials *Max King And Sally Meyerhoff Win XTerra Trail Champs And $2k *A Brief Chat With Sally Meyerhoff (10/28/2010) *Dan Browne, Sally Meyerhoff Win USA 25K Titles At Fifth Third River Bank Run, Both Finish 2nd Overall (Results) *A Brief Chat With Sally Meyerhoff (5/13/2009) *Sally's Summer of Racing: How hard is it to make a living off prize money? *GU Energy Bio *Meyerhoff Duke Bio
---
Runner's World &
Running Times



Combined Only $22
a Year
Save $87

---

Running & Track and Field Posters
---

Running Shoe Savings: Nike Lunar Glide 20% Off Super popular shoe from Nike featuring Flywire and Lunar Foam
---