USATF Vs. Logan: USATF Strikes Back With Charges Of Tax Evasion, Expense Report Abuse And The Real Reason Doug Logan Was Fired
By LetsRun.com
December 23, 2010
USA Track and Field fired its CEO Doug Logan this September, and a month later, Logan sued them in federal court in Indiana trying to get paid the remaining $1.6 million on his contract that he is due if terminated without cause. Logan's lawsuit revealed all the juicy details of his contract (perks, bonuses, the fact that USATF gave him a new contract that raised his severance pay just months before terminating him) and detailed the grounds that USATF could terminate him with cause.
Now, USATF has responded to Logan's lawsuit and filed its own counterclaim trying to get Logan's lawsuit tossed out by the judge via declaratory judgment. From USATF's response, we get to learn for the first time why they claim they terminated Logan with cause.
USATF's response basically says the following:
1) We fired Logan with cause because he is supposed to serve at the direction of the USATF Board and he was not serving under their direction and wasn't following their "policies and directives" and was openly rude and hostile the Board.

Yes, ladies and gentleman, that's it. Nothing too exciting. No details on failed financial performance or anything of the like. USATF goes on to say:
2) After Logan's termination, we have discovered some "serious misconduct" that would have resulted in his termination with cause.

USATF also tries to get some dirt out in the public sphere on Logan about "improper gifts" to a female athlete even if it wasn't a fire-able offense.
We'll tackle these in reverse order since most of the dirt and perhaps strongest grounds for termination with cause are in #2. What is the "serious misconduct" that USATF has discovered that would have given them cause to terminate Logan? a) Failure to withhold and pay Indiana state income taxes on his salary and b) Abuse of USATF's expense reports.
Tax Evasion Allegations
First the tax allegations:

and :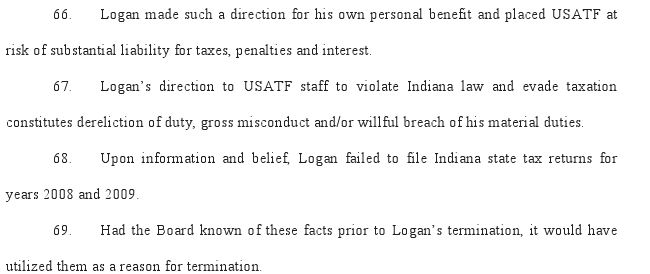 (we discuss the tax charges below).
Expense Report Abuse
Now onto the expense reports. USATF says:

A serious allegation on the surface. Bear in mind, USATF alleged none of this when they actually fired him. USATF does try to outline that this was a pattern of behavior on Logan's part: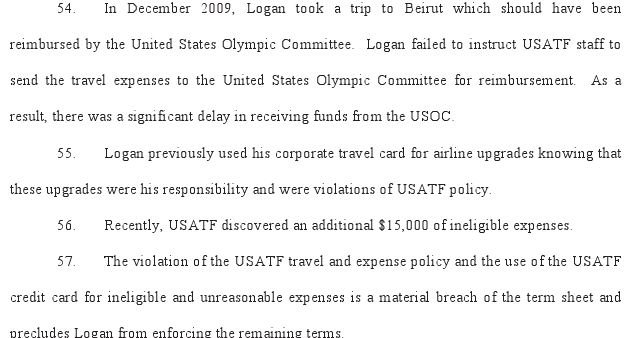 It's important to realize that Logan's contract is very specific as to how he can be terminated with cause. Unless he continues to willfully fail at his job for 30 days after receiving written notice from USATF (which he clearly didn't do unless you count not following the Board's direction argument), he has to do something that qualifies as 1) gross misconduct 2) dereliction of duty or 3) conviction of a felony or similar offense. Thus the emphasis on the issues discovered after they terminated Logan. USATF is alleging the travel issue is #1 or #2. While this may play into their legal case, remember none of this was alleged when they fired him in the first place - it all came to light after his termination. We have no idea what USATFs travel policies are, but its natural they are going to look for dirt on Logan after he was canned. Logan would likely argue expense reports are rejected all the time, and the employee then pays the difference.
As for the tax stuff, we assume their saying that's gross misconduct. While we're not tax lawyers (hell, we're a long way from being lawyers of any sort), tax evasion seems like a serious crime and on the surface these allegations are pretty serious. However, taking a step back, there are tax disputes all the time with people claiming residency in one state while working in another (Rahm Emanuel, Rush Limbaugh, pro sports stars).
Logan was a resident of Florida before signing on with USATF (his first contract said USATF would pay to ship his belongings from Florida to Indiana) and he could have maintained his residency in Florida. No doubt, however, he worked in Indianapolis much of the time. Likely at the very least it seems he should have filed Form IT-40PNR, a Part-Year Resident or Nonresident Individual Income Tax Return.
We'd love to hear from any tax attorneys how serious this issue is (and how USATF would know what tax forms he filed). Is it a procedural thing or a crime? Stepping aside from the legal issue, the biggest thing to us is that USATF's CEO is claiming he did not live in Indianapolis at least part time. That is news to us. If that's the case, why not move the headquarters somewhere else?
Improper Gifts To A Female Athlete?
Before we turn to the real reasons the USATF Board fired Logan, we turn to one little piece of dirt they throw into their response:
We have no idea what they are talking about, but it sounds a bit scandalous and that perhaps was their intent. They don't allege they fired him for this or that the investigation turned up anything against Logan. If Logan was reprimanded from the investigation, no doubt they would include that here. They'll say it fits into a pattern of suspect behavior, but it seems to us it was included to let Logan know this could possibly get ugly.
Why Logan Was Really Fired
Now to the real reason, Logan was fired, in USATF's view, "with cause":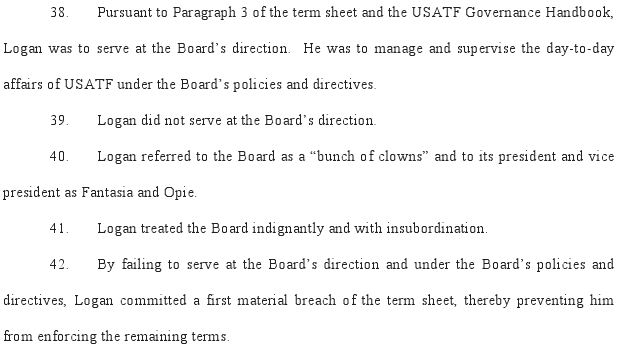 You have to laugh that Logan called the Board a "bunch of clowns" and its President Stephanie Hightower "Fantasia" and Vice President Jack Wickens "Opie." That explains the tweet mentioned here as well.
That being said, is his battling with the Board a "dereliction of duty" which would then make his termination with cause? Legal experts feel free to send us your educated views but to us this argument seems like a stretch to begin with. Logan was known as a renegade when the Board hired and rehired him. Just because he's not being a yes man doesn't mean he's not serving at the board's direction and is committing a dereliction of duty.
Moreover, the very same board gave Logan a new contract less than three months before terminating him and less than two weeks before beginning the proceedings that led to his termination. Even if their argument is valid legally, it seems they'd have to argue his interaction with the Board changed drastically from the time they offered him a new contract to the time he was fired.
There is only one specific area of Logan's job that was not being met, that USATF cites as ground for termination, and that is he did not provide a written evaluation of his performance in 2009. No joke: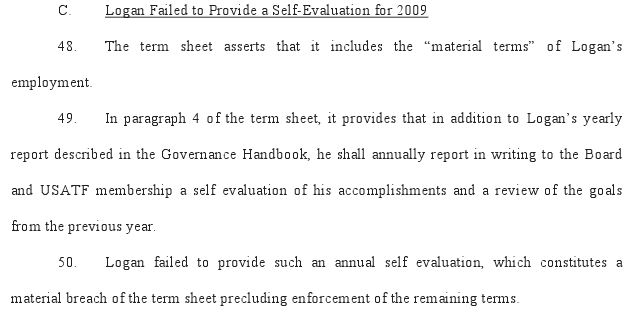 Clearly, this argument is going to hold up in our minds.
USATF does talk about broader problems between the parties:

#12 likely was the real reason Logan was fired in the Board's view, and is a perfectly legitimate reason, but if that is all USATF could come up with, they'd be on the hook for his $1.6 million severance. From a legal perspective, Logan's contract is pretty clear that he has to have "willful and continued failure to perform his material duties for 30 days after receiving written notice from the USATF board of directors" for his termination to be with cause, unless there is "gross misconduct" or "dereliction of duty." So USATF's lawyers know that unless Logan was given a written notice on things he was doing wrong that he willfully continued to fail at, it's pointless to mention them. They mentioned the self evaluation because it was specifically referenced in the contract. Thus a lot of their emphasis on "the cause" argument is spent on the tax and expense allegations.
We've tried to stay away from the legal aspects of this. But one more point worth mentioning is that USATF spends a decent amount of time arguing that Logan's contract is invalid because it is a "Term Sheet" not a contract. Thus if the contract was invalid, then Logan is not entitled to his severance. We ran this argument by a lawyer we know and he said, "The invalidity of the contract (claim) is ridiculous."
The beauty of this is you can see everything for yourself. We'd love lawyers to chime in with their opinion on this case in general (you can remain anonymous) or post in this thread. Most likely this thing will settle before trial, but in the meantime it's providing a little entertainment.
Documents: *USATF Counterclaim To Toss Out the Suit If you can read one document, read this.
*USATF Response To Lawsuit
*USATF Brief To Strike Logan Mentioning $500,000 Settlement Offer From Filing Due To Federal Rules Of Evidence Settlement talks are not supposed to be used as an admission of guilt.
*USATF Filing To Strike Logan Mentioning $500,000 Settlement Offer

On the boards: Doug Logan vs USATF
Previous LRC Coverage: Doug Logan Sues USATF: The Details Of His Lawsuit And Employment Contract
*Analysis: Why Doug Logan Is Out At USATF And Where It Goes From Here