13 Thoughts About The 2011 Virgin London And Boston Marathons
The Week That Was In Running - April 11-18, 2011
To read last week's LRC Week That Was, click Here.
To read any 2010 LRC Week That Was, click Here.
By LetsRun.com
April 11, 2011
Our weekly recap of the world in running is almost exclusively devoted to the Boston and London marathons, as we give you 13 thoughts about the world of marathoning.
1) There couldn't have been two more deserving winners than Geoffrey Mutai and Emmanuel Mutai.

Both of the Mutais went into their races last week having run incredibly well in their most recent marathons but with zero victories to show for it. Prior to winning in London, Emmanuel Mutai had been second in the World Champs, London and New York. Clearly, he was deserving of victory, as was Geoffrey Mutai. Last year, Geoffrey ran 2:04:55 in Rotterdam and 2:05:10 in Berlin and didn't win either race. As Geoffrey and Moses Mosop sprinted for home on Monday in Boston, it was basically impossible to not root for Mutai. The world of marathoning is so competitive that Mutai, who has averaged 2:04:22.3 over his last three marathons, was just 4 seconds away from having zero wins to show for it.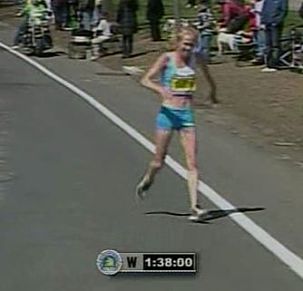 Kim Smith Pulling Up In Agony
2) Given the conditions, it's surprising that the women in Boston didn't run faster.

The men took advantage of the conditions and Ryan Hall setting an honest pace to run really, really fast in Boston. Not so much for the women. Coming into the race, there were 10 women who had run sub-2:24 in 2010, yet despite the tailwind, only three did it in Boston in 2011. Given the wind, the opening first half of 71:42 for what ended up being the lead pack greatly lessened people's chances for a really fast (sub-2:20 or at least a CR) time, but you'd still think there'd be way more 2:23s off of that pace.
In that light, we certainly don't think Kim Smith's opening half of 70:52 was too fast. Given the weather, a 2:20-2:21 was probably what we'd expect to be the winning time. That being said, seeing her injury slowly develop and then her continuing on in agony was excruciating to watch.

3) How 14:11 is actually faster than 14:07 - Geoffrey Mutai's 30k-to-35k split of 14:11 in Boston is arguably the greatest 5k split in marathoning history.

In our London marathon recap, we said the 30k-to-40k segment run by Emmanuel Mutai in 28:44 - 2:01:14 marathon pace - was the greatest 10k split ever run in a marathon. Well, the guys in Boston one-upped that at first glance by covering that stretch in a crazy 28:24 - that's 1:59:50 marathon pace. But given the tailwind and given the fact the elevation in Boston drops way over 100 feet during that 10km, we aren't ready to call that the greatest 10km split in marathoning history.

But we will call the 5km stretch from 30 to 35km covered by Geoffrey Mutai in an unfathomable 14:11 to be the greatest 5km stretch ever run in a marathon. Why? Not only was it fast, but that 5 km section includes the famed Heartbreak Hill (the net elevation of that 5k is pretty level (elevation chart here), but it goes way up and way down for the hill).

It was that 5km stretch that gave Mutai a big lead, as he put six seconds on eventual second-placer Moses Mosop, 35 seconds on eventual 3rd-placer Gebre Gebremariam and 1:06 on eventual 4th-placer Ryan Hall.
That being said, Mutai didn't even have the fastest 5 km split of the race, as Moses Mosop actually ran 14:07 to catch Mutai between 35 km and 40 km. But from 35 km to 40 km, Boston is way downhill (it loses something like 140 feet), which results in that 5km being over 25 seconds faster than it would be if it was totally flat. So Mosop's 14:07 was nowhere near as impressive as Mutai's 14:11. Mutai's 14:11 basically tired himself out, as he ran 35k to 40k in 14:13, but effort-wise that had to be at least 30 seconds easier for him.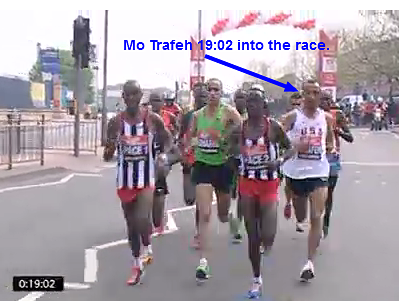 Mo Trafeh's Rookie Mistake
4) It wasn't a good weekend for first-time North American-based marathoners.

In London, Americans Mo Trafeh, Patrick Smyth and Stephen Shay all were DNFs. In Boston, Irishman Alistair Cragg didn't even make it 13.1 miles.

What happened? We don't know for sure, but clearly the most rookie of all mistakes - going out too fast - probably played a big role. Trafeh hit the 10k in London in 29:24 with the leaders, while Cragg ran 29:08 in Boston.
5) It wasn't a good weekend for the 2008 US Olympic women's marathon finishers.

On Sunday, Magdalena Lewy Boulet went into London hoping to run her first sub-2:25 time. Instead, she ran 2:31:22 on a day when 22 women ran 2:30:00 or faster.
On Monday, Blake Russell went into Boston after having finished 19th at the World Cross-Country Championships. In her first marathon since the birth of her son, she ended up as a DNF before reaching the 13.1 mile mark.
More: Don't Forget About Blake Russell, 2008 Olympic Marathoner
6) It was good to see Marilson Gomes dos Santos run a huge PR.

In a day and age of super-fast marathons, it always seemed wrong that a two-time New York City marathon winner only had a presonal best time of 2:08:37. Well, dos Santos proved on Sunday in London that he's not just a New York specialist, as he set a PR by more than two minutes and ran 2:06:34.

It's a shame that 2009 ING New York Marathon champion Meb Keflezighi didn't run London or Boston this year, as his best time is just 2:09:15. Probably never in a million years did Meb think by not running Boston he was passing up a 2:05 opportunity. Just as Ryan Hall has never run a poor marathon, Meb is super-consistent as well and does well on the Boston course.
7) Stats show something more than Mutai, Mosop and Hall having a "career day" was going on at Boston on Monday.

To all of the people who still don't believe the wind was a huge factor in the super-fast times on Monday in Boston, here is some more evidence: The wind didn't just help the elites - it helped everyone. We took a look at the time of the 1,000th, 5,000th, 10,000th, 15,000th and 20,000th finishers from 2010 and 2011 Boston marathons. Guess what. The times were faster at all places in 2011 as compared to 2010 - which is exactly what one would expect if the wind was aiding the runners.
| | | | |
| --- | --- | --- | --- |
| Place | Time In 2010 | Time In 2011 | Difference |
| 1,000 | 2:57:23 | 2:55:41 | 1:42 |
| 5,000 | 3:21:59 | 3:19:55 | 2:04 |
| 10,000 | 3:39:48 | 3:38:08 | 1:40 |
| 15,000 | 3:58:15 | 3:55:41 | 2:34 |
| 20,000 | 4:36:35 | 4:24:53 | 11:42 |
The results came from marathonguide.com. As for why the times got way faster at 20,000 as compared to 15,000, we'd say that the wind prevented people from having a really bad day at the back of the pack (either that or maybe the results are off). Also, the wind probably makes more of a difference at the back of the pack, as people are more spread out that far back and thus feeling the wind more.
Want more?
The following comes from an email we received from LRC visitor David Graham:

P.S. I forgot to mention another clue to the aided nature of this year's Boston Marathon. A little more than a year ago, the course record was Robert Cheruiyot's 2:07:14. Considering Boston's long history - with all the great athletes who have run there over the years - it is amazing that in this year's race, SEVEN men ran faster than the previous COURSE RECORD. Five of those men were at least a MINUTE faster than the RK's old CR. Four of those men were at least TWO minutes faster than 2:07:14. Two of those men were over THREE minutes faster than 2:07:14.

Something more than just having a "career day" was going on at Boston on Monday. The aid from the wind was impressive.

1. Geoffrey Mutai KEN 2:03:02
2. Moses Mosop KEN 2:03:06
3. Gebregziabher Gebremariam ETH 2:04:53
4. Ryan Hall USA 2:04:58
5. Abreham Cherkos ETH 2:06:13
6. Robert Kiprono Cheruiyot KEN 2:06:43
7. Philip Kimutai Sanga KEN 2:07:10
8. Deressa Chimsa ETH 2:07:39
9. Bekana Daba ETH 2:08:03
10. Juan Carlos R. Cardona, Sr. COL 2:12:17

8) The world of marathoning has come a long, long way in the last decade.

LRC visitor David Graham also made another great point last week:

Paul Tergat's 2:05:48 at London in 2002 was the #3 time in history at that point: beaten only by Khalid Khannouchi's former WR (2:05:42) and the WR run by Khannouchi that day (2:05:38). After today's race, Tergat's time is not only not the #3 time in history but not even on the list of top 10 times at London! (Tergat now ranks #12 at London)

London Top 10
Name Time Place Year
Emmanuel Mutai 2:04:40 1 (2011)
Sammy Wanjiru 2:05:10 1 (2009)
Martin Lel 2:05:15 1 (2008)
Tsegaye Kebede 2:05:19 1 (2010)
Tsegaye Kebede 2:05:20 2 (2009)
Sammy Wanjiru 2:05:24 2 (2008)
Jaouad Gharib 2:05:27 3 (2009)
Abderrahim Goumri 2:05:30 3 (2008)
Khalid Khannouchi 2:05:38 1 (2002
Martin Lel 2:05:45 2 (2011)
Patrick Makau 2:05:45 3 (2011)


9) Watching Americans lead Boston never gets old, and Ryan Hall has never run a bad marathon.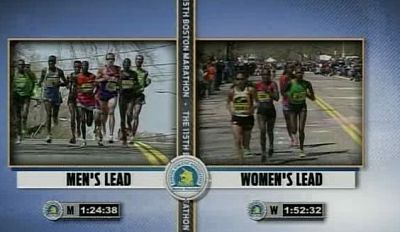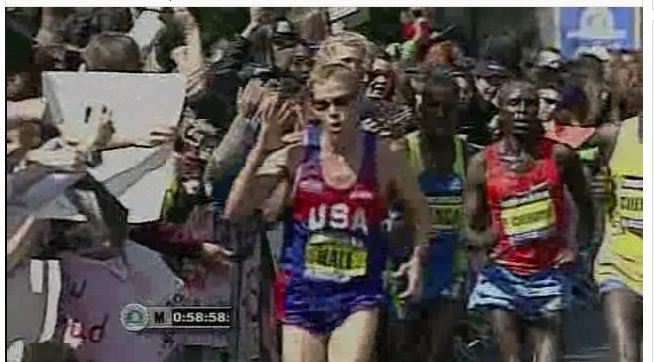 It's tempting to say Ryan Hall's 2:04:58 resurrected his career. He pulled out of last fall's Chicago Marathon, has been self-coached ever sense, and really struggled in the NYC Half Marathon. That, however, is not giving Ryan his due. He was born to the run the marathon. Take a look at Ryan's career marathons:
| | | | | | |
| --- | --- | --- | --- | --- | --- |
| 4.2011 | Boston Marathon | USA | | 4. | 2:04:58 |
| 4.2008 | London Marathon | GBR | | 5. | 2:06:17 |
| 4.2007 | London Marathon | GBR | | 7. | 2:08:24 |
| 4.2010 | Boston Marathon | USA | | 4. | 2:08:41 |
| 11.2007 | U.S. Olympic Team Trials | USA | | 1. | 2:09:02 |
| 4.2009 | Boston Marathon | USA | | 3. | 2:09:40 |
| 11.2009 | New York City Marathon | USA | | 4. | 2:10:36 |
| 8.2008 | Beijing Olympic Games | CHN | | 10. | 2:12:33 |
You tell us which is his worst marathon? And don't say the 2:12:33 for 10th at the Olympics is a poor showing. 10th place at the Olympics is a good run. So while the 2:04:58 time looks shocking, perhaps we shouldn't be surprised with another strong marathon for Ryan.
10) It shouldn't be forgotten that Caroline Kilel - like Davila - dug very, very deep to win.
Desiree Davila's battle for victory was epic (Wejo wrote an entire article on Davila's gutsy run here). The guts and will she showed in coming back time after time when she got repeatedly dropped was legendary. That being said, one shouldn't forget who actually prevailed in the grueling battle up front. The Kenyan runners are people, too, and have their own amazing stories. Try to think about it from a Kenyan perspective. Boston winner Caroline Kilel also dug incredibly deep. She was already engaged in a duel with Sharon Cherop and looking tired when a fresh looking Desiree Davila caught up. Yet Kilel hung in there. Twice in the sprint for glory, she fell behind, but each time she found something more before grabbing the win and collapsing at the finish line.
If you haven't seen the women's stretch duel, watch it below. If you're outside of the US, click here to watch it.
Desi And Caroline Battle For All The Marbles In Boston

One other thing that shouldn't be forgotten is that Kara Goucher set a PR just seven months after giving birth. Well done, Kara.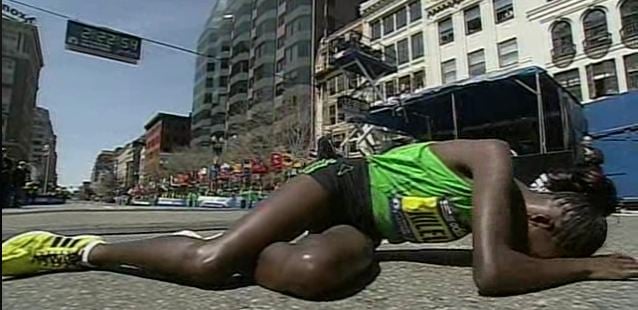 11) Our early favorites for 2012 Olympic Marathon medals are ...
On Thursday, we were asked by a Wall Street Journal reporter to give them our thoughts on 2012. That got us to thinking and the answer was surprisingly easy to come up with after a little thought. We wrote:
As for leading medal contenders on the men's side, it's really easy. On the men's side, the six best bets for the medals will almost certainly be the six men - three from Kenya and three from Ethiopia - that ultimately end up on the Olympic team for those two countries. Now, naming those six is next-to-impossible, but that's another story.

The depth of talent coming from those countries, particularly Kenya, is truly amazing. For example, already this year at least 15 different Kenyans have broken 2:08 in the marathon. Ryan Hall is the only US-born athlete to have ever done that (Khalid Khannouchi, who was the world record holder for Morocco before gaining US citizenship, also has done it). Last year, the top 18 men on the marathon list were all from Kenyan or Ethiopia, and 28 of the top 30 (with the other two being from Morocco). Prior to Monday, nine men had broken 2:05 in the marathon and all nine of them were from Kenya or Ethiopia.

The good news for Ryan Hall fans is that it's probably not much harder for him to medal at the Olympics than to get top three a professional marathon. At the Olympics, there will be a maximum of six Kenyans and Ethiopians competing against him. If he'd run at London this year, which is widely considered to be the toughest professional marathon on the planet, there would have been a total of six Kenyans/Ethiopians in that race who started it with a better personal best than his.

As for which Kenyans and Ethiopians to favor, that is incredibly hard to say. With Kenya, I'd probably start with the defending Olympic champ in Sammy Wanjiru and then go with this year's Boston (Geoffrey Mutai) and London (Emmanuel Mutai) champs. But that leaves off Moses Mosop and all he did was run 2:03:06 in his marathon debut on Monday, as well as 5-time world marathon major winner Martin Lel, who got 2nd in London this year. Plus last year's wold #1 Patrick Makau.

Kenya is scary, scary good.

Ethiopia has a number of options as well. Obviously there is the world record holder in Haile Gebrselassie, but he's getting up there in age and one might argue the US's chances go up if he's put on the team, as he's unproven in non-rabbitted races. In our minds, the leading Ethiopians are last year's London and New York champs in Tsegay Kebede and Gebre Gebremariam. Also last year, they had 20-year-old phenoms run 2:05:23 and 2:05:25 in Feyisa Lilesa and Bazu Worku.

With the women, it's a totally different story. For one, women's marathoning has been weirdly down of late, as (until last weekend) there hadn't been a sub-2:20 clocking since 2008.

But, it's very easy to name the top 3 medal contenders - Liliya Shobukhova, Mary Keitany and Paula Radcliffe.

The leading marathoner in the world over the last two years prior to Sunday was Russia's Liliya Shobukhova, but she was beaten by Kenya's Mary Keitany in London, as Keitany ran 2:19:19. Keitany is the half marathon world record holder and probably should be considered the favorite for now, but she's only run two marathons in her life. And then there is the greatest female marathoner in history, Paula Radcliffe, who has been out after having her second child. Her quest for an Olympic gold - really an Olympic medal, but anything but gold will be viewed as a failure in myopic Britain- will be possibly the #1 story of the Olympics. Radcliffe has run 3:12 faster than any other woman in history and four times broken 2:20 but she hasn't done that since 2005 and she'll be 38 at the Olympics. If healthy, it's hard to see her not getting a medal even at that age, but staying healthy is easier said than done.
12) Ten women have broken 2:20 in history, and Mary Keitany is now one of them.

1 2:15:25 WR Paula Radcliffe GBR 17 Dec 73 173/54 1 Flora London 13 Apr 2003
2 2:18:47 AR Catherine Ndereba KEN 21 Jul 72 160/45 1 LaSalle Chicago IL 7 Oct 2001
3 2:19:12 AR Mizuki Noguchi JPN 3 Jul 78 150/41 1 Real Berlin 25 Sep 2005
4 2:19:19 NR Irina Mikitenko GER 23 Aug 72 158/49 1 Real Berlin 28 Sep 2008
5 2:19:19 Mary Keitany KEN 18 Jan 82 1 Virgin London 17 Apr 2011
6 2:19:36 AR Deena Kastor USA 14 Feb 73 163/47 1 Flora London 23 Apr 2006
7 2:19:39 NR Sun Yingjie CHN 3 Oct 77 164/52 1 Beijing 19 Oct 2003
8 2:19:41 Yoko Shibui JPN 14 Mar 79 165/50 1 Real Berlin 26 Sep 2004
9 2:19:46 Naoko Takahashi JPN 6 May 72 161/52 1 Berlin 30 Sep 2001
10 2:19:51 Zhou Chunxiu CHN 15 Nov 78 162/51 1 Seoul 12 Mar 2006

Mary Keitany not only joined the sub-2:20 club; she did it with ease. Keitany, who earlier this year set the world record in the half marathon, blitzed the second half of the London course to run away from the field that London Race Director Dave Bedford called his strongest ever. Keitany's 2:19 looked easy. More on it here. She reportedly had a 5:00 mile in the 2nd half.

13) 12 men have now broken 2:05 in history.

1 2:03:02(a) Geoffrey Mutai KEN 7 Oct 81 170/54 1 BAA Boston MA 18 Apr 2011
2 2:03:06(a) Moses Mosop KEN 17 Jul 85 165/54 2 BAA Boston MA 18 Apr 2011
3 2:03:59 WR Haile Gebrselassie ETH 18 Apr 73 164/53 1 Real Berlin 28 Sep 2008
4 2:04:27 NR Duncan Kibet KEN 25 Apr 78 173/62 1 Fortis Rotterdam 5 Apr 2009
5 2:04:27 NR James Kwambai KEN 28 Feb 83 162/52 2 Fortis Rotterdam 5 Apr 2009
6 2:04:40 Emmanuel Mutai KEN 12 Oct 84 1 Virgin London 17 Apr 2011
7 2:04:48 Patrick Makau KEN 2 Mar 85 1 Fortis Rotterdam 11 Apr 2010
8 2:04:53(a) Gebregziabher Gebremariam ETH 10 Sep 84 178/56 3 BAA Boston MA 18 Apr 2011
9 2:04:55 Paul Tergat KEN 17 Jun 69 183/61 1 Real Berlin 28 Sep 2003
10 2:04:56 Sammy Korir KEN 12 Dec 71 160/61 2 Real Berlin 28 Sep 2003
11 2:04:57 Wilson Kiprotich KEN 15 Mar 82 182/58 1 Commerzbank Frankfurt 31 Oct 2010
12 2:04:58(a) Ryan Hall USA 14 Oct 82 178/64 4 BAA Boston MA 18 Apr 2011
#####
Other Happenings Of Note
Technically this happened this week, but Waitz was so instrumental to the sport, we can't pay her too many respects.
Grete Waitz Loses Battle With Cancer Waitz is best known for being a 9-time New York City Marathon champion, but she also was a 4:00 15,00m runner and an 8:31 3,000m runner. As a kid, watching her on ABC win NYC every year was one of the founders of this site's earliest running memories. She will be missed.
*Pay Your Respects In This Thread
If You Read One Thing This Week, This Should Be It: Profile On Former World 10,000m Record Holder And Virgin London Race Director Dave Bedford
Please read that article. It's incredible.
Full Disclosure: The Virgin London Marathon was an advertiser on LetsRun.com last week, but if you read the article, you'll see that a) kissing up to Bedford wouldn't make a difference to whether he keeps advertising and b) he's retiring, so kissing his ass does us no good.
Haile G's Back & A Winner In Vienna Only Haile G could be upset with a solo 60:18 at age of 37 years and 364 days. Happy B-Day Haile!!!
UCLA Men Tie Oregon In Dual Meet *UCLA Was Gunning For Victory *Florida's Jeff Demps Runs Windy 9.96
#####
Looking Ahead (Time To Start Getting Excited For ...)
April 30: Drake/Penn Relays: Olympian Webb To Run Mile At Drake Relays
*Profile On Former World 10,000m Record Holder And Virgin London Race Director Dave Bedford
Please read that article. It's incredible.
*Leading Boston Contenders Bekana Daba & Gebre Gebremariam Are Fast Friends
*Chat With Joan Benoit Samuelson
*LRC Emmanuel Mutai Runs The Best 10km Ever In A Marathon To Destroy The Field & Arrive As One Of The World's Best
*LRC Women's Marathoning Has A New Star Named Mary Keitany
*LRC London Women's Preview: Liliya Shobukhova And The "Strongest" London Women's Field Ever Chase The Elusuive 2:20 Barrier
*LRC London Men's Preview: Heavyweights Kebede And Makau Vs. The Field
*LRC Once In A (Marathon) Lifetime Weather Conditions Forecast For Boston On Monday It seems as if the world was stunned by what happened in Boston, but we weren't.
*LRC Boston Men's Preview: Stellar Top 3, Moses Mosop's Debut, And Ryan Hall
*LRC Boston Women's Preview: 10 Seasoned Marathoners Or Newcomer Florence Kiplagat?
#####
Quote Of The Week (That Wasn't Quote Of The Day)
"I never got a (silver) cup. I got a Seiko clock with a little plaque on top. It's a nice little clock. It works as long as I change the batteries. It's a little more consistent than me these days."
- Greg Meyer, the last American man to win the Boston Marathon, talking in an interview in the Boston Herald about what he got for winning Boston back in 1983.
#####
Quote Of The Month (That Was 1/2 Of Quote Of The Day)
"A sub-2:03:59 clocking wouldn't actually shock me. I'll tell you this - if Boston had rabbits and the field that is assembled for the 2011 London marathon was running with a time bonus on the line, I'd actually be a little surprised if someone didn't run the fastest marathon time ever recorded."
- LetsRun.com guru John Kellogg prior to the start on Monday's Boston Marathon.
#####
Quotes Of The Day From Last Week
Tuesday: "Time after time, just when it seemed Desiree might be dropped for good, she'd surge back to the lead. Finally right ... before the women turned for home on Boylston street, it seemed the real kicking was beginning and ... (Desiree) started sliding backwards into third, and no one would have blamed her for giving in to the pain and finishing third. We all know Americans don't win the Boston Marathon - especially Americans who weren't NCAA Champions and run for Brooks instead of Nike ... But then Desiree did what we all dream of doing in such a situation, she dug even deeper ... Most of us will never have the chance to win the Boston Marathon, but if somehow we were put in the situation, we hope we'd respond like Desiree ... She may not have won the race, but she won our hearts and souls ... The motto of this website is "Where Your Dreams Become Reality." Some would say that Desiree's dreams didn't become reality on Monday, but I think they did."
- LetsRun.com's Wejo full of praise for Desiree Davila's near win at the 2011 Boston Marathon.
---
Monday: "(Emmanuel) Mutai steamed past the 40 km in 1:58:05, meaning he covered the fourth 10k of the course in a ridiculous 28:44 - that's 2:01:14 marathon pace for that stretch - unofficially the greatest fourth 10km stretch ever run in the history of the marathon."
- Excerpt from our write-up on the 2011 Virgin London Marathon men's race talking about how new course record holder Emmanuel Mutai, who went into yesterday's race viewed as the best guy to have never won a big one but left with a 2:04:40, destroyed an incredible field thanks to arguably the most remarkable 10km stretch in marathoning history, which included a 9:00 2-mile segment.
---
Sunday: Virgin London Sunday
"If the body is healthy, and the weather good, I think on Sunday I will run the world record."

- London defending champion Tsegay Kebede, who will face a stiff challenge from World-Ranked #1 Marathoner Patrick Makau Sunday (watch live at 3:55 am Eastern, on demand after 9:00 am Eastern).
Boston Monday
"A sub-2:03:59 clocking wouldn't actually shock me. I'll tell you this - if Boston had rabbits and the field that is assembled for the 2011 London marathon was running with a time bonus on the line, I'd actually be a little surprised if someone didn't run the fastest marathon time ever recorded."

- LetsRun.com coaching guru John Kellogg on the perfect weather predicted for Monday's Boston Marathon.
---
Saturday: "This is a big opportunity for her in Boston because she knows the course rally well. She has trained on it a lot over the past five or six weeks. She is going to step on the line thinking, 'I have as good a chance as anyone to win this.'"

- Ray Treacy, women's coaching guru and arguably the most under-rated coach in the world, talking about Kim Smith's chances at the 2011 Boston marathon. Other people feeling good prior to Boston include American Ryan Hall, who said at Friday's press conference that his recent training has been "possibly my best last couple of weeks before a marathon … on a daily basis I have felt really good." Meanwhile, in London, Tsegaye Kebede was talking big before the most competitive marathon on the planet, as he said someday he expects to set the world record, possibly even Sunday.
---
Friday: "In the hospital after I came back from Kenya, I wasn't even thinking about running. I was only thinking, 'Will I ever walk normally up the stairs, or even stay alive?'"

- Switzerland's Viktor Röthlin talking about his near-death experience. He contracted a thrombosis during a flight and suffered a potentially fatal double pulmonary embolism where he had severe chest pain and was spitting blood. He was told to rest from running and put on blood thinners for 6 months. Later in the year, he also had to go through foot surgery. Despite all this, he is back in good form and looking at possibly getting the European record of 2:06:36 at London. In the main profile on him, he says, "Beside the fact that I got married in 2009, that was a horrible year, but when you lose something in your life (being unable to run) sometimes you realise how important it was to you."
---
Thursday: "When I was finished with the (2009) race, I was so disappointed I couldn't forgive myself for losing that opportunity. But time gives you perspective, and now looking back at it I know I did the best I could in that moment and it's all about having more opportunities. That's why I really wanted to come back there. I didn't feel the pressure was a burden at the time, but maybe afterward."

- Kara Goucher talking about how disappointed she was after her 2009 Boston race, but how time has given her perspective and that it was actually a positive performance.
---
Wednesday: "Had you asked me this question (as to whether she wanted to be known as the last American woman to have won Boston) 15 years ago, I wanted it for me still. But now, for the betterment of the sport, for our pride and patriotism, it (would) pave the way for people like my daughter. If she sees women winning, it's going to make the sport for her that much more sexy, attractive."

- Lisa Rainsberger talking to the Denver Post's John Meyer about being the last American woman to have won the Boston Marathon.
---
Tuesday: "You feel like everything was flowing. It wasn't forced. Nothing hurt. You're not even thinking - you're just running. It's just second nature, you've trained so hard for it and race day feels easier than the training that you've done."

- Paula Radcliffe on being in "the zone" and what she felt like during her 2:15:25 World Record in London in 2003. The quote is from a BBC article investigating the possibility of a sub-2 hour marathon.
---
Last Week's Homepages
*Tue (April 19) *Mon (April 18) *Sun (April 17) *Sat (April 16) *Fri (April 15) *Thu (April 14) *Wed (April 13) *Tue (April 12)
---
Runner's World &
Running Times



Combined Only $22
a Year
Save $87

---

Running & Track and Field Posters
---

Offers of interest: Nike Lunar Glide Discount Discounting on this shoe not allowed until recently.
---