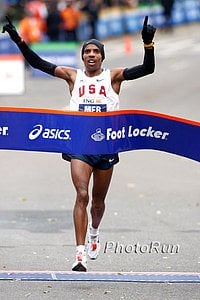 LRC Meb Is Running Boston, Alan Webb Is Not It was a stunning 24 hours for the Boston Marathon. They were on the brink of signing American mile sensation Alan Webb to run this year's Boston Marathon when Webb dumped marathon star Alberto Salazar as coach. Boston then got cold feet on Webb and signed Meb, a guy who has actually done tremendously well nearly every time he has toed the line in the marathon.
LRC It's Official: Tegenkamp Moving Up To 10,000m Despite finishing fourth in the world at 5,000m once and making the last 3 World Championships finals, Matt Tegenkamp has concluded he's not very good at 5,000m and, like everyone else, is moving up in distance.
Perhaps You Were Looking For ... This Page?
Third Brojo Found More info Here and Here. Until last year, he was Mojo. Now he is called Menjo.
Employee #1 Joins Record Number Of Unemployed The first-ever LetsRun employee was let go for two many typos on the front page.
LRC LetsRun.com's Rojo Arrested After Breach Of Professional Decorum At Fairfax, VA Eatery We cannot publish too much on this story due to the legal case now pending. The main points are LetsRun.com's Rojo, upon hearing Alan Webb was looking for a new coach, got in touch with Chris Lear (who was also Rojo's college roommate), the author of Alan Webb biography Sub 4. Lear set up a clandestine meeting between Rojo and Webb at a dining establishment called Five Guys. After Webb shot down Rojo's coaching entreaties, Rojo basically lost it and had a tantrum breach of professional decorum. More details here, including what Webb ordered for dinner.
April 1st, 2011 - Truth Is Sometimes Stranger Than Fiction