Boston - Please Stop This World Record Nonsense
By Robert Johnson
April 21, 2011
Attention all marathon fans, members of the mainstream media and those competitors who set huge PRs on Monday,
Let's start with some major praise. With significant favor from the heavens and a lot of guts from Desiree Davila, what happened in Boston on Monday, April 18, 2011 was truly special and shall be remembered for years.

2:03:02 and 2:03:06 for 1st and 2nd. 2:04:57 for an American and then Davila's near win on the women's side. Truly phenomenal.

The 2011 Boston marathon was simply one for the ages.

But let's stop with this nonsense about applying for a world record and let's stop with these ridiculous articles by say the AP, New York Times, USA Today or Boston Globe that barely mention the wind. Moderately intelligent people should understand the performances in Boston were significantly aided on Monday thanks to the huge tailwind - yet most articles keep barely mentioning the wind and talk only about the net downhill nature of Boston's course and how the uphills make the course harder, not easier.

Boston, your race is always special because it's not about the time, it's about the race (plus it's historically been easier to watch, as it's in the middle of the day - but now that it's buried on a Universal Sports, a channel a lot of people don't get, not as much so). You are the most historic of all the major marathons and don't need publicity stunts.

It seems almost as if you are showing the inferiority complex you have developed over the last 10-20 years as the other majors like London and New York have raised more cash and brought in way more elite fields. You also are setting yourself up for failure for the years to come. When Boston isn't run fast, the public at large will be oddly focused on the winner's time, as you planted that seed in their heads.

Boston, stop the ridiculousness now. Act like a world marathon major and let the performances stand for themselves and don't become a gimmick. There have to be standards for world records; otherwise the world record in the mile would be 3:24, as that's what 16-year-old Craig Wheeler ran for a downhill mile back in 1993.

On an historic course, humans have run almost 2:02 for a marathon and an American-born athlete has run 2:04. Incredible. No one needs a record to validate that.

The weird thing is that everyone is totally stunned by what happened. Boston actually has a long history of fast times when the tailwind is significant:

1975 - Bill Rodgers runs 2:09:55 thanks to what was described as a "blustery n'west tailwind" by the Boston Globe.

1979 - Bill Rodgers runs his marathon PR of 2:09:27. As for the weather, 4th place finisher Tom Fleming wrote the following three years ago: "The weather was perfect that day and the wind to our back about 20 mph with temps peaking at 40F."
1983 - Joan Benoit Samuelson takes advantage of a "a favoring tailwind" and runs a "world record" of 2:22:42, smashing the old mark by almost three minutes (Grete Waitz's 2:25:29). Back then, Boston was record-eligible. On that same day, Greg Meyer ran a career best by almost two minutes (2:09:00 - next best being 2:10:59). Ron Tabb in 2nd ran a career best by a minute (2:09:32) (thanks to David Graham for some of these stats).

1994 - Taking advantage of weather that was described as mid-50s with a 19 mph tailwind (sound familiar?), Kenya's Cosmas Ndeti broke the men's course record by 36 seconds with a 2:07:15. On the women's side, the course record was also set in 1994, as Joan Benoit Samuelson's old record was shattered by 58 seconds, with Uta Pippig running 2:21:45, which still stands as the women's course record. American Bob Kempainen, who never ran faster than 2:11:03 in his other career marathons, produced the then-fastest time ever by an American in Boston, as he ran 2:08:47, eclipsing Alberto Salazar's old record by 5 seconds. Oh yeah, the wheelchair record was also set this year as well.

Given that history and given his knowledge of the sport and physics, LetsRun.com coaching guru John Kellogg actually predicted before the race that what happened on Monday in Boston was actually very likely to happen. Prior to the race, John said:
"A near-20 mph tailwind might chop three or four minutes off someone's finishing time. A sub-2:03:59 clocking wouldn't actually shock me. I'll tell you this - if Boston had rabbits and the field that is assembled for the 2011 London marathon was running with a time bonus on the line, I'd actually be a little surprised if someone didn't run the fastest marathon time ever recorded."
(John's post-race analysis on the 2011 Boston Marathon wind can be found here).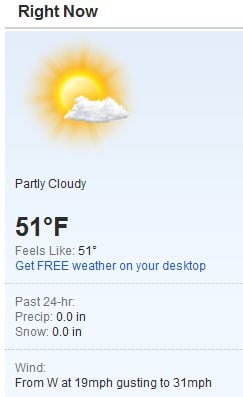 Weather.com at 11:25 AM
In Boston on Monday, the weather came through as expected (or was actually more advantageous than the prediction), as mid-race at 11:25 am, weather.com reported the winds at being 19 mph with gusts up to 31 (see image to left). The race basically did have a rabbit setting the pace in American Ryan Hall. And in hindsight, the field at the very top in Boston this year was just as good as London, as distance runners don't really have better credentials than the top two finishers in Boston, in former 10,000 World Championships silver medallist Moses Mosop and eventual winner Geoffrey Mutai, who earlier this year did the unthinkable by winning the Kenyan Cross-Country Trials by 44 seconds.

So in some ways what happened in Boston on Monday wasn't shocking. Truly phenomenal? Yes. But in the eyes of a rational, analytical T&F history buff like John Kellogg, it actually was to be expected and might have been more surprising if it hadn't happened.
After the race, a few really smart scientists have chimed in on the effect of the wind over at the Science of Sport blog. Their conclusion?
Just exactly what John Kellogg said prior to the race - three to four minutes (one guy said 3:36, another said 3:48).
So let there be no doubt; the times were definitely wind-aided.
But so what? The race will always be remembered and in fact will always be remembered in a way more significant way than your average, bland, rabbited world record that is run on what is little more than a paved track.
Boston fans and administrators, you don't need a record to validate what happened. In fact, you shouldn't want it. Your race course has character and tradition behind it - all most of the others can do is get in a contest amongst themselves for time.
---
Disagree? Don't get too mad, as former Boston Marathon champ Amby Burfoot has written a column with similar sentiments. Comments? Send them to Robert at robertjohnson@letsrun.com or post them on our Message Board.
Editor's Note: Robert Johnson, a.k.a. "Rojo," is best known for being the co-founder of LetsRun.com as well as the men's distance coach at Cornell University.